Vaping Digest 4th May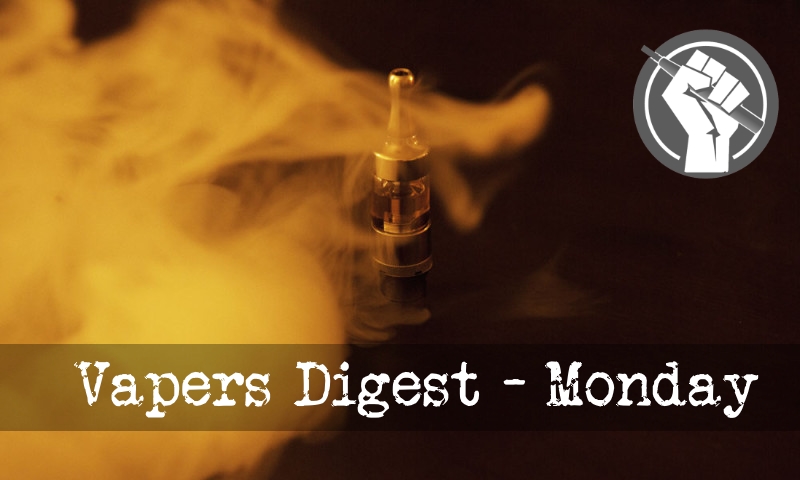 Monday's News at a glance:
Denmark Flavour Ban Plan Could Spread Across Europe – Vaping In The News ~ May 2nd – Gideon Opens Up – Vaping Terminology is a Dangerous Muddle – Juul Will Stop Selling In Five European Countries, Including France And Spain – Top Vape Related Articles for April – 66.7% smokers, 53.3% vapers see no change – Lessons from the public health responses – Nicotine Science and Policy Daily Digest
Could Spread Across Europe – Neil Humber
It sounds crazy but there really is a Denmark flavour ban plan looming. Vape advocacy groups are so concerned they are calling on all vapers in Europe to get involved to fight this ridiculous ban.

More on how you and your organization can get involved and fight back in a moment. So what's this all about then? If you thought Europe and in particular the EU was pro-vaping think again.

As Martin Cullip the chair of the New Nicotine Alliance told us last Christmas, the EU is still smarting that it's bid to pretty much ban all vape products was defeated by concerted efforts of advocacy groups like the NNA.

It naturally follows, and given many of Denmark's political parties support the idea, the Denmark flavour ban plan could be lapped up by those faceless un-elected EU mandarins, and as advocacy group ETHRA says:
Kevin Crowley, Vaping Links
Effects of electronic cigarette on platelet and vascular function after four months of use ~ Editorial: Nicotine and SARS-CoV-2: COVID-19 may be a disease of the nicotinic cholinergic system~ FDA Deems Certain Tobacco Products Subject to FDA Authority (*Revised) ~ Tobacco Harm Reduction 101 ~ Anti-Vaping Zealots Find Opportunity in the Pandemic ~ CASAA CEO Responds to Biased Bloomberg Rag Decrying Bias, Slandering Advocates ~ What We Know—and Still Need to Learn—About Coronavirus and Nicotine ~ 180 by Glantz ~ Nicotine Nightmare for the Antz ~ Blu Files PMTA; Will the Indie Vape Industry Be Shut Out? ~ Electronic Cigarette Use Among U.S. Adults, 2018 ~ Coping in Lockdown Study
---

---
Dave Cross, Planet of the Vapes
University of California San Francisco is the centre of anti-vape fundamentalism, with the Centre for Tobacco Control Research and Education at its heart. This present a problem for Gideon St Helen, PhD, as he sees himself as a voice of moderation in a raging storm of argument about tobacco harm reduction. POTV is presenting his justification for signing up to Stanton Glantz' "Ban open system vapes" letter to the Food & Drug Administration.

Unlike Glantz, St.Helen doesn't seek to troll advocates or academic experts. He also differs from the disgraced Stan in that he engages with advocates on social media. Following the publication of Glantz' letter (covered in our other story today), Vaping 360's Jim McDonald wrote with sadness: "Really sorry to see Gideon St. Helen's name on this ridiculous UCSF call for FDA to ban open-system vaping products."
Dave Cross, Planet of the Vapes
Public Health England (PHE) released its evidence update on vaping just over a month ago, providing a warning that misinformation is causing a problem and preventing smokers from switching to vaping. The UK Vaping Industry Association (UKVIA) has amplified the call for honesty when discussion tobacco harm reduction.
PHE launched the evidence update by stating its advice remained the same: that smokers should switch to e-cigarettes to help them quit smoking, but non-smokers should not take up vaping.

"E-cigarettes are much less harmful than tobacco but are not completely safe" wrote PHE. "They contain significantly less harmful chemicals which cause diseases related to smoking but the long-term impact of using e-cigarettes will remain unknown for some time."
---
Analysis of US National Youth Tobacco Survey 1999-2018 concludes #ecigs diverting youth from smoking cigarettes

▪️Smoking continues to decline
▪️No increase in total #nicotine use
▪️No gateway demonstrated
▪️ecigs initiated 2y AFTER smoking

Good news!https://t.co/jKQXJUkjGw

— ATHRA (@ATHRA_AU) May 3, 2020
Na het terugvallen van rokers door het verplicht sluiten van vapeshops in België wil @ElsVanHoofcdenv graag nog meer ex rokers laten terugvallen en het aantal overstappers drastisch verminderen door smaakstoffen in e-liquids te verbieden https://t.co/1vyRNUDHfK

— AcVoDa (@acvoda) May 4, 2020
---
Charles Gardner
The authors of a recent editorial published by a prestigious medical journal write, "most patients with EVALI had inhaled vapor from e-cigarette liquids containing THC." [emphasis added] In this piece, I will explain why I used to consider the term 'THC e-cigarettes' a logical fallacy, and how I have come to believe this original conclusion was wrong.

First, let's review some basic terminology. The word 'vape' is a verb; those who vape are 'vapers'; their devices are 'vaporizers'. Some vape nicotine, others tetrahydrocannabinol (THC). 'Vaping'

involves heating a liquid to release a liquid aerosol called 'vapor'. Unlike smoke inhaled from burning plant leaves, vapor contains fewer – and lower levels of – harmful toxins, no solid particulates and no carbon monoxide.

In Five European Countries, Including France And Spain – Stephanie M. Lee
In yet another retrenchment from international markets, Juul is planning to significantly shrink its European presence and stop selling in Austria, Belgium, Portugal, France, and Spain, BuzzFeed News has learned.

The e-cigarette maker will leave France at the end of the year and pull out of the other countries in July, according to an employee familiar with the matter who spoke on condition of anonymity because they were not authorized to speak to the media.

The decision, which some parts of the company learned about this week, means that hundreds of employees in the affected countries will be laid off. Earlier this week, the Wall Street Journal reported that the once-high-flying San Francisco–based startup is planning to cut about one-third of its 3,000-person workforce.
---

---
Saddle Horse Blues
April has been a crazy month, just generally with the pandemic and everything going on, but it's been even crazier in the vape community. Competing (evidence-free) claims that vaping is somehow linked to Covid-19 risk and research that seems to indicate that nicotine may play a protective role in Covid have gained a lot of attention around the world. So much so that the French government has limited sales of nicotine patches to in-person purchases and a one month supply. It is far too early to make predictions (and we don't want to follow the anti-vape crowd in making claims ahead of the evidence) but we've included the multitude of articles that discuss what's going on. We also run down some of the best articles on vaping from April, as always with excerpts and links for your reading convenience.

See no change in smoking habit because of Covid-19
Islamabad : Smokers faced no difficulty in access to and availability of cigarettes during the lockdown in Pakistan's 11 districts, though some hinted at quitting or reducing smoking because of COVID-19, reveals a rapid assessment survey conducted by the Pakistan Alliance for Nicotine and Tobacco Harm Reduction (PANTHR).

The qualitative assessment on the impact of Covid-19 on combustible smoking and vaping in Pakistan's 11 districts—Karachi, Hyderabad, Lahore, Islamabad, Rawalpindi, Peshawar, Abbottabad, Multan, Sialkot, Faisalabad, and Quetta—was conducted from April 8-21. All study respondents, smokers and vapers, were male and young, mostly between 18-35 years of age.
To the US outbreak of vaping‐related lung injury
Wayne Hall, Coral Gartner, Billie Bonevski
To describe an outbreak of lung injuries in 2019 among people who vaped in the USA (type of injuries, persons afflicted, substances vaped, and cause of the injuries) and to analyse critically the regulatory responses of public health authorities and the media reporting of the outbreak.

Methods: Case studies of the reporting of the e‐cigarette or vaping product use associated lung injury (EVALI) outbreak. We examined data on the number of cases of lung injury provided by the US Centers for Disease Control (CDC), public advice on the causes of the outbreak provided by the CDC and the Food and Drug Administration (FDA), major media reports of the outbreak and proposed regulatory responses by governments in the USA, Australia and the United Kingdom.
---
A look back at how things have moved on or otherwise…
Dr. James Somauroo
The impact of smoking on health is huge. Half of all lifelong smokers die early, they lose around 3 months of life expectancy for every year smoked after the age of 35 and it's addictive, both physically and psychologically. Vaping is the new kid on the block when it comes to helping people quit and for many the jury might still be out, but Public Health England claims that vaping may be contributing to at least 20,000 smokers quitting every year. Does this mean that we should consider vaping as using a valuable healthtech/medical device?
Jana Zimmermann
A new initiative, 'Vaping is NOT Tobacco', which seeks to promote better regulation of e-cigarettes by illustrating the health differences between vaping and smoking, has been launched in Europe.

The campaign is built on both the European Citizens' Initiative (Europäische Bürgerinitiative – EBI) 'Let's demand smarter vaping regulation' and a grassroots campaign encouraging citizens to get in touch with their national candidates for the European Parliament elections
---
Visit Nicotine Science & Policy for more News from around the World

---