Vaping Digest May 3rd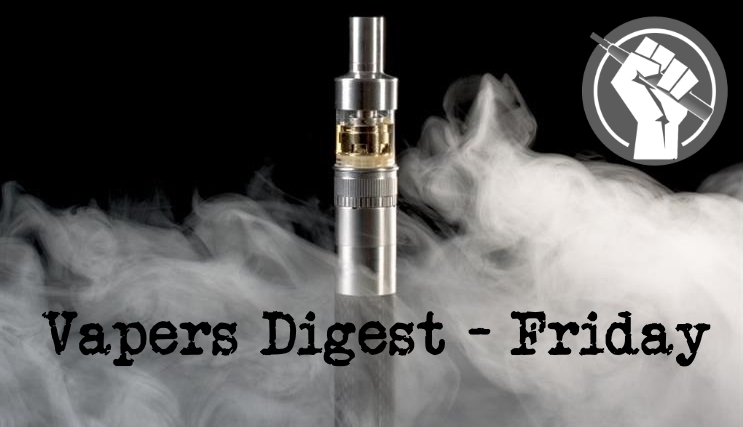 Friday's News at a glance:
Doctor Christian Jessen Backs Vaping – Campaign For Better Regulation Of E-Cigarettes Launched – Interview with Lynne Dawkins – California Crusade Against Tobacco Flavors – Vape Laws Cause Teen Smoking – Truth Humour Fail – First News Goes into BAT – IQOS Approved by FDA – Tobacco 21 Laws Do Not Reduce Youth E-Cigarette Use – Core principles of Morven VI dialogue – World Bank Group's paper on e-cigarette taxation – World Vaping Day May 31 2019 – An update on vaping in Australia – Nanny State to Maintain Nicotine Vaping Prohibition – China draws up e-cigarette regulations – Ban will hurt small businesses – Nicotine Science and Policy Daily Digest
Dr. James Somauroo
The impact of smoking on health is huge. Half of all lifelong smokers die early, they lose around 3 months of life expectancy for every year smoked after the age of 35 and it's addictive, both physically and psychologically. Vaping is the new kid on the block when it comes to helping people quit and for many the jury might still be out, but Public Health England claims that vaping may be contributing to at least 20,000 smokers quitting every year. Does this mean that we should consider vaping as using a valuable healthtech/medical device?
Jana Zimmermann
A new initiative, 'Vaping is NOT Tobacco', which seeks to promote better regulation of e-cigarettes by illustrating the health differences between vaping and smoking, has been launched in Europe.

The campaign is built on both the European Citizens' Initiative (Europäische Bürgerinitiative – EBI) 'Let's demand smarter vaping regulation' and a grassroots campaign encouraging citizens to get in touch with their national candidates for the European Parliament elections
---

---
KAC Communications
KAC Communications is proud to be welcoming Professor Lynne Dawkins of the Centre for Addictive Behaviours Research at London South Bank University to GFN19. Professor Dawkins will be exploring whether nicotine has any beneficial effects for users. With over 20 years' experience of working with smokers and, more recently, electronic cigarette users, Professor Dawkins is one of the UK's leading authorities on e-cigarettes, having published papers on profiles of use, acute effects, puffing topographies, nicotine delivery and smoking cessation.
Brad Rodu, Tobacco Truth
Today the California Globe published my oped on the foolish and dangerous legislative effort to ban flavored tobacco products. Read it here or on the Globe website.

"Crusades typically start out by being admirable, proceed to being foolish, and end by being dangerous." Russell Baker used these words in a 1994 New York Times column describing the anti-tobacco crusade, noting that the holy war was entering the last stage. Now, 25 years later, California legislators are fighting their own crusade—against the so-called teen vaping "epidemic"—with a proposed ban on flavored tobacco products.
---
---
A Trio from Dave Cross, Planet of the Vapes
The Heartland Institute says that government actions to prohibit the use of vape products only results in increased teen smoking rates. It says that lawmakers appear to be stuck "in a tragic game of whack-a-mole". Its viewpoint aligns with previous findings from a National Bureau of Economic Research (NEBR) study.
Lindsey Stroud writes: "Similar to how government regulations of opioid medications helped to fuel the recent heroin and fentanyl scourges, it seems government restrictions on e-cigarettes to combat the 'vaping epidemic' has inadvertently increased combustible tobacco cigarette use among youth. Such is the law of unintended consequences."
The Truth Initiative is off on one again. This time the organisation is spreading its 'fear and lie' agenda through the medium of shockingly poor music videos and a misunderstanding of teen humour. The only laughs they will raise will be accompanied with a shaking of heads in disbelief.
Robin Koval is the chief executive officer and president of Truth Initiative. She previously earned a living by pushing distilled spirits and pharmaceuticals as one of the "100 Most Influential Women in Advertising".
First Group Enterprises Ltd, trading as the 'First News' newspaper for children, reported a British American Tobacco (BAT) Vype advert to the Advertising Standards Authority (ASA). The company's anti tobacco-harm reduction stance was evident in a Martin McKee article it published last year. The complaint was rejected.
ASA reports that it received a complaint about an advert "that appeared in a public space at a bus stop used by a significant proportion of children and challenged whether the ad had been appropriately placed."
---

---
How Will it Affect Vaping? – Jim McDonald
IQOS has been approved for sale in the United States, more than two years after Philip Morris submitted a premarket tobacco application to the FDA. The PMTA was submitted in March 2017, along with a modified risk (MRTP) application, which the agency has still not acted upon.

Although the application was submitted by manufacturer Philip Morris S.A. (a division of Philip Morris International — PMI), IQOS will be sold in the U.S. by Altria Group, the nation's largest cigarette manufacturer. Its Marlboro brand is the single most popular American cigarette brand.
Lindsey Stroud
Data from state and local-level surveys of high school and middle school students in Hawaii and Massachusetts find e-cigarette use increased after laws restricting tobacco products to 21 were put in place.

In response to a so-called nationwide youth e-cigarette use epidemic, lawmakers have introduced dozens of bills that would increase their state's tobacco and vaping product purchasing age from 18 years of age to 21. As of late April, 14 states and more than 400 localities have raised the tobacco product purchasing age to 21.
Derek Yach, Ramla Benmaamar
Participants of the Morven Dialogue that was held in November 2018 identified 10 Core Principles that aim to guide ongoing and future discussions for the development and implementation of effective policies and objectives on harm reduction. We outline the position of the Foundation for a Smoke-Free World (herein referred to as "The Foundation") on each Core Principle of the report that was re-released this month.
The World Bank Group believes that all electronic cigarette products, including devices, should be subject to excise tax. A paper, "E-Cigarettes: Use and Taxation", issued recently by the World Bank Group Global Tobacco Control Project Team, endorses extending to e-cigarettes the same taxation and regulatory policies designed to reduce tobacco use.

Readers hoping for an open-minded and enlightened discussion of risk related taxation will be sorely disappointed. The text reads like an anti-smoking screed from the "tobacco wars" of 15 or 20 years ago. Absent is any recognition of the potential contribution that a harm reduction approach to taxation can bring to public policies toward tobacco.

World No Tobacco Day 2019 is coming on May 31st. This event was initially created by the World Health Organization in 1988 to remind people of the tragic health toll of smoking cigarettes and encourage smokers to quit (at least for one day).
At the time there was not much help that could be offered to smokers to get rid of a strong addiction. Nevertheless the tobacco control community gave it a try.
Today, the situation is different as vaping has been adopted by millions of ex-smokers who told /tell how it helped them quit after numerous failed attempts with other methods.
Some vapers still keep smoking cigarettes, they are called "dual users", but most often they considerably reduce the number of cigarettes they smoke. I would think it's better to smoke 5 cigarettes per day instead of one or two packs.
Colin Mendelsohn – ATHRA
I was recently invited to present an update on vaping in Australia at the 3rd US E-cigarette Summit in Washington DC. Australia is unique in that it is the only westernised democracy to ban the sale and use of nicotine for vaping. Here is an outline of the sorry state of vaping down under.

Although relatively benign with normal use, liquid nicotine is categorised as a dangerous poison (like arsenic and strychnine) under federal law and it is a criminal offence to possess or use it, unless you hold a prescription from a doctor. However, very few doctors will write prescriptions.
Don't worry. The Australian government knows what's best for you. And they're happy to enforce your safety and good health through legislation. Over in the US, the United States Food and Drug Administration (FDA) announced this week that it would permit tobacco giant Philip Morris to sell its IQOS tobacco heating tool.

The FDA has determined that vaping is less harmful than smoking traditional cigarettes, as the user inhales lower levels of carcinogenic toxins. But nanny staters in both Labor and the Coalition are likely to continue blocking any efforts to decriminalise nicotine vaping products Down Under.
China, the world's biggest tobacco producer and consumer, has drawn up standards for regulating e-cigarettes, it said in a filing published by the World Trade Organization on Wednesday, without specifying any date for adoption of the rules.

"This standard specifies the terms and definitions, technical requirements, test methods, packaging, identification, instructions, storage and transportation of electronic cigarette," the filing said.

The technical standards were set out in a 68-page attachment in Chinese, available at https://members.wto.org/crnattachments/2019/TBT/CHN/19_2560_00_x.pdf
Joshua Sabatini
San Francisco's Small Business Commission is opposing a proposed ban on the sale of vaping products, calling it a "nanny" state measure and arguing it could hurt many small stores.

The commission's 6-1 vote last week sends a strong message to the Board of Supervisors, which will vote in the coming weeks on the legislation introduced by Supervisor Shamann Walton.

The proposal would ban the sale of e-cigarettes until the U.S. Food and Drug Administration evaluates the products' impact on public health and approves their marketing.
---
A look back at how things have moved on or otherwise….
The Canadian Vaping Association
The Ontario government's new regulations dealing with electronic cigarettes will reduce access to a potentially life-saving technology for people who are trying to quit smoking, which will have a devastating effect on public health and the economy, according to officials with the Canadian Vaping Association (CVA), Canada's preeminent e-cigarette trade association.

In January, the Ontario government, led by Premier Kathleen Wynne, opened a public consultation on proposed regulations covering Bill 174, the Smoke-Free Ontario Act, 2017. However, on April 23, the Liberals announced that the draft regulations would be implemented without any amendments.
Gregory Conley, American Vaping Association
Today, the Food & Drug Administration and the Federal Trade Commission announced that they had jointly sent thirteen warning letters to manufacturers, distributors, and retailers of flavored vapor products, alleging violations of both the Food, Drug, and Cosmetic Act and the Federal Trade Commission Act.

The recipients of the letters include NEwhere Inc. (One Mad Hit Juice Box), Drip More, LLC (Candy King), and other companies that produce or sell e-liquid with packaging that appear to be directly inspired by what the FDA calls "kid-friendly food products." The FDA and FTC cite the products' potential appeal to children, including the risk that a child could incorrectly believe that the products are intended to be ingested, as a reason for acting. Both agencies have requested responses from the targeted companies detailing actions taken to address the concerns outlined in the letters, with further action to follow if the violations are not corrected.
---
Visit Nicotine Science & Policy for more News from around the World

---