Vaping Digest 1st May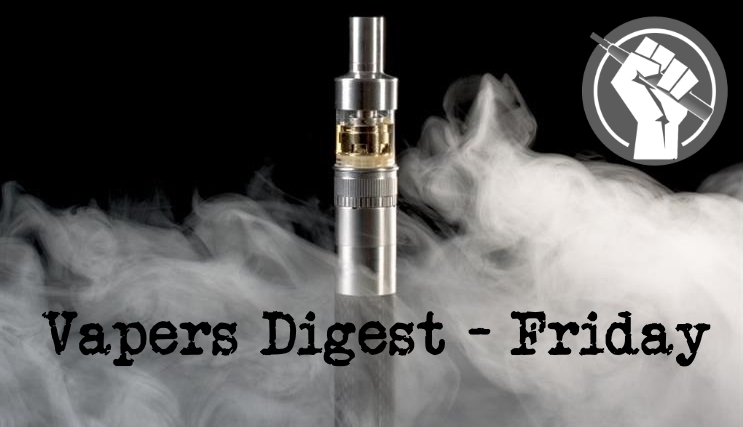 Friday's News at a glance:
Nicotine and SARS-CoV-2: COVID-19 may be a disease of the nicotinic cholinergic system – What We Know—and Still Need to Learn—About Coronavirus and Nicotine – UK Government reassures citizens – Anti-Vaping Zealots Find Opportunity in the Pandemic – From Ebola to Covid-19. Is all nicotine bad nicotine? – ETHRA Calls For Help – Professor Bauld on Nicotine – She Blinded Me With Lung Science – RACP In Major Policy Shift – 180 by Glantz – Nipped in The Bud – Aye pal, that's how tobacco control works – Inside Michigan's Fight for Safe, Legal Vapes – How vaping restrictions undermine COVID-19 fight – High E-Cig Use by U.S. Adults Who Just Quit Regular Cigarettes – Nicotine Science and Policy Daily Digest
COVID-19 may be a disease of the nicotinic cholinergic system
Konstantinos Farsalinos, RaymondNiaura, Jacques Le Houezec, Anastasia Barbouni, Aristidis Tsatsakis, Dimitrios Kouretas, Apostolos Vantarakis, Konstantinos Poulas
As of 20 April, almost 1.7 million people globally have been diagnosed with Corona Virus Disease 2019 (COVID-19), a pandemic that has evolved from the emergence of a new coronavirus strain, acute respiratory syndrome coronavirus 2 (SARS-CoV-2), in China. More than 170,000 deaths have been reported, while there are certainly many more cases of milder disease that have not been diagnosed and officially confirmed due to limited testing capacity in most countries. The pandemic is a global emergency due to the rapid transmission of the disease and the potential to overwhelm the healthcare systems, and is expected to have considerable economic and health impacts. Possible contributing factors, their possible role in the relatively high infection, death rates between countries and origin have recently been studied….
About Coronavirus and Nicotine – Sally Satel
In response to intriguing data from French scientists showing that smokers are strongly underrepresented among patients with COVID-19 symptoms, French citizens have started to apply nicotine patches to their upper arms.  The practice has become so widespread that it created a run on supplies, prompting the government to limit people to one month's supply of patches and require that they be purchased at pharmacies rather than online.

Last March, Konstantinos Farsalinos, a physician-researcher at the University of West Attica, was one of the first to observe that smokers were under-represented in Chinese patients with COVID.
---

---
Is all nicotine bad nicotine? – Ian Sliney
Forty-seven years later I still remember my first cigarette, and I was addicted to nicotine from the first puff. I smoked regularly for twenty years, then following multiple attempts, I kicked the habit cold-turkey after a doctor in Nairobi misread a chest x-ray and warned me I may have a Broncho-carcinoma. Luckily he was wrong.

I managed to stay away from nicotine for another twenty years.  Then, in early October 2014, I Ied an Ebola response team into Monrovia at the height of the West African Ebola epidemic. As we waded through the hypochlorite baths at the airport, rinsed our hands in Clorox at the entrance to the terminal, and had our temperatures taken by public health nurses in full bio-hazard suits, my friend and colleague Christophe, ex-Médecins Sans Frontières and lifelong smoker, pulled out a pack of Marlboro Lights, shrugged his shoulders and said, "Peu importe, t'es foutu" (Either way, you're screwed).
Regarding e-cigarettes after North American EVALI cases spook the public
The UK has been a world leader in vaping research and progressive regulations which support e-cigarette use as a smoking cessation tool. The Royal College of Physicians was the first to conclude that vaping is at least 95 percent less harmful than traditional combustible tobacco. The UK Government embraced this data and created a regulatory framework to support e-cigarettes as a pathway to quit smoking.

The North American EVALI outbreak has shifted the UK's public perception of vaping. Now almost half of the UK's population views e-cigarettes as more harmful than smoking. The UK released its 6th annual independent report, "A Tobacco Control Plan for England". Following the report is a statement reassuring the public that vaping is still at least 95 percent less harmful than smoking.
---
---
In the Pandemic – Helen Redmond
"We have to seize this moment," said Laurie Rubiner, executive vice president of the Bloomberg-funded Campaign for Tobacco-Free Kids.

She was speaking earlier this month, when the National Medical Association (NMA) held a webinar titled, "COVID-19: Accelerating the urgency of anti-vaping initiatives."

Why—amid an unprecedented pandemic that has killed 60,000 Americans, stressed hospitals to the point of collapse and left thousands of frontline healthcare providers without personal protective equipment (PPE)—would the NMA choose to hold that webinar?
Subject to FDA Authority, Sales and Distribution Restrictions
This Small Entity Compliance Guide is intended to help small businesses understand and comply with FDA's final rule deeming tobacco products to be subject to the Federal Food, Drug, and Cosmetic Act (FD&C Act), as amended by the Family Smoking Prevention and Tobacco Control Act (Tobacco Control Act) (the Deeming Rule). The Deeming Rule extends FDA's tobacco product authorities in chapter IX of the FD&C Act to include all tobacco products, except accessories of newly deemed tobacco products. The Deeming Rule also prohibits the sale of covered tobacco products to individuals under the age of 1822 The federal minimum age of sale has since increased to 21….

Five from Dave Cross, Planet of the Vapes
European Tobacco Harm Reduction Advocates (ETHRA) has issued a call for help to oppose the Danish push to ban eliquid flavours we reported on earlier this week. The message the organisation is putting out is clear: "If you tolerate this then YOUR flavours will be next".

ETHRA writes: "The Danish government 'forgot' to notify the European Commission prior to the negotiations regarding the proposed flavour ban, and now they have promised the majority of the political parties that have reached an agreement through negotiation that a flavour ban can go into effect, without any problems. This oversight is what the Danish government is trying to cover up at the moment. There is no transparency in the way they are handling the proposed ban, and they are trying to push the legislation amidst a COVID-19 crisis, where the media and the European Commission has their focus elsewhere."
Professor Linda Bauld spoke to BBC's Inside Health program about the link between nicotine and COVID-19, and what this means for smokers. The presenter asked her about the apparently "contradictory stories" and if smoking led to increased risks of becoming infected with the virus.

Linda Bauld is a Professor of Public Health at the University of Edinburgh and Chair in Behavioural Research and Cancer Prevention at Cancer Research UK. She opened by saying: "Smoking status is being very poorly recorded and even in the UK we have far to go to get that right."
---
With Prof Linda Bauld, BBC Radio 4 (28/04/20)
Thanks as always to @dnglos for the YouTubage
---
A study funded and published by the American Heart Association (AHA) has unsurprisingly 'found' something negative about vaping. Unsurprisingly, because everything the AHA does is slanted against vaping. The team say vaping "damages the arteries and blood vessel function much like smoking traditional cigarettes". Their findings contrast starkly with those obtained by independent studies.

Boston University School of Medicine's Jessica Fetterman, lead author of the study, said: "Many people believe e-cigarettes are safer than combustible cigarettes. In fact, most e-cigarette users say the primary reason they use e-cigarettes is because they think e-cigarettes pose less of a health risk. Meanwhile, the evidence from scientific studies is growing that e-cigarettes might not be the safer alternative to smoking traditional cigarettes when it comes to heart health. Our study adds to that evidence."
The Royal Australasian College of Physicians (RACP) has been a long-term opponent to vaping and tobacco harm reduction in general. Happy to quote the crank Simon Chapman, the RACP has opposed flavours, advertising and general use. Now, in a submission to the New Zealand government, it has announced a position shift due to accepting new evidence from (mainly) the UK.

In 2016, Simon Chapman told an RACP conference that although smoking cessation had stalled in Australia, the organisation should continue to oppose vaping. It went on to advise the New Zealand government later that year: "The potential for e-cigarettes to continue supporting people's addiction, or indeed create a new generation of people addicted to nicotine and smoking behaviour, needs to be considered. The devastating impact addiction has on people's life choices, life opportunities and life chances is too often overlooked and underestimated."
Censured anti-vaping mouthpiece Stanton Glantz has called for open system vape products to be banned and says that only regulated pod systems should remain on sale in the United States. After continuous attacks on the pod industry sector, this represents a 180-degree shift for the disgraced studies-for-cash zealot.

Glantz, the author of the retracted heart study, has long opined that pods pose a danger to youth – yet here he is, demanding the 50mg pods used by teens are the only ones remaining in stores: "My colleagues and I have submitted [a] public comment to FDA in response for its request for information on what not to allow in e-cigarettes in light of the outbreak of serious lung disease (EVALI) last year."
---

---
Stefanie Rossel
A small but burgeoning product category was blighted when India prohibited the import, production, advertising and sale of vapor products in late 2019. The nationwide ban came after several states and union territories had implemented similar restrictions on electronic nicotine-delivery systems (ENDS) in previous years.

"This was the culmination of a five-year effort to ban e-cigarettes, which began in 2014 when the central government set up three panels to advise on the way forward," explains Samrat Chowdhery, founder and director of the Association of Vapers India (AVI). "The way these committees were constituted—staffed with anti-tobacco harm reduction [THR] tobacco control experts and government officials—the outcomes were pre-decided and all three recommended a ban."
On platelet and vascular function after four months of use
We examined the effects of electronic cigarette on platelet and vascular function after 4 months of use compared to tobacco smoking. Forty smokers without cardiovascular disease were randomized to smoke either conventional cigarettes or an electronic cigarette (nicotine concentration of 12 mg/ml). At baseline and after four months, we measured a) platelet function by Platelet Function Analyzer PFA-100 and Light Transmission Aggregometry, b) pulse wave velocity, c) plasma malondialdehyde levels as oxidative stress index and d) the exhaled CO level. After 4 months, continuation of conventional cigarette smoking further impaired platelet function compared to vaping as assessed by PFA
Simon Clark, Taking Liberties
It didn't take long for the tobacco control industry to fight back in response to studies that suggest that smoking, or nicotine, may protect smokers against coronavirus. Although most public health campaigners have chosen to ignore the mounting evidence, there had been murmurings on social media.

As I wrote last week (Tobacco control reacts to an inconvenient truth about smoking and Covid-19), public health 'experts' had started to question the lower than expected prevalence of smokers among Covid-19 patients by highlighting the "low reporting of smoking" or the "poor recording of smoking status".

Althea Legaspi
Dan Colucci's cigarette habit started before he was a teenager. It was part of his ritual on the way to middle school, when he would pass by a local gas station in Bloomfield Hills, Michigan. "Packs of cigarettes were sitting loose," he tells Rolling Stone. "So, I would just go grab a Coca-Cola, a pack of gum, and then I'd grab Vantage cigarettes and they'd sell them to me. I was 12. Back then they were like 95 cents. So, I started smoking basically from that point on."

It would be more than 30 years and one failed attempt going cold turkey before Colucci — a band manager who's worked with groups including Tantric and Saving Abel — would finally quit. Vaping enabled him to kick smokes for good; he hasn't had a cigarette since 2016.
John Kristof
Anti-vaping opportunists are trying to use today's public health crisis to capitalize on last fall's public health hysteria. Citing concerns about vapers' potential susceptibility to COVID-19, several states are looking into including vaping regulation as part of their coronavirus response. In a similar vein, the House Oversight Committee urged the Food & Drug Administration to "clear the market" of e-cigarette products.

Such regulation was misguided long before the pandemic developed. In fact, if anything, vaping's record as a tremendously effective smoking cessation aid makes it as important now as ever. Good coronavirus policy — and good public health policy in general — will leave the vaping market be.
Who Just Quit Regular Cigarettes – Salynn Boyles
Use of electronic cigarettes appeared to have stabilized among U.S. adults in 2018, with cigarette smokers who had recently kicked the habit reporting the highest rates of ever- and current e-cigarette use, according to national survey data.

In 2018, 3.2% of surveyed adults (ages 18 and older) reported regular current e-cigarette use, which was the same percentage as in 2016, reported Maria Villarroel, PhD, of the CDC National Center for Health Statistics (NCHS), and colleagues.
Kurt Yeo
The closure of vaping shops by the government as part of the National State of Disaster Lockdown to help curb the spread of the coronavirus in the country came as no surprise to members of the vaping community.

While expected, the lockdown has brought with it difficulties for the growing vaping community which is increasingly finding it difficult to procure vaping products, such as e-liquids and parts for their devices and, as such, have been left in a lurch.

As many readers are aware, nicotine addiction is one of the most difficult habits to break.
---
A look back at how things have moved on or otherwise….
Joseph Magero, Medium
Having been a smoker since high school, my first encounter with tobacco control was in pre-college where I was required to do a presentation outlining the dangers of smoking and the number of people killed by smoking related diseases. It was then that I realized just how bad the situation was, and how little was being done to curb the epidemic. I began to do some advocacy work independently, using my voice, and the collective voice of others, to bring about change.
Dave Cross, Planet Of The Vapes
A new report in JAMA Internal Medicine says that the more disadvantages people face the more they are likely to smoke. It highlights the need for a sound tobacco harm reduction (THR) approach, yet some of the authors are associated with exceptionally poor quality anti-vaping science.
Dave Cross, Planet Of The Vapes
The Campaign for Tobacco-Free Kids (CTFK), Action on Smoking and Health (ASH) and Stopping Tobacco Organizations & Products (STOP) have reported British American Tobacco (BAT) to the UK's Advertising Standards Authority (ASA). The complaint stems from alleged breaches of regulations due to BAT's promotion of its Vype e-cigarettes.
---
Visit Nicotine Science & Policy for more News from around the World

---