Vaping Digest April 29th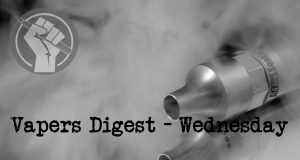 Wednesday's News at a glance:
Scientists must discover why so few coronavirus patients are smokers ~ Why Are Smokers Being Hospitalized Less Often From Coronavirus? ~ Does Smoking Make COVID-19 Worse? Better? Here's What We Actually Know. ~ MORE evidence smoking may cut the risk of coronavirus ~ ++BREAKING++: Liars To Convene In The Hague 12 Months Later Than Planned ~ Nicotine and Covid Reactions ~ Nicotine Nightmare for the Antz ~ CASAA CEO Responds to Biased Bloomberg Rag Decrying Bias, Slandering Advocates ~ Fontem US LLC Submits Premarket Tobacco Applications for myblu Electronic Vaping Products ~ FDA Tells Uwell to Remove the Caliburn from the Market ~ Blu Files PMTA; Will the Indie Vape Industry Be Shut Out?
Guy Bentley, Washington Examiner
One assumption about COVID-19 that's been accepted as so obvious it needn't be supported with data is that smoking heightens the risk of infection, hospitalization, and death.

Cigarettes are one of the most lethal products on the market. Their hazards are so various and well-known that it seems intuitive that smokers would be at severe risk for the coronavirus. In March, New York City Mayor Bill de Blasio asserted smokers and vapers are more vulnerable to COVID-19. In a television appearance, the surgeon general speculated vaping could be the reason why more young people were hospitalized in New York than anticipated.
Alex Norcia, Vice
The Chinese smoke. Well over half the nation's men are smokers, and the World Health Organization (WHO) estimates that one third of the planet's cigarettes are smoked in China. But earlier this year, Konstantinos Farsalinos noticed something odd: Very few of those hospitalized for the coronavirus in the country appeared to be smokers.
, Slate
Are smokers and vapers more likely to die of COVID-19? To judge by news coverage of the topic, the answer is an unequivocal yes. The New York Times, Wired, CNN, Bloomberg, and numerous other publications have run stories warning that smokers and vapers are at higher risk. Anti-tobacco groups are using the pandemic as an opportunity to push for new restrictions on nicotine, ranging from bans on vapor products to the complete prohibition of cigarettes. At least one senator, Richard Blumenthal of Connecticut, is citing the disease as justification for a national ban on flavored e-cigarettes, while House Democrats are urging the FDA to temporarily ban e-cigarettes entirely.

---
Review of 28 studies shows number of smokers among hospitalised patients is 'lower than expected' as expert admits the mounting findings are 'weird'
Vanessa Chalmers, Daily Mail
UCL reviewed 28 studies from China, US, France, South Korea and the UK
It found smokers were less common than expected among COVID-19 patients 
Researchers said there data on smoking is not to a high standard and has holes
But it's not the first time the unexpected link has been spotted by scientists 
One expert said 'something weird is going on with smoking and coronavirus'
---
---
Dick Puddlecote
Today saw an announcement from the World Health Organisation that their biennial anti-nicotine shitfest has been postponed by a year.

In light of the COVID-19 global pandemic and its impact on the conduct of international global conferences and travel, the Bureaus elected by COP8 and MOP1, after consulting the host country, have decided that convening the Ninth Session of the Conference of the Parties to the WHO FCTC (COP9) and the Second Session of the Meeting of the Parties to the Protocol to Eliminate Illicit Trade in Tobacco Products (MOP2), scheduled for November 2020, is no longer possible.

They have been moved back until November 2021 instead.
---
TWO from Dave Cross, Planet Of The Vapes
As we reported yesterday, the Campaign for Tobacco-Free Kids (CTFK) was quick to respond to the story that researcher in France are examine the potential benefits of nicotine to reduce the symptoms of the COVID-19 pandemic. The organisation's President wasn't alone as many others are also passing comment.
World Health Organisation mouthpieces have been busy sharing a statement issued by Matthew Myers, President of the Campaign for Tobacco-Free Kids, who calls the statistics reported from France as "misleading". Meanwhile France has swiftly restricted access to nicotine products as it fears people might use nicotine "too much".
---

---
Alex Clark, CASAA
Anyone involved in tobacco harm reduction or vaping advocacy has figured out that Mike Bloomberg is rabidly against vaping and harm reduction. As such, his publications and various "grassroots" groups he funds are frequently behind misinformation campaigns that lead the public to believe that nicotine vapor products are not only more dangerous than combustible cigarettes, but also linked to COVID-19 or EVALI.

That is why advocates are particularly incensed at a recent article published in Bloomberg by Tiffany Kary, which attempted to discredit harm reduction advocates and researchers over alleged financial ties.
Kelly R. Cushman, Yahoo Finance
Fontem US LLC (Fontem US) today announces that it has submitted Premarket Tobacco Product Applications (PMTAs) to the U.S. Food and Drug Administration (FDA) seeking authorization for the continued marketing of a wide range of its myblu electronic vaping products.

Fontem US's blu products play a fundamental role in the company's goal of providing adult smokers with options that are potentially less harmful than combustible tobacco products.
---
TWO from Jim McDonald, Vaping 360
The FDA announced Monday a new round of warning letters to vaping manufacturers and retailers, demanding that some vaping products be removed from the market. Most of the items named are niche products, but one is a very popular refillable pod vape, the Uwell Caliburn.
All three major U.S. tobacco companies that sell vaping products have now submitted Premarket Tobacco Applications (PMTAs) to the FDA. Fontem US LLC, a division of Imperial Brands, has applied for marketing approval for its myblu pod vape and some prefilled pods for the device.

The myblu is a simple pod device that offers pods in a variety of flavors. Fontem says its PMTA includes "a wide range of…myblu electronic vaping products," but doesn't specify which flavors have been submitted to the FDA for approval.
---
A look back at how things have moved on or otherwise…
Fergus Mason, Vaping Post
Most of the news this week has been about the continuing legal onslaught against American vapers. As states and local authorities continue pushing through stricter bans, the federal government is getting in on the act – a complete ban on flavours is back in the Senate, and might make it through this time. Meanwhile, thousands of young people are being given criminal records in the insane pursuit of a nicotine-free America.
Rachelle Annechino, Tamar M.J. Antin
Research suggests that many people in the US are misinformed about the relative harms of various tobacco and nicotine products. Concerns about public misinformation have often been framed as relevant only to the degree that public health institutions agree to prioritize conventional approaches to tobacco harm reduction. We argue that while the information priorities of public health professionals are important, ethical and credible information sharing also requires consideration of broader issues related to public trust. To promote trust, public health institutions must develop truth telling relationships with the communities they serve and be genuinely responsive to what people themselves want to know about tobacco and nicotine products.
---
Visit Nicotine Science & Policy for more News from around the World

---