Vaping Digest April 15th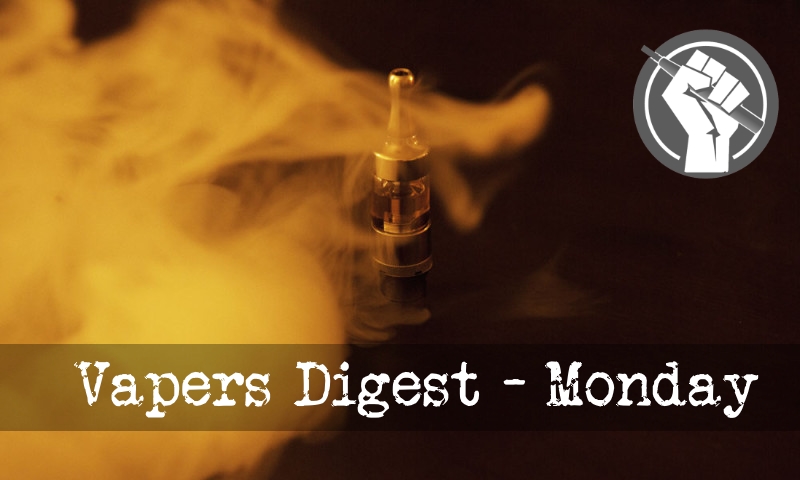 Monday's News at a glance:
Vaping hysteria locks more toilet doors, Filipino FDA comes under fire and the pro-harm crusade continues – In Approaching Nicotine, Let's Learn From Past – Vaping In The News April 13th – Vaping on Radio 4 – Vape shops are everywhere – Jan's viewpoint on Vaping Policy Forum – How Hong Kong vaping ban could hurt smokers – FDA Created the Youth Vaping Epidemic – US cigarette sales slump as vaping hits new heights – Vaping, Smoking, Driving, Voting. When Are You An Adult? – Juul launches a pilot program – Nicotine Science and Policy Daily Digest
Filipino FDA comes under fire and the pro-harm crusade continues
Fergus Mason, Vaping Post
American school officials continued to demonstrate their ability to over-react last week, as a Connecticut high school locked up all but one of its toilets in case anyone used an e-cig in there. Meanwhile Iowa legislators continue to push for a higher age limit on vapour and tobacco products, while their counterparts in Indiana have opted for a high-tax approach to attacking harm reduction. Vaping advocates in Asia are pushing back, though, as a coalition releases a position paper strongly criticising the Philippine FDA.
Let's Learn From Past Harm Reduction Victories  – Michael McGrady
Alternative nicotine products—including e-cigarettes, lower-risk tobacco alternatives like snus, and heat-not-burn devices—have fallen under disproportionate levels of scrutiny all over the world. In the United States alone, now-former Food and Drug Administration (FDA) commissioner Scott Gottlieb—without intention, I'm sure—engineered a nationwide panic that suggests that nicotine consumption among youth through electronic delivery systems (vapes, e-cigarettes, etc.) is at endemic levels.
---

---
Kevin Crowley, Vaping Links
Younger individuals and their human right to harm reduction ~ Proposed bill would raise national legal sales age for vaping products ~ Bizarro World: Gottlieb Questions Rite Aid's Decision to Drop Vapes ~ The Deeming Rule: A Brief History and Timeline of the FDA's Vaping Regulations ~ Smoking and health: Quitting with traditional approaches vs. e-cigarettes ~ Vaping Industry Trade Associations
Dave Cross, Planet of the Vapes
India's trade ministry admits it cannot impose a ban on electronic cigarette imports. A UK campaign to ban sale of cigarettes to under 21s gathers pace. Professor Robert West discusses insurance for vapers on BBC Radio 4. American cops visit schools to warn students about vaping. Seychelles is set to introduce new regulations legalising the sale of vapour products, and McLaren debuts e-cig branding in Bahrain.
---
DAYTONA MINI on eBay, half the proceeds will go to NNA so please dig deep! https://t.co/G8hMlQnnUM

— NNAlliance (@NNAlliance) April 14, 2019
Packet 30 cigarettes increased in Australia from < $10 in 2010 to >$40 in 2018 yet smoking rates virtually flat since 2013. Please explain? Meanwhile smoking rates falling faster than ever in #vaping friendly countries https://t.co/i1dBdqQDET

— Alex Wodak (@AlexWodak) April 15, 2019
---
Dave Cross, Planet of the Vapes
Dr Mark Porter is an experienced medical journalist who has worked at The Times and Saga Magazine, and as presenter of Radio 4's medical series Inside Health. Recently, he spoke to University of Bristol's Professor Marcus Munafo about how vaping is dividing the public health community.
"While the number of smokers in the UK has fallen by nearly a fifth over the last five years, the number who vape is at an all-time high," Porter began. "But while the falling smoking rate is exciting public health experts, the burgeoning growth of vaping has divided them."

Porter turned to Biological Psychologist Professor Munafo for answers.
But what do they think about our changing high streets?
It's a sunny Wednesday afternoon during the Easter holidays and the shops in Bolton town centre seem to be doing a brisk trade.

At one end of the recently revamped Newport Street precinct a little funfair has been set up to keep the kids entertained and plenty of families are milling around.

But just 24 hours earlier, businesses were rocked by the news Debenhams had gone into administration, leaving 25,000 staff fearing for their jobs and casting doubt on the future of the Bolton branch.
---

---
Jan Walsh, AVCA
On Thursday 4 April I attended The Inaugural New Zealand Vaping Policy Forum at Parliament where the Ministry of Health announced proposed regulations regarding vaping. The proposal was lacking in any great detail, but was outlined as follows:
1. R18 restriction on sales
2. Smokefree = vape free except for vape shops
3. No promotion or advertising
4. No point of sale display except for specialty shops
5. Product safety standards
6. There will be a product notification system, whereby new to market products will have to notified somewhere
7. An intention to look at colours and flavours

The last presentation of the day was given by Emeritus Professor Robert Beaglehole.
Michelle Minton
E-cigarettes pose less risk than smoking. The science is clear: while cigarettes kill about half their users, e-cigarettes have perhaps five percent of the risk. Therefore, e-cigarettes have the ability to save the lives of those smokers who switch to vaping. Yet, the U.S. Food and Drug Administration (FDA) is trying to eradicate e-cigarettes, a move that would sacrifice smoker lives and squander one of the greatest public health opportunities of our generation
Could hurt tobacco smokers who want to quit
We write out of continuing concern about the call for a complete ban on e-cigarettes, heated tobacco products and other reduced risk tobacco product sales and possession.
The justifications for this ban – including that both combustible cigarettes and reduced risk products are harmful, and that people should quit using other "proven effective" methods – ignores the potential for reduced risk products to help people who smoke to move away from the most hazardous product, cigarettes.

As vaping hits new heights – Gaelle Walker
Sales of cigarettes in the US have nosedived as smokers continue to switch to vaping in their droves, new data has revealed. Sales fell by 8.8% year on year in the four weeks to March 23, according to the latest US syndicated market data from Nielsen, which tracks cigarette sales.

The figures follow an 8% decline in February and an overall 5.3% decrease in 2018.

Commenting on the fall, public health advocate and vaping author David Sweanor said: "There is a pronounced acceleration in the decline of cigarette sales over the past year, and the increase in e-cig sales is a mirror image of the decline in cigarette sales."
When Are You An Adult? – Jazz Shaw
One of the latest acts of government regulation intended to save us all from ourselves is the growing number of states raising the minimum age to purchase tobacco or vaping products to 21. As CBS News reports, Illinois is among the latest to make this move.

Now here comes the kicker. Last week, Congressman Robert Aderholt (R) of Alabama's 4th District introduced legislation that would make 21 the legal age for tobacco or vaping products for the entire country. On the surface, you might find this an appealing idea. After all, you don't want more young people taking up smoking or becoming addicted to nicotine, right? What's not to like?
That tracks how Juul devices get in the hands of minors
Juul Labs is today launching a pilot for its new Track & Trace program, which is meant to use data to identify exactly how Juul devices wind up in the hands of minors.

Juul vaporizers all have a serial number down at the bottom, by the Juul logo. However, it wasn't until recently that Juul had the capability to track those serial numbers through every step of the process, from manufacture to distribution to retail to sale.
---
A look back at how things have moved on or otherwise….
New Nicotine Alliance
The European Union's ban on the smoking substitute snus can be upheld according to the European Court of Justice's advocate general. In his preliminary opinion, ahead of the court's decision this summer, Henrik Saugmandsgaard said that while the evidence for the ban was not clear cut, the European Parliament had the right to impose the ban in 1992. He said that he did not find that the ban was "manifestly inappropriate". (The opinionwas released this morning.)
Dick Puddlecote
As I reported in January, the UK government went in to bat for the EU in favour of upholding the ban on snus everywhere but Sweden when it was challenged in the ECJ.

Overwhelming isn't the word, snus has just about been given a clean bill of health in every aspect. A Lancet review spoke of no evidence of harm from long-term use of snus "for any health outcome" (p 1364).
Paul Barnes, Facts Do Matter
Back in January last year I scribbled about the EU and its ideologically founded belief that all forms of tobacco are a "bad thing".  Since then, the New Nicotine Alliance asked for, and received, permission to join the legal action brought about by Swedish Match in July 2016 in the UK.

As with any legal challenge, I expected a slew of articles to push a certain agenda – i.e. in favour of the status quo. Imagine my surprise when not very much happened. Until recently that is.
See also:
---
Visit Nicotine Science & Policy for more News from around the World

---