Vaping Digest April 12th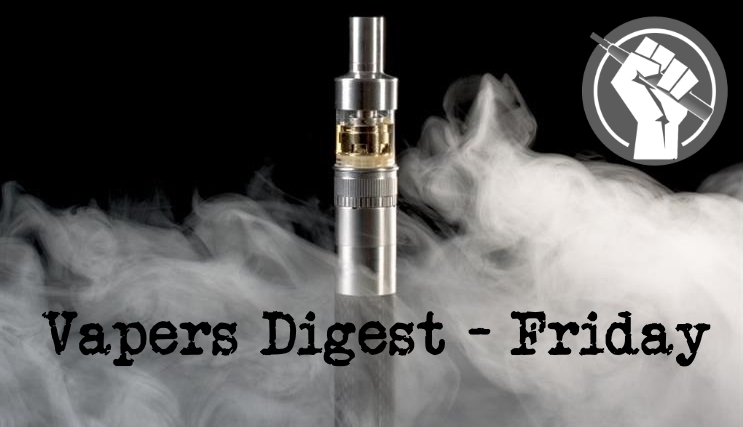 Friday's News at a glance:
Fake seizures scare from FDA, but Hawaii flavour ban stalls for now – Gottlieb Questions Rite Aid's Decision – GSTHR Attacked in Nigeria – Buzz Off Smokers – THR in Parliament – How Restrictions Are Increasing Youth Tobacco Use – Does nicotine actually help protect against Parkinson's? – Why Are Lawmakers More Concerned with Youth Vaping than Opioid Abuse? – Maura Healey calls for tax on e-cigs – A sin tax, minus the sin – Our relationship to nicotine is changing – Premium Cigars Threatened – No Legal Basis To Ban Imports – Vaping: Sinner or sinned against? – Health advocates push for firm regulations – Nicotine Science and Policy Daily Digest
But Hawaii flavour ban stalls for now – Fergus Mason
The FDA, led by outgoing commissioner Scott Gottlieb, has cooked up a new health scare to persuade smokers to keep smoking. According to a recent statement the agency is investigating a possible link between vaping and smoking – but their "evidence" is statistically insignificant. Meanwhile Hawaii legislators have delayed a flavour ban, asking for more evidence it will actually achieve something – a rare step in tobacco control. Indian vapers are still threatened by new regulations, though, and Alabama has tacked flavour restrictions onto an age limit bill.
Jim McDonald, Vaping 360
Pharmacy chain Rite Aid will stop selling vaping products, but continue to sell cigarettes. The bizarre decision was announced Thursday on a conference call with financial analysts.

Former FDA commissioner Scott Gottlieb weighed in on Twitter, shocking vapers by questioning the Rite Aid decision. "Huh? Rite Aid nixes lower risk e-cigs but sticks with combustibles?" asked the ex-FDA boss without irony.

Gottlieb was last seen announcing an FDA "investigation" into 35 reports of seizures supposedly caused by vaping over the last 10 years. Now the man who walked away from the FDA after energetically throwing fuel on the dumpster fire of public opinion has decided to defend vapes?
---

---
Dave Cross, Planet of the Vapes
Knowledge Action Change's (KAC) commissioned the "No Fire, No Smoke – Global State of Tobacco Harm Reduction" report, launched in the UK last year. The work was supported by the Foundation for a Smoke Free World. The launch in Nigeria has been met with criticism from people who appear not to have read it.
The UK launch of "No Fire, No Smoke" took place at the Houses of Parliament, last December. The full report runs to 128 pages and is the first time the global, regional and national availability and use of safer nicotine products, the regulatory responses to these products, and the public health potential of tobacco harm reduction have all been mapped.
Dave Cross, Planet of the Vapes
The University Hospital of Wales (UHW) in Cardiff has installed a "Big Red Buzzer" for people to press if they see anybody smoking. Multiple attempts to contact UHW reveal that vaping is allowed on the hospital grounds.
If someone is seen smoking outside UHW Cardiff, staff or members of the public can press the "Big Red Buzzer". After being pressed, a recording of a child asking the smoker to stub out the cigarette is played over a PA speaker system.

Staff working at the women's unit had previously voiced concerns over the volume of patients and visitors smoking nearby, with the cigarette smoke entering through open windows.
---
---
Dave Cross, Planet of the Vapes
Rosie Cooper was concerned about the steps being taken to encourage pregnant women to quit smoking. Lord Rennard wanted to know what was being done to streamline the medicinal licensing process for e-cigarettes. Bob Blackman introduced a 10-minute bill to require tobacco companies to publish sales and marketing data.
Rosie Cooper asked: "What steps the Government is taking to better promote awareness and understanding of healthy behaviour including (a) reducing smoking during pregnancy and (b) promoting breastfeeding beyond the first weeks after birth which are integral to improving the health of children in early years?"
Dave Cross, Planet of the Vapes
India's trade ministry admits it cannot impose a ban on electronic cigarette imports. A UK campaign to ban sale of cigarettes to under 21s gathers pace. Professor Robert West discusses insurance for vapers on BBC Radio 4. American cops visit schools to warn students about vaping. Seychelles is set to introduce new regulations legalising the sale of vapour products, and McLaren debuts e-cig branding in Bahrain.

In India, a leaked government document from India's trade ministry shows it knows that calls for a full government ban on vape products has no legal support. The memo details how preventing the import of vaping kit runs contrary to the World Trade Organization the nation signed up to.
---

---
Are Increasing Youth Tobacco Use – Lindsey Stroud
Across the nation, lawmakers seem stuck in a tragic game of whack-a-mole. The more they try to reduce youth vaping, the more they increase youth combustible cigarette smoking.

Similar to how government regulations of opioid medications helped to fuel the recent heroin and fentanyl scourges, it seems government restrictions on e-cigarettes to combat the "vaping epidemic" has inadvertently increased combustible tobacco cigarette use among youth. Such is the law of unintended consequences.
The majority of Parkinson's cases are in North America. In Asia, on the other hand, it's much less common. Researchers are looking for ways to control the disease and are coming up with unusual results.

"It really seems that nicotine protects against Parkinson's," Daniela Berg, head of the Clinic for Neurology in Kiel, told DW. "Nicotine does not only refer to smoking itself, passive smoking is just as much a part of it as tobacco chewing," Berg explained.
With Youth Vaping than Opioid Abuse? – Lindsey Stroud
Why are lawmakers working so feverishly to limit their access to tobacco harm reduction products like e-cigarettes? The hypocrisy is seemingly endless.

In the latest installment of the youth vaping fear-mongering campaign, U.S. Sen. Jeanne Shaheen (D-N.H.) has called the reported increase in the number of young people trying e-cigarettes as a "national crisis." Apparently, Shaheen feels the need to add more alarmism to a debate that's already fueled by misleading research and commentary.
And banning vaping flavors – Alexi Cohan
Attorney General Maura Healey called Wednesday for banning flavored vaping products and taxing e-cigarettes to crack down on unsafe teen smoking habits in a speech before the New England Council.

"The reason I'm raising this is because this is a really big deal right now in schools and for parents around the state," said Healey, as she joined local business leaders to talk about the work of her office. "I think it's important that we update our law to address and try to curb this epidemic.".

Michael Cummins
The first time I saw someone vaping was about seven years ago, in Fairhope, Alabama. It was a postal worker, in maybe his late 50s. When I asked about the cylindrical contraption he was holding, he told me he'd be dead without it. He had been a two-pack-a-day smoker since his youth, and could simply not quit until he bought a vaporizer, which is a type of e-cigarette.

Now, in early 2019, a new Wisconsin governor has proposed a massive tax on vape products. If the tax is implemented, it will almost certainly decimate the state's burgeoning retail vape industry.
The developed world's relationship to nicotine is changing. Between 2000 and 2015, the number of smokers plummeted by 29 million. That drop hasn't been spread equally around the world — China now accounts for 44% of all cigarettes smoked each year, for example — but in many Western countries, the world's favourite addiction is fast going out of fashion.

Some fear it's just being replaced by new harms: the use of e-cigarettes — otherwise known as vaping — is skyrocketing in the US. Today, around 10.8 million American adults vape. The Federal Drug Administration is looking to crack down on e-cigarette use. Officials in San Francisco are even considering banning the sale of e-cigarettes outright,i pending a review of their impact.
Brad Rodu, Tobacco Truth
Chairman Marco Rubio convened a field hearing of the Senate Committee on Small Business & Entrepreneurship on April 5 in Tampa, Florida. The focus was on proposed FDA regulations' likely effect on premium cigar production and marketing. I was invited to testify on the health effects of cigar smoking. In addition to submitting formal testimony, available here, I made the following remarks at the hearing.
Bhumika Khatri
The Indian Ministry of Commerce and Industry has said it sees no legal basis to ban imports of electronic cigarettes, according to a memo seen by Reuters.

The development comes after a February order issued by the Directorate General of Health Services (DGHS) on the ban of sale, manufacture, distribution, trade, import and advertisement of e-cigarettes and vapes. The Ministry of Health had also advised states and government agencies to step up efforts to halt sales and imports, warning vaping devices pose a "great health risk."
Deepak Mukarji
Vaping is rapidly becoming a victim of polyphony. This is where the choice of what suits the 'political narrative' becomes clear. The problem is that if it is stated often enough, people begin to believe it is a rule. But scientific facts around vaping stand to the contrary. An executive agency of the Department of Health and Social Care in the United Kingdom, Public Health England (PHE), in its reports of 2015 and 2018 firmly declared that vaping is 95 per cent safer than smoking and as such encouraged it as a harm reduction product for smokers, who cannot or find it difficult to quit smoking tobacco.
Ivany Atina Arbi
Health advocates have urged the government to regulate the use of e-cigarettes to prevent non-smokers, particularly young ones, from taking up the habit.

Vaping — smoking battery-powered e-cigarettes — has been widely endorsed as an alternative to smoking tobacco cigarettes with claims that it produces no hazardous carbon monoxide and tar, unlike conventional smoking.

However, a number of health advocates have argued that vaping is not without harm. They pointed out that vaping, which converts liquid into mist, has users inhaling vegetable glycerin, propylene glycol, flavoring, coloring and nicotine.
---
A look back at how things have moved on or otherwise….
Programme highlights:
We are pleased to announce the programme and speakers for the fifth Global Forum on Nicotine. This is the biggest programme to date: there are over 60 speakers from 17 countries.

Programme highlights:
Plenary sessions:

Rethinking nicotine – policy and science
Science and the new understandings of nicotine
Neglected issues – and those who are left behind
Rachelle Annechino, Tamar Antin, Center For Critical Public Health
It should go without saying that public health institutions and researchers have an obligation to tell the truth. In principle, there aren't many stakeholders in e-cigarette research who would argue otherwise. But questions about whose truth and how information about e-cigarettes should be communicated have been highly controversial.

Partly this is because e-cigarettes haven't been around long (relatively speaking), and research takes time.
Diane Caruana, Vaping Post
A recent study published in the Internal Medicine Journal of the Royal Australian College of Physicians, reviews the latest scientific evidence on e-cigarettes, and concludes that since the devices are proven to be effective smoking cessation aids, doctors should be recommending them to smokers who are struggling to quit.
---
Visit Nicotine Science & Policy for more News from around the World

---