Vaping Digest 27th April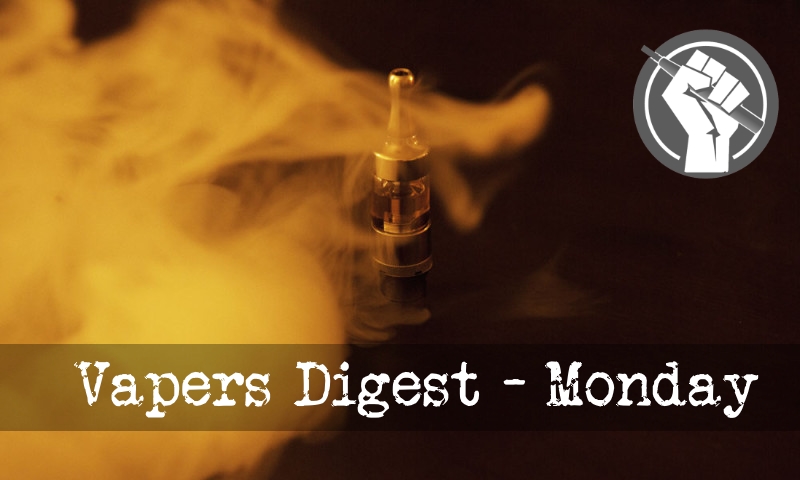 Monday's News at a glance:
If you tolerate this then YOUR flavours will be next – Vaping top discussed trend among tobacco alternatives – Vaping In The News ~ April 26th – US PMTA Deadline Moved to September 2020 Due to COVID-19 – France Limits Nicotine Sales As News of Clinical Trial Breaks – WHO Rips Into Vaping Yet Again In This Shocking Video – Melbourne May Ban Vaping in Smoke-Free Areas – Flavour Ban Fail – Flavour Ban For Denmark? – COP9 and MOP2 postponed to November 2021 – Nicotine fix: Social media peeved by WHO's anti-smoking campaign – Australia, England, And The US E-Cigarette Crisis Of 2019 – Nicotine Science and Policy Daily Digest
Then YOUR flavours will be next – ETHRA
WHY you need to respond to the Danish notification and HOW to go about it. Thank you to Danish Vapers Association (DADAFO) for writing this.     

Denmark is set to introduce a flavour ban on both nicotine and non-nicotine containing e-liquids, where only tobacco and menthol flavours will be permitted. This will affect 85-90% of Danish vapers, who will be forced to vape only tobacco or menthol flavoured e-liquids, or go back to smoking, or take the risk and buy unregulated black market products, or DIY to get the flavours they prefer, to have success with remaining smoke free.
Among tobacco alternatives on Twitter in Q1 2020, finds GlobalData
Vaping has emerged as the most discussed trend, generating 48% of all Twitter conversations related to tobacco alternatives by leading industry experts during the first quarter (Q1) of 2020, tracked by GlobalData, a leading data and analytics company.

An analysis of Tobacco Alternatives Influencer Platform, which tracks leading industry experts and their discussions around emerging trends, insights and overviews, new fields of innovation and technology, and other popular areas on Twitter, revealed nicotine as the top discussed sub-trend among vaping conversations. This was largely led by the investigation by Centers for Disease Control and Prevention (CDC) and other health partners about association of lung injuries with nicotine vaping products.
Kevin Crowley, Vaping Links
It's Official! PMTA Submission Deadline Will Move to Sept. 9th ~ Will Nicotine Be a Game Changer for COVID-19 Patients? ~ Tobacco Free Kids has no data ~ Truth Initiative is posturing publicly ~ White House weighing plan to replace Azar ~ Surgeon general gets pushed to sidelines, sparking questions ~ Mixed Messages from Surgeon General ~ COVID-19 Lockdown and The Damage to Vape Businesses and Their Customers ~ WHO Values Lines Of Text Over Saving Lives ~ WHO Rips Into Vaping Yet Again In This Shocking Video
---

---
Diane Caruana, Vaping Post
Given the disruptions caused by the COVID-19 outbreak, the FDA had recently asked to push back its May 12th premarket tobacco applications (PMTA). Earlier this month a federal court judge accepted the request.

As the May 12th PMTA deadline was fast approaching, a number of entities including Altria Group Inc. and tobacco association NATO, had asked the FDA to push the deadline back due to the complications caused by the coronavirus pandemic. Altria asked that the FDA seek an extension from a federal judge in Maryland, to coincide with the eight-week social-distancing period recommended by the CDC.
As News of Clinical Trial Breaks – Jim McDonald
The French government has temporarily limited sales of nicotine replacement products after French researchers announced a clinical trial to determine if nicotine can help prevent coronavirus infection, or treat COVID-19 complications. The temporary restrictions do not affect consumer products like nicotine vapes or tobacco products.

The government said the restriction are intended to prevent "excessive consumption" inspired by the announcement of the studies showing nicotine's promise as a COVID-preventive medication, and to guarantee a "continuous and appropriate supply to people requiring medical support to stop smoking."
---
Super graphic produced by @vaper_the that rapidly conveys the information of a recent twitter poll of US Vape shop owners( zero data exists from conventional sources like Nielsen or Wells Fargo, as they only cover convenience stores + gas stations) pic.twitter.com/VYFc9LbxpN

— Alan Beard (@Alan_Beard1) April 26, 2020
---
In This Shocking Video – Neil Humber
Try and hold your anger in check whilst you watch this video in which the WHO rips into vaping yet again.

I've called it 'shocking' and it really is – especially the level of blind ignorance shown from a member of the World Health Organisation's Tobacco Control Unit.

He is Dr Vinayak Mohan Prasad and is the Programme Manager, of the WHO Tobacco Free Initiative (TFI). Before I get into the position Prasad is taking and why – here's the video in which he quite literally slams e-cigarettes as:
In Smoke-Free Areas – Diane Caruana
If the City council's amendment is passed, vaping could soon be banned in the city's 11 no-smoking areas. Lord mayor Sally Capp, said that the ban would align the city with the rest of the state, where sadly e-cigs are subjected to the same regulations as cigarettes.

"E-cigarettes are relatively new but we know that there is a possible link to serious lung disease and growing evidence that e-cigarettes can lead young people to start smoking regular cigarettes," she said.

The non-vaping areas would include Bourke Street Mall, the Causeway, Howey Place, Block Place, Equitable Place, Goldsbrough Lane, QV Melbourne, the Tan and Princes Park running tracks, Collins Way and Fulham Place.

Two from Dave Cross, Planet of the Vapes
Researchers at the Penn State College of Medicine have "discovered" that adults like vape flavours and will attempt to circumvent any ban. Meanwhile, the American Cancer Society looked at the impact of JUUL withdrawing flavoured products and found that sales of all products continued to rise.

Last month, POTV covered how outright vape bans led to an increase in teen vaping. One example from Santa Clara County, California, where "flavoured tobacco product" sales to age-restricted stores was banned in 2014 led to an increase in youth e-cigarette use.
"Tobacco smoking is the main preventable source of disease and death in Denmark," says the Danish government. So, to reduce the annual death toll, it is seeking to place further restrictions on vaping and other alternative nicotine products. DADAFO, the Danish consumer advocacy organisation, is sceptical about the effectiveness of the proposals – especially if they are applied to vaping.

"A particular problem relates to smoking by children and young people, as they are particularly vulnerable to the harmful effects of tobacco and other nicotine products," says the Danish government.
---

---
To November 2021. Stay tuned
In light of the COVID-19 global pandemic and its impact on the conduct of international global conferences and travel, the Bureaus elected by COP8 and MOP1, after consulting the host country, have decided that convening the Ninth Session of the Conference of the Parties to the WHO FCTC (COP9) and the Second Session of the Meeting of the Parties to the Protocol to Eliminate Illicit Trade in Tobacco Products (MOP2), scheduled for November 2020, is no longer possible.

As a result, the Bureaus, in consultation with the host country and the Secretariat, decided during their Third Joint Meeting on 21 April 2020 to postpone the sessions of COP9 and MOP2 to the following dates:

COP9: 8–13 November 2021; . MOP2: 15–17 November 2021.

Social media peeved by WHO's anti-smoking campaign
The World Health Organisation (WHO), as part of a digital campaign against nicotine consumption, has claimed that using tobacco products increase your chances of contracting the novel coronavirus. In one post, it also accused tobacco lobbyists of trying to manipulate policy-making by having tobacco listed as 'essential' to allow its sale and delivery during lockdown.

But the triumphant note of the message didn't get the anticipated response on social media. Smokers were joined by non-smokers as they pilloried the multilateral body over the campaign as well as its response to the pandemic.
Australia, England, And The US E-Cigarette Crisis Of 2019
Ronald Bayer, Amy Fairchild, Virginia Berridge, Wayne Hall, Coral Gartner
The summer of 2019 witnessed a dramatic amplification of the controversy in the United States over the potential threat to the nation's youth posed by e-cigarettes. After years of festering debate, a summer outbreak of vaping-related injuries imperiled the idea that e-cigarettes could serve to advance the role of harm reduction for cigarette smoking.

We consider the responses in two countries that stand at opposite policy poles when it comes to tolerance for e-cigarettes as harm reduction for those who smoke combustible cigarettes. The context was one in which many assumed the outbreak might prove to be a policy game changer.
---
A look back at how things have moved on or otherwise…
While state lawmakers push for more bans – Fergus Mason
Both houses of the United States Congress are pushing forward bills that would impose a national ban on sales of e-cigarettes to under-21s. Many local and state legislatures have already passed such laws – with Maryland being one of the most recent – and now there's pressure from anti-harm reduction extremists to do the same at a federal level. Meanwhile politicians all over the USA seem to be jumping on the anti-vaping bandwagon in ever-increasing numbers, with flavour bans and restrictions on indoor use the favourite options.
Global Forum on Nicotine 13th to 15th June 2019
K·A·C Communications is delighted that Ronald W. Dworkin, M.D., Ph.D. will be delivering the Michael Russell Oration this year. Dr. Dworkin is a practising anaesthesiologist, holds a doctorate in political philosophy and teaches in the George Washington University Honors Program. In addition, he is a Senior Fellow at Hudson Institute in Washington D.C., a public policy research organisation.
In a recent article for The American Interest, Dr. Dworkin had some interesting – and controversial – things to say about some public health advocacy. We interviewed him ahead of the conference to find out what he's planning to bring to the event in his address, Interests and Ideology in Harm Reduction.
---
Visit Nicotine Science & Policy for more News from around the World

---