Vaping Digest 24th April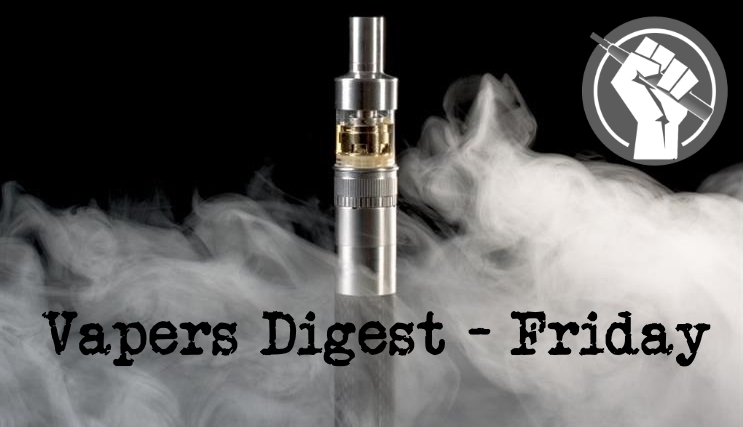 Friday's News at a glance:
Does nicotine protect from COVID-19? French scientists investigate – COVID-19, Smoking, and Vaping: More Research Needed – Will Nicotine Be a Game Changer – COVID-19 & Counter-Productive Calls For Prohibition – VOKE Removes Anti-Vape Data – Culture and Health webinar series 2020 – Unkind To Consumers – Anti-COVID Nicotine? – Belgium Failing Ex-Smokers – Bunkum From Bloomberg – Flavour Ban Fail – Medical specialists announce support for vaping – Anti-Vaping Efforts May Have Made Coronavirus Crisis Worse – Majority Of Indian Vapers Used E-cigarettes To Quit Or Reduce Smoking – Restate tobacco harm reduction policy – E-cigarette use on the rise among US adults – Nicotine Science and Policy Daily Digest
French scientists investigate – Christopher Snowdon
Nothing could rescue the Banter Era from the clutches of the coronavirus pandemic like the news that nicotine is the cure. In recent weeks, I have watched with mounting interest as evidence comes from different countries, all showing the same thing: smokers are significantly under-represented in COVID-19 wards.

It started when Konstantin Farsalinos spotted the trend in a succession of Chinese studies. Things got more interesting when the CDC found remarkably few smokers among COVID-19 cases in the USA. This was followed by a large study of over 4,000 cases in New York which showed that people with a history of tobacco use were 29% less likely to be hospitalised with the disease (the reduction in risk was even higher among current smokers).
More Research Needed – Charles Gardner
David Hockney is not a scientist. He is one of the most important British painters of the twentieth century, best known for his contributions to the 1960s pop art movement. As an artist, his contrarian views on Vermeer's possible use of a camera obscura should be taken seriously. As a contrarian on the subject of smoking, his views on smoking and COVID-19 should be taken with a grain of salt.

COVID-19 myths are potentially contagious and liable to 'go viral' worldwide. The last thing we need now is a 'misinfodemic' in the midst of the COVID-19 pandemic. What the world needs is more research, more evidence. The Foundation for a Smoke-Free World supports such research, and welcomes discussion with potential new research partners in this field.
---

---
For COVID-19 Patients? – Jim McDonald
Does nicotine protect users from contracting the coronavirus SARS-CoV-2, or reduce its impact once it's in the body? These are serious questions—and highly controversial ones—and we may have solid answers soon.

A clinical trial is set to begin in France, providing nicotine patches to hospital staff and COVID-19 patients and measuring the results. The trial has the backing of celebrated Pasteur Institute neurobiologist Jean-Pierre Changeux, an expert on the cholinergic system (which includes the nicotinic receptors).

Because most COVID-19 patient data has measured the number of infected smokers, but has not identified smokeless tobacco or e-cigarette users, it's possible that some other component in tobacco smoke is exerting a protective effect.
For Prohibition – Joseph Magero
Tobacco control lobbyists and other moralization groups are blaming the spread of the coronavirus on alcohol and cigarettes, and calling for a total ban on these products. With an increasing number of countries in Africa issuing "stay at home" or "shelter in place" directives, businesses regarded as essential remain open. The lists of essential businesses have some variation across various countries in Africa, with some selling Alcohol and Tobacco.

South Africa recently banned the sale of alcohol and cigarettes, without sufficient evidence that the ban will limit the spread of Covid-19. This has led to an increase in illegal cigarette trade and looting sprees which have cost their government R35 Million daily by way of unpaid excise duties.
---
After several customers complained they couldn't visit our vape shops to have their coil changed, we put this guide together… https://t.co/cW5bgEzfBn #vaping #disability #vapelife

— James Dunworth (@inijames) April 24, 2020
Back in Feb we introduced #vaping as an option for our clients. This week I evaluated how our first cohort of vapers got on.

▪️29 chose to vape
▪️21 were smoke free at 4wks
▪️Higher follow up attendance for e-cig users

Very high success rates, as expected!#vapingsaveslives

— Richard Holley (@holleyrichard10) April 23, 2020
---
After Advocacy Group Complaint – Neil Humber
Following a complaint by the NNA, Voke removes an anti-vape data from all future presentations to possible investors.

Last week I reported the New Nicotine Alliance was furious at a slide used in Voke's presentation to the money men, as it appeared to be using the deaths from EVALI as a way to prove its product was safer than e-cigarettes.

After contacting parent company Kind Consumer, a spokeswoman told me they would now remove the offending slide and stressed they were NOT 'anti-ecigarette' adding:
A puff of smoke: what next for tobacco control?
2020 marks 15 years since the WHO Framework Convention on Tobacco Control (WHO FCTC) came into force. The tobacco industry's strategies to circumvent the WHO FCTC continue to evolve. The growth and use of new and emerging products, such as electronic nicotine delivery systems and heated tobacco products, are alarming and need to be addressed.

Can a better understanding of the cultural and social contexts help us to address old and new challenges for controlling tobacco? What actions should be taken to empower governments and their citizens to address these challenges and continue striving for better health and greater equity?

Five from Dave Cross, Planet of the Vapes
The New Nicotine Alliance (NNA) attacked Voke's owner Kind Consumer for "exploiting deaths attributable to black market THC liquids in the USA to promote its product." The charity said Kind Consumer's actions followed "a shabby business model". Thanks to the NNA, the company has said the offending slide has been removed from its "commercially confidential US specific presentation."

"It has come to our attention that Kind Consumer – the company behind medicinally licensed smoking cessation device, Voke – is exploiting deaths attributable to black market THC liquids in the USA to promote its product," said the NNA.
First raised by Doctor Konstantinos Farsalinos when looking at the prevalence of smoking among Chinese COVID-19 patients, a growing number of people are now suggesting that nicotine could play an important role in reducing the severity of the disease. This hypothesis is to be put to the test by an internal medicine team from the Pitié Salpétrière hospital, and Jean-Pierre Changeux, a world-renowned neurobiologist and member of the Academy of Sciences.

Recently, POTV reported how researchers at the Hôpitaux de Paris and the Université Pierre et Marie Curie conducted a cross-sectional study with COVID-19 out- and inpatients. They produced findings strongly suggesting that current smokers have a very much lower probability of developing symptomatic or severe COVID-19 infection as compared to the general population.
A Belgian news outlet is reporting that a crisis is taking place in addition to the COVID pandemic. Belgian ex-smokers are returning to smoking cigarettes as vape supplies dry up because their option to reduce tobacco-related harm has been removed through store closures and online sale bans.

RTL-TVI is a private French-language television station in Belgium that is owned by the RTL Group. Within the French-speaking area of Belgium, it is the most popular channel with a 20 percent viewing share. It was one of the first independent television stations in Belgium.
"Philip Morris money is funding pro-vaping virus spin" says a pet Bloomberg journalist in a tirade that combines lies with smears. Unfounded accusations have been retracted following a protest from Pro-Vapeo México's Dr Roberto Sussman, but the article still represents Bloomberg's divorce from reality.

"New York City Mayor Bill de Blasio pointed a finger at the vaping industry last month as he discussed a 22-year-old New Yorker who'd been hospitalized with Covid-19. We do think the fact that he is a vaper is affecting this situation,' de Blasio said," wrote Tiffany Kary for Bloomberg News.
Researchers at the Penn State College of Medicine have "discovered" that adults like vape flavours and will attempt to circumvent any ban. Meanwhile, the American Cancer Society looked at the impact of JUUL withdrawing flavoured products and found that sales of all products continued to rise.

Last month, POTV covered how outright vape bans led to an increase in teen vaping. One example from Santa Clara County, California, where "flavoured tobacco product" sales to age-restricted stores was banned in 2014 led to an increase in youth e-cigarette use.
---

---
Medical specialists announce support for vaping – ATHRA
LAST WEEK the peak professional body representing medical specialists in Australia and New Zealand announced its support for vaping as a quitting aid for smokers.

The Royal Australasian College of Physicians (RACP) is to be commended for updating its previously cautious policy to reflect the growing evidence that vaping is an effective quitting aid and is far safer than smoking.

The RACP is the professional association for medical specialists in Australia and New Zealand (cardiologists, respiratory physicians, gastroenterologists etc) and has over 25,000 members.
Derek Yach & Ethan Nadelmann
May Have Made Coronavirus Crisis Worse – Michael Graham
Anti-vaping activist groups are using the coronavirus crisis to advance their goal of restricting — or even completely banning — the use of e-cigarettes, arguing that vapers are at higher risk of harm from COVID-19.

However, the available evidence indicates the opposite: If they had worked to convince more smokers to switch to e-cigarettes, there might be fewer coronavirus-related deaths today.

That's the view of Dr. Michael Siegel, professor of community health sciences at the Boston University School of Public Health.

Used E-cigarettes To Quit Or Reduce Smoking
The vast majority of adult vapers (71.3%) who participated in a first-of-its-kind survey in India used e-cigarettes to quit (30%) or reduce (41.3%) smoking. Similar results were observed in smokeless tobacco (SLT) users. Most (79%) believe that e-cigarettes are less harmful than combustible cigarettes. Survey participants reported minimal side effects (cough, headache, dry mouth/throat) and some health benefits (improved general health, breathing, smell and taste) after they started vaping.
A panel of experts has asked the ministers of nine Asia-Pacific countries to restate tobacco harm reduction as a core policy in the ninth session of the Conference of the Parties to the World Health Organization's Framework Convention on Tobacco Control (WHO-FCTC) to be held in The Hague, Netherlands in November 2020.

The Expert Advisory Group of the Coalition of Asia Pacific Tobacco Harm Reduction Advocates (Caphra) reminded the health, commerce/trade, tourism and finance ministers of the nine countries that the WHO-FCTC had repeatedly failed to pursue its mandate of identifying tobacco harm reduction (THR) as a core tobacco control policy.
Among US adults across subgroups – Mahmoud Al Rifai
Between 2016 and 2018, the use of e-cigarettes increased among U.S. adults, with nearly 1 in 20 reporting daily or frequent use of vaping products, according to findings presented at the virtual American College of Cardiology scientific sessions.

Using the nationwide telephone-based Behavioral Risk Factor Surveillance System, researchers identified 28,917 current e-cigarette users, which corresponded to 10.8 million U.S. adults (30% aged 18-34 years; 49% men; 63% white). Between 2016 and 2018, increases in e-cigarette use occurred in the following subgroups:
Whether It Is Craft Beer or E-cigarettes, Can Backfire – Karen Nikos-Rose
Industries often position products to tout the benefits of one category over another — such as the higher-quality, traditional ingredients of a microbrew over mass-produced brewery beer. Researchers suggest that during the past decade, efforts to promote e-cigarettes as a healthier alternative to combustible cigarettes instead backfired, resulting in a product with a reputation as bad or worse than the existing cigarette category.

A review of press releases, news and retail coverage, research, and other documents on e-cigarettes between 2007 and 2018 found that the e-cigarette category of tobacco suffered in reputation over time.
---
A look back at how things have moved on or otherwise….
Harry Shapiro, Nicotine Science and Policy
When I'm not unhealthily hunched over my laptop consuming my nth cup of nuclear coffee, I quite like to relax in front of Star Trek Discovery on Netflix. Gibberish science, cod philosophies and mawkish sentiments notwithstanding, I still find it eminently watchable. Wormholes into parallel future universes often feature, so does dark matter, supremely enigmatic but nevertheless thought to comprise 85% of all the matter in the universe and of course, the world got its first view of a black hole into which all things get sucked but no light appears.
The Asian Age
The state Food and Drug Administration (FDA) has directed its officers to enforce a complete ban on e-cigarettes in the state.

FDA commissioner Dr Pallavi Darade has written a letter to all drug enforcement officers across state, following the Union government's decision to curb rampant usage of e-cigarettes and ban their sale, manufacture, and trade.
Angelica LaVito, CNBC
Philip Morris International, the tobacco company that sells Marlboro cigarettes, is getting into the life insurance business.

Called Reviti, the wholly owned subsidiary will initially sell life insurance in the U.K. with plans to expand into more markets overseas. Smokers will receive discounts if they stop, quit or switch to a possibly less carcinogenic product, like Philip Morris' vaping devices.
---
Visit Nicotine Science & Policy for more News from around the World

---