Vaping Digest April 22nd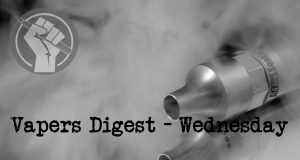 Wednesday's News at a glance:
Nicotine, a weapon against the Covid? ~ Risk And Reason: Australia, England, And The US E-Cigarette Crisis Of 2019 ~ COVID-19 Lockdown and The Damage to Vape Businesses and Their Customers ~ COVID Susceptibility ~ Foundation's COVID-19 Advice ~ Warning to NZ Select Committee ~ Vaping Is Better Than Counselling Alone ~ CDC's Misuse of EVALI Misleads Americans That Smoking Safer Than Vaping ~ Once Again: Flavours Are Preferred by Adults, Not Just Teens ~ Europe's Beating Cancer Plan  
Editor's note: Translated English Version)
, France Inter (
Does Nicotine Protect Against Covid? This is the very serious hypothesis of a Pitié-Salpêtrière team and a world renowned neurobiologist. It should soon be the subject of a clinical study: nicotinic patches will be administered to patients and caregivers to measure the effects.
---
Diane Caruana, Vaping Post
As in many places vape shops have been deemed "non-essential" and forced to close as part of the current lockdown, many small independent vape businesses are fearing their survival, and their customers, most of which are former smokers, are worried about not being able to obtain their smoking cessation aids.

---
Four from Dave Cross, Planet Of The Vapes
Tobacco controllers have been trying to claim smoking and vaping increased the chance of developing COVID-19 symptoms – but is this really the case? Not according to some research coming out of France.
"The Coronavirus (COVID-19) has impacted all of us around the world", writes The Foundation for a Smoke-free World (FSFW). It is the latest vape-related organisation to step up with advice regarding the current pandemic, following yesterday's announcement by the Independent British Vape Trade Association, only this is aimed at the general public.
The Vaping Trade Association of New Zealand (VTANZ) is warning the Health Select Committee that their Government's vaping bill creates barriers for Kiwi smokers' keen to quit tobacco and could see others return to cigarettes. The warning has been mirrored by The Aotearoa Vapers Community Advocacy in its submission to the Committee.
E-Cigarettes are more effective than counselling for smoking cessation according to a recent study from Canada. Vaping isn't a "magic bullet" according to the lead author, but when combined with counselling it proved better than traditional methods.
---
1/8 The bizarre lack of perspective and repugnant value system behind tobacco control opposition to tobacco companies using plant biotech to develop COVID-19 vaccines. They have their guiding principle: anything that in reality shows the principle is flawed has to be rejected. https://t.co/dvrpR9kbGl

— Clive Bates (@Clive_Bates) April 20, 2020
---
Brad Rodu, Tobacco Truth
In a campaign of disinformation, culminating in the prolonged mischaracterization of the EVALI (e-cigarette, or vaping, associated lung injuries) crisis, the Centers for Disease Control and Prevention has caused more Americans to believe the untruth that vaping is more dangerous than cigarette smoking.
---
Diane Caruana, Vaping Post
In line with previous studies, a paper by researchers at Penn State College of Medicine, has indicated that adults like candy-flavoured e-cigarettes too.

"Our data show that flavors aren't just popular with the youth, but with adults as well," said lead author and associate professor of medicine and public health sciences, Dr. Ping Du. "Many of the participants in our study indicated that they used e-cigarettes as a means to quit smoking or avoid relapse, and these flavors may be part of the reason why they end up using e-cigarettes in the long term," she said.
European Commission
The consultation is addressed to individual citizens, patients, and carers replying in their personal capacity as well as health professionals and organisations involved in cancer prevention, diagnosis, treatment, follow-up care and research.
---
A look back at how things have moved on or otherwise…
Are a Threat to Public Health – Lee Johnson
They seemed like a great idea. "It's completely safe," they said, "and it helps smokers move away from something that stands a substantial chance of killing them." And politicians and the medical establishment – probably suckered in by backhanded bribes from Big Pharma – embraced them wholeheartedly. Soon, they were available over-the-counter: "we'll make them as easily available as possible, to maximize the number of quitters," they thought.
Activates a stress response in human coronary artery endothelial cells in culture – Drug & Alcohol Dependence
It is generally acknowledged that e-cigarettes are unlikely to be as harmful as conventional cigarettes, but there is little data that quantifies their relative harms. We investigated the biological response to e-cigarette aerosol exposure (versus conventional cigarette smoke exposure) at the cellular level…
---
Visit Nicotine Science & Policy for more News from around the World

---