Vaping Digest 20th April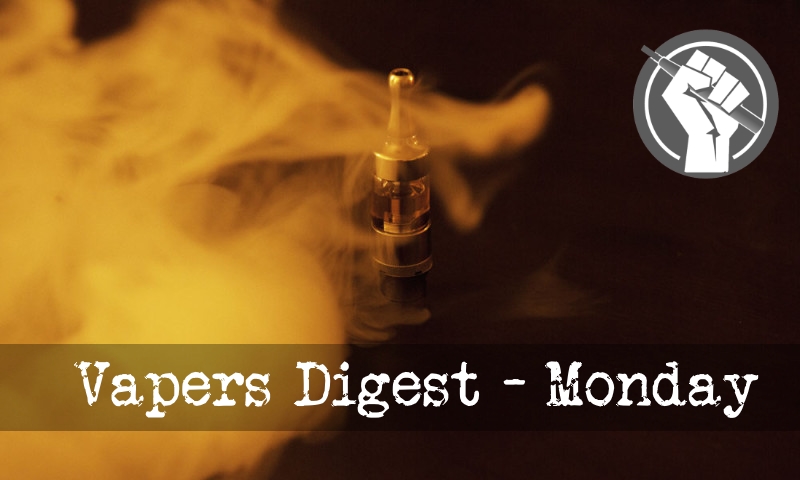 Monday's News at a glance:
WHO Values Lines Of Text Over Saving Lives – Is VOKE 'Exploiting' EVALI Deaths For Money? – Call for NZ Stores To Remain Open – Vaping In the News ~ April 19th – FDA Rejects Krishnamoorthi's Call for a Temporary Vape Ban – la FDA rétracte la fake news diffusée par Bloomberg – The four most important advancements in the Vape Industry – E-Cigarettes More Effective Than Counseling
Over Saving Lives – Dick Puddlecote
So, it seems that the US has decided to stop funding the WHO. For those of us who have been aware of how unaccountable and out of control they are for quite a while, it's not surprising that they have been found wanting when it comes to the only thing we all would like them to do very well.

Their failure to cope with epidemics is not just restricted to this one, who can ever forget the former incompetent Director General taking tea with Vladimir Putin at an anti-tobacco and vaping conference in Moscow instead of an event in Brussels to address Ebola killing people very quickly in Africa? She attended Moscow but texted her speech to Brussels.
Neil Humber
It's hailed as the alternative to vaping, patches and gums, but is the team behind cigarette lookalike 'inhaler' VOKE exploiting EVALI deaths in order to promote the product?

The New Nicotine Alliance says this is indeed the case, and in an exclusive blog post say they believe the claims are "especially scurrilous" and… packed with "fraudulent information".
---

---
Dave Cross, Planet of the Vapes
Vape stores must be allowed under Level 3 lockdown restrictions, says advocacy group the Aotearoa Vapers Community Advocacy (AVCA). The New Zealand Prime Minister is set to give more details on alert level activities, and AVCA is asking for specialist R18 vape stores to be allowed to open on public health grounds.

"There's a real risk of New Zealand's smoking rates creeping back up if the accessibility of vaping remains reduced while tobacco products continue to be available as per usual," says Director of AVCA, Nancy Loucas.
Kevin Crowley, Vaping Links
FDA Rejects Krishnamoorthi's Call for a Temporary Vape Ban ~ The Damage to Vape Shops Deemed "Non-Essential"—And Their Customers~ US vaping lung injury outbreak was a public health fiasco or worse – comment to FDA ~ Federal Obsession With Fake Epidemic Distracted Nation From Pandemic Preparedness ~ No, vapers are not at greater risk of catching Covid-19 ~ FDA Admits There's Actually No Evidence Vaping Makes COVID-19 Worse ~ COVID-19 Vape Survey – Scientists Need Help From the Vapers Of the World ~ Harm Reduction Expert: WHO's Stance on Vaping is Costing Lives ~ Did the vaping industry target youth? ~ Adults don't like flavors, but Nancy Pelosi does. ~ Public Health Covid19 email thread
---
---
For a Temporary Vape Ban – Jim McDonald
The FDA has denied a request from Rep. Raja Krishnamoorthi to temporarily ban vaping products during a regulatory deadline delay caused by the coronavirus crisis. The Illinois Democrat, chairman of the House Economic and Consumer Policy subcommittee, made the demand in an April 1 letter to FDA Commissioner Stephen Hahn.

In late March, the FDA requested that a federal court allow the agency to grant vaping manufacturers a four-month postponement of the deadline to submit Premarket Tobacco Applications (PMTAs), delaying the date until Sept. 9. The judge who originally set the May 12 PMTA deadline has indicated he will grant the delay once an appeals court remands the case back to him for that purpose. A decision from the appeals court could come any day.

la FDA rétracte la fake news diffusée par Bloomberg – Philippe Poirson
« Sur quelle base la FDA croit-elle pertinent en ce moment de décourager les personnes souffrant de troubles sous-jacents liés au tabagisme de vapoter, alors que l'alternative probable pour beaucoup serait un retour au tabagisme ? », demandaient notamment les signataires, dont le Procureur général de l'Iowa Tom Miller, le Pr David Abrams de l'Université de New York et Clive Bates, expert renommé et ancien directeur de l'organisation anti-tabac Action on Smoking and Health (UK).

Le silence de Bloomberg sur la prise de position des experts anti-tabac n'est pas surprenant. Le site est détenu par Michael Bloomberg, affairiste du top 10 des fortunes mondiales et en guerre contre l'arrêt tabagique avec le vapotage et l'approche de réduction des risques à travers plusieurs de ses entreprises, telles que la Bloomberg Philanthropies Company LLC.
---

---
In the Vape Industry – Nitin Agarwal
Love it or hate it, vaping has become a part of our everyday lives for over a decade. Its roots lie in the creation of the first e-cigarette by Hon Lik (a Chinese pharmacist) in 2003 and the series of compatible liquids he produced to use with the device under the Ruyan brand. Marketed as an alternative to smoking, vaping and its proponents are often the subject to more than their fair share of attention. Issues surrounding vaping have become platforms for politicians, drives for charities and the lifeblood for many dedicated small business owners. Continually recognised as a prominent growth industry throughout the world valued at close to fourteen-billion dollars, the modern vape market is awash with products and services to suit a growing consumer base.

In recent history, so why is WHO lecturing us on lifestyle choices — Jo Furnival
There are many reasons not to drink alcohol, but is Covid-19 really one of them? Earlier this week, the WHO warned of the dangers of allowing people to have alcohol in their homes during lockdown, calling for restricted access.

We don't want to encourage excessive drinking now, or at any time, but it is dangerous and deeply unscientific for the WHO to use Covid-19 as a piece of anti-drinking, anti-smoking propaganda.

What about the impact lockdown is having on mental health? Placing further restrictions on people's habits and everyday lives is the last thing we need. In fact, one journalist has quipped, "If anything is essential during this time of compulsory boredom, it is cigarettes and alcohol."
Than Counseling for Smoking Cessation – ACC 2020
Smokers who received smoking cessation counseling and used electronic cigarettes (e-cigarettes) containing nicotine were more than twice as likely to successfully quit smoking compared to those who received counseling but did not use e-cigarettes, in a clinical trial presented at the American College of Cardiology (ACC) 2020 Scientific Session.

Researchers cautioned, however, that the health effects of e-cigarettes are unknown, and they should not be used for any purpose other than smoking cessation.

At 12 weeks, 21.9% of participants given nicotine-containing e-cigarettes had quit smoking, 17.3% of participants given non-nicotine e-cigarettes had quit and 9.1% of participants given only counseling had quit.
---
A look back at how things have moved on or otherwise…
New Nicotine Alliance
A recent TV showing of the Hong Kong Rugby 7s tournament was introduced by a commentator as being broadcast from a place "where the world comes to party", but a recent development from the country's government would suggest that this is poor marketing of Hong Kong for the unwary traveller.

The Legislative Council of Hong Kong – after initially toying with the idea of regulating e-cigarettes sensibly – instead made an about-turn and has now produced a draft law which will criminalise possession of e-cigarettes and heated tobacco. In short, anyone caught vaping could be facing huge fines and possibly a jail term of up to 6 months.
Carl V. Phillips, Anti-THR Lies
A single-observation post, inspired by the great consternation I am seeing this week about proposed FDA retail restrictions on vapes, ostensibly for the purpose of reducing vaping by minors. There are quite a few reasons this is a terrible policy (see coverage by Clive Bates here), but the theme of the typical criticism is that it will hurt legal "proper" vape consumers (primarily by denying them flavors they like or convenient purchase venues) more than it will "help" teenagers (by denying them something they want to do). The criticism is presented as if this supposedly odd perverse effect might persuade tobacco controllers to change the policy.
---
Visit Nicotine Science & Policy for more News from around the World

---