Vaping Digest April 19th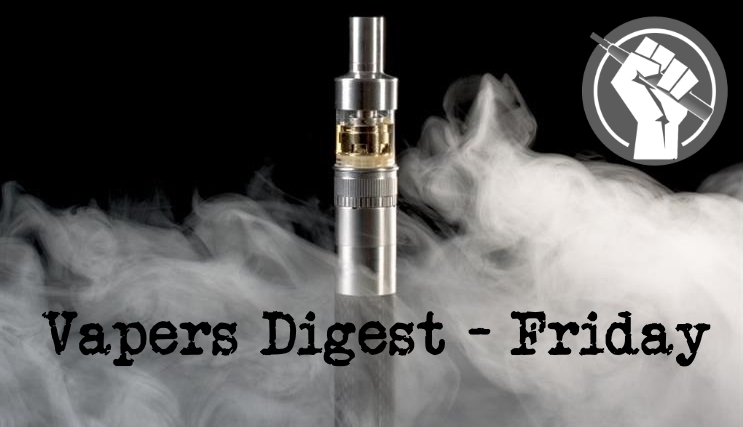 Friday's News at a glance:
Vapers should prepare to steer clear of Hong Kong – Tobacco Wars collateral damage: feature, not bug – Vaping and Heart Attacks – Satan's Vapes – US School "Crackdown" – New Bill in Congress Would Destroy the Vape Industry – The FDA's Runaway Trolley Problem – FDA Holds IQOS Heat-Not-Burn Hostage – Nicotine replacement: when quitting cigarettes, consider using more nicotine, not less – Rite Aid Is Wrong to Stop Selling Vapes – Popcorn Lung, Formaldehyde, and Now Seizures, Oh My! – Nicotine Science and Policy Daily Digest
New Nicotine Alliance
A recent TV showing of the Hong Kong Rugby 7s tournament was introduced by a commentator as being broadcast from a place "where the world comes to party", but a recent development from the country's government would suggest that this is poor marketing of Hong Kong for the unwary traveller.

The Legislative Council of Hong Kong – after initially toying with the idea of regulating e-cigarettes sensibly – instead made an about-turn and has now produced a draft law which will criminalise possession of e-cigarettes and heated tobacco. In short, anyone caught vaping could be facing huge fines and possibly a jail term of up to 6 months.
Carl V. Phillips, Anti-THR Lies
A single-observation post, inspired by the great consternation I am seeing this week about proposed FDA retail restrictions on vapes, ostensibly for the purpose of reducing vaping by minors. There are quite a few reasons this is a terrible policy (see coverage by Clive Bates here), but the theme of the typical criticism is that it will hurt legal "proper" vape consumers (primarily by denying them flavors they like or convenient purchase venues) more than it will "help" teenagers (by denying them something they want to do). The criticism is presented as if this supposedly odd perverse effect might persuade tobacco controllers to change the policy.
---

---
Dave Cross, Planet of the Vapes
The American Journal of Preventative Medicine has published a letter by Konstantinos Farsalinos and Raymond Niaura. "E-cigarette Use and Myocardial Infarction: Association Versus Causal Inference" counters that lies put out in a recent Wichita study.
Konstantinos Farsalinos said: "I am sure you remember the story that e-cigarettes increase the risk of heart attacks. I characterised such statements as epidemiological and scientific malpractice, and I strive to prove that [in this letter]."
Dave Cross, Planet of the Vapes
Agencies and lobby groups pushing a fear agenda, focussing on a so-called teen vaping epidemic, has resulted in several acts of idiocy: police arresting students, toilets closed down. Now parents and students in the Hamilton School District are being advised that all students will be randomly checked with hand-held detectors.
As of last Monday, Hamilton School District Superintendent Michael Holbrook promised "the heaviest effort yet" to crackdown on what he perceives to be a "vaping menace".
Dave Cross, Planet of the Vapes
Brother Werks of The Revelations of Jesus Christ ministry is issuing vapers a message, a warning, that vaping was created by Satan. Many of us only thought that vaping offered a way out of cigarette use and to reduce the exposure to tobacco-related harm. Turns out that this is just what The Illuminati want us to think.
With the Easter Bank Holiday approaching, Werks offers a timely warning: "The demonic realm is real. Don't stop the video and watch it anyway. There's evil spirits that will try to get you not to listen to me."
---
---
Would Destroy the Vape Industry – Jim McDonald
A bill designed to destroy the vaping industry was introduced Tuesday in the House of Representatives. The bill, if passed, would ban flavors and online sales, and set the minimum age for purchasing vapes at 21. It would also extract $100 million in FDA user fees from the industry.

The bill's sponsors are Reps. Frank Pallone of New Jersey and Donna Shalala of Florida, both Democrats. The bill is supported by all major tobacco control and anti-vaping groups in Washington.
Michelle Minton
If you've ever participated in a thought experiment, you know how fun that can be. The most famous is the Trolley Problem, entertainingly portrayed by the sitcom The Good Place. It forces participants to choose to either divert a runaway trolley and intentionally kill one person or do nothing and let the trolley kill five others in its path. The experiment is fun because it allows us to consider the ethics of our choices without ever putting anyone in danger. But, the version of the Trolley Problem our government is undertaking is no experiment. The unchecked push to ban e-cigarettes puts millions of adult lives at risk in order to prevent a slight increase in potential health risks for a small number of adolescents. Unless Congress or the FDA changes the direction, people — real people — will die.
---

---
Brad Rodu, Tobacco Truth
The media has been silent about an unprecedented decline in cigarette consumption. Japan Tobacco International reports (here) that cigarette sales in Japan declined 12% in 2018, largely due to sales of reduced-risk products. The dominant reduced-risk product in Japan is Philip Morris International's IQOS heat-not-burn HeatStick.

David Sweanor, a veteran tobacco harm reduction advocate in Canada, observed: "Japan provides a great lesson in how tobacco control groups 'doing nothing' and 'staying out of the way' has led to outperformance in reducing cigarette smoking.
When quitting cigarettes, consider using more nicotine, not less
When delivered through cigarettes, nicotine is considered to be one of the most addictive substances on Earth, so it may seem odd to suggest that people should use more, rather than less, to quit smoking. A recent review of the research, however, has found just that.

Nicotine replacement therapy, known as NRT, has been used to help people safely quit smoking for more than 20 years. It can be prescribed by a doctor but, in many countries, is also available to buy from grocery stores and pharmacies. The Cochrane review (Cochrane assesses evidence on healthcare interventions and summarises the findings) looked at the best ways to use NRT to quit smoking – and found three ways in which using more nicotine might help:

Helen Redmond
In a huge blow to smokers who are trying to switch to safer nicotine products, Rite Aid, one of the largest pharmacy chains in the US, has announced that it will stop selling vaping products. Rite Aid caved because of the relentless fear-mongering around teen vaping that is being whipped up by the FDA, the CDC, and tobacco harm reduction-hating organizations like the Campaign for Tobacco-Free Kids.

"While many feel [e-cigarettes] are beneficial to those of legal age who are trying to quit the use of tobacco, we have made the decision to remove all electronic cigarettes and vaping products from our offering at all Rite Aid stores," said Bryan Everett, the chain's chief operating officer, on April 11. He added, "We're concerned about some of the alarming statistics regarding the use of e-cigarettes and vaping products by children and teens."
And Now Seizures, Oh My! – Lindsey Stroud
In the most recent round of vaping-related fearmongering, the Center for Tobacco Products (CTP) at the U.S. Food and Drug Administration (FDA) is warning of a possible link between e-cigarettes and seizures. CTP is alarmed about 35 reported cases of seizures, from 2010 to 2018, among the millions of American adults who use vaping products.

This crazy case of anti-e-cigarette alarmism isn't new. It is just the most recent example of the onslaught of exaggerated and groundless claims against e-cigarettes. Unfortunately, these unsubstantiated claims threaten the very existence of tobacco harm reduction (THR) devices, which have helped millions of adult smokers.
Ban Corner:
---
A look back at how things have moved on or otherwise….
The New Nicotine Alliance Steps Into The Debate
Sarah Jakes, Ecig Click
In an explosive interview Sarah Jakes the Chair of the New Nicotine Alliance explains why the advocacy charity not only supports the use of heat not burn products to quit smoking but says vape shops should openly sell them alongside e-cigarettes.

If you're thinking I'm exaggerating by using the word 'explosive' – using phrases such as 'conspiracy theories' and my personal favourite 'bollocks with knobs on' shows the lady is not for turning or as debating opponents go – not one to be messed with
Paul Barnes, Facts Do Matter
This will probably piss a lot of people off and frankly, I don't particularly care so, I'm just going to say it:

If a vape shop wants to sell heat-not-burn in the form of IQOS, GLO or any other HnB product, have at it. If you abide by the relevant rules and regulations, go for it.

For one, it'll give IQOS users a broad array of places to get HEETS and the other accessories for the product, and that is no bad thing.
Headrambles
Why is there friction between Smokers, Vapers and those new kids on the block – the Heat not Burn [Scorchers?] crowd?

It makes no sense. If the Vapers are worried that the Scorchers are going to somehow put electrofags out of business then that is a patent nonsense. If there is a demand for electrofags then there will be a supply. No one is suggesting that Vapers be forced to become Scorchers?
---
Visit Nicotine Science & Policy for more News from around the World

---