Vaping Digest April 26th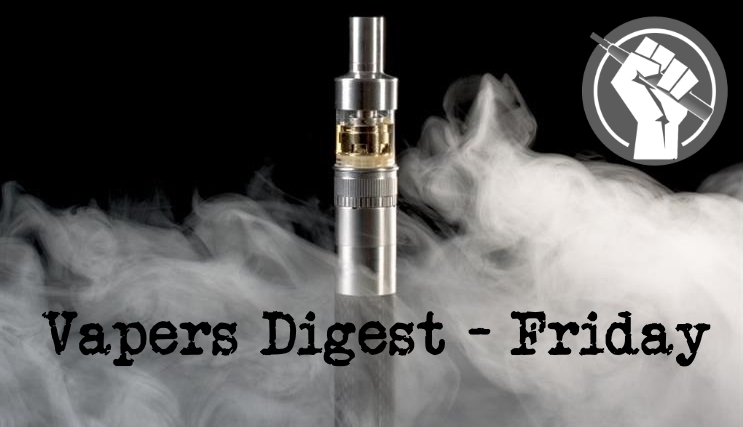 Friday's News at a glance:
US vapers face national age limit hike, while state lawmakers push for more bans – Interview with Ron Dworkin – Broad Tobacco-Related Insurance Premiums – Public Gets Long Overdue Look at Youth Vaping Study – Hilarious Vape Demons from Heavy Metal Hell – Hong Kong Risks Huge British Tourism Losses – JUUL Aims To Expand UK Market – McKee Moaning Again – Arnott vs McKee on World at One – The Fungi At Harvard – Philip Morris Incentive – Another anti-vaping scare story – New Evidence of Smoking Disparities – Framing Questions About "Dangers" – There is no sacrificial goat large enough – Dubai issues warning over vaping in public places – Vaping advocates rally – Nicotine Science and Policy Daily Digest
While state lawmakers push for more bans – Fergus Mason
Both houses of the United States Congress are pushing forward bills that would impose a national ban on sales of e-cigarettes to under-21s. Many local and state legislatures have already passed such laws – with Maryland being one of the most recent – and now there's pressure from anti-harm reduction extremists to do the same at a federal level. Meanwhile politicians all over the USA seem to be jumping on the anti-vaping bandwagon in ever-increasing numbers, with flavour bans and restrictions on indoor use the favourite options.
Global Forum on Nicotine 13th to 15th June 2019
K·A·C Communications is delighted that Ronald W. Dworkin, M.D., Ph.D. will be delivering the Michael Russell Oration this year. Dr. Dworkin is a practising anaesthesiologist, holds a doctorate in political philosophy and teaches in the George Washington University Honors Program. In addition, he is a Senior Fellow at Hudson Institute in Washington D.C., a public policy research organisation.
In a recent article for The American Interest, Dr. Dworkin had some interesting – and controversial – things to say about some public health advocacy. We interviewed him ahead of the conference to find out what he's planning to bring to the event in his address, Interests and Ideology in Harm Reduction.
---

---
Brad Rodu, Tobacco Truth
I recently received this email:

"I am a 29 year old male from Upper Michigan, married with 3 kids. My wife and I recently signed on with [company name redacted] as this was one of the only affordable health care options for our family and I like most all of their 'principles' or values.

"Only 1 problem; they require that you don't use any drugs, drink, smoke, chew, nothing. I consider myself a healthy individual as I'm 6'3″, 200 lbs and fit. I haven't seen a doctor in years, frankly because I haven't a need. I don't use drugs, drink, or smoke. However, I've chewed Copenhagen snuff for about 15 years and never had a problem with it. I was the one who had 2, maybe 3 small dips each day, a can would last me a week. It was never excessive and never a problem.
At Youth Vaping Study – Brent Stafford
It's quite possibly the worst kept secret within the tight-knit ranks of tobacco-control, the research study conducted by Dr. David Hammond of the University of Waterloo, which purports to show a substantial increase in youth vaping in both Canada and the United States.
Numerous stakeholders including regulators, academics, tobacco-control activists and even the media have either seen the report or have been briefed on its findings; every one that is, except those in the vaping industry, harm reduction advocates and members of the public.
---
Thema der Woche:
Union will E-Dampfprodukte und Heat-Not-Burn vom Werbeverbot auf Plakaten und in Kinos ausnehmen. Ausgerechnet der Ärztepräsident und die Deutsche Krebshilfe wehren sich gegen Werbung… https://t.co/mFF5qd0TrM

— IG-ED (@ig_ed) April 26, 2019
What part of vaping is the most harmful?https://t.co/w18p7YUPtl

— Kate Narkybeast (@Kate_Narkybeast) April 26, 2019
---
Jim McDonald, Vaping 360
Truth Initiative has a billion-dollar endowment, influential connections in the advertising industry, a powerful position in tobacco control, and really, really bad musical taste. That makes the wealthy anti-tobacco advertising organization the ideal source for bad anti-vaping (and anti-smoking) music videos. And Truth doesn't disappoint!

Their recent output has ranged from unintentionally hilarious (butts that actually look like testicles) to dull and inauthentic (the obligatory anti-vaping rap song) to annoying and repetitive (vaping puppets and their intolerant friends). The butt/testicle video wound up being a huge embarrassment, with social media comments that ran about 70 percent along the lines of, "Those sure look like testicles to me."
Jim McDonald, Vaping 360
As many as 35,000 visiting British vapers yearly would be at risk of facing legal sanctions if the Hong Kong government bans possession of vaping products — or of cancelling plans to travel to the city at all.

According to the New Nicotine Alliance (NNA), 570,000 U.K. residents visited Hong Kong last year, and about six percent of Britons vape. That's 35,000 people who could be at risk of arrest and even imprisonment if Hong Kong follows through on its plan to prohibit importation of vapes.
---

---
Four from Dave Cross, Planet of the Vapes
JUUL Labs, the company behind the JUULpod, has announced a dual-prong strategy for growing its vape market share in the United Kingdom. It is planning on broadening the number of products available coupled with redefining what JUULpods are. Predictably, voices of concern are being raised.
A national newspaper declared JUUL Labs as, "the firm behind US teen vaping epidemic" in its coverage.

JUUL has stated that it plans of adding it Apple Orchard "freshly picked apple flavour with a crisp finish", Mango Nectar "tangy flavour with notes of tropical fruits", and Alpine Berry "berry flavour with bright and fresh notes" pods to its current listings across 55,000 outlets.
Professor Martin McKee, London School of Hygiene & Tropical Medicine, is no friend of vapers and opposed to tobacco harm reduction. He never got over his snub by the All-Party Parliamentary Group when they ignored his submissions, and has continually been sniping from the sidelines. This week, he resumes his whining in a national newspaper article.
"A leading academic has criticised health officials for 'promoting' e-cigarettes despite growing evidence of their harms," writes Victoria Allen in the Daily Mail.

He repeats his position that vaping offers up "serious concerns" and drags up a debunked study led by David Thickett from the University of Birmingham to justify his nonsense.
Thanks as always to @dnglos for the YouTubage
Popular electronic cigarette products sold in the U.S. were contaminated with bacterial and fungal toxins, according to a new study led by Professor David Christiani. The statement runs contrary to the reports conclusion that only says, "may be contaminated".
The Harvard T.H. Chan School of Public Health are the people who brought you scare stories about flavours and aldehydes in 2017, then more warped worries about formaldehyde in 2018, and utter nonsense about popcorn lung in February.
Philip Morris, the largest manufacturer of cigarettes in the world, is putting money towards reducing the cost of life insurance for smokers who switch to vaping. It has underwritten the start-up of Reviti – but offering financial incentives is not a new strategy for the company.
Reviti has been launched to offer special life insurance deals to smokers who are able to quit tobacco, and the deals get better if you use a Philip Morris – and better still if the smoker manages to remain tobacco-free for an entire year.

Rob Lyons, Spiked
Earlier this week, remarks by public-health academic, Martin McKee gained widespread coverage in the press. McKee claims that English health authorities are out of step with the rest of the world in not pointing out the potential harms caused by e-cigarettes. 'The nicotine in e-cigarettes is not a harmless drug, and then there are all these other things such as flavourings that are inhaled', McKee told the Press Association.
Underlines That Tobacco Harm Reduction Is Social Justice
Americans experiencing compounded social marginalization are at greater risk of initiating use of—and not cutting use of—tobacco products, according to a new Journal of the American Medical Association (JAMA) Internal Medicine study.

Measuring smoking prevalence over the course of the last decade, University of Southern California (USC) researchers found that disparities—particularly concerning smoking initiation and cessation—widened with each "additional disadvantage faced." These included unemployment, poverty, lack of a high school diploma, disability, "psychological distress" and heavy drinking.
Newspapers and media outlets were abuzz yesterday with accusations that the "dangers" of vaping are being ignored by Public Health England (PHE) and other public health bodies. If the statement seemed out of step with advice from reputable healthcare professionals, well, that's because it is.

The sensationalist claims came from Professor Martin McKee and Dr Aaron Scott, two figures who previously have published anti-vaping comments. Scott for example has complained that "You can go into a pound store anywhere in the country and buy e-cigarette liquid for £1. You can do that with very little regulation, so it's very easy for example for kids to get that, it's very accessible.".
Saddlehorse Blues
We went to bed late last Wednesday having finished packaging up orders and chatting with customers as we so often do, feeling spent but satisfied. As entrepreneurs we are not all about that work/life balance: we know that in order to build and maintain a solid reputation in our industry many days will be all work. The satisfaction that comes with being able to make a customer happy, change the quality of their experience, encourage those people who are still dual users to keep trying, and just generally deal with such great people from all walks of life makes all of the work more than worthwhile. We got into this industry as many people did: as people who were able to stop smoking by making the switch to vaping. We are beyond happy to put in the hours.
People caught vaping or using an e-cigarette in unauthorised areas in Dubai will be hit with a fine of up to Dh2,000.

Dubai Municipality has announced that the use of the devices – the sale of which was made legal in the UAE for the first time earlier this year – will be subject to the same laws as those who light up using traditional cigarettes.

Locations where smoking is banned include places of worship, schools, universities and shopping malls as well as health and pharmaceutical facilities.
Against Albany County plan to ban flavored e-cigarettes
In hopes of killing a proposed county ban on flavored e-cigarettes, vaping advocates rallied at the Albany County Courthouse on Tuesday with a message that vaping saves lives.

The New York State Vapor Association as well as former smokers and owners of vape shops spoke out at a press conference and a public hearing, insisting that vaping helps cigarette smokers quit tobacco and that taking away their flavors will destroy the effectiveness of e-cigarettes, thus their usefulness.
---
A look back at how things have moved on or otherwise….
Dick Puddlecote
Things have been hectic at Puddlecote Inc recently hence the lack of content here, but some of that busy-ness is down to something quite momentous which could be on the horizon. The drafts have been piling up but I'll get round to them sometime.

Starting with this. Oh boy!

Next time any tobacco controller tries to tell you they understand everything about how the world works – because they always claim to – simply point them at this hilarious nonsense.
Mawsley, Planet Of The Vapes
A team from Greece has had a paper accepted for publication on the topic of heavy metals in vape juices. Eleni Kamilari, Konstantinos Farsalinos, Konstantinos Poulas, Christos Kontoyannis and Malvina Orkoula co-produced "Detection and quantitative determination of heavy metals in electronic cigarette refill liquids using Total Reflection X-ray Fluorescence Spectrometry" that will appear in Food and Chemical Toxicology.
Mawsley, Planet Of The Vapes
The Queen's Award for Innovation 2018 has been given to a company that has produced a product to combat the problems of lithium-ion (li-ion) batteries going in thermal runaway while on flights. While some like to point the finger at vape products, the mile-high fire problem covers laptop computers, mobile phones, tablets and anything else powered by a li-ion cell.
---
Visit Nicotine Science & Policy for more News from around the World

---