Vaping Digest April 29th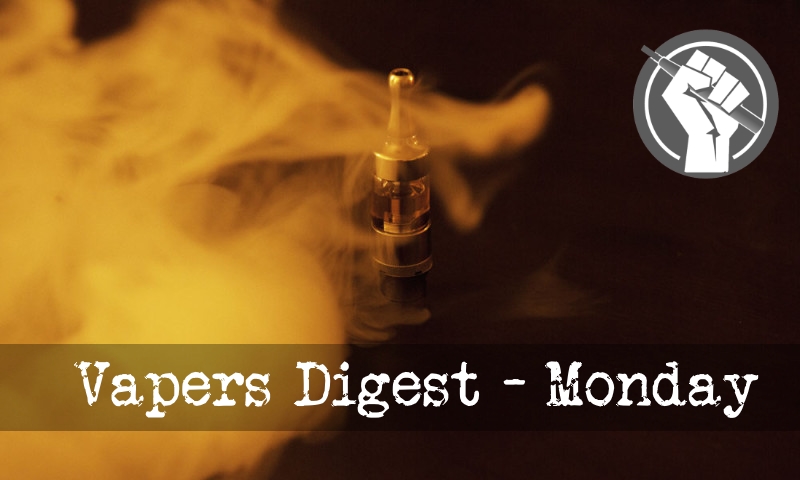 Monday's News at a glance:
Anti-vapers in USA keep up the pressure – McKee The Out And Outlier – Newton To Put Public Health in Motion – An Obscure Safety Rule Could Shut Down the Vaping Industry – Vaping In The News – If You Try to Quit the Habit, We'll Tax You – Vaping is Not Making Cigs Cool Again – Altria's stock drops after earnings, revenue fall – Truth Telling about Tobacco and Nicotine – E-Cigarettes effective way to quit smoking – Making an Epidemic Part 1 – Proposed Cigarette Tax Hike To Fund Preschool – Senator Murkowski continues push to ban flavored e-cigs
Fergus Mason, Vaping Post
Most of the news this week has been about the continuing legal onslaught against American vapers. As states and local authorities continue pushing through stricter bans, the federal government is getting in on the act – a complete ban on flavours is back in the Senate, and might make it through this time. Meanwhile, thousands of young people are being given criminal records in the insane pursuit of a nicotine-free America.
Dave Cross, Planet of the Vapes
Professor Martin McKee filled assorted newspaper column inches with nonsense earlier this week. The London School of Hygiene & Tropical Medicine academic then took to BBC Radio 4's 'World at One' programme, where his ignorant position was highlighted by Deborah Arnott, Chief executive of ASH.
McKee has been repeating the same position since 2015. Despite evidence and expert opinion to the contrary, he has resolutely failed to take on board any coherent argument put to him. The video below demonstrates how Deborah Arnott debunked his arguments last year.
Dave Cross, Planet of the Vapes
Professor John Newton, Director for Health Improvement at Public Health England, has been elected to be the Faculty of Public Health's (FPH) next Vice President. Professor Newton has been an outspoken supporter of tobacco harm reduction and vaping.
The FPH is a membership organisation for nearly 4,000 public health professionals across the UK and around the world. The registered charity sees its role as to improve the health and wellbeing of local communities and national populations.
---

---
Could Shut Down the Vaping Industry – Jim McDonald
With the attention of FDA regulators focused squarely on the supposed teen vaping epidemic and pod vapes like JUUL, a new action by another federal agency threatens to shut down vape shops and e-liquid manufacturers — and it may already be happening.

The Consumer Product Safety Commission (CPSC) has quietly amended guidelines for e-liquid containers, and the changes could mean that millions of bottles of e-juice on vape shop shelves and in warehouses will be declared non-compliant and subject to recall or even destruction.
Kevin Crowley, Vaping Links
Leaked | Public Gets Long Overdue Look at Youth Vaping Study ~ Moral Panic | Diagnosing the Youth Vaping 'Epidemic' ~ FDA remains committed ~ What part of vaping is the most harmful? ~ REMOVE all doubt ~ Why Big Tobacco and Big Vape love comparing nicotine to caffeine ~ New Mexico Smoke Free Alliance Defeats 12 Anti-Vape Bills ~ Politics and Tobacco Harm Reduction: Things Congress Mix Up ~ Q & A With Vape Shop Owners
---
---
We'll Tax You – Veronique de Rugy
Recently, jurisdictions around the nation have proposed punitive taxes or regulations on e-cigarettes and vaping products in their usual paternalistic effort to encourage healthier lifestyles. For example, this week Colorado's Gov. Polis introduced his tax proposal, which would greatly extend for the first time that state's tax on nicotine products to e-cigarettes. Legislators in the state seemed to have borrowed talking points from the Food and Drug Administration (FDA) about the unknown dangers of vaping and the "teen vaping" epidemics.

Rather than embrace vaping as a way to help smokers quit, the FDA is threatening to kill the technology altogether if teenagers don't stop vaping. This stance is infuriating since at this point it is hard to ignore the slew of studies that show the harm-reduction that comes from smokers switching to vaping.
David Jarvis
Research implies that although more young people are using e-cigarettes, fears this may lead to them smoking tobacco could be unfounded.

The growth in the popularity of vaping has not sparked a boom in teenagers taking up tobacco smoking, research suggests.

A new study says there is little evidence that e-cigarettes or vaping have led young people to think cigarettes are cool.
---

---
Rachelle Annechino, Tamar M.J. Antin
Research suggests that many people in the US are misinformed about the relative harms of various tobacco and nicotine products. Concerns about public misinformation have often been framed as relevant only to the degree that public health institutions agree to prioritize conventional approaches to tobacco harm reduction. We argue that while the information priorities of public health professionals are important, ethical and credible information sharing also requires consideration of broader issues related to public trust. To promote trust, public health institutions must develop truth telling relationships with the communities they serve and be genuinely responsive to what people themselves want to know about tobacco and nicotine products.
Tomi Kilgore, Market Watch
Shares of Altria Group Inc. MO, +1.00% dropped 2.6% in premarket trade Thursday, after the tobacco company reported first-quarter earnings and revenue that fell short of expectations. Net income fell to $1.12 billion, or 60 cents a share, from $1.89 billion, or $1.00 a share, in the year-ago period. Excluding non-recurring items, adjusted EPS fell 5.3% to 90 cents, below the FactSet consensus of 92 cents. Net revenue fell 7.9% to $5.63 billion, below the FactSet consensus of $5.97 billion.

Business Standard
A first-ever Indian study has found that Electronic Nicotine Delivery System (ENDS), also known as e-cigarettes, pose much less a health risk than combustible cigarettes and could be an ideal tool to reduce or give up smoking.

Published in the Indian Journal of Clinical Practice (IJCP), the study, involving a "systematic review of 299 published scientific literatures", was conducted by Prof R.N. Sharan and his team from the North-Eastern Hill University, Shillong. It compared the toxicities of nicotine, other chemicals and metal ions produced during cigarette smoking and use of e-cigarettes.
Bo McCoy
A recent unpublished study that is being circulated among government agencies may suggest, that youth use of vaping products has risen from 2017-2018. The cross-sectional study looked at youth use of vaping products in three countries: United States, Canada, and the United Kingdom. On the surface the study's conclusions seem to indicate that vape among teens is climbing and has been 'unaffected' by recent FDA, CDC, and other groups efforts to curtail vapor use.

The unpublished study is circulating and being shared among various agencies, as of today, is listed as 'under review' 'do not cite or publish without permission'. Curious, why would advance copies of the study be circulating among FDA, CDC, etc. yet, not be published for review and citation? We may never know the real reasons but let me give you a few reasons this could be happening.
To Fund Preschool, Fight Teen Vaping
A proposed tax on nicotine products could double Colorado's preschool investment, pay for afterschool and summer enrichment programs for low-income families, and chip away at Colorado's highest-in-the-nation teen vaping rate.

Colorado voters could be asked this November to triple the tax on cigarettes to $2.59 a pack, and impose a 62 percent tax on e-cigarettes and other tobacco products. Colorado does not currently tax the liquid nicotine used in e-cigarettes, making vaping a cheap and attractive alternative to cigarettes, while other tobacco products are taxed at 40 percent.
Bans use of e-cigarettes by residents younger than 18
An ordinance that prohibits residents younger than 18 from buying, possessing or using electronic smoking devices, or e-cigarettes, has been unanimously approved by City Council.

The ordinance also bans the sale of e-cigarettes or vaping products to minors. E-cigarettes use a battery to warm a liquid, which often contains nicotine, creating a vapor inhaled by the user.
Peter Zampa
The vaping craze continues to take the U.S. by storm. While some believe vapes help cigarette smokers quit their habits, others say flavored e-cigarettes are attracting kids who would not otherwise smoke.

"I definitely tried it for the first time because I thought I was going to be cool by smoking it," said Brendan Gillan, a 22-year old e-cigarette user.

Gillan started smoking electronic cigarettes at the age of 16. He says part of the reason he began vaping as a minor was due to the variety of flavors.
---
A look back at how things have moved on or otherwise….
Smoke 'Em If You Got 'Em – Dick Puddlecote
You may have watched this already, but the Science and Technology Committee of the House of Commons held a further session on e-cigs the other day. You can see the whole thing here.

Chaired by Norman Lamb, a former Minister of State, it was investigating the role of not just vaping but other harm reduction avenues. There were many revealing moments which tie in with my regular refrain that new nicotine products are scaring the living daylights out of the establishment because they simply cannot work out which way to turn…
Harry Shapiro
I recall hearing Martin Dockrell from Public Health England remark that he put 'popcorn' into Google and 'popcorn lung' came up before err…popcorn in the search bar. 'Popcorn lung' is so nice and catchy, like 'hippy crack' (nitrous oxide, honestly) and 'zombie spice addicts'.

The media love a good bad news e-cig story. Next in line is probably death by JUULing (you read it here first), followed closely I suspect by those delicious stories about exploding devices.
Kevin Crowley, Vaping Links
David Goerlitz announces the launch of his new show premiering Saturday, April 28th at 9:00 A.M. on Vape Radio.

In my search to make a determination of what is real or imagined in the controversy of safety, effectiveness, vaping, I accidentally found a blog by David Goerlitz on a cold winter night in 2014 – enlightening me to things I never thought I'd read.
---
Visit Nicotine Science & Policy for more News from around the World

---