Vaping Digest 8th May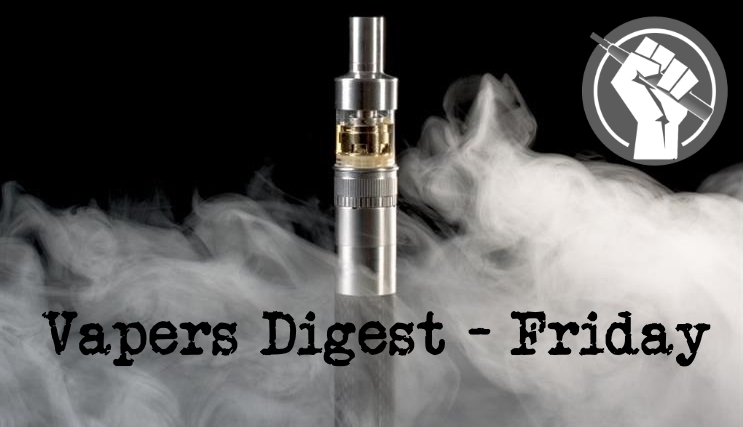 Friday's News at a glance:
The dog that didn't bark – Estonia takes the first steps towards recognising tobacco harm reduction – A Look Back at CDC's Award-Nominated "EVALI" Response – Fontem US LLC Submits PMTA for Myblu – ETHRA TPD Protest Success – Another Right Kary-on – Help UCL With COVID Vape Study – JUUL To Move From Toxic California – Exposure to harmful and potentially harmful constituents – Evaluation of Toxicity of Aerosols – Association between changes in harm – Department of Health signals crackdown on importation of nicotine liquid – Don't quarantine nicotine! – BAT UK launches series of vaping products – Pro-pot, Nathan Fletcher goes after vaping – COP9 postponement buys time – Nicotine vaping can lower NT's smoking rates – Survey: 'Cool' factor, not flavor, drives teens to vape – Nicotine Science and Policy Daily Digest
Christopher Snowdon, Velvet Glove Iron Fist
Here's a novelty. In this study, non-smoking is listed as a co-morbidity. Why? Because it is a study of coronavirus patients in the New York City area and the last study from NYC showed that non-smokers were more likely to be hospitalised with COVID-19 than smokers.

The smoking rate in New York is 14 per cent, and 19 per cent of Americans are ex-smokers (this figure rate is probably higher in NYC). You might therefore expect at least 33 per cent of patients in this study to be ever-smokers. Indeed, given smokers' increased risk of underlying health conditions, you might expect that number to be a good deal larger.
Towards recognising tobacco harm reduction – ETHRA
Amendments passed in the Estonian Parliament on 4 May will allow menthol flavoured e-liquids and heated tobacco products to be sold. The Bill had been initiated by the government and attracted a raft of amendments from MPs, who recognise the importance of introducing tobacco harm reduction policies.

Last year the sale of all flavoured e-liquid (with the exception of tobacco flavour and flavourless) was banned in Estonia. Monday's decision to allow menthol flavours to be sold is a small but important step towards recognising the importance of less harmful nicotine products and supporting smokers as they transition away from the taste of tobacco. As menthol will be banned in conventional cigarettes later this month, the availability of menthol e-liquids will also provide an alternative for smokers who like the taste of menthol.

The amendment also removes the general ban on the sale of novel smokeless tobacco products like heated tobacco products.
"EVALI" Response – Jim McDonald
You might think the CDC team that investigated the outbreak of lung injuries would be hiding in a cave somewhere, avoiding recognition, hanging their heads in shame. Not only did they spend months shamelessly misleading the public about the cause of "EVALI," they also took almost that long to "discover" what just about everyone else already knew.

The lung injuries were not caused by commercial nicotine vapes, but by adulterated THC oil sold on the black market. Illegal producers of prefilled THC cartridges diluted the hash oil with cutting agents that consisted mostly of vitamin E acetate (also known as tocopherol or tocopheryl acetate), a flavorless, odorless, oil-soluble substance with almost the same consistency as THC oil.
---

---
Four from Dave Cross, Planet of the Vapes
The European Tobacco Harm Reduction Advocates (ETHRA) advocacy umbrella organisation voiced its strong objection to the body conducting a questionnaire on behalf of the Directorate-General for Health and Food Safety of the European Commission for not being included in the Tobacco Products Directive (TPD) revision process. Now the body that represents consumer organisation from the UK and across Europe has received an assurance that it will be included in forthcoming stakeholder consultations.

ETHRA complained that, once again, consumers, "the most important stakeholders and the group most directly affected by the TPD", were being overlooked as the European Commission engaged in a review process.
"Negative publicity drives e-cigarette users back to smoking," writes Bloomberg News' Tiffany Kary. "Growth of oral products and IQOS hampered by Covid-19". It is an odd piece that lacks self-awareness, given her previous article attacking the Foundation For A Smoke-free World and her organisation's history of attacking tobacco harm reduction.

Kary put Altria's leap in product sales down to "negative publicity around e-cigarettes …  pushing older smokers who had adopted vaping back to cigarettes."

While Altria have experienced a 14% rise in tobacco product sales their non-combustible business (vaping) "saw impacts from the pandemic across the board".
---
---
University College London's (UCL) Dr Lion Shahab and Dr Aleksandra Herbec would like vapers to help with a study looking at lifestyle choices during the COVID pandemic. They are interested to know how your vaping, smoking, drinking, eating and exercise has been affected during lockdown.

The study is being conducted by researchers from the Departments of Behavioural Science and Health at UCL and the UCL Tobacco and Alcohol Research and includes Professor Jamie Brown, Dr Olga Perski, Dr Phillippa Lally and Dimitra Kale.

The UCL "Health Behaviours During The COVID Pandemic" study – [link]
JUUL Labs has been fighting attacks on all sides for years and it looks like it is taking its toll. The company has carried out a range of cost-cutting measures over the last six months against a backdrop of toxic attacks from many sides. Now the company has had its fill with the evangelical anti-harm reduction nitwits in San Francisco and has announced a planned relocation to Washington, D.C.

JUUL Labs pronounced that it was going to conduct as 15% cut in staffing across all areas due to a "backlash against vaping" in October last year. The increasingly close scrutiny it was operating under was beginning to have an impact. "To right-size the business, the workforce will be reduced between now and the end of the year," said a spokesperson.

Harmful constituents decreased in smokers switching to Carbon-Heated Tobacco Product
Marija Bosilkovska, Cam Tuan Tran, Guillaume de La Bourdonnaye, Brindusa Taranu, Muriel Benzimra, Christelle Haziza
"Heat-not-burn" tobacco products are designed to heat processed tobacco instead of combusting it, thus significantly reducing the formation of harmful and potentially harmful constituents (HPHCs) found in cigarette smoke, and ultimately reducing the risk of smoking-related diseases. The Carbon-Heated Tobacco Product (CHTP), a heat-not-burn tobacco product similar in appearance and use ritual to cigarettes, has been developed for smokers who would otherwise continue smoking as an alternative to cigarettes. To evaluate reduced risk of harm potential of CHTP, it is critical to quantify exposure to HPHCs and consequent biological pathway disturbances involved in disease onset in smokers who switch to CHTP.
From Flavored E-Liquids in Sprague-Dawley Rats in a 90-day OECD Inhalation Study, Complemented by Transcriptomics Analysis
The use of flavoring substances is an important element in the development of reduced-risk products for adult smokers to increase product acceptance and encourage switching from cigarettes. In a first step towards characterizing the sub-chronic inhalation toxicity of neat flavoring substances, a study was conducted using a mixture of the substances in a base solution of e-liquid, where the standard toxicological endpoints of the nebulized aerosols were supplemented with transcriptomics analysis. The flavor mixture was produced by grouping 178 flavors into 26 distinct chemical groups based on structural similarities and potential metabolic and biological effects.
Perceptions and e-cigarette use among current tobacco smokers in England: a time series analysis
Olga Perski, Emma Beard, Jamie Brown
Background: There is a decreasing trend in the proportion of individuals who perceive e-cigarettes to be less harmful than conventional cigarettes across the UK, Europe and the US. It is important to assess whether this may influence the use of e-cigarettes. We aimed to estimate, using a time series approach, whether changes in harm perceptions among current tobacco smokers have been associated with changes in the prevalence of e-cigarette use in England, with and without stratification by age, sex and social grade.

Methods: Respondents were from the Smoking Toolkit Study, which involves monthly cross-sectional household surveys of individuals aged 16+ years in England. Data were aggregated monthly on ~ 300 current tobacco smokers between 2014 and 2019. The outcome variable was the prevalence of e-cigarette use. The explanatory variable was the proportion of smokers who endorsed the belief that e-cigarettes are less harmful than combustible cigarettes.
---

---
Diane Caruana
As the May 12th PMTA deadline was fast approaching, a number of entities including Altria Group Inc. and tobacco association NATO, had asked the FDA to push the deadline back due to the complications caused by the coronavirus pandemic.

In response to this, spokesman for the FDA Michael Felberbaum, said that the agency had received numerous inquiries from the industry expressing concern about the impact of Covid-19 on the May 12th deadline. "The FDA is currently engaged in internal discussions to determine how to best address this issue," said Felberbaum. "We encourage manufacturers who have concerns about meeting the May 12 deadline for any reason to contact the FDA directly."
To support menthol tobacco users ahead of ban
BAT UK is launching a range of new menthol vaping flavours and starter kits for its award-winning Vype brand. Designed for smokers of menthol tobacco products ahead of the ban later this month, the expansion of BAT UK's portfolio will offer the 23% of smokers who will be without their preferred product a viable menthol alternative.

BAT UK's new menthol portfolio includes Peppermint Tobacco, Just Mint and Creamy Mint flavours. These add to the Crisp Mint – Vype's bestselling flavour – Chilled Mint and Crushed Mint products already enjoyed by vapers. Alongside the launch of new flavours, BAT UK is also bringing to market limited edition Vype ePen 3 and Vype ePod starter kits for smokers who want to use the menthol ban as an opportunity to switch.
On importation of nicotine liquid – ATHRA
The federal Department of Health has asked the Therapeutic Goods Administration (TGA) to amend the scheduling of nicotine, signalling a crackdown on the importation of nicotine e-liquid.

Concerns of a crackdown at the border and increased policing of nicotine were raised by a motion passed by the Senate on 27 February 2020 calling for a "ban on the importation of e-cigarette liquids containing nicotine".

As reported in the Sydney Morning Herald, "A crackdown is coming on Australians who illegally import nicotine vaping products online. A spokesman for Mr Hunt said the government had a 'strict commitment to opposing vaping or any liberalisation on laws.'
Dennis F. Fetalino
Paradigms shift, paragons tumble. What was demonized yesterday could be today's saving grace. Or it could be the other way around. But the villain turning into the hero is much more heralded than the good guy crossing over to theDark Side. Chemicals are not vastly different from people. Most are toxic until they are found out to have redeeming, beneficial properties. Consider nicotine, for decades considered as the arch-villain, the Darth Vader, the Doctor Evil of the tobacco industry.

Like any other chemical substance, there is a lot of misinformation and misunderstanding and confusion about nicotine.

This is why it's important to focus on emerging scientific evidence to inform and shape the debates around safer nicotine products and tobacco harm reduction, according to a local consumer group.

Ken Leighton
Update: Minutes after this story appeared, James Canning, spokesman for Nathan Fletcher, said, "The Vaping Ordinance will now not come back before the Board until September."

"They are trying to force people to stop vaping, but this will not do it."

Shon Elfarra owns a small shop in Fallbrook called Smoke Chalet. He says a new countywide law may put him out of business. The specifics of that new law are to be unveiled at the next county board of supervisors meeting on May 19.

"Vaping is 40 percent of my business," says Elfarra. "How will I make it?"
Jennifer Freedman
The decision to postpone the 2020 Conference of the Parties (COP9) to the World Health Organization Framework Convention on Tobacco Control (WHO FCTC) to next year could be good news for the tobacco alternatives sector.

"It buys time," Canadian tobacco control expert David Sweanor told ECigIntelligence. "A lot of really dramatic changes are happening and over time it becomes much harder to oppose tobacco alternatives."

The conference, originally planned to take place in the Netherlands in October, has been rescheduled for November 2021 because of the COVID-19 pandemic.
---
Plain Talk About the Effort to Demonize Vaping – RegWatch (Live)
---
Carl Pfeiffer
Nicotine vaping is the answer to reducing the Territory's high smoking rates, according to Territory Alliance leader Terry Mills, who wants to introduce legislation to allow it. Mr Mills is the head of a party with only three seats in the Legislative Assembly and facing its first election with a motley crew of candidates from across the political spectrum.

On Wednesday afternoon he said they would introduce legislation to regulate devices, flavours and nicotine used in e-cigarettes. He said his party would not have to be elected to government for him to propose the legislation.
Drives teens to vape
Less than 5% said the availability of fruity flavors drives their use of e-cigarettes, and only 10% said that addiction does.

The findings, published in a research letter in JAMA Pediatrics, come from a text-message-based survey of teens and young adults between the ages of 14 and 24, from the University of Michigan's MyVoice study.

Researchers conducted the survey before the 2019 epidemic of vaping-associated lung injury, and long before suggestions that COVID-19 might pose a greater risk to people who smoke or vape. It was also conducted before the federal ban on sales of all vaping products to people under the age of 21, and on the sale of fruit-flavored vaping pods, but not vaping liquids.
---
A look back at how things have moved on or otherwise….
James Dunworth, Ashtray Blog
In interviews I'm often asked why, if vaping is 95% safer than smoking, there are so many negative stories around vaping.

My answer is that the vaping is a disruptive industry which threatens more than US$700 billion in tobacco revenues  and US$250 billion in tax revenues. It's inevitable there's going to be opposition to vaping.
Michael McGrady, Vaping Post
Last month, the Smoke Free Alternatives Trade Association (SFATA) announced that they found evidence of an "epidemic" of misinformation when it comes to consumers' understanding of vaping products and nicotine in general.

"SFATA believes that while the [Food and Drug Administration (FDA)] is busy giving adults and teens an epidemic of misinformation, Public Health England, the national health organization of the U.K., has truthful data showing that 'vaping may be contributing to 20,000 U.K. smokers quitting every year,' says Mark Anton, the trade group's executive director, in a press release.
---
Visit Nicotine Science & Policy for more News from around the World

---