Vaping Digest 11th May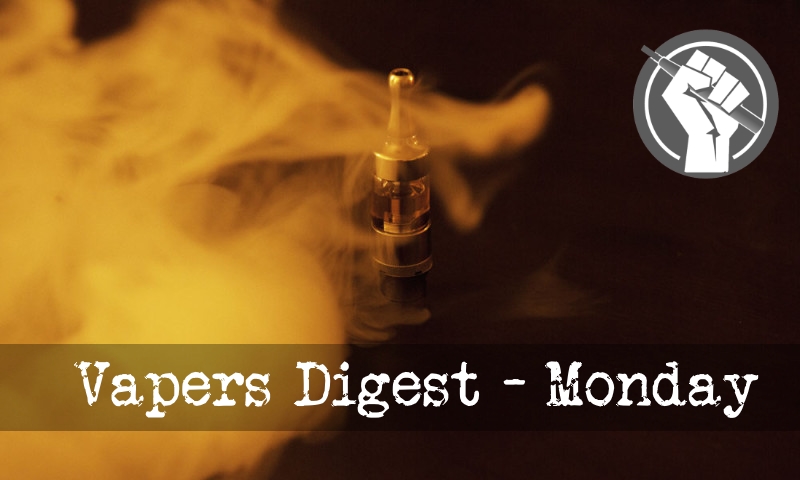 Monday's News at a glance:
John Newton – not "silly" in the slightest – First Study of ZYN, A Novel Consumer Nicotine Product – GFN20 Goes Online – Vaping In The News ~ May 9th – Systematic review of the prevalence of current smoking – Nicotine Could Prevent the Spread of COVID-19 – Another blow for South Korea's Vape Industry – Dependence on e-cigarettes and cigarettes – We Gotta Start Associating Harm Reduction With Tobacco and Vaping More – Flavor Ban Was No Deterrent for E-Cig Use – More than 6,000 Petitions Urging Veto of Vaping Bill – Chinese Foreign Ministry Conspiracy
Liam Humberstone
The name Professor John Newton might be a relatively new one to many people in the UK. Those of us that have worked to make the UK the World's leader in quitting through vaping already know the name well, as he and his organization have played a pivotal role. This has included holding our industry to account to make sure we do things right, but has also been very supportive when it has been in the best interest of public health.

Professor Newton is very much in the news at the moment. His day-to-day position in Public Health England is Director of Health Improvement, but during the COVID-19 crisis has been leading the incredibly important drive to increase the number of tests for coronavirus. This vital data collection has stepped up very sharply in a time of great pressure. In early May the number of people being tested for the virus per day had increased to 70 times its level at the beginning of March.
A Novel Consumer Nicotine Product – Brad Rodu
The American Journal on Addictions has just published (here) an analysis by my colleagues and me of the consumer appeal of a new nicotine product, ZYN.

Swedish Match test-marketed ZYN six years ago in Colorado; distribution expanded to 11 states in the western U.S. in 2016, and nationwide in April 2019.  While ZYN marketing was limited to a website and point-of-sale promotions, press reports (here, here and here) indicated remarkable sales success.

In 2018, the company commissioned from a private contractor two marketing surveys on ZYN perceptions and use.  Last year a research group consisting of Drs. Karl Fagerström from Sweden and John Hughes from the University of Vermont, as well as Nantaporn Plurphanswat and me from the University of Louisville, was granted full access by Swedish Match to that survey data so that we could produce an independent analysis.
---

---
Dave Cross, Planet of the Vapes
Experts, advocates, scientists, and consumers have been annually congregating in Poland for six years to hear about the latest studies and approaches in tobacco harm reduction. This year, due to the impact of the COVID-19 pandemic, the seventh GFN will take place online – and everyone is welcome to access it for free.

The organisers of GFN20 are keen to put the message out: "You're invited to the online GFN20 on 11 – 12 June for presentations from top speakers on 'Nicotine: science, ethics and human rights. Free and open to all".

"This is a critical time in nicotine science, policy and tobacco harm reduction. We did not want to miss the opportunity GFN gives us to share the latest research, discuss ideas and solutions, and spark debate."
Kevin Crowley, Vaping Links
Deadly agency nominated for award ~ Lessons From the Public Health Responses to the US Outbreak of Vaping-Related Lung Injury ~ A Look Back at CDC's Award-Nominated "EVALI" Response ~ Cigarette sales are rising in the middle of a pandemic ~ Nicotine Policy Should Not Be Exempt From Science ~ How ASH turned the views of just SIX smokers into a headline-grabbing 300k ~ Speaking of government math ~ What's that? Juul and Pave? ~ Survey: 'Cool' factor, not flavor, drives teens to vape ~ Dependence on e-cigarettes and cigarettes in a cross-sectional study of US adults.
---
---
Of current smoking among hospitalized COVID‑19 patients in China:
Konstantinos Farsalinos, Anastasia Barbouni, Raymond Niaura
The effects of smoking on Corona Virus Disease 2019 (COVID-19) are currently unknown. The purpose of this study was to systematically examine the prevalence of current smoking among hospitalized patients with COVID-19 in China, considering the high-population smoking prevalence in China (26.6%). A systematic review of the literature (PubMed) was performed on April 1. Thirteen studies examining the clinical characteristics of hospitalized COVID-19 patients in China and presenting data on the smoking status were found. The pooled prevalence of current smoking from all studies was calculated by random-effect meta-analysis.
Michael McGrady
Researchers are investigating the effects of nicotine on COVID-19, the rapid spread of the novel coronavirus SARS-CoV-2 and evidence for a surprising hypothesis: Cigarette smokers are less likely than non-smokers to contract the virus.

Cardiologist Konstantinos Farsalinos told InsideSources he is investigating why smokers are disproportionately unlikely to become COVID-19 cases. He explained there is a need to explore the prevalence of current smoking behaviors among those who were diagnosed with the virus.

Farsalinos provided an advanced release of a study that he's leading, which examines why the pandemic numbers indicate smokers have lower odds of being hospitalized with a virus diagnosis.

Diane Caruana
As a result of the EVALI outbreak, last year Korea's health ministry had conducted an investigation into the safety of vaping. "After coordinating with the Ministry of Food and Drug Safety (MFDS), we will conduct a full-scale investigation for the ingredient analysis of liquid-type e-cigarettes," said a health and welfare ministry official. The results of the investigation are expected by next month, June 2020.

A government spokesperson had added that if the investigation highlights significant risks, the government may revoke the sales licenses of e-cig manufacturers. Additionally, the ministry has launched a response team, which has been tasked with looking into any local EVALI cases, so that possible e-cig bans would be considered accordingly.
---

---
In a cross-sectional study of US adults.
Cigarette smoking often results in nicotine dependence. With use of electronic cigarettes as an alternative source of nicotine, it is important to assess dependence associated with e-cigarette use. This study assesses dependence among current and former adult e-cigarette users on cigarettes and e-cigarettes, compared with dependence on cigarettes.

Cross-sectional data from the Population Assessment of Tobacco and Health (PATH) study from 2013-2016. Psychometrically assessed dependence was compared for cigarettes and e-cigarettes among current and former exclusive and dual users of the products and among e-cigarette users who had and had not recently stopped smoking.

With Tobacco and Vaping More – Daniel Garrett
The phrase "harm reduction" is most often associated with drugs and, to a much lesser extent, sex work — specifically, street prostitution and escorting as opposed to web-based, non-contact sex work — here in North America.

So much of our struggle as harm reductionists comes from trying to get our fellow laypeople rolling with SS Harm Reduction. Really, most of us who want to help drug users are interested in drug policy reform, drug user advocacy, and harm reduction, but most of us tend to lump it all under the umbrella of "harm reduction."

Like damn. Those three are wayyy too fuckin' long to say together just to identify ourselves.
Anti-vaping advocates have claimed that nicotine addiction among teens has been driven by the seductive flavorings offered by e-cigarette companies. Public campaigns were launched nationwide agitating for flavor bans and after the U.S. was hit with an onslaught of high profile e-cigarette or vaping product use-associated lung injury (EVALI) and deaths, the states along with federal government pounced on the opportunity to regulate the nascent industry.

The panic began when former head of the Food and Drug Administration (FDA) Dr. Scott Gottlieb proclaimed teenage use of e-cigarettes to be an "epidemic." Anti-vape advocates were empowered and well-funded to lobby states and the federal government with their claims about the dangerously delicious flavored nicotine pods addicting middle and high school students around the country.
Petitions Urging Veto of Vaping Bill
More than 6,000 petitions were delivered to Governor Ron DeSantis urging him to veto Senate Bill 810, a measure that would close small businesses and negatively impact the economy statewide.

If this bill becomes law, the Florida Smoke-Free Association (FSFA) estimates that nearly 1,000 small businesses in the state would be negatively impacted, forcing the loss of 5,000 jobs and a negative economic impact of more than $600 million statewide.

Robert Lovett, president of FSFA said, "During a time when we face a challenging economy, Florida should not add laws on the books that will shutter businesses permanently and restrict the liberties of approximately 2 million adults.
U.S. Army Caused Vaping Deaths
Chinese Foreign Ministry spokeswoman Hua Chunying floated the idea Friday that deaths related to the use of e-cigarettes, or vaping, in America in 2019 may have been secret Chinese coronavirus cases caused by a U.S. Army laboratory leak.

The Chinese coronavirus pandemic began in Wuhan, China, late last year. While the Chinese government initially accepted that the origin of the new virus was a wild animal and seafood market in Wuhan, it has since refuted that assertion, instead suggesting that the virus originated in America.
---
A look back at how things have moved on or otherwise…
Brad Rodu, Tobacco Truth
People regularly ask me why I've spent the last 25 years researching and advocating for tobacco harm reduction and related products. While it's difficult to provide a succinct answer, a powerful ad campaign from the Centers for Disease Control and Prevention illustrates why I am dedicated to helping smokers. The campaign is called "Tips from Former Smokers".

For the first 15 years of my career, I was on clinical staff at the Comprehensive Cancer Center of the University of Alabama at Birmingham. As an oral pathologist I made microscopic diagnoses of hundreds of cancers.
Deborah Price
Smokers could receive free e-cigarettes from 'food banks' in Hertfordshire, as part of a ground-breaking research project. As part of the proposed project, any smoker accessing the support of the 'food bank' would be routinely offered a free e-cigarette starter kit.

And that, it is believed, could save them money and be good for their health too. Jim McManus, the director of public health, at Hertfordshire County Council who is helping to drive the project forward, says that several food banks in the county have already stepped forward to take part.
Due to Nicotine Restrictions – Diane Caruana
The roll-out across EU countries of Juul, has been hampered by limits of 20 milligrams of nicotine per millimetre of liquid, compared to 59 in the United States. The San Francisco-based manufacturer says that this makes their product less effective as an alternative to cigarettes for heavy smokers.

This argument has been backed by science. A recent review of research related to NRTs, has indicated that smokers who use higher doses of nicotine are more likely to quit than those using lower doses. The review also found that some smokers may even benefit from using two forms of NRT rather than one.
---
Visit Nicotine Science & Policy for more News from around the World

---