Vaping Digest May 10th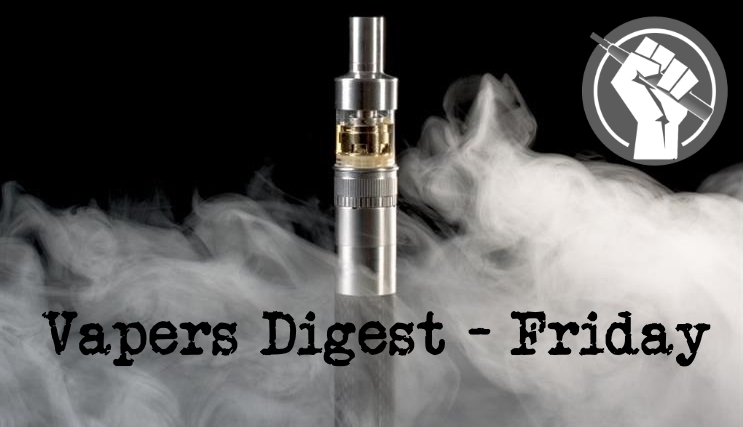 Friday's News at a glance:
CDC Quit-Smoking Ads Lack Real-World Solutions – Food banks to provide free e-cigarettes – Juul Faces Challenges in the EU Due to Nicotine Restrictions – Quebec Court Conclusion – Experts Discuss the "B" Word – Expecting Better – NZ To Promote Vaping As Safer – Wholesale E-Cigarette Tax Would Vaporize Harm Reduction in Alaska – USA 2019 E-Cigarette Summit Video Presentations – It's time to stop confusing the public – Video on vaping: 'much, much safer than smoking' – Scientific studies debunk vaping myths – Columbia bans vaping at bars, restaurants -E-cigarette lobby group wants Karnataka to lift ban on its use
Brad Rodu, Tobacco Truth
People regularly ask me why I've spent the last 25 years researching and advocating for tobacco harm reduction and related products. While it's difficult to provide a succinct answer, a powerful ad campaign from the Centers for Disease Control and Prevention illustrates why I am dedicated to helping smokers. The campaign is called "Tips from Former Smokers".

For the first 15 years of my career, I was on clinical staff at the Comprehensive Cancer Center of the University of Alabama at Birmingham. As an oral pathologist I made microscopic diagnoses of hundreds of cancers.
Deborah Price
Smokers could receive free e-cigarettes from 'food banks' in Hertfordshire, as part of a ground-breaking research project. As part of the proposed project, any smoker accessing the support of the 'food bank' would be routinely offered a free e-cigarette starter kit.

And that, it is believed, could save them money and be good for their health too. Jim McManus, the director of public health, at Hertfordshire County Council who is helping to drive the project forward, says that several food banks in the county have already stepped forward to take part.
Due to Nicotine Restrictions – Diane Caruana
The roll-out across EU countries of Juul, has been hampered by limits of 20 milligrams of nicotine per millimetre of liquid, compared to 59 in the United States. The San Francisco-based manufacturer says that this makes their product less effective as an alternative to cigarettes for heavy smokers.

This argument has been backed by science. A recent review of research related to NRTs, has indicated that smokers who use higher doses of nicotine are more likely to quit than those using lower doses. The review also found that some smokers may even benefit from using two forms of NRT rather than one.
---

---
Dave Cross, Planet of the Vapes
The Canadian Vaping Association and the Quebecan Vaping Association have struck a blow for vaping in the Canadian courts. The Associations took issue with the manner Quebec has implemented the Tobacco Control Act in 2015 and instigated legal action to correct the matter.
Quebec had prohibited the demonstration of vape products within vape stores (and quit smoking venues) and barred the dissemination of harm reduction information. Lawyers for the Associations argued that these prohibitions contravened "the right to integrity and personal security as well as freedom of expression".
Dave Cross, Planet of the Vapes
The UK Vaping Industry Association's (UKVIA) Forum took place in London for business owners and those with an interest in tobacco harm reduction. Attendees joined industry leaders and experts at the UK's only dedicated industry-led conference in the sector to discuss vaping and the public health prize it represents. Panel One consisted of Adact Medical's Damien Bove, Vape Club's Dan Marchant, Adam Smith Institute's Daniel Pryor and Clive Bates.
---
---
Dave Cross, Planet of the Vapes
University of Iowa researchers presuppose that vaping while pregnant is a 'bad thing'. Relying on limited poor studies as their reference points, they construct a flawed argument that ignores all of the positive evidence to the contrary.
"Some animal studies have shown that maternal use of electronic cigarettes (e-cigarettes) adversely affects offspring's lung development and cognitive function," begins the university's research team.
Dave Cross, Planet of the Vapes
Legalising vaping may have been a welcoming shift in New Zealand but mixed messages from government officials still left tobacco harm reduction under a cloud and smokers confused. This week, the government has announced that the Ministry of Health will begin promoting vaping as a safer alternative to smoking.
When Associate Health Minister Nicky Wagner made an announcement that vaping was to be legalised, in 2017, at a press conference, a journalist asked her: "Aren't you just encouraging the inhaling behaviour, to teach people how to inhale?"
---

---
Would Vaporize Harm Reduction in Alaska – Lindsey Stroud
Proposal would apply a 75 percent wholesale tax on tobacco harm reduction products.

Legislation introduced in Alaska aims to apply the state's excise tobacco products tax to electronic cigarettes and vaping devices. The bill, House Bill 94, would impose a 75 percent wholesale tax on e-cigarettes and other, similar tobacco harm reduction products.

Although many lawmakers in other states have recently considered creating additional taxes on vaping to deter youth use of these products, the author of H.B. 94 hopes to use the tax to generate revenue.
Video footage from the USA E-Cigarette Summit in Washington on Monday 29 April 2019
With sensationalist rhetoric on e-cigarettes – Brad Rodu
The problem of misinformation is widespread. The public constantly receives alarmist misrepresentations about vaccinations, the food they eat, the household products they use and now e-cigarettes and vaping. But hysterical rhetoric has consequences, because people act on what they are told. And health officials at all levels of government are misinforming Americans that e-cigarettes are as dangerous as cigarettes and pose an existential threat to their children. Unfortunately, this misinformation can be deadly.

'Much, much safer than smoking' – ATHRA
Dr Rosemary Leonard, GP and media commentator in the UK, explains that recent research by Public Health England shows that e-cigarettes are significantly less harmful to health than traditional cigarette smoking.

There are a lot of misconceptions about vaping, but 'e-cigarettes are much, much safer for your health than smoking'

'E-cigarettes are effectively nicotine replacement products (patches and gum) but a lot of smokers require the smoking action and that can be provided by an e-cigarettes'
Manila Times
Misleading and contradictory information on the effects of e-cigarettes may be keeping more adult smokers from switching to less harmful vaping.

In the past couple of years, rigorous scientific research has been published to understand the impact of e-cigarettes given their rapid popularity. Evidence shows that short and long-term use of e-cigarettes poses not only a reduced risk compared to smoking, but suggests that it can be used as an effective means of helping adult smokers quit.
Yes, that includes the patio – Emily Bohatch
Vaping in your favorite Five Points spot could land you with a $100 fine, thanks to this new law passed by the Columbia city government Tuesday.

The new law bans the use of e-cigarettes at bars and restaurants within the city of Columbia. It covers devices such as cigars, cigarettes, pipes, hookahs and electronic smoking devices which create aerosol or vapor to deliver nicotine or other substances.
Wants Karnataka to lift ban on its use
The e-cigarette ban imposed by Karnataka will hurt 1.8 crore smokers in the State, according to Association of Vapers India (AVI), a nonprofit that favours use of vapor products and electronic cigarettes to help smokers quit.

E-cigarettes are electronic nicotine delivery systems (ENDS) and their use is also known as vaping.

Karnataka's Health & Family Welfare department had, by a circular on June 15, 2016, said sale, manufacturing and distribution of e-cigarettes had been ..
---
A look back at how things have moved on or otherwise….
INNCO
For those who are unaware, Professor Riccardo Polosa, MD, PhD, is the Medical Director of the Institute for Internal Medicine and Clinical Immunology and Scientific Director of the Centre of Excellence for the acceleration of HArm Reduction (CoEHAR) of the University of Catania in Italy.
Brad Rodu, Tobacco Truth
The journal Pediatrics in March published an article by University of California San Francisco's Benjamin Chaffee, Shannon Lea Watkins and Stanton Glantz claiming that e-cigarettes lead to smoking. The claim was baseless; the authors ignored subjects' past smoking activity, as I explained in an earlier blog post (here).

On March 15, I submitted a comment to the journal with a re-analysis of Chaffee's data using the omitted variable and demonstrating the invalidity of Chaffee's claim.  On the basis of this flaw, I requested retraction of the article.
Michael Siegel , The Rest Of The Story
We're well into 2018 and there is now substantial research on the health effects of vaping as well as a decade of experience with large numbers of vapers, yet e-cigarette opponents are still making up false claims to buttress their demonization of vaping.

In an article by Jia Tolentino published yesterday in the New Yorker, a Harvard professor was quoted as claiming that: "vaping can cause something called bronchiolitis obliterans, or popcorn lung."

He also stated that Juul is "a massive public-health disaster," likened e-cigarettes to "bioterrorism," and "predicted that, eventually, a state's attorney general would sue Juul 'for willfully designing and pushing a product that will cause harm to the children of the United States.'"
---
Visit Nicotine Science & Policy for more News from around the World

---