Vaping Digest May 13th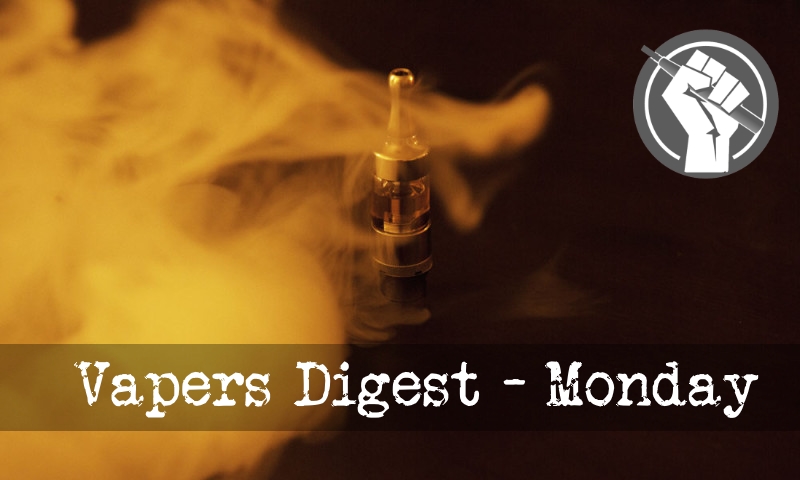 Monday's News at a glance:
US fightback against vape taxes scores a hit – The EU's war on harm reduction is in full swing – Drugs And The Surgeon General – Vaping Harm Reduction – The potential frivolity of the Juul class actions is alarming – Vaping In The News – May 11th – E-cigarette dilemma – Lawsuits Challenging the FDA's Deeming Rule (2019) – We Could Vape our Way to Health – Ban on e-cigarettes anti-people – More creative approach – Nicotine Science and Policy Daily Digest
Fergus Mason, Vaping Post
There was some good news for American vapers last week, after an influential think tank stepped in to Alaska's debate over a vape tax while Texas's efforts to introduce one ran out of time. However, the campaign against safer nicotine products continues with another fraudulent paper from Stan Glantz and an inexplicable decision by Walmart to stop selling legal products to young adults.
Bill Wirtz
In 2020, the Netherlands will host the ninth conference of parties of the so-called WHO-FCTC treaty. During this conference, world leaders and public health advocates discuss the ways in which smoking prevalence can be curbed.

However, these same advocates haven't just made their policies about actual tobacco, but also about vapour: innovative e-cigarette products come under fire, even though they are provenly less harmful and help those smokers who desire to quit. EU health commissioner Vytenis Andriukaitis and the anti-tobacco European Network for Smoking and Tobacco Prevention (ENSP) are leading the charge in this fight.
---

---
Dave Cross, Planet of the Vapes
US Surgeon General Jerome Adams usually reserves his more bizarre nonsense for his personal social media account, but this week kicked it off on his official Twitter profile. Again, he appears to have regurgitated something he hasn't read as he spreads a story about a child needing CPR after taking drugs – claiming he was "vaping at school".
The story originated on Fox 5 News and focussed on London Davis, a teenager at South Paulding High School. Right near the top of the article, Fox 5 point out that Davis was using "a drug pen".
Dave Cross, Planet of the Vapes
Raindrops splatter the windows of the London School of Humbug and Topical Mendacity as Professor Martin McCain-Ovenchips leans back in his chair bellowing: "Vaping is for idiots". Knocking over a coffee, he thrust a graph across the desk. "See, hundreds of thousands of hundreds of idiots!"
My hard-hitting exposé looking at the dangers posed by electronic cigarettes was getting off to a fantastic start – I was certain that this would produce a brilliant fact-free article, generating loads of clicks online. You won't believe some of the answers I got, nobody will. That's because (like a lot of the stuff you read about vaping) I made most of them up.
---
---
Michael McGrady, Vaping Post
For the past few weeks, I have gone over several of the class actions that have been filed against Juul Labs. As I read through these suits, I took issue with how these complaints could become resource-draining fiascos for members of the industry including Juul, the members of any supposed class, and the taxpayers.

Before I go any further, please remember that I am not a lawyer. In preparation for this column, I reached out to a colleague who is a lawyer, Chris Howard of the Vapor Technology Association, to provide his assessment of the potential frivolity of these cases.
Kevin Crowley, Vaping Links
It's time to stop confusing the public with sensationalist rhetoric on e-cigarettes ~ CDC Quit-Smoking Ads Lack Real-World Solutions We Could Vape our Way to Health—if the Government Gets out of the Way ~ Taxing LESS smoking ~ USA 2019 E-Cigarette Summit Video Presentations
---

---
Sally Satel, AEI
The Food and Drug Administration (FDA) is actually doing too much to regulate e-cigarettes. While concern over youth use is indeed warranted, the agency's overall strategy threatens access to e-cigarettes for adult smokers.

E-cigarettes are a great public health advance, intended for smokers who cannot or will not give up nicotine. Vapers inhale nicotine via a propylene glycol-based and/or glycerin-based aerosol estimated to be at least 95 percent less hazardous than conventional cigarettes, which burn tobacco and release carcinogens and carbon monoxide. A recent, rigorous study reported that "vaping" was twice as effective as FDA-approved nicotine replacements (patches, gum, lozenges) in helping smokers quit cigarettes for one year.
Mitchell Hamline School of Law
On May 10, 2016, the U.S. Food and Drug Administration published its final deeming rule, extending the agency's regulatory jurisdiction over tobacco products to e-cigarettes, cigars, hookah, and other products that had not yet been regulated by the FDA. For more information about the FDA's action, see the Consortium's other deeming rule resources. For information on other lawsuits related to FDA tobacco regulation, see our other litigation resources.

Below is an overview of lawsuits challenging the FDA's deeming rule that briefly summarizes the plaintiff's arguments. The FDA's actions are governed by the Administrative Procedure Act (APA)1 and the Regulatory Flexibility Act (RFA) and so a reviewing court can overturn an agency action if it violates one of these laws.

If the Government Gets out of the Way – Peter Roff
In November 1998, the four largest tobacco companies in the United States at the time—Philip Morris, R.J.Reynolds,Brown & Williamson, and Lorillard—entered into a settlement agreement with the attorneys general of 46 states, in which they agreed, in part, to stop marketing their products to teens and to fund anti-teen smoking efforts.
At the time it was hailed as a major step forward for public health. Unfortunately, as regulatory regimes are often apt to do, the way events have transpired since has allowed the crusade against teen smoking to become an impediment to what may be the biggest public health breakthrough since the advent of the polio vaccine.
Will put lives of 1.8 million in state in danger
The Association of Vapers India (AVI) has termed the state government's ban on e-cigarettes as anti-people. They claim it would imperil the lives of over 1.8 crore smokers in the state.

AVI had last year filed a public interest litigation (PIL) in the Karnataka High Court against the ban on e-cigarettes. It had submitted in court scientific evidence from organisations such as the US FDA, Public Health England and the American Cancer Society to further its claim.
Mary Ann LL. Reyes
Maybe it's about time that our government accept the fact that Filipinos are not about to give up smoking and that the only way to help them is to support more practical approaches.

A study by the World Health Organization (WHO) has shown that the Philippines continues to have one of the highest rates of smoking in Asia.

The Philippines is ranked in the top 15 countries worldwide with the highest burden of tobacco-related illnesses, losing nearly P270 million in tobacco usage –related costs including healthcare and productivity loss from illnesses and mortality and with over 100,000 Filipinos dying annually from smoking-related diseases.
---
A look back at how things have moved on or otherwise….
New Nicotine Alliance
At the UKVIA Forum last month, NNA Trustees Sarah Jakes and Gerry Stimson featured on a panel chaired by Norman Lamb, Chair of the governmental Science and Technology Committee which is currently taking evidence on the use of e-cigarettes in the UK. An IBVTA member asked a question to the panel as to why the Committee had not taken evidence from consumers and the independent vaping industry. Sarah and Gerry both commented that this was, indeed, an opportunity missed, and Norman Lamb agreed to think on it. Less than 24 hours later invites were issued to NNA, IBVTA and UKVIA to come to parliament on May 9th to give evidence.
Science & Technology Committee inquiry into e-cigarettes
Thanks as always to @dnglos for the YouTubage
Vaped
The ongoing e-cigarette inquiry has seen a number of relevant parties give oral evidence to the Science and Technology Committee in the House of Commons. However, no representative from the independent vaping sector had been invited to the previous sessions. This was until Fraser Cropper, Chair of the Independent British Vape Trade Association (IBVTA) presented evidence to the committee on the 9th May.

Fraser Cropper sat alongside John Dunne, UKVIA Director and Sarah Jakes, Chair of New Nicotine Alliance (NNA). You can view the full session on parliament live TV and the key take-outs are highlighted below.
---
Visit Nicotine Science & Policy for more News from around the World

---