Vapers Digest May 11th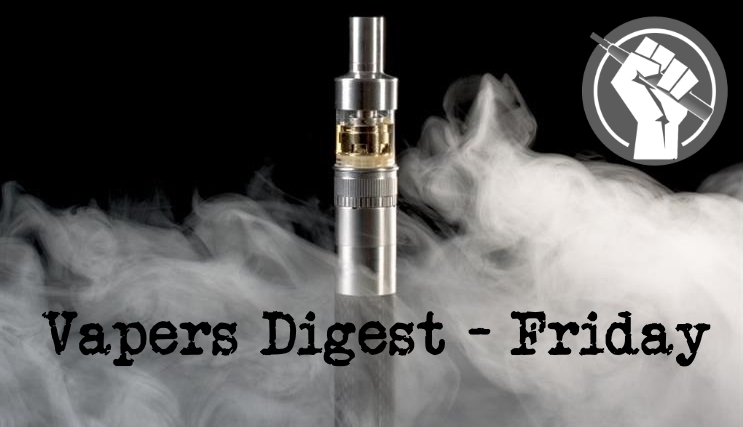 Friday's News at a glance:
A perfect opportunity – The IBVTA has its say in Parliament – Pediatrics Editors Claim Compliance – Campaign For Tobacco-Free Kids – FDA 'Jumps The Shark' – VT – Help stop a tax on vaping! – The changing world of tobacco harm reduction – NZ Study Hits Out At Public Health – The Kiwi law which shows Australia up – E-cigarettes in hospitals? – Teen Vaping Is 'Hardly An Epidemic' – Moving Backwards – Transparency, transparency, transparency – Russian HNB Research – £2bn fire-sale of a cigarette empire – Smokers could be jailed for 3 months – Vaper Expo 2018 – Was It The Best Ever? – World News – Nicotine Science and Policy Daily Digest
New Nicotine Alliance
At the UKVIA Forum last month, NNA Trustees Sarah Jakes and Gerry Stimson featured on a panel chaired by Norman Lamb, Chair of the governmental Science and Technology Committee which is currently taking evidence on the use of e-cigarettes in the UK. An IBVTA member asked a question to the panel as to why the Committee had not taken evidence from consumers and the independent vaping industry. Sarah and Gerry both commented that this was, indeed, an opportunity missed, and Norman Lamb agreed to think on it. Less than 24 hours later invites were issued to NNA, IBVTA and UKVIA to come to parliament on May 9th to give evidence.
Science & Technology Committee inquiry into e-cigarettes
Thanks as always to @dnglos for the YouTubage
Vaped
The ongoing e-cigarette inquiry has seen a number of relevant parties give oral evidence to the Science and Technology Committee in the House of Commons. However, no representative from the independent vaping sector had been invited to the previous sessions. This was until Fraser Cropper, Chair of the Independent British Vape Trade Association (IBVTA) presented evidence to the committee on the 9th May.

Fraser Cropper sat alongside John Dunne, UKVIA Director and Sarah Jakes, Chair of New Nicotine Alliance (NNA). You can view the full session on parliament live TV and the key take-outs are highlighted below.
---

---
But Instead Violate Publication Ethics Guidelines
Brad Rodu, Tobacco Truth
In previous blog posts I described how Pediatrics editors refused to retract a fatally flawed study by University of California San Francisco authors (here and here).  I also described how they allowed publication of unsubstantiated ad hominem attacks, then tried to cover them up by scrubbing the journal website (here).
Market E-cigarettes and Tobacco to Children
Kevin Crowley, Vaping Links
Since the 1970's, there has been a ban on advertising of tobacco. In 1970, President Nixon signed a law called the Public Health Cigarette Smoking Act  – banning cigarette ads on T.V. and radio – beginning January 2nd of 1971. (Link).

Over the past four or so years, I've watched what looks like breaking the law to me, but – some are above the law.
---
---
It's All About The Money – Tony Ottomanelli II
With a growing tension lingering throughout the U.S. vape community, it is quite obvious that this has been influenced by the FDA announcement of proposed rulemaking (ANPRM) on flavors.

It is safe to say, that the ANPRM has successfully caused an unfortunate crisis among the millions of vapers in the United States and around the world, especially advocates.
With Claims About Misleading Packaging – Carl V. Phillips
The FDA just announced new targets of its attacks on "misleading" packaging. With that, it effectively conceded this campaign is not really about accidental poisoning risk, as originally claimed. Rather, it is an absurd attempt to bolster its baseless claims of marketing to children.

As previously reported, the initial round of the campaign was mostly directed at a few e-liquid containers that could genuinely be mistaken for food or drink, including one that looks like a juice box.
CASAA
Vermont's HB 922, which would enact a 46% wholesale tax on vapor products and is necessary to implement the state's budget, is likely to pass the legislature soon–maybe even today. The bill then heads to Governor Scott's desk for a final signature.

But Governor Scott is signaling that he will veto any new taxes on Vermonters. Call the Governor's office and urge him to keep his promise and veto new taxes on vapor products.

Call Gov. Scott: 802.828.3333
---

---
The changing world of tobacco harm reduction
Jenesa Jeram
Tobacco policy in New Zealand has traditionally neglected the needs of smokers. The good news is that youth uptake of smoking has significantly declined. The bad news is that the current approach is not as effective in helping smokers become ex-smokers. If the government wants to achieve its 'Smokefree by 2025' aspiration (reduce smoker prevalence to 5% of the population), more support will be needed to help smokers quit.
Mawsley, Planet of the Vapes
'Government and public health responses to e-cigarettes in New Zealand' was published in the Harm Reduction journal last month. Massey University's researchers Trish Fraser, Marewa Glover and Penelope Truman looked at how the previous ban on vaping impacted on vapers. The responses were damning for those purporting to represent the best interests for the health of the public.
Sian Powell
New Zealand has effectively legalised e-cigarettes and nicotine vaping products, bringing the nation into line with other governments such as Britain and the US and further isolating Australia, where e-cigarettes and vaping remain illegal.

The New Zealand Ministry of Health this week failed to appeal a recent district court decision ruling the products could be legally sold, imported and distributed.
Debbie Schipp
VAPING with nicotine — banned in Australia — is now legal in New Zealand. It's a move guaranteed to increase pressure on Australian politicians to change laws around vaping and e-cigarettes.

Australians wanting to buy nicotine vape-liquid, need a prescription and a specialist chemist, facing fines and even jail time if they don't have it.

Daniel Ghinn
In February this year, Public Health England (PHE) published its annual evidence review on e-cigarettes and heated tobacco products. The report challenged public perception and policymaker communication about e-cigarettes, and recommended encouraging smokers to switch from smoking to vaping.
Steve Birr, Daily Vaper
Iowa's top law enforcement official is championing e-cigarettes as a tool for smokers trying to quit, recently saying that activists claiming there is a teen vaping epidemic are "misleading you."

Democratic Iowa Attorney General Tom Miller, speaking on April 30 at the annual E-Cigarette Summit in Washington, D.C., argued harm reduction technologies offer regulators a unique opportunity to slash smoking rates in the U.S. and should be embraced by public health officials.
Featuring Norman Lamb MP
Thanks as always to @dnglos for the YouTubage
Global Nicotine Expert Rates Canada's Vaping Policy
As the Royal seal is set to emboss Canada's new federal vaping legislation: what do family friends from across the pond think of the Canadian approach to tobacco harm reduction?

In part-2 of our "Forgotten Crisis" series Paddy Costall from the Global Forum on Nicotine rates Canada's vaping policy and suggests a consumer-focused approach could lead to a better way.
Simon Clark, Taking Liberties
"Off to Canberra today to help make smoking obsolete!"

I don't mind admitting that when I read that comment by Dr Attila Danko, president of the New Nicotine Alliance Australia, posted on Facebook on February 14, 2017, it raised my hackles a little.

I won't repeat my lengthy response but you can read it here – Enemies of choice.
Mawsley, Planet of the Vapes
Russian academics at Kazan University have looked at the potential health risks from using a heat-not-burn product. They looked at the toxicity of products produced by heat-not-burn devices, but the information is limited to a university press release and a paper has not been published. It conflicts with other published findings.
---

---
Rachel Millard, Daily Mail
More than £2billion of tobacco businesses look set to be sold by Imperial Brands as it moves its focus to e-cigarettes.

The maker of Winston, Kool and Gauloises is shedding chunks of the company to cash in on vaping products, which have seen huge growth in recent years.

Bosses are hoping to grab hold of swathes of the world's 1billion tobacco smokers.
Thandi Skade
If you're a smoker, your days of requesting a table in the smoking section or quickly popping outside to have a puff in-between meals, are numbered.

That's because Health Minister Dr Aaron Motsoaledi has submitted a draft Tobacco Bill that seeks to heavily clamp down on where smokers are allowed to smoke and major restrictions on how tobacco manufacturers are allowed to advertise and package cigarettes.
Neil H – ECig Click
Straight off the bat I have to say that yes this probably was the best Vaper Expo yet however it was definitely Pod mod and CBD e-liquid city to say the least!

Let's put it this way had I have just launched a specific CBD Pod system I wouldn't have been out of place and probably made a killing lol.
Mawsley, Planet of the Vapes
Michael Siegel pulls no punches as he damns some opponents to vaping and harm reduction as liars – and lying came easily to the Israeli Health Minister Yakov Litzman too, as he helped tobacco companies. These firms need help as yet another Big T entity files poor performance. Lastly, we've been waiting all day for the debate and vote of the second reading of the Electronic Cigarettes (Regulation) Bill.
---
A look back at how things have moved on or otherwise….
You're Simply Common Prohibitionists – Dick Puddlecote
A few years ago comedian Steve Hughes jokingly spoke of the approach 'public health' has towards smoking.

"Can we still buy cigarettes?"
"Of course!"
"Where can we smoke them?"
"Nowhere"

Now, it's a regular refrain from the vile, selfish wankers who form tobacco control's fan base – basically curtain-twitching prodnoses who believe the world revolves around them, their shit doesn't stink, and that they are entitled to meddle in other people's lives – that smokers should smoke in their own homes and nowhere else.
Brad Rodu, Tobacco Truth
Comedian-cum-philosopher Stephen Colbert has opined, "Facts matter not at all. Perception is everything." Actual British researchers have gone a step further, finding that, with e-cigarettes and vaping, perception changes behavior.

British health authorities have consistently told smokers the truth about vaping since 2011 (here, here, here and here), while American officials, in their pursuit of a "tobacco-free society" or a "tobacco endgame," have emphasized the negative, or simply perpetuated untruths and urban myths.
Tobacco Harm Reduction Association of Canada
This survey is designed to enable us:  *Understand what vapers and the vaping community know about vaping. *Understand what non-vapers know and understand about vaping.  *Establish programs that will guide THRA in it's communications.
Help educate others about: *Electronic cigarettes and vaping technologies. *Their usage.
*How electronic cigarettes have helped us as an alternative to using combustible tobacco products.
This survey may take up to 20 minutes to complete. Please help us to help others. "Knowledge is Power. Sharing it empowers others."
---
Visit Nicotine Science & Policy for more News from around the World

---