Vapers Digest May 14th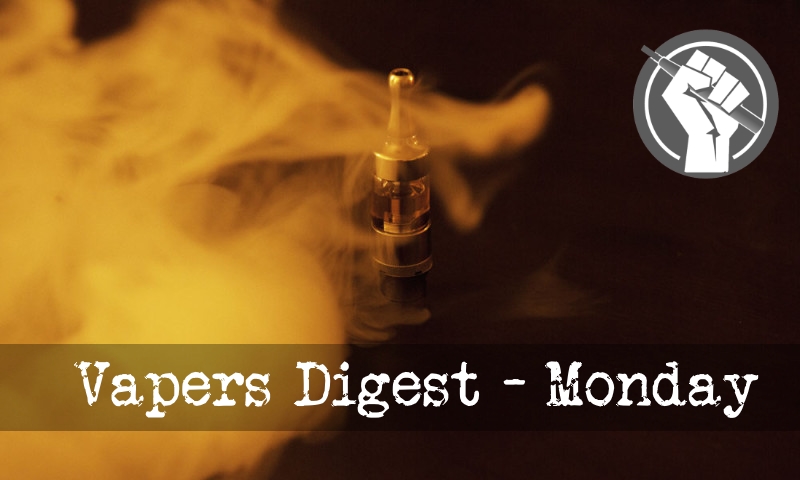 Monday's News at a glance:
EU members get low marks for vaping freedom – JUUL Is Eating Big Tobacco's Lunch – Science and Technology Committee  – Vaping In The News May 13th – YouTube Strikes Vaping – Vaping regulation: Risk-proportionate, Responsive, relevant, responsible? – Health Ministry abandons legal fight – Otago and disagreement – Govt urged to push vaping as alternative to smoking – A new era – Sheriff's Office requesting to sell e-cigs to inmates – Nicotine Science and Policy Daily Digest
For vaping freedom – Fergus Mason
A new report shows that EU member states, probably encouraged by the notorious TPD, are increasingly punishing vapers with taxes and bans. There's also bad news from the USA, where the media continues to spread alarmist stories about drug use by teen vapers and environmentalism is now being weaponised against the popular JUUL brand. On a more positive note a vape tax being pushed by Vermont legislators is likely to be killed off by a gubernatorial veto next week.
Jim McDonald, Vaping 360
Financial analysts now recognize that vaping is a real threat to the cigarette industry, and perhaps for the first time companies that have practically minted money with their deadly products may be seriously worried about the future.

"Anyone here from Altria?" asked Clive Bates at E-Cigarette Summit in Washington. "I'm sorry, but JUUL does seem to be eating your lunch — something I'm really glad about."
---

---
Transcript of last week's meeting of the Science and Technology Committee.
Ordered by the House of Commons to be published on 9 May 2018. Watch the meeting

Members present: Norman Lamb (Chair); Bill Grant; Liz Kendall; Stephen Metcalfe; Carol Monaghan; Damien Moore; Martin Whitfield.
Kevin Crowley, Vaping Links
FDA To Take Action ~ Censoring Twitter in the name of health ~ Surveys on Vaping: It's All About The Money ~ Heat Not Burn ~ FDA 'Jumps The Shark' With Claims About Misleading Packaging ~ Nicotine Calculator ~ Campaign For Tobacco-Free Kids Market E-cigarettes and Tobacco to Children. ~ Speaking of marketing to children ~ Teen Vaping Is 'Hardly An Epidemic' ~ E-Cigarette Opponents Still Making Up False "Facts" to Demonize Vaping ~ Jamie Oliver
---
Read full thread ~ unbelievable ignorance and complete disregard of the robust scientific evidence which confirms Eliquid Vaporisers pose significantly less risk to smokers than cigarettes. https://t.co/ZjXWj0NP6M

— INNCOorg (@INNCOorg) May 14, 2018
Thank you to @BTHA & @coyleneil for today's meeting in Parliament on the future of the CE mark, post Brexit. Looking forward to further engagement on this topic on behalf of our members. https://t.co/lLAFJyfuDM

— IBVTA (@TheIBVTA) May 14, 2018
---
Mawsley, Planet of the Vapes
A rush of vape channels have received strikes despite posting legal content. The online content community is awash with confusion and anger at what is unjust and ill-considered action. As Jim McDonald of Vaping360 says: "Why are you protecting cigarettes, YouTube?"
The action comes after the American Food and Drug Administration told the social media platform that it wanted it to crack down on advertising Juul and other vape products to children. Thus far, nobody has provided evidence that companies are targeting children at all.
Pediatrics Journal Suppresses Criticism – AVA
When Drs. Benjamin Chaffee, Stanton Glantz, and Shannon Lea Watkins from the University of California, San Francisco published their findings on progression from vaping to smoking among youth who had previously tried cigarettes, the results seemed clear: "Among adolescent cigarette experimenters, using e-cigarettes was positively and independently associated with progression to current established smoking."
---

---
Risk-proportionate, Responsive, relevant, responsible?
The Ministry of Health are making moves to regulate vapes, e-cigarettes and heated tobacco products. This is supported by Hāpai Te Hauora who hopes that the Ministry do their best to provide effective and sustainable regulation. "Regulation is an important aspect of harm minimisation" says Hāpai CEO Lance Norman, "as it ensures products undergo robust quality testing that informs consumers of their associated health risks if any".
Last month, the Wellington District Court dismissed the Health Ministry's case against Phillip Morris, ruling the product, HEETS, doesn't come under the Smoke-Free Environment Act's ban on tobacco products for chewing or other oral use.

The ministry has decided not to appeal the decision.

The products will be subject to the same regulatory controls as smoked tobacco, meaning they cannot be sold to minors and advertising is restricted.
Eric Crampton
Today, the Initiative launched Jenesa Jeram's excellent report on vaping and reduced-harm alternatives to smoking. It walks through the evidence on the risks of vaping, heat-not-burn products, and snus, and makes some recommendations around liberalising access so that smokers might be able to choose ways of getting nicotine that don't involve breathing in smoke.

The report has drawn some reasonable support. Here's Action on Smoking and Health:
Investing in vaping is being touted as a quick way to meet our Smokefree 2025 goal.

It follows a New Zealand Initiative report which argues that turning to less harmful methods is a good way to stub out the habit – much better than going cold turkey.

QJ Satchell from NZVAPOR says thousands of people have already taken up vaping, and it's doing the trick.

Simon Clark
At risk of annoying the director of A Billion Lives even further, here's my response to his response to my response to his tweet that declared 'A new era of the anti-smoking movement begins today in the US. We're a small (but very proud) part of it. Check this out!':
Justices of the peace at their Committee of the Whole meeting heard a proposal Tuesday from Meyer Gilbert, chief deputy for the Benton County Sheriff's Office, to sell e-cigarettes from the jail's commissary.

Justices of the peace deadlocked 6-6 on the proposal, so it did not pass. The Sheriff's Office could have the proposal brought up again when the three justices of the peace not at Tuesday's meeting are able to vote.
---

---
E-cigarettes better than combustible tobacco, but not harmless
The American Cancer Society released a position statement that cautiously accepts electronic cigarettes as less harmful than combustible tobacco products for smokers who are unwilling or unable to quit using FDA-approved cessation aids.

"Based on currently available evidence, using current generation e-cigarettes is less harmful than smoking cigarettes, but the health effects of long-term use are not known," the position statement reads.
Neil H, Ecig Click
Vape News Headlines: Vaping is bioterrorism – Vapers speak to UK MPs – Big Tobacco selling to invest in e-cigs – New vape laws in South Africa – JAC Vapour and the USA – Rabbi says vaping is illegal – JUULing is killing the planet! And a ton of Vaper Expo photos…
---
A look back at how things have moved on or otherwise….
Where was vape? – Oliver Kershaw
The inaugural US E-Cigarette Summit took place in Washington DC on Monday. Encouragingly, there does now finally appear to be a consensus amongst the tobacco control community: Smokers should be encouraged to use vaping products if they've been unable to quit using FDA approved stuff. To many in the vaping industry, this will appear to be missing the wood for the trees, but that's just the nature of consensus. It's a net positive, and could not have occurred even a year ago.
Tobacco Harm Reduction Association of Canada
This survey is designed to enable us:  *Understand what vapers and the vaping community know about vaping. *Understand what non-vapers know and understand about vaping.  *Establish programs that will guide THRA in it's communications.
Help educate others about: *Electronic cigarettes and vaping technologies. *Their usage.
*How electronic cigarettes have helped us as an alternative to using combustible tobacco products.
This survey may take up to 20 minutes to complete. Please help us to help others. "Knowledge is Power. Sharing it empowers others."
---
Visit Nicotine Science & Policy for more News from around the World

---