Vapers Digest May 9th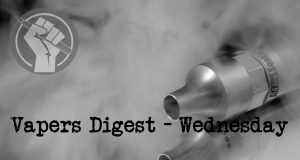 Wednesday's News at a glance:
Dr. Riccardo Polosa Joins INNCO ~ Pediatrics Journal Ignores Its Stated Editorial Standards ~ E-Cigarette Opponents Still Making Up False "Facts" to Demonize Vaping ~ Nanny State Index – Nicotine Supplement ~ eCigarettes: Balanced regulation ~ The FDA should let e-cigarettes help adults — but not hook kids ~ Finding a balance between protecting our youth and saving 40 million smokers' lives ~ 'Abstinence only' is the wrong approach to vaping products ~ FDA To Take Action Against Companies That Sell Vape Pens To Teens ~ Facilitate smoking cessation through policies not bans ~  The Promise of Vaping and the Rise of Juul ~ Rogue senator masterminding legislation boycott until he gets what he wants ~ Japan Tobacco: securing the brand in a disrupted market ~ Forgotten Crisis | Smoking Continues to Kill More Than Any Other Threat—Vaping Is Answer, Says Dr. Mark Tyndall ~ These 4 Guys Just Made $3.7 Million Selling Nicotine Salt Juice
INNCO
For those who are unaware, Professor Riccardo Polosa, MD, PhD, is the Medical Director of the Institute for Internal Medicine and Clinical Immunology and Scientific Director of the Centre of Excellence for the acceleration of HArm Reduction (CoEHAR) of the University of Catania in Italy.
Brad Rodu, Tobacco Truth
The journal Pediatrics in March published an article by University of California San Francisco's Benjamin Chaffee, Shannon Lea Watkins and Stanton Glantz claiming that e-cigarettes lead to smoking. The claim was baseless; the authors ignored subjects' past smoking activity, as I explained in an earlier blog post (here).

On March 15, I submitted a comment to the journal with a re-analysis of Chaffee's data using the omitted variable and demonstrating the invalidity of Chaffee's claim.  On the basis of this flaw, I requested retraction of the article.
Michael Siegel , The Rest Of The Story
We're well into 2018 and there is now substantial research on the health effects of vaping as well as a decade of experience with large numbers of vapers, yet e-cigarette opponents are still making up false claims to buttress their demonization of vaping.

In an article by Jia Tolentino published yesterday in the New Yorker, a Harvard professor was quoted as claiming that: "vaping can cause something called bronchiolitis obliterans, or popcorn lung."

He also stated that Juul is "a massive public-health disaster," likened e-cigarettes to "bioterrorism," and "predicted that, eventually, a state's attorney general would sue Juul 'for willfully designing and pushing a product that will cause harm to the children of the United States.'"
---

---
Christopher Snowden, Epic Center, European Policy Information Center
Our new league table of nanny state regulation shows that punitive taxation and excessive regulation of safer nicotine alternatives has increased across the EU. Finland and Hungary have the most excessive regulations for safer nicotine products, whereas Sweden and the UK have the most liberalized markets.

There is a growing consensus that vaping is at least 95 per cent safer than cigarette smoking. Obstructing consumers from these safer alternatives by over-regulating the market will make it more difficult for consumers to switch from cigarettes to vaping to the detriment of their health.

Indoor vaping bans, advertising bans and taxation are all on the rise in European countries. In the last year, six more countries have introduced an excise tax on e-cigarette fluid, and three more countries have prohibited vaping wherever smoking is banned.
, The Parliament Magazine
This will not only send the appropriate positive signals to investors and provide our business community with a dependable space to develop successfully, it will also have a positive impact on high quality employment creation and on consumers' satisfaction.

Vaping products embed significant research and development. These are highly innovative products and represent a potentially safer category for consumer use.
---
Can you prove that these ppl are trying to attract children to a product they are legally prohibited from buying? Are they advertising in Tiger Beat or in Nickelodeon?

— Dead Vape Shop (@fatcatvapor) May 7, 2018
---
Editorial Board, The Washington Post
ABOUT A decade ago, the e-cigarette industry began to boom in the United States, largely unregulated. Vaping was much safer than conventional smoking, and the devices helped some longtime smokers to moderate their highly deadly habit, but e-cigarettes also addicted a generation of new nicotine users. Now, finally, the Food and Drug Administration is stepping in more forcefully to encourage the positive effects of e-cigarettes and discourage the drawbacks.
David Abrams

, The Hill
The Food and Drug Administration (FDA) is cracking down on the sale of e-cigarettes to kids in light of the growing popularity of the vaping device, JUUL. Simultaneously, the FDA supports the use of these much less harmful products for smokers who use them to replace smoking deadly cigarettes.

Both can be achieved in a balanced fashion without panic. Protecting youth can go hand in glove with saving the lives of the 40 million smokers who will die prematurely if they cannot quit or switch to substantially less harmful alternative products like e-cigarettes.
Carrie Lukas,

The Hill
Senator Dick Durbin (D-Ill.) may seem an unlikely member of the abstinence movement. Yet when it comes to smoking at least, he is firmly in favor of pushing the "just say no" line rather than providing information about how to limit the risk of harm.

No one who cares about public health wants any current nonsmoker to start smoking or vaping. Particularly, we don't want teenagers to make decisions that put their health at long-term risk when they are too young to understand the consequences. That's why it's illegal for anyone under age 18 to buy cigarettes or e-vaping products. The Federal Drug Administration (FDA) regulates the sale of these products and monitors companies' marketing practices. If a company engages in marketing designed to skirt these laws and encourage those under the legal age to buy their products, the FDA can take action against them.
NPR
Rachel Martin talks to FDA Commissioner Scott Gottlieb about the agency's new action to crack down on sales of vape pens, also known as e-cigarettes, to children and teens.
---

---
Outlook India
The government has been taking several steps towards discouraging tobacco consumption and reducing the risk of cancer. The state of Rajasthan is also conducting a study to understand the impact of nicotine as harm reduction tool.

However, these steps would be futile if the government doesn't work towards smoking cessation by providing regulated nicotine alternatives, nicotine is not the enemy. The Central Government has disclosed its intention to ban e-cigarettes instead of working towards regulating it. The question that arises here is, wouldn't it be odd to ban e-cigarettes when there is no such ban on tobacco cigarettes? E-cigarettes are popular in many developed countries as regulators there see it as a safer alternative to tobacco cigarettes, which are the leading cause of preventable deaths across the world.

Jia Tolentino, The New Yorker
If I get addicted to vaping, I thought, in March, I will always remember this Texas strip mall. I was walking out of a store called Smoke-N-Chill Novelties, in Southwest Austin, holding a receipt for $62.95 and two crisp, white shrink-wrapped boxes. I got into the driver's seat of a rental car and began to open them. From one I extracted a Juul: a slim black vaporizer about half the width and weight of a Bic lighter, with rounded edges and a gently burnished finish. (It looks like a flash drive, everyone always points out. You can recharge it by plugging it into your computer.) From the other I extracted a thumbnail-size cartridge called a pod, filled with juice containing a cigarette pack's worth of nicotine. The juice in my pod was cucumber-flavored. This was an odd choice, I was later told; of Juul's eight flavors, people tend to prefer mango, or mint. I inserted the pod into the Juul, and a little light on the device glowed green. I took a sharp experimental inhalation and nearly jumped. It felt as if a tiny ghost had rushed out of the vaporizer and slapped me on the back of my throat.
David Leyonhjelm, 2GB.com
The federal budget will be delivered tomorrow, but the government could struggle to pass legislation due to a rogue senator.

Independent David Leyonhjelm is vowing to block every piece of health legislation until e-cigarettes are legalised.

The New South Wales senator tells Ben Fordham he's confident he has the numbers to form a voting bloc.
Leo Lewis, Financial Times
Tobacco companies have, over the decades, dealt with litigation, smoking bans and irrefutable health warnings. Now their core product has to adapt to competition from machines and microchips. Masamichi Terabatake, sitting with an ornate — but unused — ashtray close at hand, has risen to lead Japan Tobacco at a time when the developed world markets for traditional cigarettes are in decline. The occupant of the top-floor office in the 120-year-old former state monopoly must demonstrate good leadership now, more than ever before. "In order to keep our current market share, we need to raise brand equity. That is the key," Mr Terabatake, 52, says.
---

---
Brent Stafford, Regulator Watch
Lost in the emergency response to the opioid crisis is the single biggest threat to life and well-being: smoking. Which kills six times more every year than vehicle collisions, suicide, murder, HIV and drug overdoses combined. Yet, public health seems to have closed ears to the alarm.

In this first episode of a new RegWatch special series "Forgotten Crisis" we talk with Dr. Mark Tyndall, Director of the British Columbia Centre for Disease Control to learn why he literally stops smokers on the street to recommend vaping and what he thinks about public health's tone-deaf response to calls for tobacco harm reduction.
, Inc.com
In 2015, Solace Technologies, a startup that makes nicotine liquid for e-cigarettes and vaporizers, rented a 500-square-foot basement office under the Transamerica building in Los Angeles. There was a window, but it looked into a parking garage.

"It was embarrassing, to be honest. Our office was between the building's gym and IT department," says Brendan McDermott, 29, one of Solace's four co-founders. "Eventually, we put two fern trees outside of our door, so people didn't think it was another IT closet."

It was a scrappy start, for sure. But the company, launched to capitalize on the burgeoning vape industry, is lighting up. In 2017, Solace made $3.7 million in revenue and is on track to make five times that much in 2018. It recently acquired its contract manufacturer, E-Generation. And it's won accolades–and the attention of Big Tobacco–with its unique formula of nicotine liquid, which fans say mimics the buzz of a cigarette.
---
---
Visit Nicotine Science & Policy for more News from around the World

---