Vapers Digest 21st March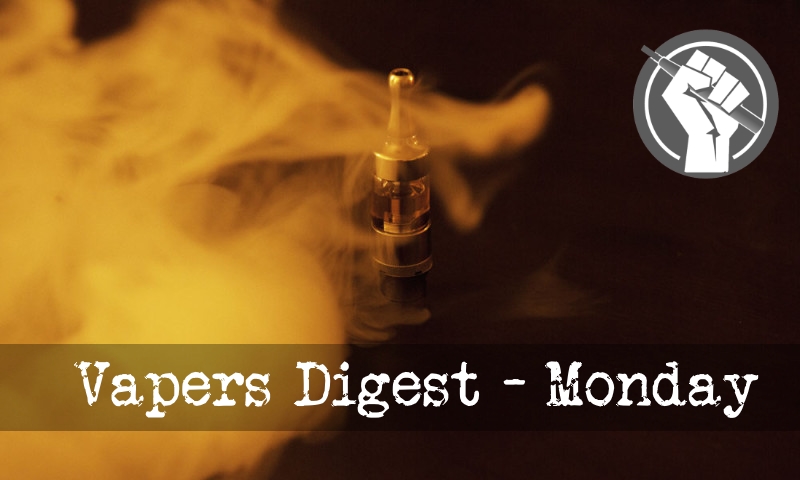 Monday's News at a glance:
Australia's anti-vaping fiasco – Misguided anti-vaping zealotry will cost lives – Snus – French President Macron Is a Vaper – Should I Stop Using Disposable Vapes? – Australia Copies US Toilet Errors – President signs bill tightening restrictions – FDA Gains Authority Over Synthetic Nicotine – Scientists Should Continue to Collaborate with Big Tobacco – Flavor ban is well-intentioned, ill-considered – First Look at Emerging Tobacco Industry Product – Nicotine Science and Policy Daily Digest
Christopher Snowdon, Velvet Glove Iron Fist
Once again, it's time to laugh at Australia's misguided 'public health' policies.
From The Age…

Australia needs greater regulation on vaping

You can't regulate something that's illegal.First, they banned the sale of all nicotine-containing vape juice. Then they banned the importation of all nicotine-containing vape juice (unless you have a prescription!). So what the hell are they going to do next?
Dr Colin Mendelsohn
Some public health advocates seem more concerned about destroying tobacco companies than they are about improving public health.  In an article in today's Saturday Telegraph, zealots have attacked the training of doctors in tobacco harm reduction which will save lives, because it is funded by Big Tobacco.

Vaping is a legitimate quitting aid endorsed by Australian general practitioner and psychiatry Colleges and a wide variety of international health organisations. Vaping is the most popular and most effective quitting aid. However, there is very little training for Australian doctors in this lifesaving treatment. Doctors are the gatekeepers and need to be able to prescribe nicotine to allow legal vaping.
---

---
Dr. John Oyston
Snus are small pouches of tobacco that have been processed and sometimes flavoured. The pouch is held in the mouth, against the user's gum, and it releases nicotine. They are a much safer source of nicotine than cigarettes, so switching from smoking to snus reduces a smoker's health risks. They are very popular in Sweden, where they have been used for over 30 years, contributing to very low smoking rates and cancer rates in that country.

"Snus has contributed to decreasing initiation of smoking rather than serving as a gateway to smoking. Smokers who have taken up snus use have quit smoking to a significantly greater extent than smokers without snus use, and a substantial proportion has eventually quit snus use as well and become tobacco-free. These effects have been consistent across five decades."
---
We have until the 28th of April until the Scottish consultation closes. Follow our guide on how to respondhttps://t.co/WhwPXC6OqM pic.twitter.com/lhMQ9hZbKo

— NNAlliance (@NNAlliance) March 21, 2022
CTFK has a new "story portal" so you can:
"Share how you or your loved ones have been affected by smoking, vaping or other tobacco use"
You should tell them how flavored vaping helped you quit smoking & saved your life & whatever else you want to add. https://t.co/uSc8o0fGfm

— Freedom of Choice (@LanceChurchill) March 18, 2022
---
Jim McDonald
Following the publication of a photo taken last week, French President Emmanuel Macron instantly became the world's biggest vaping celebrity, easily leapfrogging past lesser lights like Leonardo DiCaprio and Katy Perry.

The image, apparently taken by Macron's official photographer, shows the unshaven French leader heading to his office with a stack of files. He's wearing a black hoodie with the insignia of an elite French commando unit, and carrying a vape device, almost (but not quite!) hidden in his right hand. (The image is shown in both tweets below.)

Toby Kilroy
Without the option to refill or recharge your disposable, you'll have no choice but to throw it away and replace it. When you consider the average disposable, like an Elf Bar, lasts up to 600 puffs, you might find that you're having to replace your vape on a daily basis. This immediately highlights some key problems with disposables, problems that cause a lot of vapers to ditch them for other kinds of vape kits.

The most obvious issue surrounding disposable vapes is their price. Costing anywhere between £3 to £6 each, you may find yourself spending up to £50 each week. This might be cheaper than smoking in some cases but compared to the cost of standard vapes like refillable pod kits it is a lot more expensive. Factor in this expense over time and you might find yourself spending over £2000 per year just on disposables.
Dave Cross
"Schools lock toilets as vaping soars," shouted one Australian newspaper. For years, American schools have been losing their collective minds and locking toilets or removing the doors from children's bathrooms. The argument that this is needed to drive down teen vaping rates raises the question: why is it that Australia and the USA seem to have an issue when the UK (and its evidence-based approach) doesn't?

New South Wales Education Minister Sarah Mitchell told journalists: "What's needed is a broad community response to vaping, just like what we saw with smoking."
---

---
Restrictions on synthetic nicotine products – Richard Craver
Manufacturers of synthetic nicotine products have — for now — a short window for applying for Food and Drug Administration approval of a premarket tobacco product application.

Last week, President Joe Biden signed into law U.S. House Resolution 2471, a $1.5 trillion federal funding bill that contained language placing the use of synthetic nicotine under the FDA's authority.
That aspect of the law goes into effect April 14.
FDA Gains Authority Over Synthetic Nicotine | RegWatch (Live)
Congress granted FDA the authority to regulate synthetic nicotine in a crass attempt to ameliorate the moral panic over teen vaping.  A problem that many researchers say is waning if it existed at all.

Joining us today for a special LIVE edition of RegWatch is Amanda Wheeler, president of the American Vapor Manufacturers. Learn what happens next for the U.S. vaping industry as it navigates the treacherous path to keep much-needed safer nicotine products on the market.
With Big Tobacco – Jason Reed
The scientific community is unrepentantly shutting tobacco industry experts out of its inner circle, consigning smokers to the scrapheap in the process.

The Society for Research on Nicotine and Tobacco (SRNT), arguably the top organization for scientists interested in smoking, has taken the absurd decision to ban representatives of Big Tobacco from attending its annual conference.

It is actively ignoring valuable research in the sector just because it was carried out or sponsored by people who dare to associate with the tobacco industry. That has a direct effect on the general public.

Ill-considered – Sarah Wall
As anticipated, the Connecticut Public Health Committee raised Senate Bill 367 recently, which would ban the sale of all flavored e-cigarettes except those that taste like tobacco. This legislation is no surprise: leadership in the Public Health Committee has made a flavor ban a top priority, and Gov. Ned Lamont has been a longtime advocate, even including it in his 2020 budget proposal. He has committed to signing it into law if the Legislature passes it.

When it comes to e-cigarette flavor bans, Connecticut has plenty of company, mostly here in the Northeast. Massachusetts, New Jersey, New York and Rhode Island have all banned the sale of these products; Maine cities Portland and Bangor have also done so.
Shows New Consumer Interest and Awareness – Rutgers University
Consumer interest and awareness in nicotine pouches – products that contain nicotine but have no tobacco and one of the newest industry products — isand they are most popular among younger smokers and those trying to quit, according to a Rutgers research study.

The study, the first independent analysis assessing consumer awareness and interest in nicotine pouches among U.S. smokers, appears in the journal Tobacco Control.

"Considering the outsize impact of tobacco industry products on health, we knew it would be essential to track these little-known products and come to understand them better," said Mary Hrywna
---
A look back at how things have moved on or otherwise…
Christopher Snowdon, Velvet Glove Iron Fist
A new study from the UK provides yet more evidence that vaping helps people quit smoking. It found that smokers who used a disposable e-cigarette were three times more likely to quit and people who used a refillable e-cigarette were five times more likely to quit.

Two of the authors have commented to the press to underline the significance of their findings.

The evidence keeps piling up – and that makes anti-vaping dinosaur Stanton Glantz angry. In a classic piece of cherry-picking, he has focused on the ineffectiveness of occasional vaping to shore up his flanks.
What Anti-Vapers Are Getting Wrong – Steve Forbes
With the Covid-19 scourge receding, you can expect that various pressure groups and public health officials will renew their wrongful war against e-cigarettes.

For example, e-cigarettes are not the equivalent of tobacco cigarettes. They contain no tobacco! And they are 95% safer than regular smokes.

As British health officials have recognized, vaping is a highly effective way for people to give up cigarette smoking, thereby saving numerous lives.

Contrary to what anti-vapers posit, e-cigarettes are not a gateway for teenagers to move on to tobacco. Teenage smoking has plummeted over the years.
---
Visit Nicotine Science & Policy for more News from around the World

---