Vapers Digest 23rd March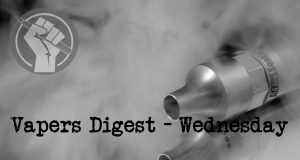 Wednesday's News at a glance:
Risk-Proportionate Tobacco Harm Reduction Legislation ~ INNCO Weekly Issue ~ Study reveals consumer interest in 'nicotine pouches' ~ Flavours Matter: 150,000 Swedish lives at stake if vaping flavours banned ~ Concern over new e-cigarette and vaping rules planned for South Africa ~ When the good news about smoking is bad news for anti-smoking groups ~ Cigarettes sales rise in US states that banned vaping – US study ~ Expert reaction to research letter about US adolescents attempting to quit smoking or vaping ~ Disappointing Malay Delay ~ Lift off for VApril 2022 ~ FDA's Dysfunctional Regulation of E-cigs Created the Synthetic Nicotine Problem ~ Malaysia's vaping approval derailed by "MPs busy campaigning"? ~ Anti-Vaping Study With Bloomberg's Name on It ~ Tobacco companies' exploitation of loopholes in the EU ban on menthol cigarettes: a case study from Denmark
Chelsea Boyd, RStreet
Tobacco products exist on a continuum of risk, with combustible products representing the highest risk and electronic nicotine delivery systems falling at the lower end of the risk continuum. Risk-proportionate legislation takes the risk level of tobacco products into consideration when designing regulations. That is to say, risk proportionate legislation regulates the most dangerous products more heavily than it regulates less harmful products.
INNCO
Weekly Issue | March 21st, 2022

"Rigotti: "I think the science is pretty clear that they definitely do reduce harm and reduce risk." Getting off cigarettes is a journey. Dual use is not inherently a bad thing, as it can be a pathway to quitting and eventually cessation for some. #SRNT2022" ~ Tweet by Greg Conley
Kitta MacPherson, Rutgers University, Medical XPress
Consumer interest and awareness in nicotine pouches is growing. These are products that contain nicotine but have no tobacco, and they are most popular among younger smokers and those trying to quit, according to a Rutgers research study.
---
World Vapers Alliance
With the Swedish government on the verge of taking a massive step back in the fight against smoking, the World Vapers' Alliance (WVA) took to the streets of Stockholm with a simple message: Flavours Matter. A billboard bike with a message explaining that flavours help smokers quit made its way to the Parliament buildings in Stockholm. The aim of the campaign is to inform politicians that banning vaping flavours would deal a catastrophic blow to public health in Sweden.
Business Tech
The Free Market Foundation has raised concerns about the government's plans to regulate e-cigarette and vaping products, which it says could push more people towards traditional cigarettes and the illicit market.

The regulations will primarily be introduced through the draft Control of Tobacco Products and Electronic Delivery Systems Bill and new taxes, the think tank said.
---
This month, the government made public the 2021 National Youth Tobacco Survey (NYTS). The results should be cause for celebration.

They have not been. They have been underplayed.
More Americans smoked cigarettes, the leading cause of preventable death in the US, in areas that imposed short-term bans on the alternative Electronic Nicotine Delivery Systems (ENDS) or e-cigarettes, based on a study published in an international journal in March 2022.
---
Good nicotine delivery helps very low risk vaping products drive out smoking, causing a large public health gain. You, on the other hand, seem to prefer cigarette nicotine delivery to be an unopposed lethal oligopoly. With help from @FDATobacco, you may get what you wish for.

— Clive Bates (@Clive_Bates) March 23, 2022
---
Professors Lion Shahab, John Britton, Martin Jarvis, Science Media Centre
A research letter published in JAMA looks at failed attempts among US adolescents to quit cigarettes and e-cigarettes.
---

---
Two from Dave Cross, Planet of the Vapes
Legislation to regulate vaping in Malaysia is pending parliamentary approval but frustratingly will now be delayed due to political instability and election campaigning," according to Samsul Kamal Ariffin, President of the Malaysian Organisation of Vape Entities (MOVE).
April 1 sees the official launch of VApril 2022, the annual awareness campaign from the UK Vaping Industry Association (UKVIA) which educates smokers on everything they need to know about vaping so they can make informed decisions about whether it is the right quit route for them.
---
---

---
, Focus Malaysia
LEGISLATION to regulate vaping in Malaysia is pending parliamentary approval but will now be frustratingly delayed due to political instability and election campaigning.

The forthcoming 15th General Election (GE15) is proving to be a key distraction to Malaysia strictly regulating the safety and sale of vaping products, according to the Malaysian Organisation of Vape Entities (MOVE) president Samsul Kamal Ariffin.
 Jason Reed, Inside Sources
Vaping increases your risk of diabetes.

That is the contention of a new study by a team of scientists at the Johns Hopkins Bloomberg School of Public Health in Maryland. They analyzed data from 600,000 Americans and they say their findings, published in the American Journal of Preventive Medicine, show a clear link between e-cigarette use and high blood sugar.

Should vapers be worried? Absolutely not.
BMJ, Tobacco Control
Since May 2020, cigarettes and roll-your-own (RYO) tobacco with a characterising flavour of menthol have been banned in the European Union (EU) owing to the European Tobacco Products Directive (EU TPD). Other characterising flavours were banned in 2016. Cigars, cigarillos, pipe tobacco, heated tobacco and tobacco accessories are exempt from the ban.1
---
For COVID-19 – Konstantinos Farsalinos, Anastasia Barbouni, Raymond Niaura
There is a lot of speculation about the effects of smoking on Corona Virus Disease 2019 (COVID-19). Smoking increases susceptibility to respiratory infections and media reports suggest that it may increase the risk of being infected with acute respiratory syndrome coronavirus 2 (SARS-CoV-2), the virus responsible for COVID-19. SARS-CoV-2 is known to use the angiotensin converting enzyme 2 (ACE2) as a receptor for cell entry, and there is evidence that smoking downregulates ACE2 expression in the lung and other tissues.1 China has a high prevalence of smoking (27.7%), much higher among males (52.1%) than females (2.7%).2
Dave Cross, Planet of the Vapes
The Vape Jam event was cancelled just before the COVID-19 pandemic took hold, but the virus has had a direct impact on how the vape industry goes about its day to day business. Without a nationwide ban on shops opening up, the response has been mixed to date. By and large, the news for vapers is good and everybody can currently obtain the juice and devices they want or need.

Rejuiced, for example, has closed down its brick and mortar operations. This isn't a move due to fear about staff contracting the disease, "we have moved all staff members over to our warehouse to help with the tremendous demand."
---
Visit Nicotine Science & Policy for more News from around the World

---