Vapers Digest 11th March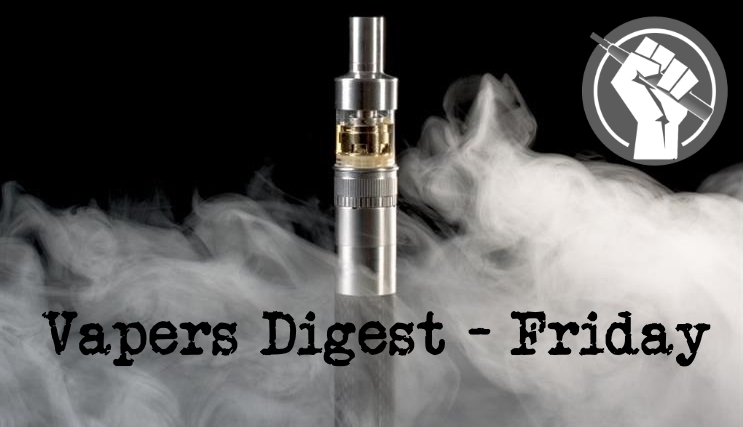 Friday's News at a glance:
The gateway effect myth that will never die – 82 million vapers worldwide in 2021 – No Smoking Day – Time to try something more innovative – Government urged to cut VAT to 5% – 'Ban smoking for good' campaign – The NNA's Top 20 – IBVTA Issues Warning – Confidence Up In USA – Strip Search District Superintendent Charged – UKVIA Calls For Scottish Rethink – Parliament – 2021 CDC Survey – Why Can't the CDC Tell the Truth – Massachusetts Public Health Boasts – Industry bodies respond to Scottish plans – French Experts Call for Tobacco Policy Rethink – New Federal Spending Plan – Harm Reduction Approach Needed – Kenyans Yeaning For Safer Alternative – National Consumer Protection Week – Provinces Could Have Final Say – Canada's Vape Gag Law Must Go! – Congress wants to sneak in an effective ban – Nicotine Science and Policy Daily Digest
Christopher Snowdon, Velvet Glove Iron Fist
From New Scientist…

Vaping probably isn't a gateway to smoking

You mean people don't take up vaping and then suddenly decide to do something that is ten times more expensive and a thousand times more dangerous? Who'd a thunk it?

Young people who try vaping are more likely to later start smoking – but a new analysis of trends in nicotine use in England suggests that the so-called gateway theory of vaping isn't the explanation.
The real reason for the link could be that teens who start vaping are the same ones who are likely to try smoking, regardless of whether they ever have an e-cigarette.

Indeed. This is the common liability theory. People with a propensity for risk-taking tend to take more risks than people who are risk-averse. This has always been the obvious explanation for the statistical correlation, such as it is, between vaping and smoking.
The GSTHR estimate
In 2021, the Global State of Tobacco Harm Reduction (GSTHR) project published the first ever worldwide estimate of the number of vapers, which stood at 68 million in 2020.[i] New data from the February 2021 Eurobarometer 506 survey and other surveys offered a unique opportunity to update that figure. We also modified our projection process by taking both regional variations in market size and the actual year of origin of the underlying data into account. The GSTHR now estimates that there were 82 million vapers worldwide in 2021.

Why are we conducting this research? Nicotine is one of the world's most popular drugs, alongside alcohol and caffeine. Most people consume nicotine by smoking tobacco cigarettes. The World Health Organization (WHO) estimates that there are 1.1 billion smokers, about one in five of the global adult population. This figure has remained unchanged since 2000.
---

---
More options and clear guidance will work best for smokers
New Nicotine Alliance
Today is No Smoking Day, an annual event which seeks to encourage smokers to consider making an attempt to quit. This year's theme is "Don't give up on giving up. Every time you try to stop smoking, you're a step closer to success."

As the theme suggests, many smokers have made repeated attempts to quit without achieving their target. Currently, nicotine replacement therapy (NRT) options such as patches and gum are the first products offered to smokers and often fail to lead to the desired conclusion. It is good that vaping is increasingly recommended by smoking cessation services and the NHS but often it is considered only as a last resort.
Martin Cullip, Daily Express
Today health organisations will be promoting the latest annual No Smoking Day, 38 years after the first No Smoking Day in 1984. This year, the theme of the event is "Quit Your Way", designed to focus on helping people quit smoking in a way that works best for them. Ironically, the current approach of encouraging people to quit is not too dissimilar from George Orwell's 1984.

In the dystopian world, citizens were conditioned with motivational propaganda suggesting that War is Peace, Freedom is Slavery, Ignorance is Strength.
---
[DE] DEBRA – Jugendliche nicht an E-Zigarette interessiert https://t.co/WYvKTOA1Cf via @DampfFreiheit

— European Tobacco Harm Reduction Advocates (@europethra) March 10, 2022
'Health Canada has already imposed approximately a 100-percent tax on high-concentration vapers. Prior to July 2021 vapers could purchase concentrations in the 50-60 mg/ml range. The new limit of 20 mg/ml means that it now costs at least twice as much to purchase the same amount' https://t.co/iUsGpkDiLS

— Phil (@phil_w888) March 11, 2022
---
The government should cut VAT on vaping products to help people stop smoking, the Local Government Association (LGA) has urged.

VAT on e-cigarettes should be reduced from 20% to 5% to bring them into line with sales on nicotine gum and patches, the LGA, which represents councils in England and Wales, said.

Current legislation allows a 5% rate to be applied to "pharmaceutical products designed to help people stop smoking tobacco".
Unites smokers and vapers in rapid wave of revulsion
The news that a leading vaping retailer has launched a campaign urging the Scottish Government to "ban smoking for good" prompted a wave of revulsion on social media yesterday that united smokers and vapers alike.

Based on Twitter responses, groups that opposed VPZ's initiative included Forest, INNCO (International Network of Nicotine Consumer Organisations) and CASAA (Consumer Advocates for Smoke-free Alternatives Association).

Individuals who stood up to be counted included smokers, dual users and ex-smokers/current vapers). Here are some of their tweets responding to VPZ's ill-advised campaign:

Six from Dave Cross, Planet of the Vapes:
The New Nicotine Alliance has submitted twenty policy proposals to Javed Khan that "go all in on tobacco harm reduction". Hard reduction expert and vaping advocate Clive Bates says they are the only way for the government to achieve its Smoke-free 2030 goal.

"Dear Mr Khan," says the New Nicotine Alliance. "We write on behalf of consumers of low-risk alternatives to cigarettes and in support of harm reduction as a critical strategy for future tobacco policy. Please find attached our submission to your review of tobacco policy in England. In summary, we make twenty proposals for your consideration."
The Independent British Vape Trade Association (IBVTA) has issued a warning to its members to remove all Vapeman products from sale. The move follows the Medicines and Healthcare Products Regulatory Agency instructing the manufacturer of Vapeman branded products to withdraw all of its products from sale in Great Britain.

The IBVTA says: "The Authorised Representative (AR) has not completed the notification process and therefore the products are deemed 'unnotified' and must not be offered for sale. It is important when sourcing supplies of any e-cigarette or e-liquid product, that you check that a compliant notification has been published."
US vape store revenue and customer confidence is rising despite Covid and health scares. US vape stores' typical revenue increased nearly 15% in 2021 compared to the previous year, according to new research from market analysts ECigIntelligence.

ECigIntelligence is the leading provider of detailed global market and regulatory analysis, legal tracking, and quantitative data for the e-cigarette sector worldwide. It is published by Tamarind Intelligence, which also produces CBD-Intel and TobaccoIntelligence.
The school leader who took leave of her senses to strip search teens on her failed quest to hunt down vape devices has been charged by the Oconto County District Attorney. Confining children in a toilet and forcing them to strip was met with outrage by parents at the school and incredulity in the wider community.

Last week, Planet of the Vapes detailed how District Superintendent Kelly Capser gave her blessing to strip searches of students at Suring High School. As well as authorising them and barring students from contacting their parents, District Superintendent Capser conducted some of the searches personally.
The UK Vaping Industry Association has urged the Scottish Government to rethink plans to ban the promotion of vaping products, warning it could derail the country's 2034 smoke free ambitions.

Scottish ministers are considering proposals which would restrict the promotion and advertising of vaping products saying that they "cannot say with total certainty that (vaping products) do not have any long-term harms to health".
Tulip Siddiq was thinking about the children, Sam Tarry wants no smoking zones to include vaping, and Andrew Rosindell reckons tobacco-free nicotine pouches should be promoted. Kenny MacAskill also asked about pouches, Daisy Cooper focussed on regulation, and Martyn Day wonders why nothing has been done on snus.

Tulip Siddiq, the Shadow Treasury Minister asked the Secretary of State for Health and Social Care what steps are being taken to prevent the sale of e-cigarette products to minors.
---

---
Scottish Government plans to ban vape ads
Scottish ministers are considering proposals which would restrict the promotion and advertising of vaping products, which it says currently do not go far enough to protect young people and non-smokers from "influential messaging".

Its website states: "Use of vaping devices among young people in particular has increased in recent years despite the existing restrictions set out above. Those restriction do not cover all forms of advertising or promotional activity here in Scotland.
Boasts About Its 2019 Vaping Ban That Pushed Vapers to Smoke
Brad Rodu, Tobacco Truth
Officials at the Massachusetts Department of Public Health have published a report about the "implementation and evaluation of the public health emergency response to the 2019 outbreak of e-cigarette and vaping product use-associated lung injury [abbreviated EVALI]" in that state.  The first author was Lindsay Kephart and the senior author was Dr. Monica Bharel, who served as Commissioner of the department from 2015 to 2021.

After the state received 38 EVALI case reports, Massachusetts Governor Charlie Baker on September 24, 2019 announced a "public health emergency response" which included a complete ban on "the sale or display of all vaping products…for 4 months."
Teenage Smoking Is Almost Extinct – Jim McDonald
More than five months after releasing preliminary 2021 vaping numbers from the National Youth Tobacco Survey, the Centers for Disease Control and Prevention (CDC) has finally followed up with the rest of the survey results. The NYTS is an annual survey of middle- and high school students designed to assess current patterns of nicotine and tobacco use.

The CDC's report shows that past-30 day middle- and high school cigarette smoking has fallen to just 1.5 percent—less than half the already record-low 3.3 percent reported in 2020.
About Smoking and Vaping by Teenagers? – Jacob Sullum
The pandemic has given Americans ample reason to be skeptical of pronouncements by the Centers for Disease Control Prevention (CDC). A press release the CDC issued today reminds us that the agency's habit of misleading the public began long before anyone had heard of COVID-19.

According to the latest results from the National Youth Tobacco Survey (NYTS), the CDC says, "about 2.55 million U.S. middle and high school students reported current (past 30-day) use of a tobacco product in 2021."
Could Effectively Ban Products That Help People Quit Smoking – Patrick Gleason
Of the many provisions included in the 2,741 page omnibus spending bill being pushed through Congress this week is a budget rider that will subject thousands of products containing synthetic nicotine to FDA regulation for the first time. Proponents of this policy change refer to it as closing a loophole. Meanwhile critics of this rider contend that, given the well documented flaws and deficiencies in the FDA approval process, this budget rider will likely result in the prohibition of products that former smokers have used to quit smoking and stay off cigarettes.
Tobacco Reporter
Sixteen French doctors, researchers and medical professors have called for government support of vaping, in response to a publication by the French High Council for Public Health last year which was critical of the sector, according to the Independent European Vape Alliance.

The article, by addiction researcher Benjamin Rolland and pulmonologist Sébastien Couraud published in Le Monde newspaper, equates the High Council's anti-vape position with unscientific anti-vaccination arguments.

Underscores Need for Harm Reduction – Lindsey Stroud
The Biden administration has recently declared the week of March 6-12 as National Consumer Protection Week. In its declaration, the administration remarks that "it is important that consumers are fully informed about their rights and the potential risks in the marketplace."

While the declaration specifies certain consumer issues including "price gouging, stealing money, harvesting personal information," as worth addressing, there is one major consumer category that has not been afforded the same type of transparency in the name of consumer protection: tobacco harm reduction.
Markus Lindblad
After nearly a year without a permanent leader, Dr. Robert Califf is gearing up to serve as commissioner of the Food and Drug Administration. Though Califf is not new to the position given his time as head of the FDA under President Barack Obama, the agency he is returning to has drastically changed since he last held the position.

One issue in particular — tobacco harm reduction — has been the foundation of a series of scattered decisions by the FDA, which has yet to take clear and concise action in support of many products that would effectively reduce the number of smokers.
There is broad support across the country for policymakers to take aggressive action provide alternatives that will lower smoking rates in Kenya. This is according to a survey that shows Kenyans want life-saving alternative nicotine products to be more affordable and available

The vast majority of smokers in Kenya want to use tobacco harm reduction products, such as nicotine pouches or vapes/e-cigarettes, to help them quit traditional cancer-causing cigarettes.
In its smoking strategy – CAPHRA
Australia is lagging well behind many other countries in the Asia Pacific region when it comes to successfully tackling smoking through vaping, says the Coalition of Asia Pacific Tobacco Harm Reduction Advocates (CAPHRA).

CAPHRA's observation comes as Australia's Department of Health seeks feedback on its Draft National Smoking Strategy 2022 – 2030, with public submissions closing on 24 March.

"We encourage vapers and supporters of a progressive Tobacco Harm Reduction (THR) approach to have their say. Australians desperate to quit smoking and those keen to stay off deadly cigarettes need all the help they can get," says Nancy Loucas, Executive Co-ordinator of CAPHRA.
On Flavour Bans | RegWatch
It's been nine months since Health Canada released details of its proposed nationwide ban on flavours in nicotine vaping products and there is still no word on whether the regulator intends to pull the trigger on what many believe could be a disaster for public health.

Is Health Canada punting on the flavour ban?
Dr. John Oyston
Canada's 4.6 million smokers are being deprived of accurate information about less harmful alternatives to smoking.

According to Public Health England, the health risk of vaping is unlikely to exceed 5% of the is from smoking. Last year 48,000 Canadians died from smoking. Most of them knew that smoking was damaging their health, but they were so dependent on the nicotine in cigarettes that they were unable to quit. If they had been able to switch to vaping as a safer source of nicotine, over 45,000 of these deaths could have been avoided.
On synthetic nicotine vaping that would harm consumers
This week, it was revealed that several congressmen and US senators have added a provision in the upcoming emergency government funding bill that would relegate tobacco-free synthetic nicotine to the regulatory authority of the Food and Drug Administration and its premarket tobacco application process.

This would give vaping firms less than two months to file a lengthy and convoluted Premarket Tobacco Application (PMTA), which will ultimately lead to most small vaping firms and shops going out of business.
Stresses importance of understanding products- Barnaby Page
As the market for nicotine pouches swells, there is – just as with heated tobacco a few years ago – a risk that regulatory interest outpaces scientific research.

And where there is uncertainty about the safety or public-health implications of a new product category, it's all the more likely that regulators will err on the safe side and impose restrictions that might not, in reality, have been necessary.
Become new competition for vapour? – Barnaby Page
VLNCs – combustible cigarettes containing almost no nicotine – are, after all, virtually the opposite of e-cigs.

But how they are received is worth watching for the vape industry, and all the more so if the category takes off. (So far 22nd Century's VLNC – itself branded VLN, and recently accepted as a modified-risk tobacco product by the US Food and Drug Administration – is the only one being launched commercially.)
And functionally-important respiratory symptoms among US adolescents/young adults
Abstract – Objective

The relation between respiratory symptoms and the range of tobacco product use among U.S. adolescents/young adults is not yet clear. This cross-sectional analysis examines tobacco product use and respiratory symptoms in a nationally representative sample of 21,057 adolescents/young adults aged 12-24 years from Wave 4 (2016-17) of the Population Assessment of Tobacco and Health Study.
And e-cigarette progression
Abstract – Background

Depression symptoms are associated with the initiation of cigarette smoking and progression to regular use. Whether similar relationships exist between depression symptoms and adolescent e-cigarette progression has not been firmly established.
To quit as smoking prevalence falls
Abstract – Introduction:

The "hardening hypothesis" proposes that as the prevalence of smoking in a population declines, there will be a "hardening" of the remaining smoker population. This review examines the evidence regarding smokers' motivation, dependence and quitting behaviour as smoking prevalence declines, to assess whether population "hardening" (decreasing propensity to quit) or "softening" (the converse) is occurring.
---
A look back at how things have moved on or otherwise….
Consumer Advocates for Smoke-Free Alternatives Association, CASAA
If anyone is taking suggestions for the most underreported story of the past six months (and the months that follow), CASAA would like to nominate "The Growing Number of Seasoned Tobacco Control Professionals Questioning the Unrelenting Attack on Vaping and THR."

The latest entry into the chorus of people challenging the near-puritanical approach to tobacco and nicotine policy comes from Clifford Douglas, J.D., formerly the American Cancer Society's Vice President for Tobacco Control, and founder and director of the ACS's Center for Tobacco Control.
Jim McDonald, Vaping 360
Puff Bar is back, and its new synthetic nicotine-based e-liquid could push Congress or the FDA to address the long-festering issue of vaping products made with nicotine not derived from tobacco.

The gray market Puff Bar device and its shadowy owners have succeeded in the retail market by ignoring FDA regulations and building a huge distribution network in traditional tobacco outlets like convenience stores and gas stations.
Brad Rodu, Tobacco Truth
Japan is experiencing an unprecedented decline in cigarette consumption.  Japan Tobacco International reports (here) that cigarette sales dropped 8% in 2020, largely due to sales of reduced-risk products.  The dominant such product in Japan is Philip Morris International's IQOS heat-not-burn HeatSticks.
---
Visit Nicotine Science & Policy for more News from around the World

---