Vapers Digest 10th March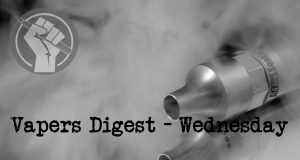 Wednesday's News at a glance:
---

---
Kristian Johnson, Yorkshire Live
A celebrity doctor from Yorkshire is urging smokers to quit cigarettes in favour of vaping products.

Bradford GP Dr Amir Khan, who is a regular guest alongside Piers Morgan and Susanna Reid on Good Morning Britain, has teamed up with Yorkshire Cancer Research to debunk myths about vaping.
Yorkshire Post
Yorkshire has the highest smoking rate in the country and every year 4,500 new cases of smoking-related cancer are diagnosed. In 2018 over 3,000 people in the region died of lung cancer alone.

Yorkshire Cancer Research says it is not claiming vaping is 100 per cent safe – but want to push the message that it is far less harmful than smoking and can and should be used to help get people to quit tobacco.
Yorkshire Cancer Research
---
Must watch: Vaping Demystified video from @yorkshirecancer (UK). Takes a non-judgemental, pragmatic approach to the actual at-risk population, deals with nonsense propaganda claims and misunderstandings, tells the story that needs to be told.https://t.co/YgeemyPmBR

— Clive Bates (@Clive_Bates) March 10, 2021
Vaping made me miss the bucket when I tried to kick it.

— Roolean (@Roolean1) March 8, 2021
---
THREE from Dave Cross, Planet Of The Vapes
1account, a leading technology provider to online vendors of age restricted products and services, has created a new advisory board to support its ambitious plans in the vaping sector, which includes the roll out of a new B2C (business to customer) ID app to prevent under-age access to vape devices and e-liquids online and offline.
The UK Vaping Industry Association (UKVIA) is deeply concerned by news that UK businesses are being impacted by the United States' so-called 'Vape Mail' ban, part of a congressional spending bill passed under former President Trump. By 5th April leading carriers such as UPS, FedEX, DHL and the US Postal Service itself will be off-limits for vaping shipments.
A second Voices 4 Vape e-conference is going to take place discussing "the highly restrictive, disproportionate regulations and bans that continue to be imposed on safer products". The event is free to attend online on 21 March. It will feature members from The Consumer Advocates for Smoke-free Alternatives Association (CASAA) and Aotearoa Vapers Community Advocacy (AVCA).
---
Alex Norcia, Filter Magazine
In a recent series of town hall events in his state, West Virginia Governor Jim Justice made good on a promise from his 2021 State of the State Address: He announced that he would phase out personal income tax. This proposal, submitted days ago to the state legislature for review, introduces a 60 percent reduction for all tax filers. It's a move that Justice—the wealthiest man in West Virginia—believes will raise wages, bolster home values and drive more business to his state.
---
Eddy Aragon, The Rock Of Talk
Higher taxes. No spending cuts. More regulations. Expanded corporate welfare. "Woke" nonsense.

When the 2021 legislative session ends in 12 days, far too many bad bills will have made it into New Mexico's statutes.

But a deeply misguided attempt to ban "flavored tobacco products" won't be among them.
Robert Preidt,

U.S. News & World Report
The pandemic's spring lockdowns last year triggered an unwelcome side effect: New research shows more Americans turned to tobacco and nicotine as they struggled with boredom, anxiety and the disruption of regular routines.
---

---
Given the lack of real world applicability
Tom Pruen in reply to "Benzene formation in electronic cigarettes"
I am somewhat dismayed by the claims made, given the circumstances that are required to generate alarming results.
On the one hand, a sealed product contains high levels of benzoic acid, but does not generate any measurable levels of benzene. User fillable devices contain only much lower levels. Having identified a maximum level of 2mg/ml in the user fillable devices, rather than attempting to generate some data using this level, which might have some real world value, the authors use 9mg/ml.
With severe mental illness to switch to electronic cigarettes?
Ratika Sharma, Coral E Gartner, David J Castle, Colin P Mendelsohn
Although smoking rates in Australia have declined significantly in recent years, the very high smoking prevalence in patients with severe mental illness (SMI) has remained unchanged (Cooper et al., 2012). In all, 70% of patients with schizophrenia and 61% of patients with bipolar disorder smoke, compared to 16% of those without mental illness (Cooper et al., 2012). People with SMI have substantially poorer physical health and a reduced life expectancy by 15–20 years compared to the general population.
---
Visit Nicotine Science & Policy for more News from around the World

---