Vapers Digest 8th March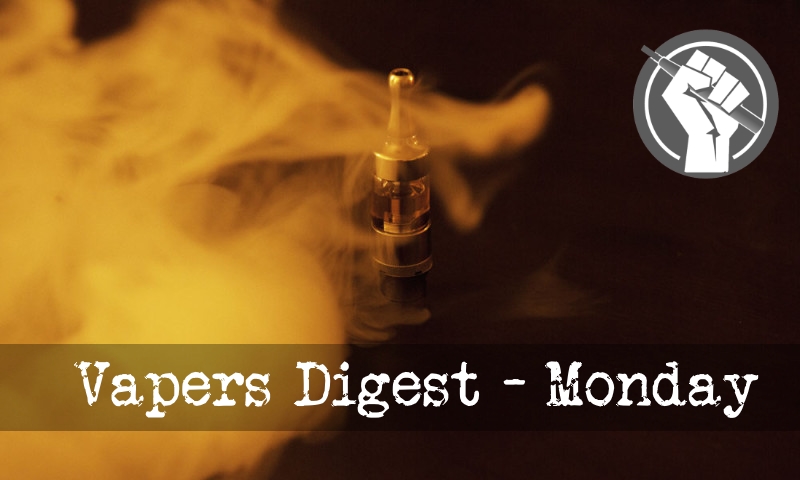 Monday's News at a glance:
Harm Reduction: Cliff Notes – Public Comment on U.K. Vaping Regs Ends March 19th – Drug control and Tobacco Harm Reduction: a parallelism – Parliament Petition Call – COVID Quarantine Plea – Petitioner calls on two Govt doctors to review vape flavour ban – Hale – Ventured-Backed Vaping Device – UK Vape Association to Advise Government – Nicotine Science and Policy Daily Digest
Kevin Crowley, Vaping Links
I've been searching for quite a few years for someone louder in the tobacco control and public health sectors, for a hero. Someone to correct easily repeated disinformation and outright lies. Someone with balls. Cliff Douglas notes harm reduction with precision.

In a surprising tweet, Cliff Douglas did just that. How? He released a document titled "It is Time to Act with Integrity and End the Internecine Warfare Over E-Cigarettes" in a tweet (here) on March 4th, 2021. It's about damn time.

In dealing with e-cigarettes, he explains the tobacco control community is "letting down tens of millions of adult smokers, their families and friends", along with "healthcare providers, and government decision-makers."
---

---
Ends March 19th – Jim McDonald, Vaping360
British vapers have two weeks to submit comments that could help change U.K. policies on vaping products. The government is reviewing the Tobacco and Related Products Regulations (TRPR), which will no longer have to follow the European Union's Tobacco Products Directive (TPD) requirements.

The government must complete a review of the legislation within five years of the 2016 TRPR's implementation. The public consultation site has links to the existing regulations. The deadline for submitting comments is March 19.

Vapers around the world tend to think of the U.K. as a vaping wonderland, with an e-cig-friendly government, and even anti-smoking organizations that encourage switching to e-cigarettes.
---
Why tobacco control is a vile industry #2594 https://t.co/oVz8099oHe

— Dick Puddlecote (@Dick_Puddlecote) March 6, 2021
Today it has been 7⃣ years since I quit smoking and switched to vaping.

I have avoided smoking 5⃣1⃣1⃣0⃣0⃣ cigarettes.

Stacked on top of each other, that amount of cigarettes would reach the height of 4⃣2⃣9⃣2⃣ meters which is equal to the height of 1⃣3⃣ Eiffel towers.

— Jukka Kelovuori (@jkelovuori) March 6, 2021
---
Catania Conversation
Every year, over seven million deaths worldwide for tobacco use. Hundreds of thousands of people affected by illness related to smoke. Numbers that could be compared to the losses caused by drug use around the world. However, while Drug control policies have been implemented in the last decades, governments still don't consider the fight against smoke as a priority. Why?

We discuss the topic with Dr Alex Wodak, President of the Australian Drug Law Reform Foundation. Expert on Harm Reduction, he supported establishing the first needle syringe programme and the first controlled injecting centre in Australia and worked in developing countries on HIV control among people who inject drugs.

Three from Dave Cross, Planet of the Vapes
VPZ is seeking signatures to support its demand calling for stronger support for specialist vape stores from the British government and the devolved administrations during lockdown. Over 7000 people have already signed the petition, but it needs to hit 10,000 signatures for the government to officially respond to the campaign.

"Vapers are fast becoming the forgotten three million in the UK" – Doug Mutter

Vapers in the UK are being asked to sign a petition call for the Government to place vape shops as essential retailers and be allowed to operate under restrictions during lockdown. The move comes as research has showed 1 in 4 vapers said they could not purchase their usual vaping products because of the store closures.
Every smoker currently having to quarantine in a British hotel due to the COVID-19 rules should be able to access vape products, says consumer group The World Vapers' Alliance (WVA). The organisation has set out its plea to Health Secretary Matt Hancock and says a positive response would be a win-win for all concerned.

People returning to Great Britain from certain Red List COVID-19 zones have had to quarantine in hotels since 15 February. They stay there for ten days and have to pay for the pleasure. The rule was introduced following reports of new variants of the disease coming from Brazil and South Africa.
The Ministry of Health has submitted a written submission to the Health Select Committee, dismissing a Parliamentary petition signed by 17,357 Kiwis supporting ongoing access to vape flavours. Aotearoa Vapers Community Advocacy (AVCA) has called for government doctors to intervene.

AVCA was formed in 2016 by vapers across New Zealand wanting their voices heard in local and central government. All members are former smokers who promote vaping to help smokers quit – a much less harmful alternative to combustible tobacco products. AVCA does not have any affiliation or vested interest in industry – tobacco, pharmaceutical and/or the local vaping manufacturing or retail sectors.
---

---
Brent Stafford, Regulator Watch

Diane Caruana, Vaping Post
Sadly, amongst tobacco harm reduction experts, the WHO has become renowned for becoming aggressively anti-vaping, despite all the scientific data available in favour of e-cigarette use for tobacco harm reduction. CAPHRA Executive Coordinator and AVCA (Aotearoa Vapers Community Advocacy) director Nancy Loucas, has previously highlighted that the health agency's position against e-cigarettes has been influenced and compromised by vested interests that provide funds to the organisation, as in this case.

"This vested interest has coloured the information in order to serve the political and financial interests of Bloomberg Philanthropies and the Gates Foundation who provide nearly half of all the funding for the WHO-FCTC. The WHO is lying to you to protect their own financial interests and keep their private donors happy.
---
A look back at how things have moved on or otherwise…
On vaping is welcome and timely – New Nicotine Alliance
Today saw the publication of a report by Public Health England entitled Vaping in England: 2020 evidence update summary, which you can read in full here.

It "updates on the prevalence of vaping among young people and adults and reviews literature on vaping among people with mental health conditions and pregnant women" in this country, and – crucially – draws on the latest evidence to deliver its view of how the UK government should proceed in this policy area moving forward.

It concludes that the UK's current world-leading messaging on e-cigarettes remains valid, but it warns that misinformation is harming uptake of safer products amongst smokers and condemns the spread of doubt from outliers in the UK public health community who should behave better.
Science and Sense beat Smears and Propaganda 5-0 (after lots of extra time)
At the start of the year, the storm clouds of anti-tobacco harm reduction (THR) were darkening, threatening as ever the lives of smokers looking to switch or stop. But in the bleak mid-winter, rays of reason have shone a light on those that needed to be called to account.

In his book Velvet Glove, Iron Fist: A History of Anti-smoking (referring back to the time when life was so much easier for anti-tobacco activists – Goodies vs Baddies), Chris Snowdon quoted arch anti-tobacco nemesis Stanton Glantz at an anti-tobacco conference in 1992 about the way he conducted his research: "If it comes out the way I think, will it make a difference? And if the answer is 'yes' then we do it, and if the answer is 'I don't know' then we don't bother. Okay? And that's the criteria"
thatgotmethinkingblog
This week Public Health England issued their annual update to their position on e-cigarettes and vaping. This is the sixth in a series of independent reports to "summarise evidence on e-cigarettes to inform policies and regulations."
---
Visit Nicotine Science & Policy for more News from around the World

---