Vapers Digest 5th March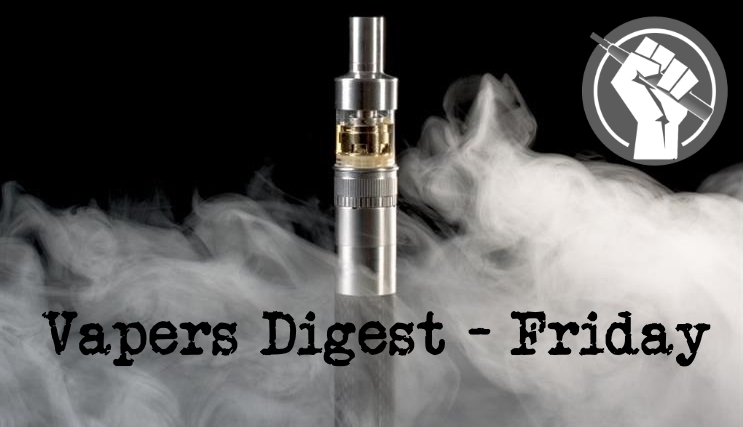 Friday's News at a glance:
Eurobarometer: Attitudes of Europeans towards tobacco and electronic cigarettes – Vaping Demystified – UK warns of "unfounded fears" of e-cigarette – This pandemic could help England meet its smoke-free goal – Germany: Plans For Vapor Taxation a 'Disaster' – Banning Flavored E-Cigarettes Could Have Unintended Public Health Consequences – WHO Wants To Ban Vaping? – TBIJ's Toxic Song And Dance – How Do We Move On? – Study shows vapes help smokers quit – WHO Recommended Ban on Vaping Will Only Create More Smokers – PH gov't warned against NGOs banned by India – On Smoking Alternatives, 'Follow the Science' – Nicotine Science and Policy Daily Digest
Attitudes of Europeans towards tobacco and electronic cigarettes – ETHRA
On 3 February 2021, the long-awaited Eurobarometer report was published. Titled "Attitudes of Europeans towards tobacco and electronic cigarettes," the survey examined European citizen's relationship with tobacco and related products. Fieldwork was conducted between August 2020 and September 2020 and involved interviews with 28,228 people from 27 EU member states and the UK.  Data from the previous Eurobarometer report in 2017 is also made available for comparison. It is an extensive report, 334 pages long, with separate factsheets available for each member state plus the UK. A 54-page summary of the main points is also available. The importance of the Eurobarometer cannot be overstated as it will feed into the TPD review due latest 20 May. See our article "What do we know about the TPD application report" for more details.
Panel Discussion; misconceptions, challenges and opportunities for vape products in smoking cessation
Yorkshire Cancer Research presents a panel discussion on No Smoking Day bringing together contributors from the charity's new film, Vaping Demystified, to discuss the misconceptions surrounding vaping products, and whether they are preventing Yorkshire's greatest opportunity to reduce the region's leading cause of preventable cancer.

The discussion will be hosted by Yorkshire Cancer Research's Engagement Manager, Andy Wilson, and will provide insightful discussion about how myths have developed, what the truth is about the safety of vaping products and how the vape industry can build the confidence of the public.
---

---
 Explica.co
Smokers are avoiding using e-cigarettes to quit smoking due to exaggerated fears about the harm of vaping, warned UK health authority Public Health England.
In a report published on February 23, the researchers at King's College London in charge of the study concluded that "the evidence shows that vaping is one of the most effective aids available to quit smoking, "said John Newton, Director of Health Improvement at Public Health England, in a statement accompanying the report.

He also warned that "thousands more could have quit smoking if it weren't for unfounded security fears on electronic cigarettes ".
Meet its smoke-free goal – Deniz Kose
The pandemic has made many people reassess their lifestyles and successful quitting attempts have been increasing. In Greater Manchester, the number has been higher than in England.

One of the few positive outcomes of the COVID-19 pandemic has been an increase in the amount of people who quit smoking.

Between 2019 and January 2021, the number of people who said they tried to quit smoking in the past year increased 11,6%, according to the Smoking Toolkit Study.
---
---
Tobacco Reporter
Plans by Germany's governing coalition to tax vapor products are a disaster for public health and the economy, according to the country's e-cigarette trade association, VdeH. The move will make vapor products more expensive than combustible cigarettes, which are widely acknowledged to be considerably more harmful to health.

Under the plans, e-liquids will attract a tax of €4 per 10 ml bottle from July 1, 2022. On Jan. 1, 2024, the tax will increase to €8 plus VAT, i.e. €9.52 per 10 ml bottle. Based on an average sales price of about €5 per bottle, this amounts to a tripling of the retail price, says VdeH.
Could Have Unintended Public Health Consequences – Stacey McKenna
Both clinical trials and individuals' anecdotal experiences support the use of e-cigarettes as important tools in tobacco harm reduction. A small but increasing body of research indicates that flavors may be an important part of this, encouraging smokers to transition to e-cigarettes when reduction or cessation is a struggle. As such, while bans on flavored products will likely reduce overall e-cigarette use, they may also hinder smokers' ability or desire to quit or cut back on use of combustible cigarettes.

Three from Dave Cross, Planet of the Vapes
"MILLIONS of Brits are facing a ban on vaping," ran one headline. "E-cigarettes in the UK could be BANNED under World Health Organisation recommendations to outlaw vaping," screamed another. It stands as one of the stupidest things the WHO has ever attempted as it spectacularly backfired.
The Bloomberg bankrolled plan includes two prohibition measures according to consumer group INNCO(1):
The World Health Organization (part-funded by Michael Bloomberg) is pushing an article by The Bureau for Investigative Journalism (part-funded by Michael Bloomberg), quoting people claiming to be outraged experts (part-funded by Michael Bloomberg) to push an anti-reduced harm agenda. The article, "New products, old tricks?", laughably misses the mark.

The WHO's version(1) of the story repeats a lot of what the writers at The Bureau for Investigative Journalism filed online(2) and sent out to newspaper editorial offices. Some of the newspapers picked it up.

The essence of their collective problem is that British American Tobacco Iberia has sponsored a band that has middle-aged members and The Starlite Festival in Marbella(3).
In America, 34 million people smoke and around 480,000 deaths each year are attributed to smoking and yet, despite zero deaths caused by vaping and 4.3 million smokers successfully quitting tobacco the country is making vaping harder to do. In Australia, the tobacco control lobby has taken on a level of fanaticism not seen since the Spanish Inquisition in the 15th Century. Are they all simply misguided, or is the answer a lot darker?

Depictions of ouroboros (a snake or dragon eating its own tail) have been used through the ages to depict cycles, be it of life or process. It would be fitting to think of them in terms of scientific inquiry; a hypothesis built from current knowledge, testing, then data analysis leading to a conclusion – which then feeds into the next hypothesis. Knowledge is gained, assimilated and put into use. Except for a slight problem….
---

---
Red Mendoza
A group of users of electronic cigarettes or vapes slammed the Food and Drug Administration (FDA) for not looking at the report of a public health department in the United Kingdom that suggested that the use of e-cigarettes is better than nicotine replacement therapy (NRT) in stopping smoking.

According to the study made by Public Health England (PHE), nicotine vaping products were the most popular aid used by smokers who tried to quit smoking in 2020 at 27.2 percent.
It added that the use of a vaping product had some of the highest quit success rates — between 59.7 percent and 74 percent in 2019 and 2020.
On Vaping Will Only Create More Smokers
Millions of vapers across Asia could feel forced to return to smoking if a proposal from the World Health Organization (WHO) way on e-cigarettes and other smokeless products is passed by lawmakers.

A new report published by WHO's tobacco regulatory committee recommends nearly all vapes be banned, especially so-called 'open' systems. Not regulated – but banned. It also demands the same restrictions on cigarettes be applied to other emerging products, presumably so smokers can never know about them.

Manila Standard Business
Consumer groups warned the Philippine government against non-government organizations such as those linked to Bloomberg Philanthropies that were banned by India for providing grants to lobby for local policies.

They issued the statement after India banned more than 14,500 non-government organizations over the past five years, including four groups that received foreign grants from Bloomberg Philanthropies of US financial billionaire Michael Bloomberg, which are reportedly involved in tobacco control lobbying.

India canceled the Foreign Contribution Regulation Act licenses of these NGOs for acting against India's national interests, misreporting donations and lobbying against an established economic activity which raises multiple economic and social concerns.
PMI's Martin King to Public Health Community:
When Martin King first heard his boss announce their company's goal of "trying to achieve a smoke-free world," he confesses it sounded like a "crazy possibility."

Then again, King is CEO of PMI Ameria, the U.S. representative of Philip Morris International, the world's largest publicly-traded tobacco company. No wonder the comment raised eyebrows around the corporate watercooler.

At the same time, King says, he knew it could be done. "When Andre [PMI CEO André Calantzopoulos] made that announcement, I was running PMI Asia, and we were launching our 'heat-not-burn' product in Japan. And we were already seeing tremendous uptake from combustible cigarette smokers to this new option.
---
A look back at how things have moved on or otherwise….
Marewa Glover, Carl V Phillips, Harm Reduction Journal

The range of risk reduced alternatives to smoking tobacco is increasing and so is use among pregnant women. The substantial harms of smoking during pregnancy are well established and there is reason to believe that nicotine alone is somewhat harmful. Differences in the exposure chemistry strongly suggest that the effects of using smoke-free nicotine products (including pharmaceutical nicotine products, smokeless tobacco, and electronic cigarettes containing nicotine) fall somewhere in the range between zero risk to the risk from smoking. How much lower risk these consumption choices are in terms of pregnancy outcomes, however, remains uncertain.
Carl V Phillips, AntiTHRLies

This new paper, by Marewa Glover and me, is just out in Harm Reduction Journal. In it, we review the available epidemiology evidence about the effects of nicotine-sans-smoke (NRT, snus, vape) on pregnancy outcomes. It was a bit of a challenge to get it published because we wrote the paper we needed to, rather than a "typical review". As you might know, the journal publication process is rather …well, let's just say conservative.
gov.uk
Aim of the report: This is the sixth report in a series of independent reports commissioned by Public Health England (PHE) to summarise evidence on e-cigarettes to inform policies and regulations.
Despite reductions in smoking prevalence, smoking remains the biggest single cause of preventable death and disease and a leading cause of health inequalities. So, alternative nicotine delivery devices that are less harmful could play a crucial role in reducing this health burden.

This report presents updates on the prevalence of vaping among young people and adults and reviews literature on vaping among people with mental health conditions and pregnant women.

A comprehensive e-cigarette safety review will be the focus of a future report.
---
Visit Nicotine Science & Policy for more News from around the World

---