Vapers Digest 3rd March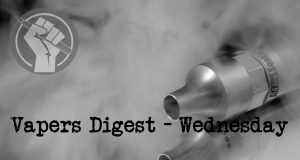 Wednesday's News at a glance:
Characterising vaping products in the UK: An analysis of Tobacco Products Directive notification data ~ Proposed UK Vaping Ban Is NO Empty Threat Says UK Vape Advocacy Group ~ The Brexit Public Health Revolution: Taking Back Control of Regulation and Realising a Smoking Rate of Below 5% by 2030. Here's How the UK Government Can Do It. ~ VAPING FEARS – Will e-cigarettes be banned in the UK? ~ V4V – Trusting the Science, or not ~ UKECRF roundup ~ Danger Disappears ~ Puff Bar Defies FDA Crackdown on Fruity E-Cigarettes by Ditching the Tobacco ~ Waste Of The Week: W.O.W., NIH Wasted $17M For Rats On Smack. They're Vaping Too.
---

---
Debbie White, The Sun
E-cigarettes are not being banned in the UK.

But, the government will review the Tobacco and Related Products Regulations (TRPR) – which govern nicotine vaping products – by May 20, 2021.

This means looking at all vaping – and other nicotine and tobacco – regulations to ensure that they are appropriate and help smokers quit, while managing the risk of uptake for "never smokers", those who vape despite never puffing on a cigarette.
---
Day 29 cigarettes➡️#vaping:

– 1 cig 8am-1.30am (-1 from yesty)
– Change (av. day): -23 (-95.83%)
– Delaying 1st cig today until 10am may've helped

Ordered a backup Voopoo device today.
Can't risk not having equipment if one fails.

That's confidence😇#vapingsaveslives #auspol

— Yale Stephens (@TheYaleStephens) March 3, 2021
---
CAPHRA Asia Pacific
---
TWO from Dave Cross, Planet Of The Vapes
The UK E-Cigarette Research Forum (UKECRF) is an initiative developed by Cancer Research UK in partnership with Public Health England (PHE) and the UK Centre for Tobacco and Alcohol Studies (UKCTAS). Among other things, it brings together genuine experts to look at research related to vaping and tobacco harm reduction.
Stanton Glantz has been fabricating nonsense about the dangers of dual use of cigarettes and ecigs for years. Colleagues at the University of California San Francisco picked up from his work to fabricate their own counterintuitive warnings. Now a paper in Nicotine & Tobacco Research finds that vaping contributes minimally to toxicant biomarkers.
---
, Scoop
The Ministry of Health has submitted a written submission to the Health Select Committee, dismissing a Parliamentary petition signed by 17,357 Kiwis supporting ongoing access to vape flavours.

Petition organiser, Nancy Loucas, who is co-director of Aotearoa Vapers Community Advocacy (AVCA), says the Ministry of Health's submission is very disappointing given vaping is New Zealand's most effective smoking cessation tool.
---
Jennifer Maloney, Wall Street Journal
Arin Greenwood, White Coat Waste Project
This edition of Waste of the Week is a real tail of terror:

Once upon a time some sicko taxpayer-funded white coats decided they wanted to hook rats on heroin.

And also nicotine, oxycodone, and THC—the active ingredient in marijuana—while they were at it.

Sometimes these white coats made the rats vape nicotine and THC, too, by stuffing them into a vapor-filled "sealed rat chamber."
---

---
Frank Davis
For the past few days and weeks I've been chewing over the idea that Tobacco Control is genuinely evil. And I mean really, really evil.

Tobacco Control always presents itself as working to "improve public health." That is to say that it purports to pursue a public good, and so its aims are truly noble.
Tobacco Control and Politicians Depress Us?
Bolton Smokers Club
Life is toddling along and you are reasonably content. Sure, problems rear their heads and, one way or another, you chop their heads off. But you rarely find that a problem is the result of someone actually deliberately persecuting you. If there was a person who was deliberately stealing your money and other goods, and deliberately obstructing you at every turn, year after year, you might well call the police…
---
Visit Nicotine Science & Policy for more News from around the World

---