Vapers Digest 1st March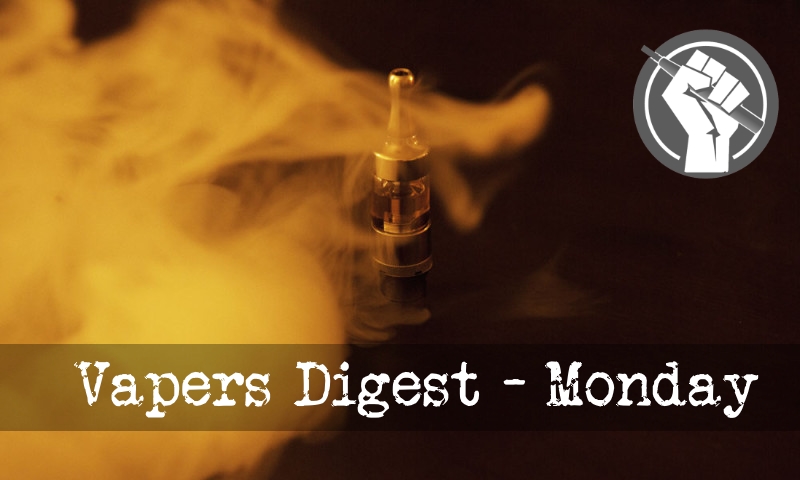 Monday's News at a glance:
ETHRA February news roundup – Innovation and its Enemies – IBVTA response to The Sun and Daily Mail articles – UK Vape Ban? Nope Just the WHO Being Reckless and Stupid – Vape Shipping and the PACT Act: What We Know So Far – Important Vaping Studies About Health and Usage – Girl Blames Vaping For Chlamydia – Vape Bans Are Bad For Everyone – We Are All Bullied – Questions in Parliament – World NGO Day 2021 – The Brexit Public Health Revolution – Public Health England Report: E-Cigarettes Help Smokers Quit – Evidence from Public Health England – Future of tobacco product regulation in Australia – Harder to thwart illicit trade – Fact/Fiction: Does vaping make you more likely to spread Covid? – Nicotine Science and Policy Daily Digest
Tobacco harm reduction news from Europe
The Commission published their dismal Europe's Beating Cancer Plan early in February. News from Germany added to the gloom, when the German finance minister revealed plans for exorbitant taxes on e liquids and to equate heated tobacco products with cigarettes there. Happily, the month ended well with the publication of Public Health England's annual update, which confirmed that vaping is best for quitting smoking and that UK youth are not interested in vaping. Read on for more on that and lots of other news.
Clive Bates, Tobacco Reporter
How did vaping emerge, and why do so many in public health oppose it? It is a perplexing question, but the explanation starts with innovation.

The essential development was progress with a critical technology—the lithium-ion battery—that made new categories of consumer nicotine product possible in a compact form acceptable to consumers. Driven by the insatiable demand for miniaturization from mobile phones and other portable devices, these batteries have improved to deliver ever greater energy density (essential for good battery life) and power density (essential for rapid heating and responsiveness to human interaction). In one sense, vaping and heated-tobacco products are novel energy technologies. The critical innovation is that they change the heat source used to form the inhalable nicotine-bearing aerosol from combustion to electricity….
---

---
Independent British Vape Trade Association (IBVTA)
On Sunday February 28th, The Sun newspaper published an extremely misleading article about vaping which has since been picked up by the Daily Mail and some other news outlets. In the article it is claimed that a WHO report, supposedly released by their tobacco regulatory committee and which recommends to ban open vape systems, might be acted upon by the UK government.

What is puzzling about this story, is that we are not aware that such a report exists*. For the sake of clarity, the IBVTA is clear in its belief that neither the WHO, nor any UK Government agency is suggesting that vaping should be banned in any form in the UK.
Nope Just the WHO Being Reckless and Stupid As Usual…
I'll say it now – there will be NO UK vape ban despite what the tabloids are splashing this sunny Sunday morning.

If there ever is, and I haven't shuffled off this mortal coil before it's implemented, I shall dance naked waving a WHO flag outside the Houses of Parliament whilst puffing away on a JUUL…that's how confident I am…

More worrying than any possible UK vape ban one might say…and one would be right!

OK, the 'shock' news splashed over a couple of newspapers with a reputation for shall we say 'sexing-up' stories might worry a few of you. Those of us who are wise to the ways of the media will simply read – smile – shake our heads and move on.
---
1. What is tobacco control without tobacco?

2. Vaping nicotine targets combustible tobacco products – refer to point 1 pic.twitter.com/syDPqJ5le5

— 🇦🇺Tobacco Harm Reduction Consumers NT (@VaperNt) February 28, 2021
My last tweet mentioned The Sun, consistently most widely-read by working class people. But it's also now in the world's most widely-read online news outlet. Lovely to see a light shone on the maniacal Bloomberg-funded cranks at the @WHO https://t.co/Bd2nUCxcic

— Dick Puddlecote (@Dick_Puddlecote) February 28, 2021
---
What We Know So Far – Jim McDonald
In late December 2020, Congress passed a huge spending package that included a coronavirus relief bill, and—buried deep in the 5,000-page document—a law entitled the Preventing Online Sales of E-Cigarettes to Children Act. It was quickly signed into law by President Trump. The act is commonly referred to by vapers as the "vape mail ban," but its effects will be much more profound than the prohibition on postal delivery that gave it its nickname.

The Preventing Online Sales of E-Cigarettes to Children Act wasn't new. It had already passed the House in October 2019 and the Senate in July 2020 in slightly different forms. CASAA issued a call to action for the bill before it passed the Senate in the summer, but few vapers or vaping businesses seemed especially alarmed by the prospect of its passage.
About Health and Usage – Jim McDonald
There are at least two dozen new studies on vaping and nicotine published every week. Many of them are about vaping and health. They range from medical studies on vaping health risks to analysis of e-liquid or vapor constituents to research on vaping and nicotine addiction. Some are released with a lot of fanfare, and create a huge media stir—often based on alarming claims made by the researchers, or by the university press office, or even by outside groups.

No vaping research concludes that vaping is "safe." Anytime you inhale a foreign substance or use a drug like nicotine, there is some risk built into the activity. The scientific consensus is that vaping is, by and large, far safer than smoking cigarettes. But beyond a general agreement that vaping poses fewer risks than smoking, opinions on the possible health and side effects of vaping vary widely.

Four from Dave Cross, Planet of the Vapes
In a whine driven "Put a Finger Down" video, TikTok user @germanshepardfanaccount put her finger down on vaping being the cause of her medical issue. Stating that vaping had given her chlamydia in her lungs, her two videos clocked up over two million hits each. The critical response resulted in her making the account private.

"Put a Finger Down" began as a game and blossomed into an action when telling a story on TikTok(1), a platform popular with teens, where people hold up a hand and put down a finger when they say something that they've done or has happened to them.
New research states the obvious that workplace bans lower vaping rates. The problem is, why would anyone want to do that. In Australia, hopes have been dashed as the Therapeutic Goods Administration (TGA) blocked nicotine policy from softening and announced threats of fines, although there is clear evidence of a growing black market. Meanwhile, a policy analyst in the United States is proclaiming that vape bans "won't fight tobacco or improve health".

Addition journal recently published a paper(1) from researchers at the Yale School of Public Health stating that the uptake of smoke-free worksite laws in the USA has led to "reductions in both current smoking and recent vaping", which is as obvious as their other conclusion that it hadn't had an impact on teens – oddly termed "emerging adults" – seeing as they don't spend their days in workplaces.
Researchers at Germany's IFT-Nord and the University of Southern California have conducted a study to see if vapers are more likely to engage in or suffer from bullying victimisation. Their paper was published in the Aggressive Behaviour journal and found a relationship between bullying victimisation and vaping.

Lead author Reiner Hanewinkel has spent many years working on preventing bullying in German schools and has produced a number of studies addressing the issue(1). He is also one of the two authors of the "I'm Not Scared" project(2).
Lee Anderson asked the Secretary of State for Health and Social Care about issues relating to the COVID-19 pandemic. Alex Norris wanted to know more about the state of play following the ban on menthol in tobacco and a flavour review in the Tobacco and Related Products review. Jim Shannon was concerned about possible gateway effects of vaping.

Lee Anderson(1), Ashfield's Conservative MP, asked the Secretary if the Department is conducting research to find out the level to which tobacco users may experience more serious COVID-19 symptoms and what information is currently held about it.
---

---
Lindsey Stroud
Today (Feb. 27) is World NGO Day, aka World Non-Governmental Organization Day. This is a day that is officially recognized in more than 89 countries that seeks "to inspire people to become more actively involvedwithin the NGO sector and encourage a greater symbiosis between NGOs and both the public and privatesector."

No one has been more of a symbiotic enigma between NGOs and the public and private sector than the"Lord" of the NGOs Michael Bloomberg. Bloomberg is a Wall Street business hustler-turned founder-turnedmayor-turned so-called philanthropist-turned presidential hopeful to election funder.

Original Article here Reproduced to circumvent EU GDPR
Nicotine Freak
At Nicotine Freak, we believe that oral nicotine products such as nicotine pouches should be sensibly regulated and made available to consumers as safer alternatives to smoking cigarettes. We believe, fundamentally, in harm reduction and improving public health.

Brexit represents a monumental opportunity for the UK government to correct the policy mistakes of the European Union concerning nicotine products, coming in the form of the unelected EU Commission's Tobacco Products Directive 2014 (TPD). Fortunately, public opinion is important to policymakers in the UK and we as consumers now have the freedom to speak out. Do read on to find out how.
E-Cigarettes Help Smokers Quit – Michael McGrady
A new report from Britain's top public health organization adds to the growing mountain of evidence that vaping, e-cigarettes, and "heat-not-burn" alternatives are effective tools for getting cigarette smokers to quit, significantly lowering their health risks. The new evidence update recently released by Public Health England (PHE) also reconfirms that health risks from vaping are 95 percent lower than traditional combustible cigarettes.

It's a message many anti-tobacco activists in the U.S. continue to resist.
Reinforces Vaping as an Option to Stop Smoking – CASA
The recent report by Public Health England which is the seventh independent report on vaping in England, revealed that the use of e-cigarette (vaping) is the most commonly used means to quit smoking. Previous report from Public Health England has also reinforces the fact that vaping is 95% safer than smoking cigarette. This recent independent report, by renowned expert researchers at King's College London, summarizes evidence on vaping products to inform policies and regulations.

This independent report provides the opportunity for African countries, national health authorities and other stakeholders in low- or middle-income countries and globally to rethink and embrace tobacco harm reduction. This is much-needed in that approximately 80% of the world's 1.1 billion smokers are inhabitants of low- or middle-income countries.

Proposed Concentration on Nicotine in Vaping Products Regulations
The Tobacco Harm Reduction Association of Canada "THRA Canada" along with other persons and vaping industries affected by these new proposed regulations was invited to submit its comments in respect to this consultation topic.

This proposed regulation is overreaching and will cause significant harm to people who use nicotine vaping products to become smoke-free or remain smoke-free. Health Canada's anti-nicotine stance and prohibition agendas have devastating consequences for ex-smokers who use this disruptive technology to escape the illnesses and death associated with combustible tobacco
Kylie Morphett, Coral Gartner
WHILE tobacco smoking has declined substantially in recent decades, it remains the leading risk factor for disease in Australia. More than 2.7 million Australians smoke daily, and tobacco smoking harms disproportionally impact those in socio-economically disadvantaged populations, Aboriginal and Torres Strait Islander peoples, and those living with mental illness. Yet there is very little regulation of the constituents that make tobacco smoking addictive, harmful and palatable.

Australia is a signatory to the World Health Organization Framework Convention of Tobacco Control (FCTC), an international treaty that aims to reduce demand for, and supply of, tobacco products worldwide.
CAPHRA Asia Pacific
As e-vaporisers are easier to hide – Zaihan Mohamed Yusof
For around $70 for an electronic vaporiser, some sellers will throw in free delivery and even a box of three juice pods worth about $25.

Distributors and re-sellers compete aggressively on social media and private message groups to offer a wide array of vaping products.

One popular online message group had about 8,000 advertisements in March last year. By December, the figure had spiked to more than 115,000 advertisements.
Does vaping make you more likely to spread Covid? – Hannah Westwater
Every week in Fact/Fiction, The Big Issue examines spurious claims, questionable studies or debatable stories from the press to determine whether they are fact or fiction. This week we focus on dubious reports linking vaping to the spread of Covid-19. It was picked up by the likes of The Telegraph and MailOnline, but is it true? We investigate.

How it was told: It's the invisible enemy confining us to our homes and away from loved ones.

From thorough hand washing to the importance of ventilation, for nearly a year we've been inundated with information about how droplets carrying Covid-19 spread.

But should vaping have been on that list all along? Anyone who has walked down a high street will be familiar with being engulfed by a sickly sweet fog from a nearby pedestrian.
---
A look back at how things have moved on or otherwise…
James Dunworth, Ashtray Blog
A few years ago, vaping was very nearly banned in Europe. The European Commission and the majority of the Member States planned to medicinalise electronic cigarettes. As it can take 10-20 years to get a medical licence for a product, that would have essentially outlawed vaping.

At the time, vapers across the UK and Europe mobilised, with thousands writing letters to their MEPs to tell them how vaping had changed their lives. Their heartfelt stories won the day, with vaping winning enough support to scupper ban plans and ending in the compromise that saw vaping covered under the Tobacco Products Directive II.
Christopher Snowdon, Velvet Glove Iron Fist
Banning flavours in vape cartridges was never going to satisfy America's anti-nicotine fanatics and so HR 2339 was drawn up to ban flavours in e-cigarette fluids altogether. That includes mentyhol and it includes all tobacco products too.

As Guy Bentley says, if this law is introduced it would be the most far-reaching prohibition since the Volstead Act 100 years ago.

Fortunately, however, the Donald has stepped up to the plate to put an end to it. Yesterday, he put out a Statement of Administration Policy saying…
---
Visit Nicotine Science & Policy for more News from around the World

---