Vapers Digest 26th February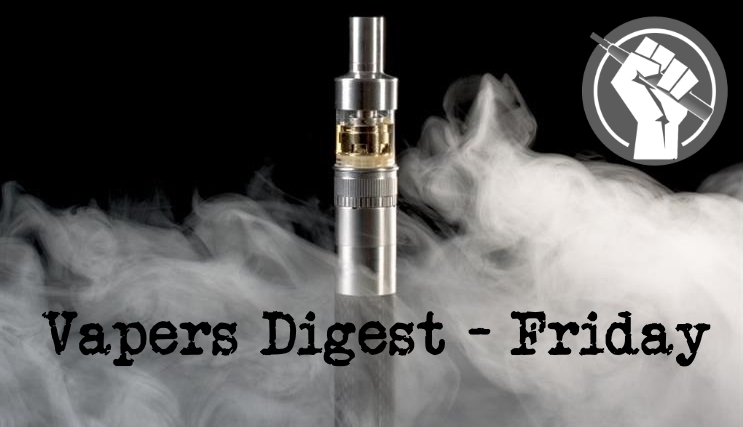 Friday's News at a glance:
NNA welcomes the latest PHE review on vaping – Vaping Saves Lives Says UK Government – Experts Share Evidence About Flavours in Submission to Dutch Government – Ukraine's HnB tax hike blamed for 'inevitable' boom in bootleg sales – Big T News – PHE Report: Business Responds – PHE Report: Experts and Advocates Respond – UKVIA Back In To Advise Parliament – Almost 2,000 Canadians Tell Health Canada: Stop Unnecessary Vaping Regulations – Younger Individuals and Their Human Right to Harm Reduction Information – Content Analysis of U.S. Newspaper Coverage of Causes and Solutions to Vaping- Associated Lung Injury – Nicotine Science and Policy Daily Digest
But we can do more – New Nicotine Alliance
Yesterday, Public Health England (PHE) released its seventh independent report on vaping in England, carried out by researchers at King's College London (KCL), and it brings some encouraging news but also scope for improvement.

In an article on the UK government's website, PHE announced that not only is vaping now the most popular aid used by smokers trying to quit in England, it is also the most effective, with up to 74% quit success rates in 2019 and 2020. The article declares, boldly, that vaping is now "better than nicotine replacement therapy for stopping smoking".
And Urges Smokers To Switch! – Neil Humber
The UK Government is urging smokers to make the switch to safer and healthier e-cigarettes as it says vaping saves lives and the science proves it!

The latest Public Health England independent study into all things vape, concludes e-cigarettes are the very best and safest way to quit smoking, and shows that around 75% of smokers making the switch, succeeded thanks to vaping!

The UK Government is now on a drive to convince even more smokers to switch to vaping, and wants to see an end to the endless fake news scare stories centered around all things vape that could be costing smokers lives.
---

---
In Submission to Dutch Government – Diane Caruana
A public consultation on the recently announced flavour ban which was originally meant to close on the 19th of January, had been extended to the 2nd of February. The Government website stated that this extension was granted "due to popular demand."

In line with this, a press release by the World Vapers' Alliance (WVA) had pointed out that this consultation had gathered the largest number of responses ever collected in a health-related public consultation in the country. More importantly, the vast majority of the responses, at 98.54% opposed the ban, equating to 746 responses out of the total 757 submissions recorded on the official website until now.
---
---
For 'inevitable' boom in bootleg sales – TobaccoIntelligence
Law enforcement officials in Ukraine have raised concerns over a sharp increase in sales of counterfeit heated tobacco products from China, in what is thought to be an "inevitable" consequence of the new tax scheme that came into force in January.

Since the tax was imposed the Ukrainian market has been flooded with Chinese-made heat-not-burn (HnB) products sold in small kiosks and grocery stores across the country.

Valery Vorotin, a tobacco trade expert for the Verkhovna Rada, the Ukrainian parliament, has described the situation as being like Chicago in the 1920s, "the time of bootlegging".

Four from Dave Cross, Planet of the Vapes
Like it or loathe it, Big Tobacco is having an immense impact on the vape market. Fontem Ventures (owned by Imperial Brands) has announced the most popular flavour of Blu in the United Kingdom. Meanwhile, Philip Morris International (PMI) are arguing for the inclusion of vapers and smokers in discussions about smoke-free products. Finally, British American Tobacco (BAT) is celebrating news of the Serious Fraud Office closing its investigation and a rise in profits due to its vaping line.

"We've analysed sales data for postcodes across the length and breadth of England, Scotland, Wales and Northern Ireland to reveal the most popular blu e-liquid flavours of 2020," says Blu
Public Health England (PHE) showed the proportion of vapers who also smoke is in permanent decline as they switch to just vaping or quit entirely. It's made vaping the Number 1 route out of smoking in England yet smokers' misconceptions about the relative risks of vaping persist and it's getting worse. ASH's survey demonstrates that the industry is behaving responsibly, not marketing to teens – and that teens aren't interested in flavours or packaging anyway.

The Independent British Vape Trade Association (IBVTA) welcomed the latest review of the evidence on vaping, commissioned by PHE and carried out by researchers at King's College London.
In 2015, After the first PHE report declared vaping to be at least 95% safer than smoking, Professor Martin McKee began his assault on science and evidence with an Freedom Of Information request. "Dear Public Health England," he began, "Your report seems to indicate that this was based on 'expert opinions' or what others might describe as guesses."

The evidence continues to rack up but McKee remains stuck in the past. Professor Ann McNeill, Professor of Tobacco Addiction at King's College London, and lead author of the report explains where it comes from: "Our report draws together findings from randomised controlled trials, stop smoking services and population studies and concludes that nicotine vaping products are an effective way of successfully quitting smoking.
The Director General of the UK Vaping Industry Association (UKVIA) has addressed parliamentarians on the future of vaping and harm reduction. John Dunne was invited as an expert witness by the All-Party Parliamentary Group (APPG) for Vaping(2), a collection of MPs and Peers focussed on e-cigarettes.

Dune's evidence will be used to advise the UK delegation to a high-level World Health Organization Framework Convention for Tobacco Control meeting later this year: Conference of the Parties (COP9). The meeting will have repercussions for vaping industries around the world, and it is hoped the UK's progressive approach can inspire similar stances internationally.
---

---
Stop Unnecessary Vaping Regulations – Rights 4 Vapers
Today Rights4Vapers delivered 1,988 letters to Health Canada from vapers and supporters across the country who are opposed to Health Canada's latest attempt to restrict the options for vapers by capping the nicotine content in these life saving products at 20 mg/mL.

"These letters were also sent through the official submission process, but because of Health Canada's history of systematically excluding the voice of Canadians who vape from the regulatory process, we wanted to make sure that the Minister of Health and her senior officials were aware of the views of thousands of Canadians," said Maria Papaioannoy, spokesperson for Rights4Vapers. "This is what we have so far… officials should expect more in the days ahead!"

To Harm Reduction Information Should Be Considered in Determining Ethically Appropriate Public Health Actions
Lynn T Kozlowski, Nicotine & Tobacco Research
Although a human right to health-relevant, harm reduction information even for youth has been widely accepted for sexual health for decades by major national and international agencies,1–4 such a human right has more often been ignored for youth who are using tobacco and/or nicotine products. This commentary reflects on the need for public health ethical assessments that include genuine consideration of a human right to health-relevant information for both youth and adults.5 Such consideration would not necessarily mean that the human right determines the right course of action, especially when the net utility for population health is being debated (eg, Chapman et al.6 and Warner7). But the failure to even consider human rights as a critical prima facie issue constitutes an incomplete bioethical assessment.
Of Causes and Solutions to Vaping-Associated Lung Injury
In 2019, an outbreak of vaping-associated lung injury (also known as "EVALI") spread throughout the U.S., linked to use of illicit THC cartridges. This paper examines U.S. newspaper coverage on the causes and solutions to EVALI. Methods: A content analysis of 417 articles from April to December 2019 from two national newspapers, one regional newspaper, and the Associated Press was conducted. Articles were coded for information about EVALI causes, mentions of the brand Dank Vapes, calls for individuals take a specific action to prevent harm, and mentions of policy actions to address vaping. Mentions of increasing youth vaping and JUUL were also coded. Results: Most articles (77%) provided an update on the number of EVALI cases and/or deaths.
---
A look back at how things have moved on or otherwise….
Brad Rodu, Tobacco Truth
The Journal of the American Heart Association on February 18 retracted an article by Dharma Bhatta and Stanton Glantz.  As I documented earlier, Bhatta and Glantz published demonstrably false findings.  Details of the retraction were reported by USA Today's Jayne O'Donnell, Ivan Oransky at Retraction Watch and Alex Norcia of Vice, among others.
Michael McGrady, Filter
In the wake of last year's EVALI lung injury outbreak and a raft of legislative and media reactions to perceived threats to youth, an intriguing question is being asked about one potential cause of the exaggerated-but-real rise in nicotine vaping among teens who don't smoke.

Are anti-vaping advertisements inadvertently promoting product recognition and uptake among youth?
Rosie Clarke, School News
In December, Nelson school principals called for vaping regulations after they claimed primary school children were found experimenting with a vape. Principals told Stuff at the time: "The message about cigarettes has been heard fairly loud and clear, but vaping is not seen in the same light at all at this point." Auckland Grammar School principal Tim O'Connor told Newshub in August that half his junior students had either owned a vape or experimented with one.
---
Visit Nicotine Science & Policy for more News from around the World

---