Vapers Digest 24th February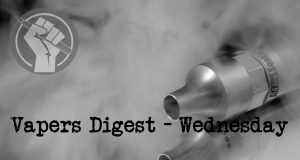 Wednesday's News at a glance:
Nicotine pouches ~ Vaping in England: evidence update February 2021 ~ Vaping better than nicotine replacement therapy for stopping smoking, evidence suggests ~ Evidence strengthens that vaping is effective for stopping smoking but not reaching its full potential with adult smokers ~ Use of e-cigarettes among young people in Great Britain ~ Dire Tax Consequences ~ Stunning PHE Report Released ~ NO EPIDEMIC – NO GATEWAY ~ Biden Should Choose Science over Politics and Embrace Tobacco Harm Reduction ~ British American Tobacco sees pick-up in consumers using vaping ~ Lower Taxes for Less Harmful Nicotine Products Will Reduce Smoking Rates – Dr Kgosi Letlape
Christopher Snowdon, Velvet Glove Iron Fist
Flashing an ice-white smile for her 50,000 followers on TikTok, a fresh-faced young woman pops a flavoured nicotine pouch into her mouth, as one of Pakistan's most popular love songs plays in the background.

More than 3,000 miles away, in Sweden, another social media starlet lip-syncs for the camera, to a different pop tune. The same little pouches, made by British American Tobacco, appear in shot.
Public Health England
In the government's Tobacco Control Plan for England, Public Health England (PHE) was asked to update its 2015 review of e-cigarettes and other novel nicotine delivery systems every year until the end of 2022. This is the seventh report in the series.

This update looks at the prevalence of vaping among young people and adults. It also reviews research literature on the effect of vaping on smoking cessation and reduction.
---

---
but not reaching its full potential with adult smokers
Kings College London
The government has outlined an ambition to go smokefree by 2030 and alternative nicotine delivery devices, such as nicotine vaping products, could play a crucial role in achieving this goal. A report from researchers at King's College London, published today, covers the latest evidence on prevalence and characteristics of nicotine vaping product use in England and updates the evidence on the impact of vaping on smoking cessation.
---
Replacement of cigarettes by a moderate nicotine concentration e-cigarette results in improved aortic elasticity and oxidative stress within 1 month. #SaferNicotinehttps://t.co/WsPP7IESJW

— Safer Nicotine Wiki (@SaferWiki) February 24, 2021
---
Action On Smoking and Health (ASH)
Key findings

• A large majority of 11-18 year olds have never tried or are unaware of e-cigarettes (83%). This has barely changed since 2017.

• In 2020 16.4% of 11-18 year olds had tried vaping, compared to 15.4% in 2019. This is an increase from 2015 when 12.7% of 11-18 year olds had tried e-cigarettes.

• There has also been an increase in current e-cigarette use since 2015 from 2.4% to 4.8%, but only 1.8% of young people used e-cigarettes more than once a week in 2020.

• Current use of e-cigarettes among 11-18 year olds is higher among current smokers (41.8%) than former smokers (11.0%), and it is very low in never smokers (0.7%)
---
THREE from Dave Cross, Planet Of The Vapes
According to German media reports, the government is setting plans in motion to place vaping products into higher taxation brackets. This, says the World Vapers' Alliance (WVA), will have "dire consequences" for the health of the public as a whole.
Public Health England (PHE) warns that misperceptions about the benefits and relative risks associated with vaping is causing a tailing off in smokers switching to the reduced harm method of using nicotine. It worries the incorrect perceptions of its relative risks is discouraging smokers and states that vaping is better than traditional nicotine replacement therapies (NRT).
Action on Smoking and Health (ASH) has released its update on teen ecig use in Great Britain. It stands as a glowing testimony to the way Britain has had the foresight to embrace vaping and tobacco harm reduction because, after over a decade of products on the market, there is still not any evidence of either an epidemic of teen use or anything suggesting that there is a gateway from vaping into smoking tobacco.
---
Michelle Minton, Competitive Enterprise Institute
Will the new Biden administration choose science over politics? The commandment to "believe science" has become a rallying cry, one echoed by Joe Biden during his presidential campaign when he promised to "choose science over fiction." If that is true, his new administration should embrace tobacco harm -reduction, a public health strategy that, instead of the abstinence-only-approach, seeks to reduce the death and disease caused by combustible cigarettes by allowing smokers access to lower-risk alternatives. It would be controversial with leaders in his own party. But, unless his commitment to science was just an empty slogan, Biden's team should adopt tobacco harm reduction anyway.
---
Graeme Evans, Evening Standard
B

ritish American Tobacco on Wednesday claimed progress on cutting its "harm footprint" after seeing a pick-up in consumers using vaping and other reduced risk products.

The tobacco giant, whose brands including Lucky Strike, Pall Mall and the vaping business Vuse, said revenues from new categories accelerated in the second half of the year and were 15% higher at £1.45 billion across 2020.
Dr. Kgosi Letlape, South Africa Today
Smoking cigarettes is the most harmful form of consuming nicotine and it is the duty of government to ensure that smokers have access to less harmful nicotine products to accelerate the decline smoking rates in the country.

This is the expressed view of Dr Kgosi Letlape, Health Activist and Harm-Reduction Advocate who says: "It is government's duty to encourage smokers who don't quit to choose less harmful products. I encourage the Minister to tax these products at a lower rate than cigarettes to incentivise smokers who don't quit to choose better substitutes than combustible tobacco."
---

---
Setting the record straight – Jamie Hartmann-Boyce
In June 2019, a paper by prominent US academics found that people who used e-cigarettes were at greater risk of a heart attack. The authors concluded that e-cigarettes were just as risky as tobacco in provoking heart attacks, and that using e-cigarettes and traditional cigarettes at the same time was even riskier. Unsurprisingly, this caused a stir in the media – in the form of 35 news stories, to be exact. Also unsurprisingly, it provoked vigorous scientific debate. Eight months later, the paper was retracted.

When a paper is retracted it means we can't trust its results. It's like being unpublished. The problem is, the paper still exists – it's in news stories, it's on social media, it's in documentaries. Smokers see these stories and increasingly think e-cigarettes are as harmful as smoking. That's a problem because smoking is deadly.
Due to Coronavirus Shut Downs –  Diane Caruana
Due to the quarantines set in place in China as a result of the infamous Coronavirus outbreak, Australian stockpiles of vaping products such as replaceable coils and pods, are dwindling at a rapid rate.

With 90% of the world's vaping hardware produced in China, Australian stockpiles are dwindling and retailers and distributors alike are concerned. While some have already run out of certain items, others are fearing that they only have enough supplies to last a few weeks. "We're feeling the pinch on our more popular devices," said Chris Monchgesang, the chief operating officer for Vape Traders, a major distributor. "It hasn't been the most enjoyable time."
---
Visit Nicotine Science & Policy for more News from around the World

---