Vapers Digest 22nd February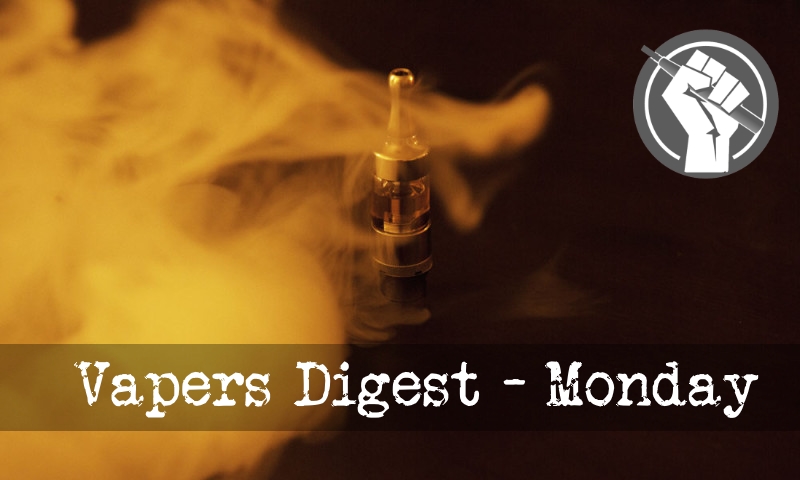 Monday's News at a glance:
The Great Australian Smoking Grant Racket! – Nicotine is a protective shield – Vape shop and consumer activity during COVID-19 – Democrats' tobacco policies could hurt more than help – NNA Call To Action – We Vape's Call To Action – Then They Came For Chocolate – Telegraph Misrepresents COVID Vaping Threat – Vaping and Tobacco Harm Reduction – Nicotine Science and Policy Daily Digest
Pippa Starr
It's no secret smoking kills more people in Australia each year than any other cause. In fact the amount of people dying from a smoking related illness each year hasn't decreased and is as bad now as it ever was!

In the last 5 years you would fill the MCG with the amount of people that have died from a smoking related illness.

Last year around 24 times more people died from smoking than Covid19 in Australia.

Smoking is expected to kill more than 1 billion people by the turn of the century and seems to be the real pandemic that no one wants to really address, although there are viable solutions now that can prevent this god awful tragedy.
Against the insurgence of severe symptoms of COVID-19
Catania, 15 February 2021– Nicotine is a protective shield against the insurgence of severe symptoms of COVID-19. This is what emerged with the new study by CoEHAR and the University of Catania: "The Role of cigarette smoke on ACE-2 protein-membrane expression in bronchial epithelial cells using an air-liquid interface model".

CoEHAR's research focused on the likely modulatory effect of smoking on ACE-2 protein expression, which has proved to serve as a likely receptor for the virus to enter into epithelial cells.

CoEHAR was a pioneer in focusing primarily on the process involving the role of the ACE-2 receptor in SARS-CoV-2 infection and as a critical step for the virus to enter the human body. The study underlined the different antiviral responses during the infection between smokers and non-smokers who had ACE-2 high expression levels.
---

---
During COVID-19 non-essential business closures in the USA
Objectives We examined vape shop non-compliance with state-ordered business closures during COVID-19, changes in their marketing and experiences among consumers.

Methods As part of a longitudinal study of vape retail in six metropolitan statistical areas (MSAs; Atlanta, Boston, Minneapolis, Oklahoma City, San Diego and Seattle), we conducted: (1) legal research to determine whether statewide COVID-19 orders required vape shops to close; (2) phone-based and web-based surveillance to assess vape shop activity in March–June 2020 during shelter-in-place periods; and (3) a concurrent online survey of e-cigarette users about their experiences with vape retail.
---
Don't miss this opportunity – please respond to the government's consultation
https://t.co/42XuJ79ZQd

— NNAlliance (@NNAlliance) February 19, 2021
The number of smokers switching to vaping has doubled. In the Netherlands 1% of the population uses vapour products, 99% of those have smoked first. There is no evidence vaping is a gateway to smoking. https://t.co/heeftZxq77

— European Tobacco Harm Reduction Advocates (@europethra) February 22, 2021
---
Matt Mackowiak
While some consequences of the deadly coronavirus pandemic are known and obvious, like the tragic loss of life and economic devastation, there are a host of other issues that have arisen — or will — as a side effect of COVID-19.

Some of these additional problems may be tough for policymakers and public health professionals to predict, but could still have long-term negative implications for Americans. A clear example of this was recently highlighted in a recent story in The Wall Street Journal that detailed how the "decades long decline" in cigarette sales has ended, in part, because of the pandemic.

Americans are turning back to cigarettes for a multitude of reasons. An easy one to understand is that more people are working from home or have sadly lost their jobs and therefore have more time and a greater ability to smoke.

Four from Dave Cross, Planet of the Vapes
The New Nicotine Alliance (NNA) has issued a call to action for vapers to get involved with the UK government's vaping law consultation. The overhaul of the Tobacco and Related Products legislation (TRPR) comes about due to Britain leaving the European Union and no longer being bound by the Tobacco Products Directive (TPD).

"Please respond to the UK government's open consultation for the review of the legislation which applies to vaping products," writes the NNA(1). "Brexit gives us an opportunity to diverge from the EU's TPD and it is crucial that we consumers tell the government what changes we want. We have lived with the consequences of the TPD, no one knows better than us! This is an easy and quick consultation to do, as there are only 6 questions which relate to safer nicotine products."
Campaign group We Vape has issued a call to vapers to join in with the UK Government's consultation into vaping and tobacco products (TRPR). The organisation believes that vapers have a critical role to play in communicating evidence and the importance of changing legislation to maximise the potential for reduced harm alternative nicotine products.

We Vape says: "The UK Government has now launched its consultation2 into vaping and tobacco products."

Mark Oates, who set up We Vape, commented: "Vaping around the world is under threat. The EU have just released a plan to tax it just as they do with cigarettes, they also want to ban flavours, and vaping outdoors in public places."
In their never-ending quest to find the next most dangerous flavour in eliquid, researchers with an anti-vape agenda have now declared that chocolate is "particularly harmful". The paper has been conveniently published at the same time Matthew Myers, president of the Campaign for Tobacco-Free Kids, demands Connecticut bans all flavours of e-liquid.

First they came for the menthol. And I did not speak out. Because I did not vape menthol

"Two weeks ago, a bipartisan coalition of 23 state attorneys general called on the Food and Drug Administration (FDA) to ban menthol cigarettes. We asserted that such a move would benefit public health overall, decrease youth smoking, and help mitigate the harm these products bring to minority populations. But even if the FDA decides to ban menthol cigarettes, it will likely take years before regulations are finalized and implemented," writes Myers and Connecticut attorney general William Tong1.
Phoebe Southworth took time off from her busy career covering fare-dodging Big Brother stars and celebrities visiting Primary schools in Swindon to pen an article for The Daily Telegraph that cherry picks information to give the totally wrong impression of what the authors said. In fact, she completely ignores the section where they state completely the opposite.

Some journalists go to great pains to point out that headlines are created by sub-editors to drive readers to the webpage or newspaper article. Southworth can't rely on this defence as the factual inaccuracies continue throughout the text. So grave are the errors that it could lead one to wonder if there was ever a showcase concert by a piano teacher either?
---

---
Have difficulty understanding nicotine concentration labels on vaping products
Introduction: E-cigarette/e-liquid nicotine concentrations typically are labeled as mg/ml or percent nicotine. We examined whether these metrics accurately convey nicotine strength to young e-cigarette users and if youth can compare concentrations presented in mg/ml and percent nicotine.

Methods: 821 adolescent and young adult e-cigarette users participated in the survey. Participants rated nicotine concentration strengths presented as mg/ml (0-60 mg/ml) and percent nicotine (0-6%) from "no nicotine" to "very high nicotine." Participants also viewed pairs of nicotine concentrations (e.g., 18 mg/ml vs 5%) and indicated which concentration was stronger or if the concentrations were equivalent.

In My Professional Opinion – Drug Science
CAPHRA Asia Pacific – Episode 4
---
A look back at how things have moved on or otherwise…
By Negative Media Coverage
Vaping has exploded in popularity in the United Kingdom in recent years, as more vape shops open and growing numbers of people use e-cigarettes instead of smoking, but many questions remain about the activity, the results of a survey show.

The survey, which was carried out by Google Surveys for British vaping retailer Electric Tobacconist, sought the UK public's views on using e-cigarettes as a smoking-cessation tool, and if they believe the devices have a public-health benefit.
To tax harmony on e-cigs and heated tobacco – Barnaby Page
The European Union's member states overwhelmingly want harmonised tax policies across the EU for both e-cigarettes and heated tobacco.

A new study from the European Commission, published this week, shows that 15 out of 24 member states responding to questions about taxation of heated tobacco products would like the EU to designate a specific tax category in which they should be placed, and set a minimum rate. Member states would be permitted to tax higher than that minimum if they wished.
---
Visit Nicotine Science & Policy for more News from around the World

---