Vapers Digest 19th February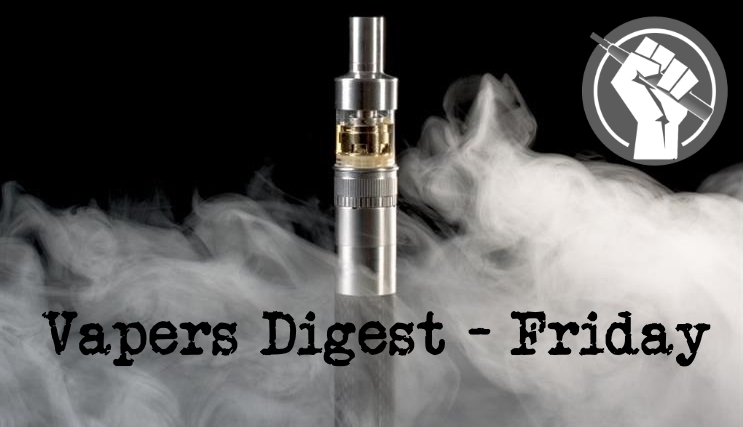 Friday's News at a glance:
Don't miss this opportunity to help shape vaping regulations – Big wins for Big Tobacco: – The groundless Dutch proposal to ban flavors – Germany proposes new €0.02 per mg tax – Maryland: Vape Tax Passes, Flavor Fight Continues – The State Of Business – Post-Brexit Opportunities – Follow the Evidence – Vaping and Covid-19: – BAT Beats Earnings Estimates as Vaping Sales Surge – Federal Mail Ban on Vape Products – THR product controls 'insane' – The Ethics of Tobacco Harm Reduction: – Vast potential for vape industry if regulated – CAPHRA warns against grant-for-policy scheme – Nicotine Science and Policy Daily Digest
To help shape vaping regulations – New Nicotine Alliance
Please respond to the UK government's open consultation for the review of the legislation which applies to vaping products. Brexit gives us an opportunity to diverge from the EU's Tobacco Products Directive (TPD) and it is crucial that we consumers tell the government what changes we want. We have lived with the consequences of the TPD, no one knows better than us!

This is an easy and quick consultation to do, as there are only 6 questions which relate to safer nicotine products.

The consultation ends on 19th March.

Link: Tobacco and related products legislation introduced between 2015 to 2016: reviewing effectiveness
Vaping category report 2021 – George Nott
Big Tobacco is winning big. And no, that's not just because the giants are selling more cigarettes and rolling tobacco. They're also making serious gains in the vaping market.

A quick look at the winning brands says it all. Vype (BAT), Logic (JTI) and Altria-backed Juul have all enjoyed substantial growth. Juul was a particular winner, adding an extra £16.9m in sales [Nielsen 52 w/e 9 January 2021]. Meanwhile, Vype is up 59% or £16.5m and remains the market leader, while Logic has grown 34% or £9.2m.

So why has Big Tobacco cashed in? What does it say about the vaping market? And how are smaller rivals fighting back against the dominance of the major brands?
---

---
To ban flavors in electronic vaping products – Chrysa K. Kazakou
Property Rights Alliance submitted public comments on "Regulation of E-Cigarette Flavors" concerning the proposal of Dutch Government to ban flavoring additives in components of electronic vaping products.

The Dutch Ministry of Health failed to consider the public health benefits of vaping products by introducing the following measures: The first measure taken was the smoking ban that was extended on 1 July 2020 on vaping and e-cigarette products with and without nicotine.

The second measure was the introduction of plain packaging for electronic vaping products from 2022, which will create an inhospitable environment for intellectual property rights. The Property Rights Alliance had also submitted comments to express its significant concerns about this  Dutch Executive Order.
ECigIntelligence
The German government is proposing a new tax scheme for nicotine-containing vaping products to come into force in summer 2022 as "a response to current market developments".

The Ministry of Finance plans to introduce a tax of €0.02 per mg of nicotine on e-liquids from 1st July next year. The rate would then be doubled to €0.04 per mg from 1st January 2024 to the end of 2026.

"This is appropriate for reasons of fair taxation since only nicotine-containing substances in e-cigarettes are to be regarded as substitutes for cigarettes," reads the draft of the proposed Tobacco Tax Modernisation Act (Tabaksteuermodernisierungsgesetz, TabStMoG).
---
---
Flavor Fight Continues – Jim McDonald, Vaping 360
The Maryland state legislature has overridden Governor Larry Hogan's veto of a bill passed last year, which will impose a tax on vaping product sales. The resurrection of the vape tax got little attention because the bill, HB 732, also includes a controversial digital advertising tax intended to fund major changes to the state's education system.

The new law will add a six percent sales tax at the point of sale (in addition to the state's standard six percent sales tax) on all open-system vaping products, and a 60 percent tax on e-liquid in containers smaller than five milliliters (pod- and cartridge-based vapes, disposables, and cigalikes). The law will also almost double the state's tax on cigarettes, increasing the per-pack levy from $2.00 to $3.75.
A mixture of fake news and deceptive journalism
Could an increase of 1% reported by a study obtain a dramatic headline in well-known international newspapers? The answer seems to be positive if it comes to demonise anything related to e-cigarettes.

The incriminated figure appears in a pre-print study: "Aerial Transmission of the SARS-COV-2 Virus through Environmental E-Cigarette Aerosol: Implications for Public Policies" by Dr Roberto Sussman, Prof. Riccardo Polosa, Eliana Golberstein.

The aim of the study was to measures how much vapers exhale compared to non-vapers, and if this had any consequences in the spreading of Covid-19. Research also would "contributes to the setting up of guidelines for public policies on vaping and smoking in the context of containment, prevention and mitigation strategies in the COVID-19 pandemic."

Three from Dave Cross, Planet of the Vapes
Some predicted the vape bubble was set to burst in 2018, Planet of the Vapes looks at how the market is currently performing. While the introduction of the Tobacco Products Directive heralded the demise of some independent manufacturers mainly operating online, have businesses survived the denial of essential shop status and the enforced closure of brick-and-mortar stores during the COVID-19 lockdowns?

It was over two years ago that the BBC were asking if the vape bubble was about to burst1. Vapers, entrepreneurs, and those looking for a quick buck had opened up a vape store as vaping took off in the United Kingdom. The booming market couldn't continue as it was.
Gerry Stimson, public health social scientist and emeritus professor at Imperial College London, has spoken out about the post-Brexit tobacco policy reform opportunities presented to the United Kingdom. The themes in his essay published in the International Journal of Drug Policy was continued in his presentation to a recent fact-finding exercise conducted by the All-Party Parliamentary Group for Vaping.

Stimson, who is also the founder and Director of Knowledge-Action-Change1, is a believer in harm reduction and open dialogue. He is the power behind the Global Forum for Nicotine, an annual event where experts meet and share information about tobacco harm reduction.
Aotearoa Vapers Community Advocacy (AVCA) believes the opportunity is still there for the New Zealand to do the right thing on eliquid flavours. Despite the Smokefree Environments and Regulated Products (Vaping) Amendment Act 2020 now in play, "the Government could still opt to follow the evidence, not the emotion, when it comes to final decisions around the availability of vape flavours".

"Nearly a year since a Parliamentary petition on vaping flavours closed, and exactly six months since the Government's vaping legislation was passed, the petition organiser has submitted a supporting supplementary submission at the Health Select Committee's request," says AVCA
---

---
As Vaping Sales Surge – Callum Keown
British American Tobacco reported full-year earnings ahead of estimates on Wednesday, despite the impacts of Covid-19 as demand for e-cigarettes surged in 2020.

However, the FTSE 100-listed company's outlook for this year and its warning that the global tobacco market could fall around 3% in 2021 concerned investors as the stock fell more than 4%.
An Analysis of E-Cigarette Availability From the Perspectives of Utilitarianism, Bioethics, and Public Health Ethics
Much evidence suggests e-cigarettes are substantially less harmful than combustible cigarettes.  Assuming this is true, we analyze the ethical case for a policy of e-cigarette availability (ECA) as a tobacco harm reduction strategy. ECA involves making e-cigarettes available to allow smokers to switch to them, and informing smokers of the lower risks of e-cigarettes vis-à-vis smoking. After suggesting that utilitarian/consequentialist considerations do not provide an adequate ethical analysis, we analyze ECA using two other ethical frameworks. First, ECA is supported by a public health ethics framework. ECA is a population-level intervention consistent with respecting individual autonomy by using the least restrictive means to accomplish public health goals, and it supports equity and justice.
Jeopardizes Rural Health – Karl Abramson
At the end of 2020, Congress enacted legislation that would put the health of millions of adults, particularly those living in rural communities, in jeopardy. The measure — passed without debate and stuffed into the massive omnibus spending package — imposes a government ban on the adult purchase of reduced-risk tobacco alternatives through the mail. This will push many adults back to smoking deadly combustible cigarettes.

While many in urban and suburban areas have access to specialized stores stocking reduced risk tobacco alternatives, this is not a practical option in rural America.

MedicalBrief
Public interest consultant and former United Kingdom government advisor Clive Bates has accused policymakers and anti-tobacco lobbyists of 'insanely' turning their big guns on harm-reducing nicotine-related products instead of allowing market forces to edge out far more dangerous combustible tobacco products, writes MedicalBrief.

This was the key message from the former director of Action and Smoking and Health during a well-attended webinar titled "Vaping and Tobacco Harm Reduction", writes MedicalBrief's Chris Bateman. The webinar was hosted by Drug Science, a UK-based drugs advisory committee, and held on 10 February 2021.
The government must take immediate steps in implementing regulations for the vape industry in Malaysia for it to reach its full potential.

Persatuan E-Vaporizers dan Tembakau Alternatif Malaysia (MEVTA), an industry association representing more than 2,000 members of vape businesses in Malaysia, reaffirms that the country's vape industry has great potential and has grown into a matured industry with a strong ecosystem, from manufacturers, importers and retailers, the majority of whom are from the Bumiputera community.

MEVTA deputy secretary general Syamil Hanafiah said there are many local entrepreneurs especially from the Bumiputera community that have invested in the vape industry over the past decade, growing this sector into a strong ecosystem.
In My Professional Opinion
ET Edge Insights
A regional group of tobacco harm reduction (THR) advocates cautioned governments of low and middle-income countries (LMICs) not to succumb to the ploy of vested interest groups dangling money in exchange for policies that restricts and even ban alternative nicotine products which has been found to be much better options for smokers than cigarettes.

The Coalition of Asia Pacific Tobacco Harm Reduction Advocates (CAPHRA) said some public health experts have in fact raised concern over the activities of groups such as Bloomberg Philanthropies in offering grants or technical assistance to influence the formulation of policy and decisions of regulatory agencies on tobacco control, especially in LMICs.
---
A look back at how things have moved on or otherwise….
Christopher Snowdon, Velvet Glove, Iron Fist
Stanton Glantz has finally had his study on vaping/heart attacks retracted. It is hard to imagine that this his first retraction but given the gutter standards of the field he works in, it may be.

Brad Rodu and others have been calling for the Journal of the American Heart Association to retract this piece of junk for months. The study claimed that vaping increased the risk of heart attack among a group of ex-smokers.
James Dunworth, Ashtray Blog
A vape study co-published by Stanton Glantz which claimed vaping causes heart attacks was finally retracted yesterday by the Journal of the American Heart Association (JAHA).

The study had incensed vape researchers after it claimed that using vape products caused heart attacks – while failing to mention that most of the subjects in the study had heart attacks BEFORE starting vaping.
Ivan Oransky, Retraction Watch
The Journal of the American Heart Association (JAHA) today retracted a paper it published last year claiming that vaping was linked to heart attacks.

The paper, by Dharma Bhatta and Stanton Glantz of the University of California, San Francisco, has faced a barrage of criticism since its publication last June — and Glantz's claims, in a blog post, that the study was "More evidence that e-cigs cause heart attacks."
---
Visit Nicotine Science & Policy for more News from around the World

---