Vapers Digest 17th February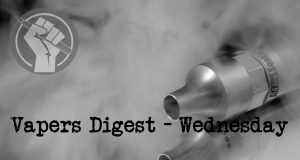 Wednesday's News at a glance:
Submit In Support Of Kiwi Vapers And Businesses This Lockdown ~ Swissx Sends Cease and Desist Letters To Companies Selling Patent Infringing Juul Products ~ Opinion: Flavor bans won't fight tobacco or improve health ~ Remember the PMTA List FDA Promised? It's Still Not Done ~ Perspective: FDA's Progress on Review of Tobacco Product Applications Submitted by the Sept. 9, 2020 Deadline ~ Webinar Diary Dates ~ Vaping's Not My Thing ~ FDA Receives More Than 15,000 PMTAs
, Scoop
Auckland's many smokefree supporters and vapers should use this latest lockdown, and wet weather, to submit on the Ministry of Health's draft vaping regulations and support Kiwi businesses, says a leading tobacco harm reduction advocate.
"Never waste a lockdown, and that includes Auckland's snap lockdown. Sadly, as a country we're miles off achieving Smokefree 2025 but if we don't get these vaping regulations right, we never will," says Nancy Loucas, co-director of Aotearoa Vapers Community Advocacy (AVCA).
Michael McGrady, Vaping Post
---

---
Jim McDonald, Vaping 360
Before last September's PMTA deadline, the FDA promised it would issue a list of products that have been submitted for consideration and are legal to remain on the market until further action. Today, instead of a list, FDA Center for Tobacco Products Director Mitch Zeller issued a statement explaining why there is still no list.

The short answer: small vaping companies submitted a lot of Premarket Tobacco Applications. One company submitted applications for four million products.
---
Truly extraordinary & ominous: 92% of pediatricians in recent survey say #ecigs are equally or more dangerous/hazardous to health than #cigarettes. What can be done when MD's believe the exact opposite of what the science says? https://t.co/gFLCkC9xBe

— Ethan Nadelmann (@ethannadelmann) February 16, 2021
---
Mitch Zeller, Director of the FDA's Center for Tobacco Products (CTP)
Following the Sept. 9 premarket application deadline for certain deemed new tobacco products on the market as of Aug. 8, 2016, FDA's job is to process, review, and take action on a massive number of applications for products that are currently on the market. Premarket review of new tobacco products is a critical part of how we carry out our mission to protect the public—especially kids—from the harms associated with tobacco use.
---
Two from Dave Cross, Planet Of The Vapes
Vape Nation is a free webinar being hosted by The Adam Smith Institute on 16 February. Three tobacco harm reduction experts will be discussing how the UK can lead the world in embracing safer alternative nicotine products. The other event comes from the other end of the spectrum. The ELMO-ENSP event will be discussing using lifestyle interventions to end e-cigarette use.
The Food and Drug Administration (FDA) is running another ridiculous and despicable anti-vaping campaign. In conjunction with the publisher Scholastic, middle and high school students are being encouraged to enter a "Vaping's Not My Thing" contest.
---
, CSP Daily News
The U.S. Food and Drug Administration (FDA) received more than 15,000 premarket tobacco product applications (PMTAs) in fiscal year 2020, according to data provided on the agency's website.

The FDA received the bulk of those applications in August and September, showing many tobacco and electronic nicotine delivery systems (ENDS) companies cut it close to the Sept. 9 deadline when applications were due. In August 2020, the FDA received 10,184 applications and in September 2020 it received 4,567.
---
---

---
Clive Bates, The Counterfactual
Welcome, this is my substantially upgraded 2020 Q & A on nicotine science and policy.

It mostly focusses on nicotine vaping as an alternative to smoking, but most of the argument also applies to heated tobacco products, modern smokeless tobacco and new oral nicotine products.  It consists of about 60 questions and builds on a brief Q & A that I submitted to a consultation, a critique of an absurd anti-vaping Q & A by the WHO and my critique of numerous false and misleading claims made by Professor Stanton Glantz.

Please propose new questions and new themes, or suggest better answers or additional recommendations for further reading in the comment section. Help make this better!
And taxes boost smoking – Fergus Mason
Vapers in the USA – and potentially around the world – are facing the threat of shortages as the coronavirus epidemic continues to paralyse swathes of the Chinese economy. Meanwhile a new study of US sales data shows that high taxes on vapour products are pushing ex-smokers back to harmful tobacco – just as harm reduction advocates have warned for years. This doesn't seem to matter to lawmakers, though, as they continue to push for taxes and bans using ever more dishonest methods.
---
Visit Nicotine Science & Policy for more News from around the World

---