Vapers Digest 15th February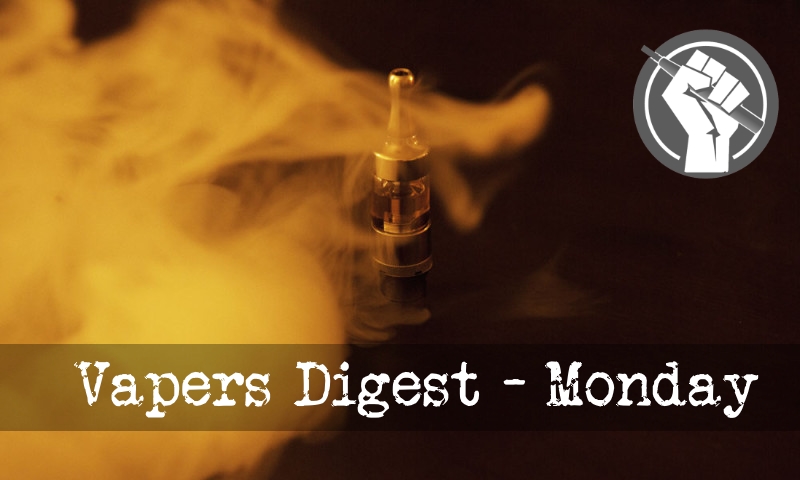 Monday's News at a glance:
APPG Holds COP9 Inquiry – Experts Highlight the Need for Vapers in Ireland to Unite – Eurobarometer: Reality hits EU Commission – One thousand, Three hundred – Age Guidance for Vendors Issued – Webinar Registration – Gottheimer, anti-vaping advocate, gets tobacco campaign cash and dividends – The US FDA Finalizes Two Minimum Requirements For The PMTA – Nicotine Science and Policy Daily Digest
Dave Cross, Planet of the Vapes
The All-Party Parliamentary Group (APPG) for Vaping held its initial fact gathering inquiry for the forthcoming World Health Organization (WHO) Framework Convention for Tobacco Control (FCTC) Conference of Parties (COP9). It heard representations from the UK Vape Industry Association, Professor Lynne Dawkins, the New Nicotine Alliance and WeVape.

APPG parliamentarians present included Mark Pawsey, Gareth Johnson, Adam Afriyie, Mary Glindon and Viscount Matt Ridley. The event represented the first for the APPG in a series that will help it make recommendations for parliament's representatives at COP9.

The politicians were seeking information about the organisations and individuals represented at the inquiry and their opinion on WHO, FCTC and COP.
Joe Dunne
Last month the Respect Vapers team met with a leading specialist in addiction, Dr Garret Mc Govern, an international public health expert, Prof Lion Shahab and one of our members, Michael Dwyer.

They shared their views on how Irish and European Governments are failing to accept that hundreds of thousands of people quit smoking tobacco thanks to vaping.

I include a link below, which gives you an insight on the views of the these experts.

It highlights the need for vapers in Ireland to unite to make sure the Government does not fail us and those who want to quit smoking, with its proposed legislation.
---

---
WVA
The recently published Eurobarometer report on "Attitudes of Europeans towards tobacco and electronic cigarettes" should be another wake up call to policymakers.

The Eurobarometer is a series of public opinion surveys regularly published by the EU Commission. The latest edition of the survey on e-cigarettes and tobacco shows more people are using vaping to quit smoking, especially with the use of flavours.

Equating vaping with smoking, higher taxes or tougher regulation not only defy scientific evidence but also ignore the real-life experience of millions of vapers.
Vape Nation – Adam Smith Institute
2021 is a pivotal year in the UK's fight to lower the smoking rate. With less than a decade left to achieve the Government's goal of a smoke-free society by 2030, we are now better placed than ever before to improve our world-leading tobacco harm reduction approach—both on the domestic and international level.

The ASI has published research on how vaping, snus, heated tobacco and other smoking alternatives can play a vital role in saving the lives of smokers while retaining freedom of choice, and the current political landscape makes reform a more attractive option than ever before.
---
"It would be very surprising if the coalition were to make the use of e-cigarettes so drastically tax-expensive. Finally, there is a consensus among scientists that the health risks of vaping are significantly lower than those of smoking cigarettes"https://t.co/grb1cmyevT

— European Tobacco Harm Reduction Advocates (@europethra) February 15, 2021
---
 Skip Murray
I started my day with a moment of silence. A quiet reflection about the 1,300 families who will be crying tears of sorrow today as they lose a loved one to death by smoking. This happens every day in America, the need to plan 1300 more funerals. A heartbreaking reality on Valentine's Day.

Twice, I've cried tears of fear followed by tears of gratitude when the Grim Reaper could have taken my son, but passed him by.

Behind the sunglasses is my son when he was 14. He's in his Jr. Dragster participating in a youth racing program. He's practicing harm reduction by wearing sunglasses, helmet, neck brace, fire suit, and arm restraints. He's tucked safely in a roll cage, with a quick release steering wheel, and a strong chromoly chassis.

Dave Cross, Planet of the Vapes
The Independent British Vape Trade Association (IBVTA) has issued a comprehensive age of sale guidance for vendors following a consultation process with its Primary Authority, Kent Trading Standards.

The IBVTA says that through the provision of credible knowledge and guidance, it "supports the independent vape trade and promotes constructive interaction between this industry sector and the scientific community, vapers, policy makers, and the general public."

The organisation offers many forms of guidance and support, including regulatory compliance advice. It firmly believes that non-compliance must not be allowed to become a competitive advantage over reputable businesses.
---

---
Gets tobacco campaign cash and dividends – Chris Marquette
Since coming to Congress in 2017, Rep. Josh Gottheimer has sponsored legislation to more tightly regulate tobacco products and aligned himself with a coalition of colleagues who advocate curbs on youth vaping — all while investing in a Fortune 200 tobacco conglomerate and receiving money from that firm's political action committee.

At a 2019 event in which Gottheimer announced a "war on youth vaping," the New Jersey Democrat listened intently as high schoolers recounted the perils of young people using e-cigarettes, such as JUUL, during the school day and even in class.

Months later, in February 2020, Gottheimer touted the House's passage of anti-vaping legislation he co-sponsored.

Diane Caruana
In a release on its website, the FDA explained that these two finalized foundational rules for the premarket review of new tobacco products, provide additional information on the minimum requirements for the content, format and review of premarket tobacco product applications (PMTAs) and substantial equivalence (SE) reports.

FDA Commissioner Stephen M. Hahn, M.D., explained that these two requirements will enable for greater transparency. "The finalization of these foundational rules is an important milestone in the FDA's regulation of tobacco products. The rules enable greater transparency and efficiency of the FDA's critical task of reviewing applications for tobacco products before new products can be sold in the United States and they describe information that any company must provide if they seek to market a new tobacco product in this country, fulfilling the promise of the Tobacco Control Act."
---
A look back at how things have moved on or otherwise…
In Dagens Næringsliv's recent vaping article – ETHRA
In this hard-hitting post researcher Karl Erik Lund slams Dagens Næringsliv's (Norway's largest financial newspaper) biased and erroneous report on e-cigarettes. On 1st February the DN ran a hugely negative fourteen-page article on vaping. Prior to the article, the newspaper had published a dramatic video-trailer on its website. The newspaper received a lot of reaction from vapers, and Nikan wrote to the journalists responsible. However, no corrections were made.

Dr Karl Erik Lund, a senior researcher at the Norwegian Institute of Public Health, has researched tobacco harm reduction and e-cigarettes since they entered the market. Dr Lund wrote to DN to refute five of the claims made in the article. The editor agreed only to print a shortened and edited version so Lund gave Nikan permission to publish the full version.
Are Not Dying from Diseases Associated with Smoking – Brad Rodu
American health authorities for years failed to directly compare the health effects of smoking with those of smokeless tobacco (ST) use, as it would have meant acknowledging the large difference in deaths attributable to these products.

That changed last year, when Altria's Michael Fisher and colleagues published the first-ever follow-up mortality study of cigarette smokers and ST users, using the U.S. Government's national surveys and National Death Index.
---
Visit Nicotine Science & Policy for more News from around the World

---