Vapers Digest 12th February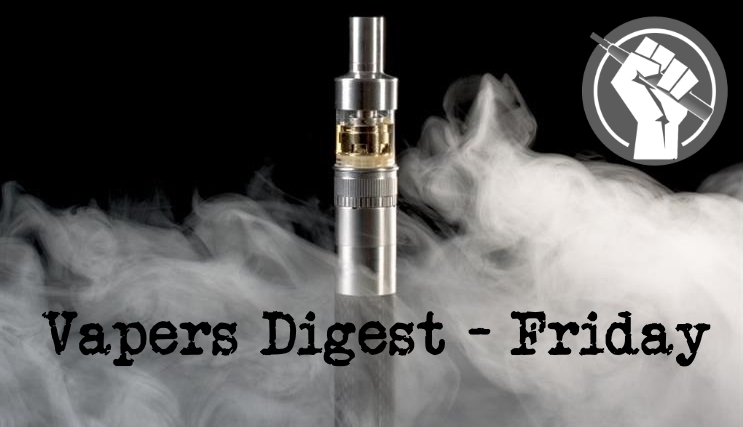 Friday's News at a glance:
Global Forum on Nicotine 2021 – "Sloppy journalism spreads contagion panic" – FDA Threatens More Small Vape Companies – All-Parliamentary Group Hears Vapor Advocates – ETHRA Slams "Perverse" European Commission – Parliament's Special Committee on Beating Cancer – Swansea FC Own Goal – NZ Vaping Regs "Positive and Pragmatic" – Fruity Little Dangers – Liberal Plan to Decrease Vaping Initiation – Drug Science submission to the WHO – Receipt of Cessation Treatments – Study doesn't say most vapers are 17% more likely to transmit Covid – Nicotine Science and Policy Daily Digest
Liverpool & Online: 17 – 18 June 2021
We are pleased to announce that the eighth edition of the Global Forum on Nicotine #GFN21 will take place in Liverpool, on Thursday 17th and Friday 18th June, at the Crowne Plaza Hotel, which is situated in the heart of the redevelopment of the city, on the banks of the River Mersey.

The theme for #GFN21 is 'the Future for Nicotine' and will address some of the concerns prompted by recent reviews and reports that will have an impact in different parts of the world, as well implications for discussions at the postponed FCTC COP 9 meeting, later this year.
IBVTA
The lead author of a study on vaping and Covid-19, Dr Roberto Sussman, Associate Professor at the University of Mexico City, has called one article in a British newspaper about the study 'sloppy journalism', and claims another misquoted the study and falsely attributed quotes to him.

The paper looked at the plausibility, scope and risks of aerial transmission of pathogens (including the SARS-CoV-2 virus) through respiratory droplets carried by exhaled e–cigarette aerosol, and found that, "low intensity vaping only produces a minuscule (∼1 %) extra contagion risk with respect to the control case scenario of continuous breathing."
---

---
Jim McDonald, Vaping 360
The FDA Center for Tobacco Products today issued 11 warning letters to vape manufacturers that have continued to sell products registered with the FDA without having filed Premarket Tobacco Applications (PMTAs). This is the third round of warnings since Jan. 15.

Products are not allowed to remain on the market if a PMTA was not submitted by Sept. 9, 2020, and no product that wasn't on the market before Aug. 8, 2016 is allowed to be sold at all without first receiving PMTA approval. So far, the FDA has not approved a PMTA for any e-liquid-based vaping product.
---
"The European Commission publishes its "plan to beat cancer" by 2035. While the initiatives and support measures are to be welcomed, vaping unfortunately undergoes the same treatment as smoking. ETHRA deplores this in a letter to MEPs …" #EUCancerPlan https://t.co/AnrwftZdyq

— European Tobacco Harm Reduction Advocates (@europethra) February 11, 2021
---
Tobacco Reporter
Prominent tobacco harm reduction advocates Gerry Stimson (Knowledge-Action-Change), Clive Bates (The Counterfactual), John Dunne (U.K. Vaping Industry Association) and Daniel Pryor (Adam Smith Institute) attended a virtual meeting organized by the U.K. All-Party Parliamentary Group (APPG) for Vaping, a collection of MPs and peers focused on e-cigarettes.

The tobacco harm reduction advocates' input will be used to advise the U.K. delegation to the Conference of the Parties (COP9) to the World Health Organization's Framework Convention on Tobacco Control, which is scheduled to take place in the Netherlands this November.

Five from Dave Cross, Planet of the Vapes
The European Tobacco Harm Reduction Advocates (ETHRA) umbrella consumer organisation has slammed what it calls the, "Perverse unintended consequences of proposed tobacco/nicotine policy measures in Europe's Beating Cancer Plan". The 22-member organisation represents vapers in 16 countries and says the Plan "signals that the Commission intends to turn its back on innovation and science".

ETHRA's members have just written to the MEPs on the Special Committee on Beating Cancer (BECA) to express their collective "dismay" at the proposals for vaping contained within the European Commission's Beating Cancer plan. "Consumers and experts submitted in their thousands to the two public consultations last year, yet those views are ignored in the Plan."
Parliament's Special Committee on Beating Cancer (BECA) announced its firm support of the controversial European Commission's Beating Cancer Plan. Its members believe that placing harsh restrictions on European vapers and disincentivising switching to smokers will somehow reduce the Union's cancer rates from tobacco use.

Polish BECA Chairperson Bartosz Arłukowicz said: "Over the last few years, fighting cancer has been high on the Parliament's agenda, culminating in setting up our Special Committee on Beating Cancer. In the midst of the COVID-19 pandemic, we cannot forget about the disease that kills 1.3 million Europeans every year, and for which there is no vaccination that can eliminate it altogether."
Aquavape was delighted to announce the takeover of one of its suppliers, saving 21 jobs in the process. The good news continued when a partnership was announced between the vape company and Swansea City Football Club. No sooner did the Swans publish details on their website the deal turned sour thanks to Twitter trolls, leaving some wondering how many were actually fans of the club.

Administrators FRP Advisory had been placed in charge of trying to salvage something from the Essex-based EOS Group's financial problems pushing them into receivership. The decline of the e-liquid manufacturer (Vapemate) placed 21 jobs at risk.
Kiwi vape giant Vapo says the New Zealand vaping regulations look positive and pragmatic and is encouraging consumers to give the government feedback. It says the Ministry of Health has done well to get out the draft vaping regulations given the ongoing Covid-19 pressures, and within six months of the vaping legislation being passed by Parliament.

VAPO and Alt New Zealand co-owners, Ben Pryor and Jonathan Devery, say it's critical Kiwis now submit feedback on the proposals, with public consultation closing on 15 March.
Some vapers have spoken about feeling healthier than when they smoked, some advocates have mentioned that nicotine has some benefits – but what if the public health experts are correct? What if we really should be working towards a zero-risk world? You will be amazed, horrified, and possibly a little bit shocked to discover that other things in life pose a huge risk to your health and wellbeing. It's clearly time to get tough on risk.

"An apple a day keeps the doctor away" Sure it does. But is it right to deliver blunt-force trauma to someone who has spent over seven years training to save lives? And what if you miss with the first apple? There is an economic cost associated with buying cases of apples to ensure that one of them lands on mark to deter the malevolent medic from making it into your home.
---

---
Increase Smoking – Saddle Horse Blues
On December 19th, when most Canadians were trying to figure out what the holidays would look like during a pandemic, the Federal Liberals quietly launched their latest attack on vaping. The most recent Canada Gazette deals with nicotine levels in vapour products. Specifically, the government plans to reduce the limit from 66 mg/ml to 20 mg/ml, a whopping 70% decrease.

If that sounds like a disaster waiting to happen, the government doesn't deny it. They concede that their new initiative will result in fewer people vaping and more people smoking. They go so far as to reassure tobacco manufacturers that revenues lost on vapour products can be recouped with cigarette sales.
Are 17% more likely to transmit Covid
The findings of a study looking at the relative risk of someone transmitting Covid-19 through exhalation while smoking an e-cigarette (vaping) have been reported by both The Telegraph and MailOnline. Both reported that vapers are up to 17% more likely to transmit Covid-19.

The study actually found that, for the vast majority of UK vapers, the increased risk of transmission is around 1% compared to someone who is just resting and breathing. This is considerably lower than the increased risk of transmission from talking or coughing. Concerns over the media reporting of this study have been shared on Twitter, including by the lead author of the study.

Drug Science
Fifteen years ago, the World Health Organization developed the Framework Convention on Tobacco Control (FCTC), which aims to provide governments with guidelines for reducing tobacco use.

Every two years, representatives meet at the Conference of the Parties (COP) to discuss ways in which the FCTC might be improved. The ninth Conference of the Parties (COP9) is scheduled to take place in November 2021. One topic which will be on the agenda is the regulation of alternative nicotine delivery devices.
Among Medicaid Enrollees Trying to Quit Smoking
Introduction: Cigarette smoking prevalence is higher among adults enrolled in Medicaid than adults with private health insurance. State Medicaid coverage of cessation treatments has been gradually improving in recent years; however, the extent to which this has translated into increased use of these treatments by Medicaid enrollees remains unknown.

Aims and Methods: Using Medicaid Analytic eXtract (MAX) files, we estimated state-level receipt of smoking cessation treatments and associated spending among Medicaid fee-for service (FFS) enrollees who try to quit. MAX data are the only national person-level data set available for the Medicaid program. We used the most recent MAX data available for each state and the District of Columbia (ranging from 2010 to 2014) for this analysis.
---
A look back at how things have moved on or otherwise….
University of Glasgow
New research confirms that low numbers of young people are vaping (using e-cigarettes), with vaping more common in young people from disadvantaged households who had never smoked before.

The study, led by the MRC/CSO Social and Public Health Sciences Unit, and published today in BMC Public Health, also found that while disadvantaged adult smokers were less likely to have quit smoking, this inequality was smaller among those who vaped, suggesting vaping may be helping this group of smokers to quit.
Nursing Times
Advising patients on how to stop smoking is part of a nurse's role. Patients can be resistant to the intervention and this article, the first of five on smoking cessation, offers insights on the importance of creating optimism about stopping smoking. It describes how to give very brief advice to encourage patients to make a life-changing decision to quit, the role of stop-smoking services, and the use of products and behavioural interventions that nurses can use to help reduce smoking prevalence and improve patients' health.
Tom Morawetz, The AM Show
Before taking up vaping, he tried to give up smoking six times but always returned to cigarettes. He says his health has improved dramatically since making the shift. His lifestyle has also changed for the better and he has saved a considerable amount of money.
---
Visit Nicotine Science & Policy for more News from around the World

---