Vapers Digest 10th February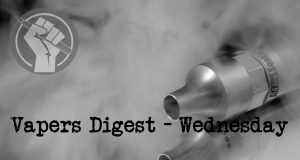 Wednesday's News at a glance:
Harm reduction organization warns governments against vested interest group influence ~ Czech drug expert criticises Commission's tobacco-free Europe plan ~ Small Business to Bear Brunt of U.S. Mail Ban ~ UKVIA Responds to the EC Cancer Report ~ IEVA Responds In Measured Fashion ~ WVA: EU Cancer Plan Misses The Mark ~ Smoking cessation and counseling: A mixed methods study of pediatricians and parents ~ Systematic review of biomarker findings from clinical studies of electronic cigarettes and heated tobacco products ~ The Battle Against Deadly EU Vape Laws
Manila Bulletin
Governments of low and middle-income countries (LMICs) were warned by the Coalition of Asia Pacific Tobacco Harm Reduction Advocates (CAPHRA) against foreign vested interest group's interference in local policies and regulations.

In a press statement, CAPHRA, a regional group of tobacco harm reduction (THR) advocates cautioned governments of LMICs "not to succumb to the ploy of vested interest groups dangling money in exchange for policies that restricts and even ban alternative nicotine products which has been found to be much better options for smokers than cigarettes."
---
Aneta Zachová, Euractiv
The European Commission's plan for a tobacco-free Europe by 2040, which envisages a stricter regulation of e-cigarettes and other alternatives, has been criticised by Czech anti-drug policy expert and founder of the Institute for Rational Addiction Policies, Jindřich Vobořil.

"The Cancer Beating Plan is a missed opportunity to effectively help people addicted to smoking, alcohol, and other addictive substances," Vobořil told EURACTIV.cz. "Addictions cannot be defeated by bans and regulations," he added.
Tobacco Reporter
The outlook for many small vapor companies and online retailers looks bleak following the enactment of new rules that prohibit the U.S. Postal Service (USPS) from shipping e-cigarettes, according to Keller and Heckman's Azim Chowdhury and Galen Rende.

Writing on The Continuum of Risk law blog, the attorneys discuss the fallout of a recent amendment to the 2009 All Cigarette Trafficking (PACT) Act.
---

---
Ooh. That's a lot. 17 countries own all or part of their own friggin tobacco companies. The @FCTCofficial welcomes their delegates with open arms at COP meetings. Then they reject journalists and nicotine USERS as meddling "industry influence."#Hypocrisy #TruthDiesInDarkness https://t.co/W9NndwCtjL

— ClovisSangrail (@ClovisSangrail4) February 9, 2021
---
What should be clearly understood by the public is that smoke-free products like e-cigarettes, snus, nicotine pouches, gums, lozenges, sprays, patches, ect… are safer than smoking & can help someone remain smoke free.

Smoking kills.
Quitting smoking is the goal, right?

— Logan E. 🏴 (@Logan_Exhales) February 8, 2021
---
Three from Dave Cross, Planet Of The Vapes
The UK Vape Industry Association (UKVIA) has responded to the European Commission 'Beating Cancer Plan'. Like all commentators with a concern for tobacco harm reduction, it is very disturbed by the proposals to treat vaping like smoking and restrict options for smokers.
While believing that we should be beating cancer with Harm Reduction, The Independent European Vape Alliance (IEVA) says it "welcomes and supports" the European Union's 'Beating Cancer Plan', presented by the European Commission. IEVA thinks the plan is "extremely important in order to significantly reduce the number of cancer-related deaths". However, it adds, the strategy neglects an important instrument for public health: Harm Reduction.
Europe has missed the mark with its new Beating Cancer Plan, according to the World Vapers' Alliance (WVA). The European Commission launched its document last week, on World Cancer Day, but the WVA, a group representing thousands of vapers worldwide, is concerned about the bias the report demonstrates against vaping.
---
PLOS One
Introduction:

Pediatric health care providers can play an important role in parental and youth smoking cessation [1] by advising patients to avoid tobacco smoke exposure, by asking about parental smoking status and by referring patients and parents who smoke to smoking cessation programs [2]. Secondhand smoke exposure (SHSe) in children has been associated with an increased incidence of ear infections, lower respiratory tract infections, wheezing, asthma, and death from sudden infant death syndrome [3]. In children with asthma, SHSe is a common trigger of asthma symptoms, and has been shown to worsen asthma severity [4–6]. In addition to the impact of SHSe, parental smoking is also an important risk factor for adolescent smoking and 80% of adult tobacco users started smoking before the age of 18 years [7, 8]. Because of these significant health impacts, The American Academy of Pediatrics (AAP) recognized tobacco control as a strategic priority in 2005 and tobacco use as a pediatric disease [8]. However, as of 2017, there had been no significant increase in pediatrician-delivered advice related to smoking exposure or behavior since the release of this statement [9]
---
Science Direct
---

---
Would improve everybody's cognitive toolkit? – Robert Innes

Some adults believe in ghosts: some children believe in giant spaghetti monsters, and some educationalists cannot see past their bias and believe that vaping has created a dangerous 'epidemic' that will harm the lives of young people.

"After reminding us that three-quarters of all Americans believe in angels, half of them in ghosts, he [Richard Dawkins] then argued that rather than blame stupidity for such beliefs, it was more optimistic to focus on something remediable: a lack of training in how to think critically, and how to discount personal opinion, prejudice and anecdote, in favour of evidence."
To challenge global health industry lies – Simon Clark
Last week Clive Bates, former director of ASH and now a leading advocate of reduced risk products, tweeted:

Idea: somehow find a billion dollar foundation to set up a system to meticulously track and challenge the false and misleading statements of WHO, CDC, Bloomberg-funded proxies, and call out the junk science and press releases of influential academics and medical society chancers.

I would be surprised if Clive's reference to a 'billion dollar foundation' was entirely innocent. He didn't elaborate though and none of the people who subsequently commented took the hint so let me spell it out.
---
Visit Nicotine Science & Policy for more News from around the World

---