Vapers Digest 8th February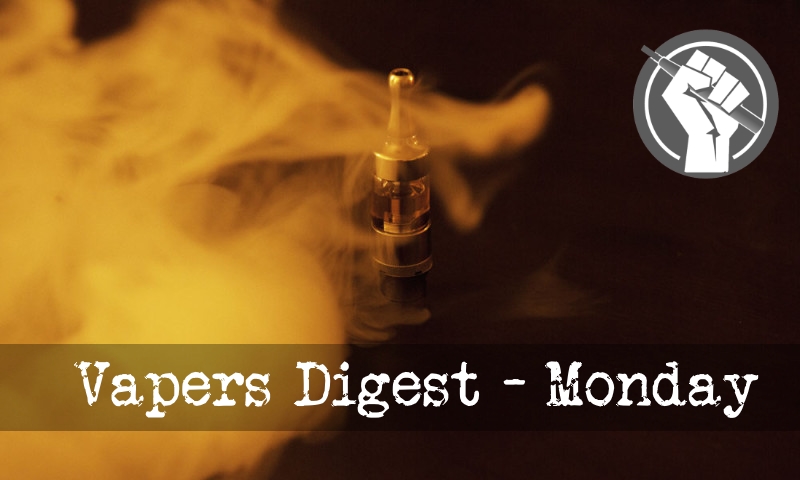 Monday's News at a glance:
COVID-19 and Vaping – Author and Editors Defend the Indefensible Stanford Study on Vaping & Covid – UK Government consultation on vaping & related tobacco products – Cochrane Testimonial: E-Cigarettes Show Up Even More Reliable Than Pure Nicotine Substitute Treatment – New committee hopes to have vaping regulations overturned – Europe Takes Draconian Stance – Engaging in Sustainable Vaping – You Dirty Rats – Smoke-free Alternatives Seek to be Considered in Efforts to Reduce Tobacco-Related Illnesses in Costa Rica – Excise duty on tobacco products to increase in Croatia from March – Nicotine Science and Policy Daily Digest
Christopher Snowdon, Velvet Glove Iron Fist
In my fifteen years reading and writing about junk science, I have occasionally wondered if the day would come when a relative risk of 1% would be considered newsworthy. That day has finally arrived thanks to the Telegraph…

Vapers with Covid-19 up to 20 per cent more likely to transmit it than infected non-smoker, study finds 

Vapers who have Covid-19 are up to 20 per cent more likely to transmit the virus, spreading it in clouds of smoke, a study has found.

Bystanders exposed to low intensity expirations from an infectious vaper in indoor spaces, such as houses and restaurants, are one per cent more likely to catch coronavirus, researchers from Italy, Mexico and New Zealand found.

The study in question is a pre-print by Sussman et al. It's not an epidemiological study and it doesn't attempt to measure risk. Instead, it measures air exhalation and respiratory droplets in indoor places. It essentially tries to answer the question of how much more air vapers exhale than non-vapers and whether this has any implications for the spread of SARS-CoV-2.
Stanford Study on Vaping & Covid – Brad Rodu
In August, I discussed a Stanford University study published in the Journal of Adolescent Health (JAH) claiming that young people who ever use e-cigarettes are five to seven times more likely to be diagnosed with Covid-19.  A group of harm reduction researchers subsequently wrote that the claims are implausible and the results "so suspect that any conclusions drawn from it [sic] cannot be relied upon…the paper should be retracted."

The JAH recently published four letters to the editor regarding that study (available here).  The letters were followed by a response from only one of three original contributors: senior author Bonnie Halpern-Felsher.  One is left to wonder about why her original co-authors didn't sign on to the reply.
---

---
On vaping & related tobacco products
The UK Government has launched its review of the Tobacco and Related Product Regulations (TRPR). These regulations were implemented in 2016 and are the UK's version of the European Union's Tobacco Products Directive.

5 years after implementation, as mandated by law, these regulations are being reviewed to assess whether they have met the objectives which ultimately was to reduce smoking rates in the UK.

The review of the TRPR will be in two stages. The first is a public consultation (launched on Friday 29th January) followed by a Government report outlining its recommended regulation changes. A link to the consultation is here
E-Cigarettes Show Up Even More Reliable Than Pure Nicotine Substitute Treatment
Madeleine Williamson
A recently released evaluation in the Cochrane Collection Data Source of Systematic Reviews gives additional proof that e-cigarettes and also vapor items are much more efficient than pure nicotine substitute treatment (NRT) in aiding cigarette smokers give up.

The writers used 50 finished research studies that had actually been released approximately January 2020, which stood for over 12,400 individuals. Of the 50 research studies, 26 were randomized control tests, "in which individuals that smoke were randomized to an [e-cigarette] or control problem." In order to be consisted of in the Cochrane evaluation, "research studies needed to report abstaining from cigarettes at 6 months or longer and/or information on negative occasions or various other pens of security at one week or longer."
---
Germany: proposed tax for eliquids
"the alternative that is 95 percent less harmful will be taxed higher than the variant that kills 120,000 people per year."
Steuern auf Liquids …für Dummies – https://t.co/aDlfgcG5Oi

— European Tobacco Harm Reduction Advocates (@europethra) February 8, 2021
---
To have vaping regulations overturned – Deborah Jackson
The National Retail Association (NRA) has formed a new Committee to be the voice for retailers of vaping products in Australia.

The Therapeutic Goods Administration (TGA) has recently ruled that from 1 October, consumers would only be allowed to access nicotine e-cigarettes and vape products with a doctor's prescription from a pharmacy, essentially locking out thousands of small businesses that have a proven history of responsibly selling regulated products such as tobacco, lotteries, and alcohol.

Jeff Rogut, the former CEO of the Australasian Association of Convenience Stores (AACS) has been appointed as advisor and spokesperson for the committee. Rogut has been a spokesperson for retailers for more than 10 years and has strongly supported the rights of retailers and smokers through numerous government submissions and appearances at government inquiries.

Three from Dave Cross, Planet of the Vapes
The European Commission presented the 'Beating Cancer Plan' on World Cancer Day, last week, heralding some draconian measures on vaping. Some of the aspects had been leaked prior to publication but the reality was far worse. We will be covering the plan and the responses to it across this week on Planet of the Vapes.

On achieving a tobacco-free Europe, the full text from the report states: "Tobacco consumption continues to be the leading cause of preventable cancer, with 27% of all cancers attributed to tobacco use. By eliminating tobacco use, nine out every ten cases of lung cancer could be avoided.
Once adults, most people have the wonderful opportunity of choice. From the food they eat in the morning, to the time they go to bed, and of course, the vices they decide to indulge in. However, with many of these choices, there are usually implications on how they will affect the environment.

When it comes to vaping, several choices are more sustainable and better for the planet. Choosing eco-friendly vaping options, especially as trends and the vaping industry continue to grow, is just one prime example of how to engage in more sustainable habits. To really make a difference for the environment though, it's important to find even more ways to engage in sustainable vaping.
Researchers clamped rats in tubes, force them to breath ridiculous levels of vapour, then kill them because "emerging research is beginning to challenge the 'relatively safe' perception of e-cigarettes". It's just another day in the life of American scientists who are willing to shred all sense of integrity in the pursuit of publication fame and the funding dollar.

Rats were placed into tubes akin to the ones we revealed in our article last year [link]. The seven-week-old, male Charles River Sprague Dawley rats were fed on "commercially certified rat chow" before breathing nothing but vapour for 3.3 second bursts, twice per minute, coming from a 0.15ohm KangerTech nickel head at unknown wattage. This continued for three solid hours, day after day.
---

---
Seek to be Considered in Efforts to Reduce Tobacco-Related Illnesses in Costa Rica
Various smoke-free alternatives for smokers – such as e-cigarettes – want to be recognized for their efforts to help reduce tobacco-associated diseases, including lung cancer. However, its manufacturers and users consider that the policies and campaigns against it are increasing. Hence, they ask for a space in the country to be heard from existing scientific information and not from the signaling or obstacles.

For example, in our country, project 21.658 is being processed in the Legislative Assembly. This aims to establish a 40% tax on the tax base of products related to vapers and electronic cigarettes. But the Chamber of Commerce and the Chamber of Industries of Costa Rica publicly spoke out against this project.

To increase in Croatia from March
From March 1, the Croatian government will raise excise duties on tobacco products, meaning higher prices for cigarettes, tobacco or heated tobacco products or e-cigarettes, which have recently become an increasingly popular alternative to classic cigarettes.

The Ministry of Finance published its proposal for a regulation on excise duties on tobacco products late yesterday afternoon, according to which excise duties on all products covered by that regulation increase, reports Jutarnji list.

The increase in excise duties on cigarettes is no surprise, but it is interesting that the largest increase in the state tax will occur on heated tobacco products where excise duty increases from 800 to 1,400 Kuna per kilogram. This is an increase in excise duty by as much as 75 percent, and such a sudden jump in excise duty on a tobacco product has not been recorded in Croatia so far.
---
A look back at how things have moved on or otherwise…
Of misleading the British public – New Nicotine Alliance
Last night, the ITV 'investigative' show Tonight broadcast a 30 minute probe into vaping which can generously be described as poor.

One wonders what the terms of commissioning were that resulted in a complete absence of balance and no information whatsoever being conveyed to UK viewers about harms in the US being exclusively caused by illegal black-market products involving contaminated liquids sold by criminals.

You would think that a responsible broadcaster would want to make that kind of vital and life-saving information available to viewers, but they didn't. As 'investigative journalists', they could surely not have been unaware of this fact …
Independent British Vape Trade Association (IBVTA),
At 7.30pm on February 6th, 2020, Jonathan Maitland presented the most unbalanced and misleading report on vaping seen to date on British television, as part of ITV's Tonight programme titled "How safe is your vape?"

The very title itself exposed itself as misleading, as the programme singularly failed to reasonably answer its own question using the wide range of objective evidence now available. To the knowledge of the IBVTA, no UK manufacturer or importer of vape products was approached with any right to reply or provide balance to arguments against the safety of vaping. The knowledgeable opinions of UK commentators were largely consigned to side notes, and the piece relied heavily on opinions from tobacco control activist Stanton Glantz, an ardent and discredited anti-vaping campaigner for many years. (1)

No UK trade association was approached for comment, despite attempts by IBVTA to contact the producers of the programme and ITV prior to the piece being aired.
---
Visit Nicotine Science & Policy for more News from around the World

---