Vaping Digest 7th February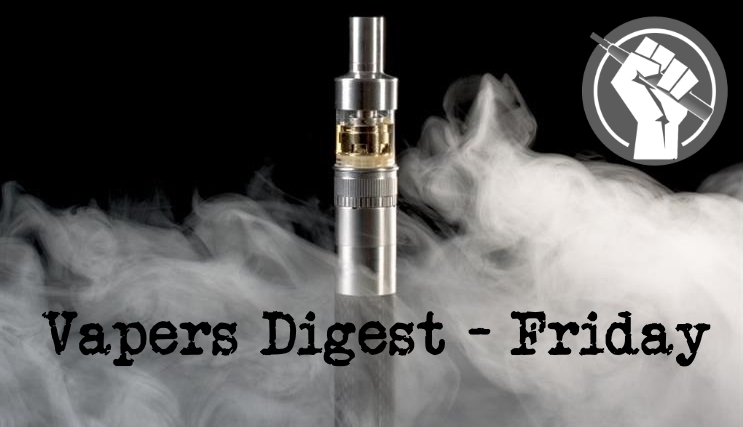 Friday's News at a glance:
ITV should be ashamed of misleading the British public – IBVTA statement on ITV's Tonight report – UKVIA Responds to ITV Tonight – "Is your vape safe?" We have had enough of the lies – ITV's 'How Safe is Your Vape?' – Our Response – Research: Vaping Helps Smokers Quit – Carry On Daily Mail – 95% Safer Or Not? – Indefensible Inaction by JAHA Editors – E-Cig Execs Beaten and Bullied by House Subcommittee – A Vision for Tobacco Policy; 2020 Edition – Africa: Can Technology Help Reduce Cancer – The good side of nicotine – E-Cigarettes Increasingly Blamed for Lung Illnesses – Congressional Hearing Descends Into a Moral Panic – Evidence on the Effect of Vaping on Smoking Relapse – Nicotine Science and Policy Daily Digest
Of misleading the British public – New Nicotine Alliance
Last night, the ITV 'investigative' show Tonight broadcast a 30 minute probe into vaping which can generously be described as poor.

One wonders what the terms of commissioning were that resulted in a complete absence of balance and no information whatsoever being conveyed to UK viewers about harms in the US being exclusively caused by illegal black-market products involving contaminated liquids sold by criminals.

You would think that a responsible broadcaster would want to make that kind of vital and life-saving information available to viewers, but they didn't. As 'investigative journalists', they could surely not have been unaware of this fact …
Independent British Vape Trade Association (IBVTA),
At 7.30pm on February 6th, 2020, Jonathan Maitland presented the most unbalanced and misleading report on vaping seen to date on British television, as part of ITV's Tonight programme titled "How safe is your vape?"

The very title itself exposed itself as misleading, as the programme singularly failed to reasonably answer its own question using the wide range of objective evidence now available. To the knowledge of the IBVTA, no UK manufacturer or importer of vape products was approached with any right to reply or provide balance to arguments against the safety of vaping. The knowledgeable opinions of UK commentators were largely consigned to side notes, and the piece relied heavily on opinions from tobacco control activist Stanton Glantz, an ardent and discredited anti-vaping campaigner for many years. (1)

No UK trade association was approached for comment, despite attempts by IBVTA to contact the producers of the programme and ITV prior to the piece being aired.
---

---
UK Vaping Industry Association
Due to the scale of inaccuracy and omission made by Johnathan Maitland's investigation for ITV yesterday evening (Thursday), the UK Vaping Industry Association (UKVIA) is compelled to respond. The show, entitled 'How Safe is your Vape?', will serve not to inform or protect the public, but instead to keep people smoking cigarettes.

The UKVIA was denied permission to comment on the show, which similarly failed to give the right-to-response to manufacturers and retailers. This proved severely detrimental to the balance of the programme, as evidenced by the particularly egregious examples below:
---
---
We have had enough of the lies – Rachel Davies
Everyone reaches a point where they have to stop and say "no more", and we have just reached it. No longer can we sit back and allow lies and deceit to shape our vaping industry. The programme aired on the evening of February 6th on ITV titled "Is your vape safe?" was the most unbalanced and misleading media "report" on vaping to date, and Totally Wicked will not stand by, we will take action.

The programme itself was incredibly one-sided, with a focus centred on deaths in the USA. There was not the slightest mention of the fact that these tragic incidents were due to the use of illicit THC cartridges, and there was no distinction that the cause wasn't 'vaping' in general. The truth remains that vaping saves lives.
Gordon Stribling, Vapouround
There is no doubt that smoking is one of the biggest causes of serious illness in the UK and around the world. Around 78,000 people die from smoking each year in the UK, and countless more endure serious smoking-related diseases.

However, as last night's 'How Safe is Your Vape' report showed, misplaced panic is putting society at risk of losing sight of that fact.

Its narrative relied heavily on the situation in the the US, where 2,711 people have been hospitalised with symptoms of 'EVALI', which the CDC said is 'strongly linked' to vitamin E acetate. This additive is found in black-market THC cartridges in the US, not regulated e-liquids sold on UK high streets.

Four from Dave Cross, Planet of the Vapes
Former smokers who quit tobacco within the last five years are likely to use e-cigarettes, while vaping is rare among those who quit more than a decade ago, reveals the findings of research by Konstantinos Farsalinos and Anastasia Barbouni, published online in British Medical Journal's Tobacco Control.

According to the press release, the authors say their findings suggest that today's smokers who want to quit are using e-cigarettes as an aid whereas in the past quitters had to rely on other smoking cessation aids, so few long-standing quitters have tried e-cigarettes.
It's a case of 'Carry On Screaming' for anybody reading the Daily Mail who is remotely interested in the truth about tobacco harm reduction and vaping. The newspaper persists in allowing fringe cranks to pontificate about something they barely understand. This week, the Mail invited Professor Simon Capewell to thrust his lies into the public domain again; a poor remake of 'Carry On Dick'.

"Questions are being raised over whether smoking e-cigarettes poses health risks," says the Daily Mail. "Is vaping really that much safer than cigarettes?"
Vaping was hitting its stride and breaking into mainstream consciousness at the start of 2015. People were beginning to form opinions based on scare stories and asking key questions – one of which was "Is it safer than smoking", the subject of our other article today. Public Health England (PHE) launched a report stating that vaping is at least 95% safer than smoking and harm reduction opponents have struggled with it ever since.

Professor Ann McNeil and Professor Peter Hajek produced three key findings in the report:
Tanmanjeet Singh Dhesi, MP for Slough, is concerned about smoking rates in pregnant women. David Jones, who represents Clwyd West, asked the Secretary of State for Health and Social Care about WHO's forthcoming Conference of the Parties (COP) and how this might impact British policy on vaping.

Smoking during pregnancy is the subject of a couple of current studies and a pilot program related to vaping. Forward thinking researchers believe switching to ecigs could be beneficial for pregnant women, foetuses and aid ongoing smoking cessation postpartum (the period after the baby has been delivered).
---

---
On Obvious Research Misconduct – Brad Rodu
For six months, Journal of the American Heart Association editors Drs. Barry London (barry-london@uiowa.edu), Daniel T. Eitzman (deitzman@umich.edu) and Janice Weinberg (janicew@bu.edu) have refused to correct demonstrably false research results published in the June issue. The work was authored by Drs. Dharma Bhatta and Stanton Glantz.

As reported in USA Today, the study "claimed adult vaping was 'associated with' a doubled risk of heart attack, but Glantz went further in a blog post, saying the study represented 'more evidence that e-cigs cause heart attacks.'"
Jim McDonald, Vaping 360
In an attempt to engineer an unforgettable historic moment like the famous 1994 "seven dwarves" hearing, House members beat, bullied and prodded executives from the top five e-cigarette manufacturers in a subcommittee hearing Wednesday morning. And, as in last summer's House hearing on JUUL, the executives mostly just sat there and accepted the beating.

The House Subcommittee on Oversight and Investigations of the Committee on Energy and Commerce titled the hearing, "Vaping in America: E-Cigarette Manufacturers' Impact on Public Health," but there wasn't much discussion of legitimate public health questions.
---
The Economist
---
Descends Into a Moral Panic – Guy Bentley
Today, the House Energy and Commerce Committee heard testimony from executives of the country's largest e-cigarette companies. Unfortunately, the hearing was littered with ad hominems, scientific inaccuracies, and scaremongering.

It was to be expected that the CEOs of these companies would receive tough questions about the rise in youth e-cigarette use. But in their zeal to condemn industry leaders, several members of Congress made factually inaccurate statements when it came to the risks of e-cigarettes.
On Smoking Relapse – Chelsea Boyd
The United Kingdom embraces vaping as a promising smoking cessation tool. As a result, encouraging the use of vapor products to achieve or maintain abstinence from combustible cigarettes has yielded a sizable decrease in the U.K.'s smoking rate. However, it is necessary to evaluate any public health intervention on more than one outcome. To be an effective cessation device, vapor products must not only help smokers quit, but they also must not increase relapse to combustible products.

What Does It Mean on the Ground?
It's 11:59 pm on a Wednesday night in America. Just the wrong time for your watermelon-flavored vape pod to run out. The same one that helped you quit the cigarettes that you smoked for 15 years. And you need this nicotine to help get you through a hectic week of work or study.

You dash through the glass doors of your favorite local store. But the time is now 12:01 am, and the cashier shakes his head at you: Effective immediately, flavored vape pods are banned in the US. But plenty of cigarettes are on sale behind the counter, among a reduced selection of vapes that you might enjoy less… So what do you do?
With FDA Vaping Deadline Nearing – Angelica Lavito
Juul Labs Inc. has hired former Food and Drug Administration employees and is recruiting more researchers as it prepares for a crucial regulatory hurdle that will determine the future of the top U.S. e-cigarette maker.

The company and its peers must submit applications to the FDA by May 12 in order to continue selling their products. The deadline is a defining moment for the e-cigarette industry, which has been under fire following a surge in teen vaping and a lung-injury outbreak that sickened thousands and was later tied to THC.
Jeff Stier
Smoking rates among adults and youth are plummeting. And while too many youth are vaping, legislators and regulators at the federal lave have recently made significant changes which are likely to improve the situation.

But state legislatures around the country are poised to do what some politicians do best: Overreact. That's what happened in New Jersey this month, where Governor Murphy signed a bill banning the sale of flavored e-cigarettes to everyone, including adult smokers.
And Other Tobacco-Related Killer Diseases?
Speaking at the International Conference on Harm Reduction in Non-Communicable Diseases (NCDs),  Professor David Khayat, a French oncologist, clarified the harm-reduction approach: "As an oncologist, I encourage my patients to quit. But if they can't, I must offer them alternatives."

"We need to support patients who have failed with other methods," he said. "Even when people know that smoking is bad for their health, they continue to smoke. 64% of people with lung cancer continue to smoke."
Everyone knows that smoking cigarettes increases your chances of lung cancer, heart disease and early death. But one researcher says that nicotine, the addictive substance found in cigarettes, may actually have some surprising benefits.

When Reece Dean started to experience changes in his mood, he never thought it would lead to a diagnosis of mild cognitive decline, the early stages of dementia. "He was very irritable and explosive almost at times," said his wife, Mary Ann Dean.
For Lung Illnesses, as Evidence Points Elsewhere – Sara Wilson
Even as health officials work to inform Americans that marijuana vaping products containing vitamin E acetate were linked to the majority of more than 2,600 lung disease hospitalizations last year, most U.S. adults still believe traditional e-cigarettes like those made by Juul Labs Inc. are more harmful than their THC-containing counterparts.

Sixty-six percent of adults still view e-cigarettes such as Juul as the culprit behind the lung illness that has claimed 60 lives, according to a Morning Consult poll of 2,200 adults from Jan. 28-30. That figure is up 8 percentage points from a Sept. 12-14, 2019, survey, conducted near the peak of the crisis — and about three months before the Centers for Disease Control and Prevention identified vaping products containing THC with a vitamin E acetate additive as the likely source of the lung injuries.
Cigarette smoking in the United States continue to decline
Lauren R.Pacek, F. Joseph McClernon
Nationally representative data from the years 2006-2015 indicate that the prevalence of perceived great risk of smoking one or more packs of cigarettes per day has declined significantly among the United States general population. These findings have important implications for initiation of cigarette smoking, as well as interest in quitting, quit attempts, and sustained cessation. Findings based on more recent data (i.e., years 2016-2018) show that the prevalence of perceived great risk of cigarette smoking has continued to decline significantly (71.76% versus 72.77% in 2016 and 73.89% in 2006). We aim to draw attention to this continued decline in risk perceptions, particularly given the possible associated public health impacts.
---
A look back at how things have moved on or otherwise….
Simon Clark, Talking Liberties
The Fine Gael Senator (above), who was awarded the title 'Nanny-in-Chief' by Forest in 2017, told the Irish Independent: "We are currently on track to miss our smoke-free deadlines in Ireland and I believe that we can correct this course by potentially incorporating e-cigarettes in our policies.

"In an ideal world none of these products would be necessary. However we must recognise the challenges in front of us and do everything we can to tackle smoking."
Regulator Watch, Brent Stafford
I have been doing a great deal of thinking about distinctions. Within popular discourse, there is considerable confusion regarding the value of, or motives behind, the making of distinctions.

Much derision is directed towards any person or institution who disposes its use, as the act of distinguishing between someone or something as being not the same could lead to treating one differently than the other. This is promoted to be the root cause of cultural, political, religious, racial and gender strife. Indeed if one argues the merits of distinction-making then vitriolic charges of racism, sexism or elitism cannot be far behind.
---
Visit Nicotine Science & Policy for more News from around the World

---