Vaping Digest February 6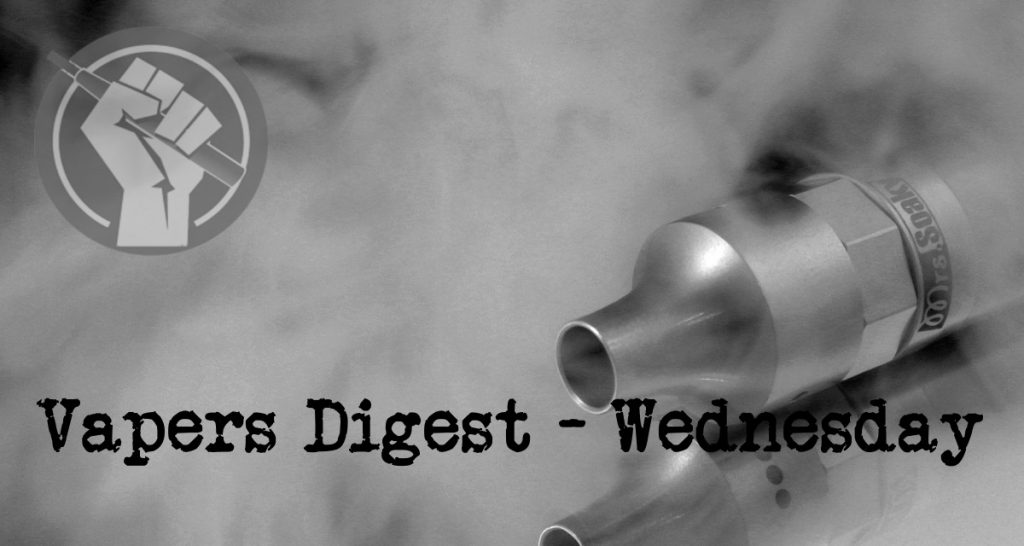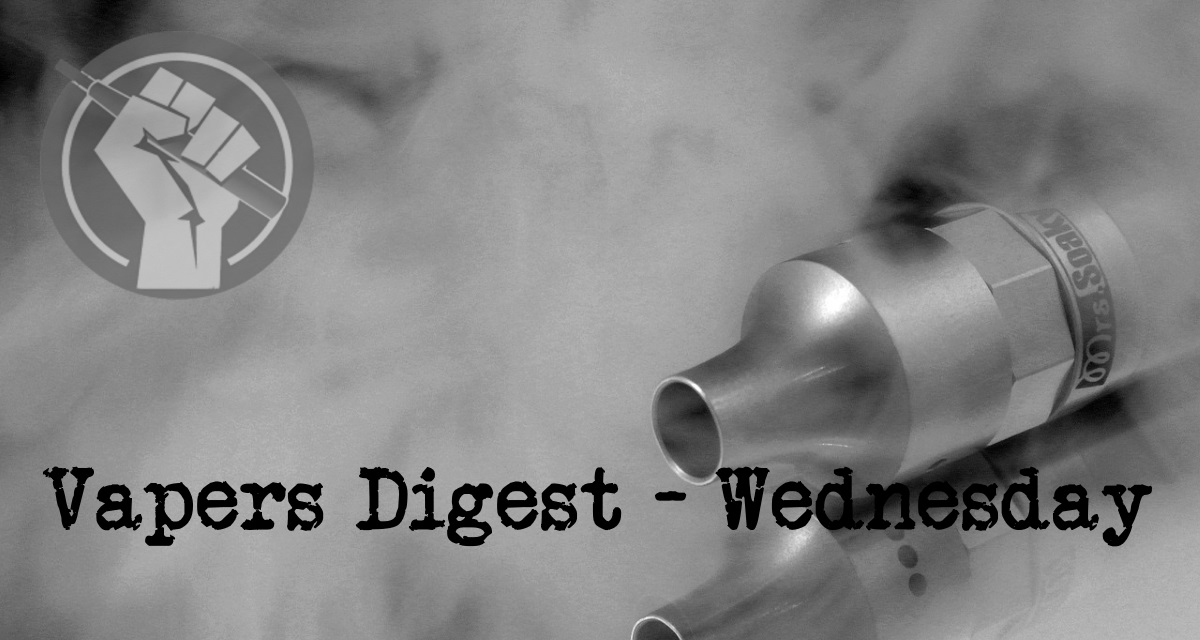 Wednesday's News at a glance:
Smoking or vaping, it's your choice ~ Prejudice against distinctions is killing smokers ~ More Popcorn Piffle ~ STS Trends Update ~ Tobacco: Sales ~ The Truth About E-cigarettes: Quit Smoking this World Cancer Day ~ The War Against Tobacco Flavors Will Fail ~ State Of Public Health: Failure ~ Plausible unintended consequences of excessive regulation of low-risk nicotine products ~ India may revise plans to restrict the online promotion of vaping and e-cigarettes ~ Strong Response to Efficacy Study ~ Vermont vapers face massive tax hit ~ Hawaii lawmaker wants to ban cigarette sales for anyone under 100 years old ~ It Is About Trust: Trust in Sources of Tobacco Health Information, Perceptions of Harm, and Use of E-Cigarettes.
Simon Clark, Talking Liberties
Regulator Watch, Brent Stafford
I have been doing a great deal of thinking about distinctions. Within popular discourse, there is considerable confusion regarding the value of, or motives behind, the making of distinctions.

Much derision is directed towards any person or institution who disposes its use, as the act of distinguishing between someone or something as being not the same could lead to treating one differently than the other. This is promoted to be the root cause of cultural, political, religious, racial and gender strife. Indeed if one argues the merits of distinction-making then vitriolic charges of racism, sexism or elitism cannot be far behind.

---

---
Dave Cross, Planet Of The Vapes
Joseph Allen and Quan Lu led a Harvard T.H. Chan School of Public Health team of researchers, looking at the effect of flavouring chemicals on lung cells. Deeply flawed from the outset, the study appears to have been designed to produce shock findings and ignored key factors.
Dave Cross, Planet Of The Vapes
Smoking in England is a portal led by Professor Robert West, providing key information about smoking and smoking cessation patterns in England. The project is funded by Cancer Research UK and conducted by a team at University College London (UCL). They have released an update for the vaping trends in England.
They Work For You, Department of Health and Social Care
To ask the Secretary of State for Health and Social Care, with reference to the Tobacco Products and Nicotine Inhaling Products (Amendment etc.) (EU Exit) Regulations 2018, whether products produced before the UK leaves the EU will still be legal to sell after the UK leaves the EU
---
---
Are e-cigarettes healthier than cigarettes?

Yes. Growing consensus suggests that e-cigarettes confer no more than 5% of the health risks associated with smoking. This is primarily due to the fact that e-cigarettes do not involve combustion which leads to the formation of harmful toxic and cancer-causing compounds.
Brad Rodu, Tobacco Truth
Tobacco prohibitionists have objected to tobacco flavors for years.  As I noted nine years ago, "Unflavored smokeless tobacco products are unappealing to many smokers, so the success of tobacco harm reduction is vitally dependent on the availability of substitutes that are satisfying and flavorful. Anti-tobacco extremists know very well that satisfying and flavorful products are now on the American market, so they are using ANY tactic, regardless of its practical or scientific validity, to promote prohibition."
---

---
Kevin Crowley, Vaping Links
Providing information about less harm barely exists. The State Of Public Health is a failure. The Lung Association just released their "State of Tobacco Control" report. I'll call it "Ironic Lung Failure".

Is the number one priority of reducing smoking rates in the United States about less smoking? Is it about complete quitting? Is it about preventing less harm (you read that right)? Or, is it about regulation, restriction, taxation, and the banning of less harmful, smoke-free alternatives to smoking?

Clive Bates, (PDF)
In its 2016 report on tobacco harm reduction, the Royal College of Physicians summarised the possible risks of unintended consequence arising from excessive regulation1:

A risk-averse, precautionary approach to e-cigarette regulation can be proposed as a means of minimising the risk of avoidable harm, eg exposure to toxins in e-cigarette vapour, renormalisation, gateway progression to smoking, or other real or potential risks.

However, if this approach also makes e-cigarettes less easily accessible, less palatable or acceptable, more expensive, less consumer friendly or pharmacologically less effective, or inhibits innovation and development of new and improved products, then it causes harm by perpetuating smoking.Getting this balance right is difficult.(Section 12.10 page 187)
---

---
Aria Thaker

, Quartz India
India's ministry of electronics and information technology (MeitY) is likely to walk back the stance on vaping laid out as part of its proposed rules for policing internet content.

This follows submissions made by India's fledgling vaping community that using e-cigarettes is not as harmful as smoking or chewing tobacco, and therefore should not be included in the rules. "We do not, in fact, understand vaping and ENDS (Electronic Nicotine Delivery Systems).
---
Dave Cross, Planet Of The Vapes
Last week's study founds that smokers attending UK Stop Smoking services were twice as likely to remain smoke-free if they had used vaping than if they'd used traditional nicotine-replacement therapies. Predictably, the huge randomised control trial (RCT) still wasn't good enough people like Simon Chapman and Martin McKee.
Vaping Post, Fergus Mason
E-cigarette users in Vermont are now facing a crushing tax blow, after the New England state's legislature passed an anti-vaping bill on Friday. Justified with the usual claims about deterring teenagers from becoming lifelong nicotine addicts, it threatens to slash the financial benefits of vaping so much that many smokers will be tempted to stick with what they know.
for anyone under 100 years old
, Global News CA
A bill effectively banning the sale of cigarettes in Hawaii is passing through the state's Senate this week. If passed, it means in a few years, nobody under the age of 100 would be able to buy cigarettes in the state.

Hawaii already has strict smoking regulations. It was the first state to raise the minimum age for purchasing tobacco products to 21 from 18. But now a state lawmaker wants to raise that age again — and quite higher.
Perceptions of Harm, and Use of E-Cigarettes.
Alcalá HE, Shimoga, PubMed
Recent research has highlighted disparities in people who perceive as trustworthy sources of e-cigarette health information. Research has yet to examine if trusting a particular source of information is associated with use of e-cigarettes or perceptions of e-cigarette harm. We use a nationally representative survey of American adults to address these gaps in knowledge.
---
 Visit Nicotine Science & Policy for more News from around the World

---