Vaping Digest February 8th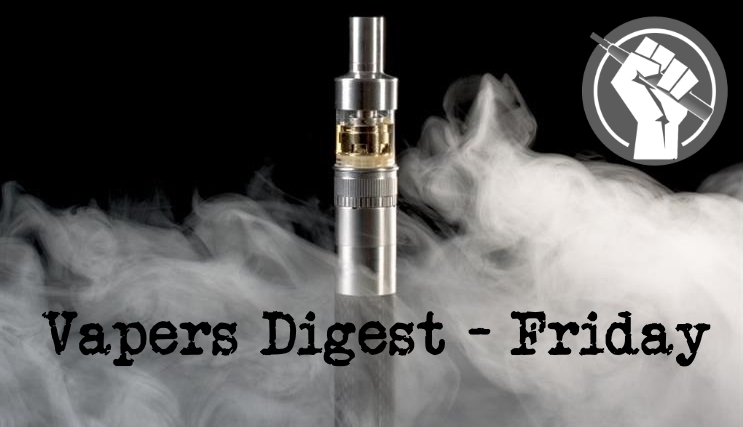 Friday's News at a glance:
Popcorn Poppycock – Science Special – Nic Salt Liquids – Global Forum on Nicotine – The Heart of the Problem – Characteristics of Vaping Products – New FDA Farce – Australian Poisoning Study – Vaping nicotine is the most popular way to quit cigarettes, so why's it banned? – Public Health Officials Should Avoid 'Deeming' Epidemics – Dirty Details of the Coordinated effort to Kill Vaping – The FDA's Refusal to Promote E-Cigs – Nicotine Science and Policy Daily Digest
Dick Puddlecote
You'd think, wouldn't you, that the US governmental Food and Drugs Administration would be tasked with giving the public information based on rigorous and robust science. Sadly, you'd be wrong.

This week – in the face of hysterical panic about youth use of e-cigs – they have produced a poster which they will be sending to every High School in America to be put up in school bathrooms. Now, let's put aside for a moment the laughable idiocy of showing kids the new risky fad that many of their peers use and that they might be missing out on, and look instead at what is in it.
Fergus Mason, Heat Not Burn
You've probably noticed that, as well as Heat not Burn products, we've recently started looking at nicotine salt e-liquids. If you're wondering why, there's a simple reason. We're all about making sure smokers who're looking for safer alternatives get the most effective products possible, and as much as I personally love vaping, conventional e-cigarettes do have some drawbacks. None of them are major, and all of them can be overcome with some practice and the right technique, but they do exist – and, for someone who's trying to quit smoking, they can make the difference between switching to vaping and nipping out for another pack of Marlboro.
---

---
The organisers are keen for as many consumers as possible to attend GFN 2019 and they have made a generous sum of money available to sponsor consumer advocates to go there.

Awards will be available to partially cover the costs of travel, accommodation and registration fees. You need to register your interest in applying for this sponsorship by writing to me, at jessica.harding@gfn.net.co by Friday 22nd March. Please state which of these you would like assistance with: travel, accommodation, registration for the conference, or all three.
---
---
To quit cigarettes, so why's it banned? – Jill Margo
When the young Robert Richter arrived at Melbourne University in the mid-'60s, smoking was in vogue. Hanging around the library, it made his fellow students look worldly and sophisticated, so he followed suit.

For the next 50 years he fitted in a pack-a-day, and although he often tried to quit, he was in a state of such deep addiction, he couldn't.

Without nicotine, he couldn't run the legal practice that has made him a celebrity barrister with a client list stretching from Melbourne's gangland figure Mick Gatto and Ray Williams of HIH, to former Elders IXL boss John Elliott and Cardinal George Pell.
Especially When They're Ignoring the One They Created – Lindsey Stroud
Words matter. For example, when the head of the U.S. Food and Drug Administration (FDA) decries an "epidemic," the media and state policymakers pay attention.

Unfortunately, sometimes public health officials creating fear mongering campaigns while ignoring real epidemics, including some that are killing children. Most frustratingly, some of these epidemics were created by a drug approved by FDA based on only "two clinical trials that demonstrated it was safe and effective."
---

---
Four from Dave Cross, Planet of the Vapes
"E-cigarette use increases the risk of stroke and heart attack", blared the American Stroke Association in the lead up to its International Stroke Conference in Honolulu. Experts without an axe to grind had shredded the research conclusions before the day was out.
"Using e-cigarettes increases your odds of having a stroke, heart attack and coronary heart disease, according to preliminary research," claimed the press release.
There is a huge range in different types of devices, atomisers, coils and wicks used in vaping. All too often, researchers are ignorant about vaping and how people vape. The nicotine vaping products (NVP) study conducted across four countries sought to fill in the gaps for future pieces of work.
The team included Ann McNeill from King's College, London. They explain the reasons for conducting the study: "The kind of NVPs people use, levels of overall use, and whether they use with nicotine, is likely to be affected by the regulatory environment. Further, devices which differ in the way they deliver the product are likely to affect overall use patterns, and potentially the public health implications.
The Food and Drug Administration's Scott Gottlieb and Surgeon General Jerome Adams are desperate to get back into children's toilets. They are pushing school administrators to erect a new set of ridiculous posters on bathroom walls. Many will be amazed if it doesn't lead to many more children believing this is a craze they can easily get into.
Last September, the FDA carried out a combined video/poster campaign which made vaping look like an incredibly cool horror film, dubbed "Vapeworms" by tobacco-harm reduction campaigners. The latest offering proves that Gottlieb and Adams know as much about kids as they do about vaping.
A study looking at eliquid-related calls to Australian Poisons Information Centres (APIC) confirms that the overwhelming majority are "mild and self-limiting". The Australian Tobacco Harm Reduction Association (ATHRA) were quick to highlight the findings in order to allay fears and counter anti-vape propaganda, calling for a change in how nicotine is legislated.
"Exposures to e-cigarettes and their refills: calls to Australian Poisons Information Centres" by Wylie et al was published in the Medical Journal of Australia last month. The report begins by stating the rate of vaping in Australia and noting, "e-cigarettes have been recommended by Public Health England and the Royal College of Physicians as safe smoking cessation tools."

To Kill Vaping – Brent Stafford, Regulator Watch
Vapers are more prone to suspicion than the average member of the public. As former smokers, they were the victims of subterfuge and duplicity at the hands of big tobacco. But could wild-eyed theories of government collusion with academia, public health interest groups and the media in an effort to kill vaping, be true?

The answer appears to be yes and the details are not pretty. In this episode of RegWatch Michelle Minton, Sr. Fellow from the Competitive Enterprise Institute and author of the exhaustive report "Fear Profiteers: How E-Cigarette Panic Benefits Health Activists," pulls back the curtain to expose the motives and tactics behind the public health war against vaping.
Is a Public Health Crisis – Julie Gunlock
The New York Times reports that a yearlong, randomized trial conducted in the UK shows that e-cigarettes are nearly twice as effective as smoking cessation products like patches or gum, which in the United States are the only two smoking cessation products approved by the FDA. In other words, e-cigarettes save lives.

According to the Times:
Illustrates About Addiction – Stanton Peele
The first large, systematic study of whether e-cigarettes help people to quit smoking was published January 30 in the New England Journal of Medicine, and covered by the New York Times, the BBC and many other major outlets.

The study, conducted among almost 900 smokers in England, compared e-cigs and nicotine replacement therapy (patches, gum, etc.) to discover whether vaping is helpful for cigarette cessation. The answer, unequivocally, was yes. The study found e-cigs to be roughly twice as likely to help cigarette smokers to quit as NRT.
For 'regulatory panic' on e-cigarettes – Laurie McGinley
A coalition of conservative and libertarian groups is demanding President Trump "pump the brakes" on the administration's crackdown on e-cigarettes, arguing the anti-vaping efforts will hurt "an innovative industry that is helping American smokers quit."

The letter, sent to the White House on Monday, criticized the Food and Drug Administration — and specifically its commissioner, Scott Gottlieb — for waging an "aggressive regulatory assault" on e-cigarettes. The signers include Americans for Tax Reform, ALEC Action, the Competitive Enterprise Institute and the Goldwater Institute.
Threatens entry of e-cigarette maker JUUL – Anirban Ghoshal
American e-cigarette maker JUUL's plans to enter India may have hit a roadblock as the IT ministry's proposed rules to regulate online content in the country include a ban on subject matter that jeopardises public health.

The Ministry of Electronics and Information Technology (MeitY) had in December issued a draft of the so-called 'intermediary guidelines' that would require companies to remove unlawful content within 24 hours.
Ryan Flanagan
Health Canada announced the proposed new rules Tuesday. They include a ban on e-cigarette advertisements at any stores where children are allowed inside, on billboards and other outdoor advertising spaces, and in transit vehicles and other public locations where children may be.

"We want to make sure that children are not going to be able to see this type of advertising," Health Minister Ginette Petitpas Taylor told reporters on Parliament Hill.
And E-Cigarettes – Susan Petroni
The Ashland Board of Health signed regulations banning the sale of mint, wintergreen, and menthol tobacco and e-cigarettes.

The ban goes into effect on January 1, 2020.

In 2011, the The U.S. Federal Drug Administration conducted a scientific review that concluded "that menthol cigarettes pose a public health risk above that seen with non-menthol cigarettes."
---
A look back at how things have moved on or otherwise….
Clive Bates, The Counterfactual
On this page I set out some of the good things on tobacco harm reduction that have come from England. Updated 7 February 2018.

Realistic science – Practical professional guidance and policy – Reasonable public health consensus statements and policy positions – Useful data – Engaged consumers – Groundbreaking conferences – Forthright commentators
A guide for healthcare professionals
NCSCT
This course has been developed to assist health and social care professionals support people who want to use electronic cigarettes (e-cigarettes) to help them quit smoking.

Health professionals are considered a reliable source of information by smokers and this course aims to provide them with the knowledge, and clinical guidance, to ensure that their advice is evidence-based and effective.
Among young women in Norway
New Nicotine Alliance
Government figures show that smoking has almost disappeared among young Norwegian women. In 2001 the smoking rate among females aged 16 to 24 was 30%. By 2017 that had collapsed to just 1%. By contrast the smoking rate for young women in the UK is 16%. Over the same period smoking among young Norwegian men has fallen from 29% to 3%.
---
Visit Nicotine Science & Policy for more News from around the World

---