Vaping Digest February 11th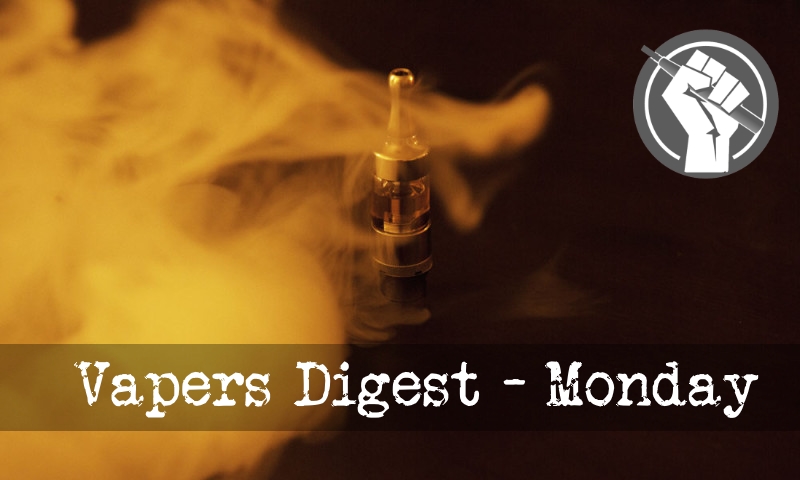 Monday's News at a glance:
Scientific Rigor in Tobacco Control Drops to an All-Time Low – Copenhagen Has Lower Lung Cancer Risk – FDA regulations prevent the sale of safer vaping products – Unbridled NEJM Bias – Questions in Parliament – Vaping In The News – February 9th – Expert Reaction to study comparing heat-not-burn, vaping and smoking – High profile barrister Robert Richter QC quits smoking with vaping – FDA Commissioner Praises Vape Shops – Irish anti-vaping sentiment needs to be stubbed out – Vaping part of car ban, disappointing – Nicotine Not To Be Blamed For Smoking-related Deaths – Is there anything completely safe to vape? – Nicotine Science and Policy Daily Digest
Drops to an All-Time Low – Michael Siegel
Based on the results of a cross-sectional study showing an association between using e-cigarettes and reporting that one has ever been told they have COPD (chronic obstructive lung disease), a number of researchers have essentially concluded that vaping causes COPD, and one researcher is telling the public that use of e-cigarettes increases one's risk of COPD just like cigarettes.

The paper, published in Drug and Alcohol Dependence, reports the results of a cross-sectional study based on the 2016 Behavioral Risk Factor Surveillance System (BRFSS) survey in Hawaii. The outcome variable was reporting ever having been told that one has COPD.
Brad Rodu, Tobacco Truth
The FDA Tobacco Products Scientific Advisory Committee (TPSAC) met on February 6 and 7  to consider smokeless manufacturers' advertising and marketing claims that their products are safer than cigarettes (making them modified risk tobacco products, or MRTPs).

Altria, whose U.S. Smokeless Tobacco Company subsidiary sought MRTP status for its Copenhagen snuff product, was the clear winner, as the committee approved the statement, "Switching completely to this product from cigarettes reduces risk of lung cancer." (here)
Prevent the sale of safer vaping products. This threatens lives.
Michael McGrady, Vaping Post
William Eric Brown, a 24-year old man of Tarrant County, TX, entered a vape shop seeking help from the clerks. According to an unnamed store manager of the Smoke and Vape DZ vape shop, Brown was having issues with a product that the store's staff didn't sell. After the interaction, according to local authorities, Brown further fumbled with his device until the battery exploded forcing debris into his body. Records obtained from the Tarrant County Medical Examiner concluded that he died of "cerebral infarction and herniation due to … dissection of the left internal carotid artery."
---

---
Dave Cross, Planet of the Vapes
POTV has covered many idiotic articles printed by The New England Journal of Medicine (NEJM ) over the years, but this month's editorial is a display of rank hypocrisy and dangerous deceitfulness. In slamming vaping, being partial about what kind of nicotine they don't like and calling for a ban on all flavours, the editorial team show themselves up as frauds.
Previously, the NEJM has covered itself in glory by frequently allowing Stanton Glantz to spout forth. On one occasion he waxed lyrical about how wonderful NRT was, while stating vaping could never work for smoking cessation because ecigs made smokers less likely to quit.
Dave Cross, Planet of the Vapes
Steve Brine MP, The Parliamentary Under-Secretary for Health and Social Care has responded to vape and general tobacco harm-related questions from the ever-keen Jim Shannon, Shadow DUP Spokesperson for Health. The questions covered trade associations, guidance for businesses and smoking cessation.
Given how active Shannon is on this matter, some might wonder why other parties shadow health ministers aren't as inquisitive? Rarely a month goes by now without Jim Shannon featuring in POTV's roundup from Parliament.
---
---
To study comparing heat-not-burn, vaping and smoking
Reactions to a study published in ERJ Open Research which claims that heat-not-burn eCig devices can alter lung function and may not be a safer option than cigarette or cCig vaping.
Kevin Crowley, Vaping Links
FDA: Conflict of Interest or Business As Usual ~ Collusion | Dirty Details of the Coordinated effort to Kill Vaping ~ State of Public Health: Failure ~ Smokeless Tobacco ~ Having Health Insurance Increases Your Risk ~ Does the American Lung Association Really Hate Smokers ~ Why is vaping now more dangerous ~ ATR Leads Coalition ~ It is about church
Michael J. McFadden – Quora
Whatever you heard about VG and PG was, in all probability, completely false. Antismokers lie, and have lied consistently for years and years on end, about almost everything under the sun in their frantic campaigning, and they see vaping as simply being another form of smoking… even though there's no evidence at all of any harm being caused by it.

Not only is there no evidence of harm, it is not beyond the realm of possibility that vaping could, at least possibly, be shown the future to be not only harmless, but actually beneficial to health!
---

---
Is a symptom of decades of failure to address smoking properly
Nicholas S Hopkinson, Reader in Respiratory Medicine
The annual Public Health England SmokeFree Health Harms campaign, now in its seventh year, focuses on the toxins present in cigarette smoke and their harmful effects on the body. A novel feature this year is emphasis on the relative safety of using an e-cigarette—"vaping"—compared to smoking. A video shows sticky yellow/black sludge appearing after a few packets of cigarettes are smoked through a simulator. The same noxious material is being deposited in the lungs of smokers and the shock value of the "jar of tar" is a familiar tool in smoking cessation. By contrast, there is no such accumulation of tar from an equivalent quantity of e-cigarette vapour.
Quits smoking with vaping – ATHRA
Robert Richter QC is a high profile barrister from Melbourne known for a celebrity client list stretching from Melbourne's gangland figure Mick Gatto and Ray Williams of HIH, to former Elders IXL boss John Elliott and Cardinal George Pell.

12 months ago he finally quit a heavy smoking habit by switching to vaping. This is his story in the Financial Review Today (with thanks to Robert Richter and journalist Jill Margo).

Read his story and the rest of the article HERE.
And what they are doing to Control Youth Access to Tobacco
Bill Kosinski, Tattoo Vape
FDA head Scott Gottlieb, in an interview with USA TODAY's Jayne O'Donnell, announces new regulations on how and where flavored vape juice can be sold. USA TODAY
In an interview with USA TODAY's Jayne O'Donnell, Scott Gottlieb; FDA Commissioner, explains new requirements for convenience stores and non-adult only shops where a majority of sales to minors occur.

The FDA anticipates that a majority of sales will occur in vape shops and adult only access shops where there is a capacity to ensure that underage sales do not occur.

Needs to be stubbed out – Dr Muiris Houston
With Ash Wednesday on the horizon, it brings with it one of the traditional times in the year when ideas about quitting smoking come alive. Will smokers reach out for nicotine replacement devices, prescription medication, sign up for a smoking cessation programme or simply go cold turkey?

In recent years, vaping has emerged as a smoking alternative. Invented in 2003 by Chinese scientist Hon Lik, the electronic cigarette delivers nicotine through an aerosol, rather than via the combustion products of dried tobacco leaves. And while it's an obvious aid for people quitting, until now there has been a reluctance to give the practice an enthusiastic thumbs-up.
"We totally support the Government banning cigarette smoking in cars when children and young people are present, but to also lump vaping in makes absolutely no sense," says Ben Pryor, director of Alt New Zealand.

"We're surprised vaping will be treated exactly the same as smoking in this instance when you consider Public Health England published compelling research last year that concluded 'there have been no identified health risks of passive vaping to by-standers'."
For Smoking-related Deaths, Says AVI
Fearing a blanket ban on e-cigarettes by the government in view of the limited awareness about the relative benefits of vaping over smoking, the Association of Vapors India (AVI) on Saturday stressed that nicotine should not be blamed for smoking-related deaths.

There is a widespread misconception about the health risks of vaping, which has led many Indian states to ban e-cigarettes, depriving smokers of a safer way of inhaling nicotine, said Samrat Chowdhery, Director, AVI, a not-for-profit advocacy organisation that defends the right to a healthier alternative to smoking.
Who quit cigarettes worried by new vaping laws
Sarah Gayford is one of hundreds of vapers in the Northern Territory who say they quit smoking tobacco with the help of vapes or e-cigarettes. When the Territory Parliament sits this week it is expected to debate for the first time how it will regulate the sale and use of e-cigarettes.

Ms Gayford, now in her early 40s, was just 39 when she suffered a stroke and her neurologist advised the life-time smoker to quit immediately or risk suffering another stroke.
Li Huizhen – Download as PDF
The smuggling of cigarettes in Hong Kong continued to linger, ranking first among the top four in Asia for four consecutive years. Oxford Economics today (28th) published the "2017 Research Report on the Illumination of Sixteen Countries in Asia", pointing out that the total cigarette consumption in Hong Kong in the previous year reached 5 billion, of which 1.4 billion were illicit cigarettes, and illegal tobacco
trade accounted for The overall tobacco trade consumption was nearly 30%, up 1.1% year-on-year, equivalent to one in every four cigarettes consumed in Hong Kong.
Macon Ramos-Araneta
E-cigarettes is twice as effective in helping smokers quit, an independent medical research funded by Britain's National Institute for Health Research.
Joey Dulay, president of the Philippine E-Cigarette Industry Association (PECIA), said the result of the research corrects the misconception on electronic cigarettes.
"No longer can anyone say that there is no reliable research on the effectiveness of e-cigarettes in curbing smoking," Dulay said.
---
A look back at how things have moved on or otherwise….
Reputable vape shops play in reducing smoking – IBVTA
The study, undertaken by Dr Emma Ward, University of East Anglia and published in the International Journal of Environmental Research and Public Health, found that vape shops provide behavioural support which could help people stop smoking and remain smoke free. According to the research, shop assistants were "really keen to understand customers' smoking preferences and are able to give tailored advice about the most appropriate products.". Additionally, the report recommends the NHS should consider working with reputable vape shops to help smokers quit.
Fergus Mason, Vaping Post
A controversial e-cigarette which was licensed for medical use two years ago has been shelved by its developers. BAT's eVoke, approved for use by Britain's National Health Service, was seen by some experts as an opportunity to bring vaping under the control of the health service – but now BAT say it's been overtaken by progress.
Gillian Golden – IBVTA
UNLIKE traditional cessation methods, vaping is empowering. It represents a market-based, user driven, public health insurgency. That is why it is so successful. No taxpayers' money has been spent, yet smokers are stopping, switching, and cutting down through the use of vape products. Every day Independent British Vape Trade Association (IBVTA) members are helping people switch from smoking to vaping. As Professor Riccardo Polosa, Director of the Institute for Internal and Emergency Medicine of the University of Catania in Italy, has said: "A very good vape shop employee can be better than a trained smoking cessation counsellor."
---
Visit Nicotine Science & Policy for more News from around the World

---