Vapers Digest February 7th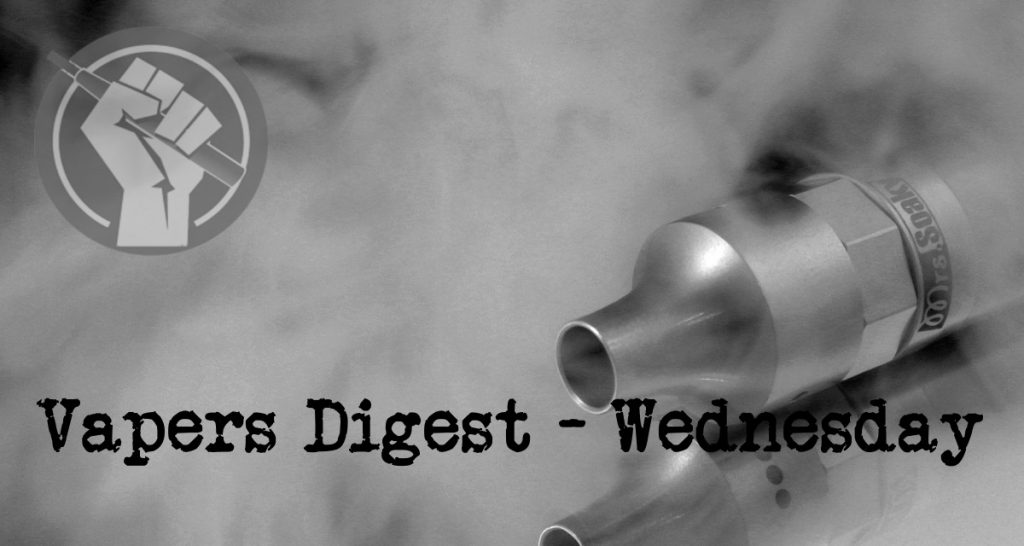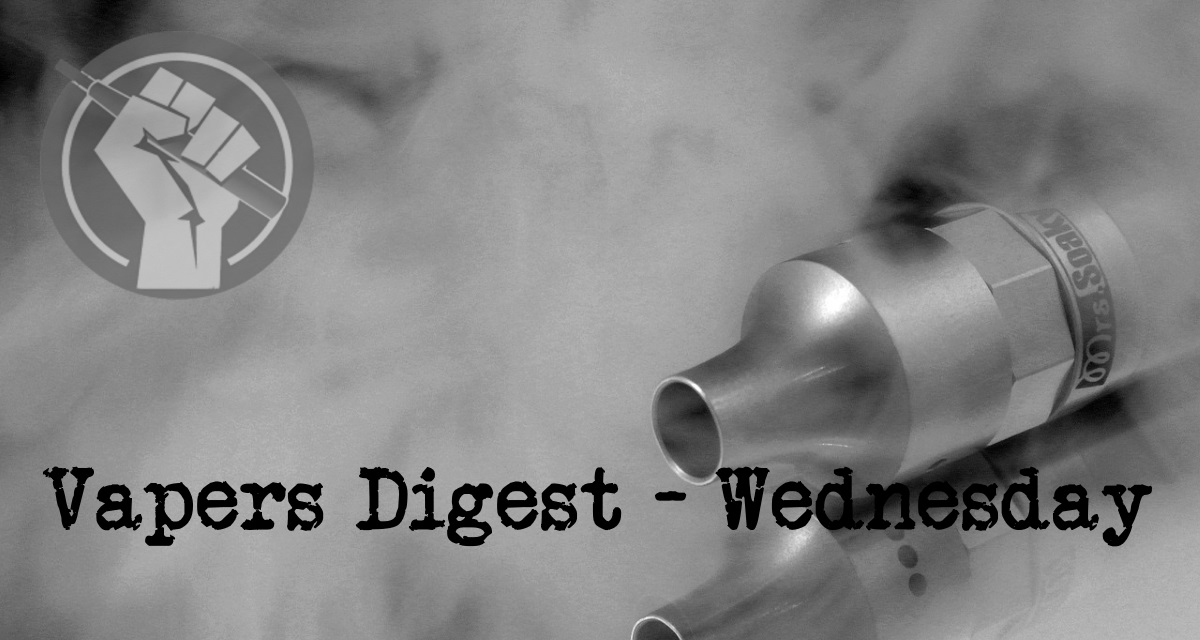 Wednesday's News at a glance:
Vaping and tobacco harm reduction – highlights from England – E-cigarettes: a guide for healthcare professionals – Ringing in the changes – Smoking plunges to 1% among young women in Norway – EU in denial over snus – Norway, Gateway? No Way – Misconceptions about e-cigarette safety – More than a million people use e-cigarettes – Why don't the regulators want to know? – Why PHE's pro-vaping crusade is the enemy of choice – Stanton Glantz And Ignoring The #MeToo Movement – Lawmakers ask FDA to reject Philip Morris' iQOS application – Mt. Pleasant proposes banning e-cigarettes – Ban moves forward in Lafayette – Nicotine Science and Policy Daily Digest
Clive Bates, The Counterfactual
On this page I set out some of the good things on tobacco harm reduction that have come from England. Updated 7 February 2018.

Realistic science – Practical professional guidance and policy – Reasonable public health consensus statements and policy positions – Useful data – Engaged consumers – Groundbreaking conferences – Forthright commentators
A guide for healthcare professionals
NCSCT
This course has been developed to assist health and social care professionals support people who want to use electronic cigarettes (e-cigarettes) to help them quit smoking.

Health professionals are considered a reliable source of information by smokers and this course aims to provide them with the knowledge, and clinical guidance, to ensure that their advice is evidence-based and effective.
Among young women in Norway
New Nicotine Alliance
Government figures show that smoking has almost disappeared among young Norwegian women. In 2001 the smoking rate among females aged 16 to 24 was 30%. By 2017 that had collapsed to just 1%. By contrast the smoking rate for young women in the UK is 16%. Over the same period smoking among young Norwegian men has fallen from 29% to 3%.
---

---
New Nicotine Alliance Newsletter
Here's a quick update.  We apologise for not sending more of these emails, there simply isn't enough time to keep you informed as well as we would like.  Do please get in touch though if you would like to speak with us, you can email us at info@nnalliance.org, message us via our Facebook page  or via Twitter:  @NNAlliance
Tobacco Reporter
The uptake of snus in Norway is being credited with almost eliminating cigarette smoking among young people living there.

In a note published on its website today, the New Nicotine Alliance (NNA) said that government figures showed the incidence of smoking among women aged 16-24 was down from 30 percent in 2001 to 0.1 percent, while the incidence of smoking among young men was down from 29 percent to three percent.
Harry Shapiro
You would think that any government looking at these figures for the steep decline in smoking among those under 25 would be a cause for celebration, Yes, over the same period, snus use has gone up, but that blows a hole in the gateway theory while all the independent evidence makes it clear that snus is so much safer than tobacco. The government gets what it wants – dramatically reduced smoking rates among young people (and among the population overall) while the population at large including young people make the consumer choice to use a safer product. Win-win? No, not at all.
---
Includes #ecigs. Yes, another *outdoor* vaping ban https://t.co/Hsm15WzXwz

— Dick Puddlecote (@Dick_Puddlecote) February 6, 2018
You are right but honestly, you all need to back down a bit on the prescription thing. It is creating a a LOT of outrage & animosity. The key thing ppl need to know is that it IS safer & nicotine is not a problem.

— Lorien Jollye CAO (@CaeruleanSea) February 6, 2018
---
Might be stopping smokers using them to quit
Public Health England has released its latest report on e-cigarettes, updating on research into their safety and making new recommendations.

The key findings won't come as a surprise to those who follow the research closely: research shows e-cigarettes are less harmful than tobacco cigarettes, and they can help smokers quit.

But a worrying trend continues to emerge. The report says that public perception of the safety of e-cigarettes has got worse in recent years, despite building evidence that vaping is less harmful than smoking.

Here's 4 things you need to know following yesterday's report.
Professor Peter Hajek – The Sun
E-cigs, invented in 2003, have hit the headlines over the years as they have been linked with cancer, auto- immune disease lupus, skin problem psoriasis and even cystic fybrosis.

Here, PROFESSOR PETER HAJEK, director of the Tobacco Dependence Research Unit, Queen Mary University of London, ­separates fact from fiction.
---

---
Why don't the regulators want to know?
Evidence-based policy' is the mantra of the public health lobby, but two events last week revealed how empty this slogan can be when ideology is in play.

The first took place at the European Court of Justice in Luxembourg and involved snus, an issue that I have written about before. It is hard to imagine a more unscientific and counterproductive health policy than the EU's ban on this smokeless tobacco product….
Is the enemy of choice – Simon Clark
Let me be clear. I've no problem with vaping being allowed in hospitals or anywhere else (I welcome it), but does anyone else feel ever so slightly queasy witnessing this evangelical crusade by a body that, let us not forget, is well known for its high-handed interventions in people's lives, whether it be smoking, eating or drinking.

Brent Stafford, Daily Vaper
The allegations are troubling: sexual harassment, racial discrimination and academic misconduct leveled against 71-year old Dr. Stanton Glantz, the most well-known tobacco control researcher in the world.

Glantz specializes in activist science; bringing fame and fortune to his Center for Tobacco Control Research and Education, which he heads, out of the University of California San Francisco.
Asia Pacific
Ten U.S. senators called on the Food and Drug Administration to reject Philip Morris International Inc's application to market its iQOS smoking device as being less risky than cigarettes, according to a letter to the agency's commissioner.

The senators, all Democrats, cited remarks by an expert scientific panel that reviewed the application for the U.S. FDA and voted last month against granting Philip Morris permission to do so, according to the letter, a copy of which was seen by Reuters.

Alexis Moberger
Currently, there is no ban on e-cigarettes. Monday night, the city council took its first vote of two on the proposed ordinance amendment. All council members voted in favor of the e-cigarette smoking ban.

The proposal would add e-cigarettes to the current smoking ban ordinance. That means e-cigarettes or vaping would not be allowed in indoor places like restaurants, work places and other common areas.
Use of electronic cigarettes is now banned from public indoor spaces as part of New York state's Clean Indoor Air Act. Nor is it allowed in certain outdoor areas where smoking is prohibited.

The state is still in the process of updating written materials to include the prohibition, the Clinton County Health Department said.
ABC NEWS
There has been a proposed ordinance to ban e-cigarettes in Mount Pleasant. The proposal seeks to make it illegal in Mount Pleasant to "vape" in any place where smoking is prohibited by law.

The Mayor and Town Council members are set to consider the proposal at an upcoming council meeting.
---
A look back at how things have moved on or otherwise….
Daily Mail
A Health article on January 27 said some experts believe electronic cigarettes can be more harmful than real ones. In  fact we are not aware of any experts who hold this view compared to the risks of cancer, heart disease and lung damage from real cigarettes. We apologise for any contrary suggestion.
Mia De Graff, Daily Mail
E-cigarettes are far less harmful than tobacco products, a study appears to confirm.

While vaporizers are touted as 'safe', health experts warn we still don't have enough evidence to say that for certain.

But a new set of experiments performed in the UK have shown lung tissue is barely affected at all by e-cigarettes – compared to the crippling affect cigarette smoke has one our organs.

Lungs exposed to tobacco suffered changes in 123 genes – mutating cells in a way that creates fertile ground for heart disease, inflammation, and even tumor growth.

Meanwhile just two genes were affected in lungs exposed to e-cigarette vapor.
Cancer Research UK
E-cigarettes are less toxic and safer to use compared to conventional cigarettes, according to research (link is external)* published in Annals of Internal Medicine today (Monday).

Cancer Research UK-funded scientists found that people who swapped smoking regular cigarettes for e-cigarettes or nicotine replacement therapy (NRT) for at least six months, had much lower levels of toxic and cancer causing substances in their body than people who continued to use conventional cigarettes.

For the first time, researchers analysed the saliva and urine of long-term e-cigarette and NRT users, as well as smokers, and compared body-level exposure to key chemicals.

See also: Carl Alexander (CRUK) , New Scientist , EurekAlert
---
Visit Nicotine Science & Policy for more News from around the World

---