PHE Special February 6th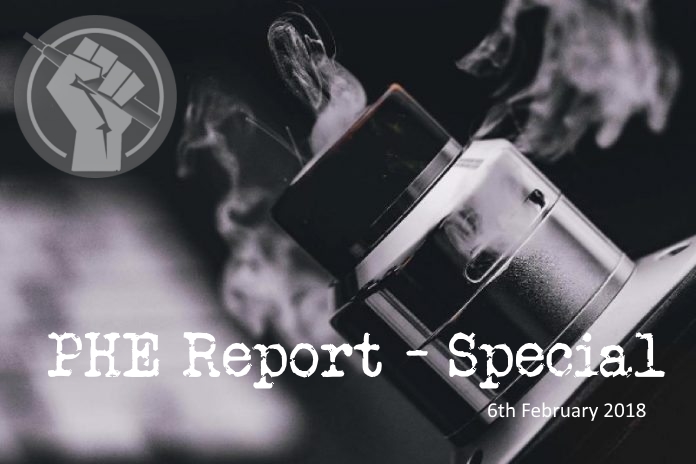 PHE Report at a glance:
PHE publishes independent expert e-cigarettes evidence review – Key questions and findings from our e-cigarette evidence update – PHE Misses the Mark – Vaping discussed on BBC Essex – Can We Have Our Money Back, PHE? – Public Health England Boosts its Support for Vaping – Comprehensive Report on Vaping – UK experts urge smokers to switch to e-cigs – New PHE review strengthens consensus – E-cigarettes should be on sale in hospital shops – Pregnant Smokers told to use E-Cigs
Public Health England
A new Public Health England (PHE) e-cigarette evidence review, undertaken by leading independent tobacco experts, provides an update on PHE's 2015 review.

The report covers e-cigarette use among young people and adults, public attitudes, the impact on quitting smoking, an update on risks to health and the role of nicotine. It also reviews heated tobacco products.
From our e-cigarette evidence update – John Newton
Many experts and professional bodies now agree that vaping is likely to be far less harmful than smoking.

Our latest report, which takes into account all new evidence since this point, covers regulation, EC use, ECs as a tool to help people quit smoking, and the safety of ECs, nicotine, and novel heat-not-burn tobacco products.

Below we look at some of the key questions and findings from the report.
---

---
Paul Barnes, Facts Do Matter
Following on from the "Evidence Update" in September 2015, Public Health England has done it again. In fact, they have gone as far as repeating the same mistakes as last time, by mentioning the word "prescription", and/or "NHS" in the press release.
Featuring NNA trustee Sarah Jakes
Thanks as always to @dnglos for the YouTubage
Dick Puddlecote
Public Health England swallows £4.5bn of our taxes each year. It spends it on such frivolity as telling us when the sun is coming out, bending science to pretend we're all drinking too much, and embarking on campaigns that are arguably dangerous, as this video shows.

The one area, though, where they have appeared vaguely sensible has always been with e-cigs, but today they have shown that they haven't the first clue about smokers and vapers at all. Via the BBC:
---
---
Jim McDonald, Vaping 360
Once again, public health authorities in the United States and the United Kingdom are looking at the same information on vaping, but seeing two different things. And, as usual, it's the British researchers who see mostly benefits.

Less than two weeks ago, the U.S. National Academies of Sciences, Engineering, and Medicine issued a 600-page report that grudgingly admitted vaping is safer than smoking — and then went on to focus on a supposedly proven gateway from teen vaping to smoking.
Mawsley, Planet of the Vapes
The National Academies of Sciences, Engineering, and Medicine (NASEM) has published a 'consensus study report', titled "Public Health Consequences of E-Cigarettes". It should be noted that NASEM has been criticised in the past for its funding practises and scientific appointments. The biggest issue appears to be the slant others are placing on the report's words.
---

---
On harm reduction role of e-cigarettes – RSPH
RSPH has welcomed a new comprehensive evidence review on e-cigarettes published by Public Health England (PHE). The report reflects an up-to-date evidence base that is increasingly pointing in the same direction: not only that vaping is at least 95% less harmful than smoking, but also that it is helping increasing numbers of smokers to quit.
To switch to e-cigs for big health gains
Kate Kelland – Reuters
In a review of evidence on e-cigarettes commissioned by the government-backed authority Public Health England, experts said e-cigarettes could already be helping some 20,000 UK smokers a year to quit tobacco – and possibly many more.

The report said there was "much public misunderstanding" about nicotine, with fewer than 10 percent of adults understanding that the vast majority of the harms from smoking are not caused by nicotine.

Sarah Boseley, The Guardian
Vaping should be widely encouraged as a way to help people quit smoking, and e-cigarettes should even be offered for sale in hospital shops, the government's public health body has said.

At least 20,000 people a year could be giving up cigarettes thanks to vaping, according to Public Health England's (PHE) latest review, which said more could be done to get people to switch to products that are far safer than smoking.
---

---
Josh Robbins
E-cigarettes are overwhelmingly healthier than tobacco smoke, and there is little evidence to suggest they act as a gateway for young people who then progress to smoking, Public Health England (PHE) has said.

PHE published the evidence review, which is consistent with the agency's previous findings that e-cigarette use – or "vaping" – is at least 95% less dangerous than smoking cigarettes.
Sophie Borland, Daily Mail
Pregnant women who smoke should be encouraged to switch to e-cigarettes, health officials claim.

Midwives and doctors are being urged to be 'positive' about the devices and explain that they are probably safer than tobacco.

Patients should also be allowed to vape in hospital – and hospitals should ensure e-cigarettes are available in their shops, it was suggested.
---
Visit Nicotine Science & Policy for more News from around the World

---