Vapers Digest February 5th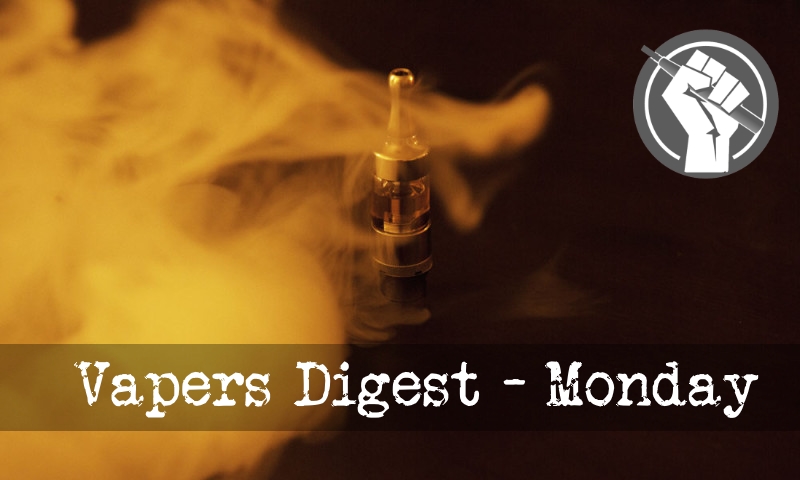 Monday's News at a glance:
E-cigarette trial makes Isle of Man jail 'calmer and safer' – Challenges to the ban on snus – NHS plan to prescribe e-cigarettes – Encourage smokers to use e-cigarettes – How (and Why) Health Experts Changed Their Opinion – Vapers In Singapore Are Now Criminals – National Academies Of Sciences E-Cig Report Gets It Wrong – The Precautionary Principle And Vaping – Dr. Farsalinos Submits Official Complaint To FDA Over Anti-Vaping Study – Our Sit Down With Director Aaron Biebert – Drippers, throat hits and fairy farts
Ellan Vannin, BBC
Allowing inmates to smoke e-cigarettes has made an Isle of Man jail "calmer and safer", a report has found.

The six-month pilot was introduced after a 2008 ban on tobacco led to inmates smoking "illicit materials" like nicotine patches and tea bags.

Introducing e-cigarettes as an alternative has seen "significant" improvements in behaviour and more prisoners seeking help to quit smoking.
News from the ECJ hearing in Luxembourg, 25 January 2018
New Nicotine Alliance
The ban was defended in court by Counsels for the UK government, the government of Norway, the European Parliament, the European Council and the European Commission. This being a challenge to EU law most of the arguments focused on proportionality and whether the ban is manifestly inappropriate ("A measure is only manifestly incorrect when judged against the information available at the time of the adoption of the rule."). The principle of proportionality requires that measures adopted by EU institutions should not exceed the limits of what is appropriate and necessary in order to attain the legitimate objectives pursued by the legislation in question.
---

---
Speaking in the Assembly last week the Conservative AM referred to new guidance by the British Medical Association stating "there are clear potential benefits to (e-cigarette) use in reducing the substantial harms associated with smoking, and a growing consensus that they are significantly less harmful than tobacco use".
Goes up in smoke after the only device licensed for medical use is axed
Plans to prescribe e-cigarettes on the NHS have collapsed following the abandonment of the only product licensed for medical use.

The eVoke device received approval two years ago amid hopes it could help thousands of smokers to quit.

But British American Tobacco, which holds the medical licence, says the product is unlikely to 'see the light of day' because of production difficulties.
---
---
Sam Allcock
Just a few years ago, if you mentioned e-cigarette usage to a doctor or health expert you would have likely received a warning about health risks, or perhaps just friendly tut-tuts of disapproval.

However, over the last few years, the opinions of many leading doctors and health professionals towards e-cigarettes have changed. In fact, today, many health advocates see e-cigarettes not as a public health risk, but as a potential harm reduction tool.
Jim McDonald, Vaping360
As of Feb. 1, anyone vaping in Singapore is a criminal. The Southeast Asian country had already banned sales of e-cigarettes, but now it's going after the buyers too.

Use or possession of "emerging or imitation tobacco products" is subject to fines of up to 2,000 Singapore dollars (about $1,500 U.S.). Importers or sellers of vapes, shisha, or smokeless tobacco are subject to fines as high as 10,000 Singapore dollars, and six months in jail. Repeat offenders can receive double those penalties.
---

---
E-Cig Report Gets It Wrong – Joel Nitzkin, Daily Vaper
The recently released National Academies of Sciences e-cigarette report leads to an incorrect conclusion that e-cigarette use increases the risk of using traditional combustible cigarettes. E-cigarettes lead many teens away from smoking, but they lead very few teen non-smokers to cigarettes or to long-term use of any other nicotine product.
Carl V. Phillips, Daily Vaper
Hardly a week goes by when some influential statement does not invoke the precautionary principle as an excuse for anti-vaping policy. This is always an error because the precautionary principle does not offer any argument in favor of restricting vaping or vapor products.

The precautionary principle gained prominence at the 1992 U.N. Conference on Environment and Development in Rio de Janeiro. It is not precisely defined, and there are countless somewhat contradictory proposed definitions.

To FDA Over Anti-Vaping Study
Once again it's Dr. Konstantinos Farsalinos that is fighting the good fight against false vaping information. This time he is calling into question research that was recently presented as part of the 2017 American Heart Association Scientific Sessions. The study in question was just published last week and was conducted by researchers at the University of California, San Francisco. Their report claimed to prove that the vapor produced by Heat not Burn (HnB) technology was as impactful to Flow-Mediated Dilation (FMD), as traditional tobacco smoke.
Glantz Sexual Harassment Allegations Leave Most Silent
Some might have noticed that it has been quiet for a while around Acvoda. Some things still happen in the background, but unfortunately it is not that much. Here are a number of reasons for:

In our goal to get the right knowledge about e-cigarettes in the right places and with the right people, we have been quite successful. But with all that information, little is done in practice and sometimes it is even ignored.
After years of hard work for fumes, motivation or capacity has disappeared from a number of members or other activities require priority.
---

---
For those of you that are not yet aware, A Billion Lives is a documentary film that has and is continuing to win film festival awards all around the world. The film was created to reveal the troubling facts surrounding vaping, pharmaceutical, tobacco companies, governments around the world and the seeming conspiracy that exists to defame and ultimately destroy vaping and vape technology around the globe.
Inside the hidden world – and secret language – of a vaping bar
The sign at the front door warns that anyone entering must be at least 18 years old and the frosted glass windows mean no one can see in or out.

Even the name of the business – The Steamery – suggests this brick building in a semi-industrial inner Sydney suburb might house something seedy, or at least vaguely illicit.

But behind the doors of this shop wedged between a store selling timber flooring and another selling taps is a completely legal operation, albeit one beset by regulatory restrictions more befitting a licensed premises.
---
A look back at how things have moved on or otherwise….
Dick Puddlecote
As I touched on in the last article, the Australian Therapeutic Goods Administration (TGA) yesterday decided to continue with their ban on e-cigs containing nicotine. Part of their flawed reasoning cited evidence from the US which is hardly surprising.

You see, one of the prime Australian 'experts' in tobacco control Down Under is the vandal-turned-clown Simple Simon Chapman, whose prejudice against e-cigs runs so deep that he has scoured the globe for straws to clutch in his attempt to obstruct vaping.
Clive Bates, The Counterfactual
On 5th January, Ireland's Health Information and Quality Authority published a draft Health Technology Assessment on smoking cessation interventions with a press release. The assessment was positive about e-cigarettes….
Dick Puddlecote
Tobacco controllers do love sound bites. If you've ever read an article by any one of them you know that generally you can skip the first paragraph of anything they write because it will be sound bite after sound bite and you'll have read it before, many times.

When e-cigs started to threaten the cosy existence of some of the more extreme tobacco control grandees, one of their favourite sound bites – repeated regularly – was that vaping was unregulated (it wasn't) and that the vaping market is "like the Wild West!".
---
Visit Nicotine Science & Policy for more News from around the World

---