Vaping Digest February 4th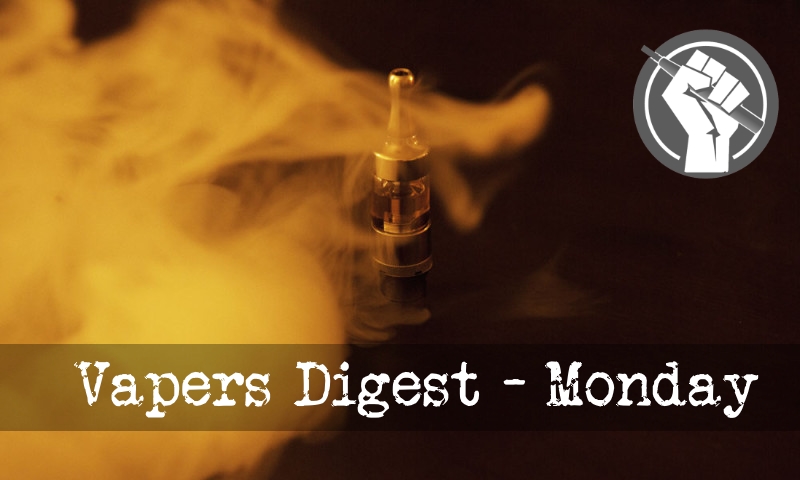 Monday's News at a glance:
US vapers face new legal threat, but British docs find proof e-cigs beat patches and gum – Gottlieb: E-cigs CAN Help Smokers Quit  – Smokeless Tobacco Can Save Lives – Does the American Lung Association Really Hate Smokers So Much – Vaping In The News – February 2nd – Global Forum on Nicotine – Who's smoking now – FDA: Conflict of Interest or Business As Usual – The Impact of Regulations – Email Opposition to the FSFW – Government urged to promote 'vaping' – Call For Review Of E-Cig Recommendations In Wales – The FDA's Refusal to Promote E-Cigs – Rules hurt 'innovative' e-cig industry – Why I quit the AMA over pill-testing hypocrisy – Tobacco harm reduction offers lessons to Asia – Nicotine Science and Policy Daily Digest
But British docs find proof e-cigs beat patches and gum – Fergus Mason
A radical new anti-vaping bill introduced to the US Congress threatens to ban all online sales and flavoured liquids. Two teams of scientists are also claiming to have found new evidence of the fabled "gateway effect" and fresh proof that vaping harms lungs. Both, for various reasons, are going a lot further than the evidence actually leads. More positively, a randomised trial comparing e-cigs and NRT has finally been carried out; unsurprisingly, e-cigs win by a mile.
And Improve Their Health – Kevin Crowley
Dr. Gottlieb of the Food and Drug Administration (FDA) tweeted "e-cigs can help currently addicted adult smokers quit; and improve their health." If you had internet connection issues yesterday, it may have been jolting shocks of horror from 'experts' seeing what he tweeted.

This isn't the first reference to less harm, Dr. Gottlieb has passively stated in the past: "If you could take every adult smoker and fully switch them to e-cigarettes, that would have a substantial public health impact". He's also stated:
But Only if Smokers Have All the Facts – Jeff Stier
When products have the potential to save millions of lives, it's helpful if people are told about those benefits. The Food and Drug Administration (FDA) can do just that as it considers allowing manufacturers of non-combustible tobacco products to notify smokers that completely switching from cigarettes to smokeless tobacco products can save lives.

To make smokers aware of the health benefits of quitting smoking by switching to lower-risk non-combustible products, Copenhagen Snuff manufacturer U.S. Smokeless Tobacco Company is among a number of companies asking the FDA for permission to print the following label on their products:
---

---
Really Hate Smokers So Much that They Discourage Quit Attempts Using E-Cigarettes
Michael Siegel, The Rest Of The Story
On Wednesday, the New England Journal of Medicine published a new study that reported the results of a one-year randomized, clinical trial in which e-cigarettes were compared to nicotine replacement therapy (NRT) to aid smoking cessation. The study was conducted in the UK, and both treatments were accompanied by behavioral counseling. The result: "The 1-year abstinence rate was 18.0% in the e-cigarette group, as compared with 9.9% in the nicotine-replacement group (relative risk, 1.83; 95% confidence interval [CI], 1.30 to 2.58)."
Kevin Crowley, Vaping Links
Vaperatti: Lawsuit for the Win, Ban Opposition for the Loss ~ Researchers Must Listen To Vapers ~ FDA knew stop smoking product clinical trials not science-based ~ You Don't Know Nicotine ~ Children in vape shops ~ Senator Burr (R-NC), much more than menthol cigarettes ~ Unacceptable Behavior by Tobacco Control Researchers ~ In case you missed it ~ Time flies
---
There is a clear commitment to look again at these regs. You'll understand if I can say no more than that, right?

— Martin Dockrell (@SwitchFinder) February 4, 2019
Check out our paper looking at delivery of nicotine to the blood from our myblu pod system using freebase and nicotine salt https://t.co/fn455iQJhz

— Tanvir Walele (@WaleleTanvir) February 4, 2019
---
The organisers are keen for as many consumers as possible to attend GFN 2019 and they have made a generous sum of money available to sponsor consumer advocates to go there.

Awards will be available to partially cover the costs of travel, accommodation and registration fees. You need to register your interest in applying for this sponsorship by writing to me, at jessica.harding@gfn.net.co by Friday 22nd March. Please state which of these you would like assistance with: travel, accommodation, registration for the conference, or all three.
The Conversation
Suppose you were told that there is something responsible for nearly 1 of every 5 deaths of Americans, and that it is completely avoidable. Would you believe – today – that "something" is cigarette smoking?

If you're a college graduate, you might not believe it. You don't smoke. Your friends and colleagues don't smoke. You never see smoke in your workplace, nor in the restaurants and bars you frequent. Like many of the nation's most educated citizens, you may well regard the problem of smoking as largely solved. Because the educated population is also the most politically engaged, cigarette smoking has virtually disappeared from the nation's health policy agenda.
Daniel Hall
In what began as a Senate Floor speech on the FDA's proposal to Ban Menthol Cigarettes, several startling facts came to light that truly show the conflict of interest in the Food & Drug Administration. Senator Richard Burr (R-NC) took to the floor with a message that paints the Government Agency in a less than shining light. He discussed the agencies inability to fulfill the tasks they were given and more importantly called into question the leadership's priorities when it came to not only Menthol Cigarettes but the entire field of harm reduction that they had left to rot.
---

---
Dave Cross, Planet of the Vapes
Research finds that vaping is (mostly) more prevalent in higher income countries with moderate to relaxed approaches to legislation; meaning tobacco harm reduction excels with a light-touch approach to laws. Twenty-five researchers from nineteen institutions looked at the impact of regulations in fourteen countries.
The Foundation for a Smokefree World's Charles Gardner commented: "Oh look. The UK, which has stopped lying to smokers about relative risks, has the highest number of recent ex-smokers. Australia, which continues to embrace the lies, has among the lowest. Hm."
Dave Cross, Planet of the Vapes
An email is circulating public health circles calling for signatures to a letter expressing concern over the Foundation for a Smoke-free World's (FSFW) letter to the World Health Organisation (WHO). The eight authors aim to block any moves for the FSFW to work in partnership with the WHO, placing blocks on the progress of reducing tobacco-related harm in the process.
The letter has been created by:

In the war against smoking – John Downing
IRELAND is falling behind in the war against smoking – so it is time to use "vaping" as a helpful "quitting tool," the Government has been told.

Fine Gael senator Catherine Noone said Ireland is at serious risk of not achieving its target of getting tobacco smoking below its target of 5pc in the next six years.

She said that increasingly anti-cancer and anti-smoking campaigners are reluctantly accepting that vaping can help people quit smoking.
Rhys Gregory
ASH Wales is calling for a review of recommendations around e-cigarettes in Wales, after a study showed they make quitting smoking easier.

The study led by Queen Mary University of London tested e-cigarettes and nicotine replacement products (NRT) such as patches and gum on 900 smokers in the first study of its kind.

It found that 18.0% of those using e-cigarettes managed to successfully quit smoking and were smoke free after a year, compared to just 9.9% of smokers using other forms of NRT.
Julie Gunlock, IWF
The New York Times reports that a yearlong, randomized trial conducted in the UK shows that e-cigarettes are nearly twice as effective as smoking cessation products like patches or gum, which in the United States are the only two smoking cessation products approved by the FDA. In other words, e-cigarettes save lives.
Laurie McGinley, The Washington Post
A coalition of conservative and libertarian groups is demanding that President Donald Trump "pump the brakes" on the administration's crackdown on e-cigarettes, arguing that the anti-vaping efforts will hurt "an innovative industry that is helping American smokers quit."

The letter, sent to the White House on Monday, criticized the Food and Drug Administration – and specifically its commissioner, Scott Gottlieb – for waging an "aggressive regulatory assault" on e-cigarettes. The signers include Americans for Tax Reform, ALEC Action, the Competitive Enterprise Institute and the Goldwater Institute.
Colin Mendelsohn
I have cancelled my membership of the Australian Medical Association after 30 years as a loyal member. I can no longer tolerate the AMA's hypocrisy on harm reduction: supporting pill testing for drug takers but opposing vaping to reduce the harm from smoking.

The association recently lent vocal support for pill testing at music festivals. Pill testing is a sensible harm reduction policy which aims to the reduce harm from illicit drugs. The association accepts that people will continue to use drugs despite the risk. Pill testing is a pragmatic solution which aims to reduce the harm that will inevitably occur in some cases.
Success stories in tobacco harm reduction can serve as "templates" that other Asia Pacific countries could adopt to stem the smoking epidemic in the region.
"The Philippines and other countries in the region would do well to emulate the successful tobacco harm reduction approaches presented during the 2nd Asia Harm Reduction Forum held in Makati City last year," said Peter Paul Dator, president of The Vapers Philippines.
Has left e-cigarette users fuming
India's plans to regulate internet content have put its vaping community at loggerheads with its government.

The country's ministry of electronics and IT proposed changes to India's Information Technology (IT) Act last December that would require web platforms like Facebook, WhatsApp, and Twitter to remove online content that promotes Electronic Nicotine Delivery Systems (ENDS). As a category, ENDS includes e-cigarettes and other methods of vaping, and currently occupies a legal grey area in India.
---
A look back at how things have moved on or otherwise….
Paul Barnes, Facts Do Matter
I noticed this piece in The Conversation yesterday (it also popped up on another, unrelated news site), and unlike the usual vaping related articles, it wasn't penned by the illustrious Simon Chapman.

Of course, just because it wasn't written by Chapman doesn't mean it's going to be a positive article. After all, The Conversation is his own playground.

I've written about regulations and standards before, and my views haven't changed. The BSI PAS was in response to the TPD and thus had to operate within the confines of that Directive, which as we know is very limiting in what can, and can't be done…
And US study spreads fresh misinformation
Fergus Mason, Vaping Post
Asian governments seem set on opposing harm reduction, with widespread raids on Malaysian vape shops and the arrest of two Israeli tourists in Thailand making the headlines. There has also been fresh media excitement over a study that claims to show vaping causes cancer, but the science behind it was immediately condemned by a major cancer charity.
---
Visit Nicotine Science & Policy for more News from around the World

---