Vaping Digest February 1st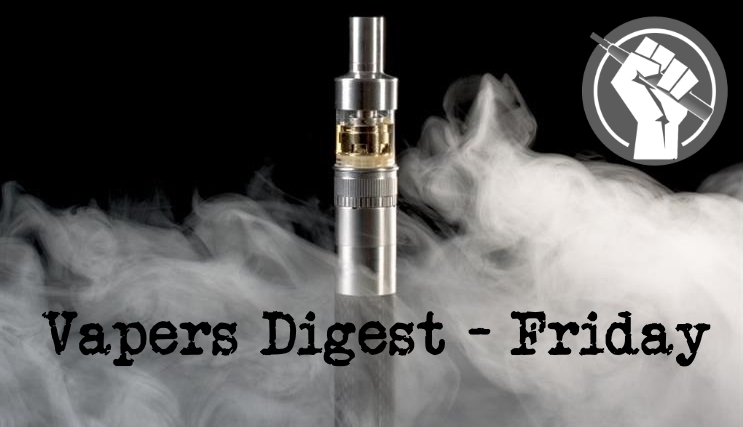 Friday's News at a glance:
The morning coffee, NNA January newsletter – Harry's blog 81: Supping with the Devil – "Liar, Liar Pants on Fire." – Researchers must listen to Vapers – A Randomized Trial of E-Cigarettes versus Nicotine-Replacement Therapy –  Twice As Good As NRT – 'Seminal Study' Provides Compelling Evidence – Medication Madness From Parents – Text To Quit – News Roundup – What you need to know about vaping in Saudi Arabia – Juul plans India e-cigarette entry – Nicotine Science and Policy Daily Digest
New Nicotine Alliance
While 2019 offers much promise for the fortunes of reduced risk products, it has been a slow start to the year. Rather like when you arrive at your place of work and pour yourself a coffee or tea before getting down to the nitty-gritty, the post-Christmas lull is a time to prepare for bigger things to come. However, the NNA has still been working towards better recognition of safer nicotine products in January. We start this month's round-up with a small victory for common sense.
Harry Shapiro
The celebrity chef and healthy food activist Hugh Fearnley-Whittingstall interviewed a director who was making a TV campaign to encourage kids to eat more vegetables. The director said that when he told people he was doing this their first response was 'OK. What's the twist? What evil company is behind this?'. And that is a perfectly understandable response when major food and drinks companies promote breakfast cereals, fizzy drinks and snacks loaded with sugar directly to children, and every type of store from supermarkets to garden centres …
---

---
Robert Innes, Vaping Post
In 2009 the US Food and Drug Administration (FDA) examined e cigarettes. Notably, they found a trace of diethylene glycol (DEG) in one sample.

But, let us take a closer look. It is clear that DEG is a deadly toxin. And, yes, it is used in anti-freeze. It was also used as a component in drugs: with deadly consequences. However, in all these, DEG was a deliberate part of the composition of the substance in question; With the case of the e cigarette it was found in a tiny quantity in the liquid. How it came to be there is unknown.
Who say, "Nothing about us without us"  – Charles Gardner
Years ago, at a global health research meeting, I remember one of the speakers complaining that researchers from high-income countries often "behave like a flock of seagulls" when working in low- and middle-income countries. She explained, "We have an ethical obligation not to fly in, collect the data, and then fly back out again, leaving behind only…what flocks of seagulls leave behind."
---
---
Versus Nicotine-Replacement Therapy
Peter Hajek, Ph.D., Anna Phillips-Waller, B.Sc., Dunja Przulj, Ph.D., Francesca Pesola, Ph.D., Katie Myers Smith, D.Psych., Natalie Bisal, M.Sc., Jinshuo Li, M.Phil., Steve Parrott, M.Sc., Peter Sasieni, Ph.D., Lynne Dawkins, Ph.D., Louise Ross, Maciej Goniewicz
We randomly assigned adults attending U.K. National Health Service stop-smoking services to either nicotine-replacement products of their choice, including product combinations, provided for up to 3 months, or an e-cigarette starter pack (a second-generation refillable e-cigarette with one bottle of nicotine e-liquid [18 mg per milliliter]), with a recommendation to purchase further e-liquids of the flavor and strength of their choice. Treatment included weekly behavioral support for at least 4 weeks. The primary outcome was sustained abstinence for 1 year, which was validated biochemically at the final visit. Participants who were lost to follow-up or did not provide biochemical validation were considered to not be abstinent. Secondary outcomes included participant-reported treatment usage and respiratory symptoms.
Dave Cross, Planet of the Vapes
Smokers attending UK Stop Smoking services were twice as likely to remain smoke-free if they had used vaping and counselling than if they'd used traditional nicotine-replacement therapies. A huge randomised control trial demonstrated that vaping works and there is no substance to claims it is a gateway to smoking.
Martin Dockrell, Public Health England: "What if a world class study found electronic cigarettes twice as effective for quitting as NRT? Well it has and if you reject it before you read it then you really need to ask yourself some hard questions."
E-Cigs Are More Effective Than Other Nicotine Products
Jacob Sullum, Reason
A new British study provides the strongest evidence yet that e-cigarettes are more effective as a smoking cessation aid than other forms of nicotine replacement. The results, reported yesterday in The New England Journal of Medicine, should encourage public health officials in the United States to embrace the harm-reducing potential of vaping, as their counterparts in the U.K. have been doing for years, rather than portraying e-cigarettes as a menace.
Jim McDonald, Vaping 360
Vaping skeptics question the efficacy of e-cigarettes for smoking cessation, often citing the lack of clinical trials proving a benefit to smokers. Randomized trials are usually used to test drugs intended to treat specific conditions. They typically compare two or more therapies with each other, or test drugs against a control group that receives a placebo.

The problem with translating drug research to a consumer product like e-cigarettes is that the strict protocols of a drug trial (all participants use a certain drug at a certain dose and interval) may not translate to products that succeed by offering a wide range of possibilities to users. After all, vaping isn't a cure for a disease, but rather a less risky consumption choice that competes with cigarettes.
---

---
Top trio from Dave Cross, Planet of the Vapes
The collection of crackpots and cranks at Parents Against Vaping (PAV) has issued a call for children to be given drug therapies so children can escape a fictional addiction to vaping. The organisation spends its time propagating lies and half-truths and now wants children to have something more addictive than the substance it purports to replace.
PAV runs a website that channels the spirit of everything that was bad about the 1990s AOL Online experience. Like the rest of the lobbying loonies, PAV sticks to attempting to get their perverse agenda into the media rather than engaging in grown-up debate through its social media accounts.
The Truth Initiative is pushing its new texting service and claiming it will help stop teens from vaping. The service that aims to solve a problem that doesn't exist is being trialled in a school where the Principal doesn't know how many children vape – or if they used to smoke. It's all rather fitting in a post-truth era.
The Truth Initiative is feeding the news cycle and promoting the nonsense that there's an epidemic in teen vaping by launching its new texting service at a school. It believes it can combat a problem that doesn't exist by sending messages like "Is it hard to not JUUL in places you're not supposed to, like school? Reply YES or NO."
The New York Governor announces a legal age rise and an article on The Hill argues that moves to change 'tobacco' legislation (including vaping) is flawed. Heat not Burn has helped Japan achieve a new low in smoking rates, and Philip Morris International commits itself to moving out of the tobacco market. Altria partners up with Lexaria BioScience to produce nicotine edibles. Ealing Council cuts quit service.

Arab News
While more Saudis are ditching their cigarettes and joining the vaping trend sweeping the world, the laws surrounding the activity in the Kingdom are shrouded in a fruit-scented haze.

There is no explicit law banning vaping in Saudi Arabia, and vapers are free to publicly indulge in the activity — but there are no legal ways to get a vape module, vape juice or any of the equipment needed to vape.
Aditya Kalra, Chris Kirkham
After recruiting Uber India executive Rachit Ranjan as a senior public policy strategist, Juul this month hired India-based Mastercard executive Rohan Mishra as head of government relations.

It plans to hire at least three more executives, including an India general manager, LinkedIn job postings showed. It also plans "a new India subsidiary", according to one posting.
---
A look back at how things have moved on or otherwise….
Robert Schroeder, Market Watch

The head of the Centers for Disease Control and Prevention quit Wednesday in the wake of a report about her buying a tobacco stock after she took office last year. Brenda Fitzgerald resigned as CDC director after Politico reported Tuesday she bought and sold shares of Japan Tobacco Inc., which owns such U.S. brands as Winston, Camel and Benson & Hedges.
The FDA Tobacco Products Scientific Advisory Committee (TPSAC) on January 25 unanimously endorsed a claim by Philip Morris International that switching completely from cigarettes to its heat-not-burn IQOS system significantly reduces smokers' exposure to harmful and potentially harmful chemicals (here).  The committee, however, denied two other claims, that switchers "can reduce the risks of tobacco-related diseases" (8 against, 1 abstention) and that switching "presents less risk of harm" than continued smoking (5-4 against).
Harry Shapiro, Nicotine In The News
Over January 24th/25th, the US Tobacco Products Scientific Advisory Committee (TPSAC) sat in session to consider PMI's Modified Risk Tobacco Product Application (MRTPA) for the heated tobacco product IQOS. In preparation for the meeting, the FDA produced its own briefing document in which the top banana regulatory body acknowledged that:

The process of heating rather than burning tobacco results in significantly reduced levels of toxin release
IQOS was likely to be acceptable to current smokers while, for a number of reasons, be unappealing to non-smokers.
---
Visit Nicotine Science & Policy for more News from around the World

---