Vaping Digest February 5th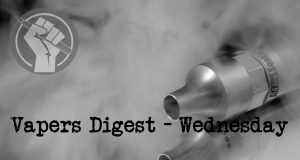 Wednesday's News at a glance:
E-cigarette use is strongly associated with smoking cessation in the European Union ~ Nicotine Does Not Cause Cancer ~ Things that make you go hmmm… ~ Bethlehem Battlefield Lies ~ Irish Cancer Society Lies ~ Derriford Welcomes Vaping ~ New York Magazine forgets that smokers exist ~ As Congress Considers Vaping Ban, It Should Also Consider Public Health Benefits of E-Cigarettes ~ Flavored E-Cigarettes Could Be Allowed in Washington Under New Proposal ~ Feb. 5th is the Last Day to Buy Flavored Vape Pods ~ Alarm at youth anti-vaping campaign ~ E-Cigarettes Popular Among Recent Quitters: Study
Dr Farsalinos, E-cigarette Research
A new study was published today in the journal Tobacco Control examining the association between e-cigarette use and smoking in the Eurobarometer 2017 survey. Last year, another study analyzed the 2014 Eurobarometer, finding that e-cigarette use prevents smoking cessation in Europe. But the study design and conclusion was flawed since the 2014 survey included all former smokers as one group, including the majority who had quit long before e-cigarettes were available. Thankfully, the 2017 survey included a question about time of smoking cessation, so we could analyze former smokers who had quit during the period when e-cigarettes were available.
Joseph Magero

, Medium
A south African born Professor by the name Michael Russell once said, "people smoke for the nicotine but die from the tar".This sentiment needs to be echoed more in today's society where there's gross misunderstanding when it comes to nicotine .Nicotine is an alkaloid found in the nightshade family of plants, predominantly in tobacco, and in lower quantities in tomato, potato, eggplant , and green pepper.
, Aotearoa Vape Community Advocacy
The World Health Organisation has been under a lot of pressure the last two weeks;  first with the issuance and eventual revision of its Q&A Detail on E-Cigarettes and then with the Coronavirus outbreak in China that is spreading globally.

For the purposes of this blog, we are going to focus on the WHO FCTC and the implications of the Q&A detail and the "WHO global report on trends in prevalence of tobacco use 2000-2025."
---

---
THREE from Dave Cross, Planet Of The Vapes
Bethlehem High School is located in Delmar, in the state of New York. It was a reasonably tolerant place for vaping, by American standards, as town officials looked at 'allowing' vape shops to exist, last year. The schools and parents weren't fans though and mobilised to oppose such action. Now, Cornell University is encouraging the children to ignore science and perform ludicrous experiments to "prove" the dangers of vaping.
The Irish Cancer Society (ICS) says it wants politicians to protect children from "the tobacco and alcohol industries" as the parties gear up for the 2020 election hustings. The ICS is "concerned that e-cigarettes are being used to by tobacco companies to target children to be the next generation of nicotine addicts in Ireland."
Derriford Hospital, a large teaching hospital and part of the Plymouth Hospitals NHS Trust, has issued its new policy on smoking. Hospital managers have decided that they aren't going to include vaping as part of the smoking ban and are welcoming considerate users to carry on vaping on site.
---
Jacob Grier, Liquidity Preference
The cover story of this week's issue of New York Magazine is all about vaping. The publication employs smart, talented writers, so despite the alarmism of the cover tease – "The making of a health crisis that's only just begun" – I was hopeful that the story itself might offer more nuance. Regrettably, it's a one-sided mess that fails to convey the complexities of the issue and pays virtually no attention to the needs of current and former smokers whose lives are risk.
---
Guy Bentley, Reason Foundation
Tomorrow, chief executives of the nation's largest e-cigarette companies will be called before the House Committee on Energy and Commerce (E&C) to answer for the impact their products are having on public health.

In principle, such a hearing presents a valuable opportunity for e-cigarette company leaders to share the potential public health and harm reduction benefits of their products, as well as what they're doing to prevent their use by minors.
---
Lester Black, The Stranger
Washington's fans of e-cigarettes just got a flavorful hit of good news.

After months of dealing with Gov. Jay Inslee's ban on all flavored e-cigarettes, the local e-cigarette industry was bracing for lawmakers to make that flavor ban permanent. But after a committee hearing yesterday, the proposed bill banning flavors has now been changed to allow flavored e-cigarettes in Washington state.
---
Jim McDonald, Vaping 360
Wednesday, Feb. 5 is the last day retailers can legally sell prefilled pod- and cartridge-based vaping products in flavors other than tobacco and menthol. Companies selling them after that date are subject to enforcement by the FDA.

The change is not a new rule, but simply a change in FDA's enforcement priorities. All vaping products currently exist on the market only because the agency has not prioritized their removal. By May 11, all products must submit Premarket Tobacco Applications (PMTAs) or be removed from the (legal) market.
---

---
A look back at how things have moved on or otherwise….
Goes up in smoke after the only device licensed for medical use is axed
Plans to prescribe e-cigarettes on the NHS have collapsed following the abandonment of the only product licensed for medical use.

The eVoke device received approval two years ago amid hopes it could help thousands of smokers to quit.

But British American Tobacco, which holds the medical licence, says the product is unlikely to 'see the light of day' because of production difficulties.
Sam Allcock
Just a few years ago, if you mentioned e-cigarette usage to a doctor or health expert you would have likely received a warning about health risks, or perhaps just friendly tut-tuts of disapproval.

However, over the last few years, the opinions of many leading doctors and health professionals towards e-cigarettes have changed. In fact, today, many health advocates see e-cigarettes not as a public health risk, but as a potential harm reduction tool.
To FDA Over Anti-Vaping Study
Once again it's Dr. Konstantinos Farsalinos that is fighting the good fight against false vaping information. This time he is calling into question research that was recently presented as part of the 2017 American Heart Association Scientific Sessions. The study in question was just published last week and was conducted by researchers at the University of California, San Francisco. Their report claimed to prove that the vapor produced by Heat not Burn (HnB) technology was as impactful to Flow-Mediated Dilation (FMD), as traditional tobacco smoke.
---
Visit Nicotine Science & Policy for more News from around the World

---