Vaping Digest 3rd February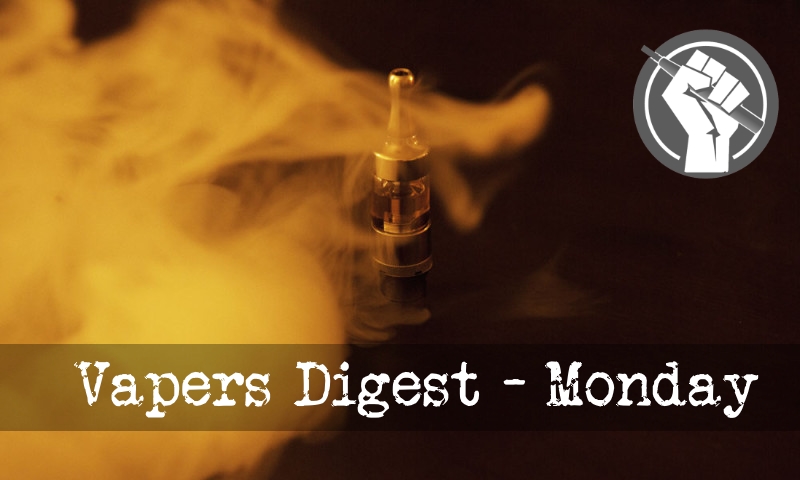 Monday's News at a glance:
A challenging year beckons – Ireland General Election 2020 – GE2020 New Nicotine Alliance policy – NNA Response to Misguided Claims – Vaping In The News – February 1st – If you tax vaping, people smoke more cigarettes – Parliament Returns To Work – ASH & CRUK Tobacco Control Report – US Candidates on Vaping – An Australian vaping revolution: – Vaping will save Australian lives – Grassroots Volunteers ready for battle – Vaping: The answer to the smoking epidemic – Big tobacco tells the truth – Brits were the world's biggest spenders – Small vape shops scramble for survival – Vape Ban – More Losers Than Winners – U.S. Vaping Policy Spills Over Internationally – Teenage vaping epidemic may be overblown – Nicotine Science and Policy Daily Digest
New Nicotine Alliance
As mentioned in our round-up of 2019, the coming year will present many sinister challenges. We need to be ready for them and the NNA has been preparing for momentous threats from the EU and the WHO. 2020 will require consumers to be vigilant and active, so do keep watching for updates. Here are just some of the activities we have been involved with at the start of a new year.

With clear and present dangers to harm reduction looming, an NNA delegation met with three MPs at the House of Commons on 28th January. Mark Pawsey, MP for Rugby, Adam Afriyie, MP for Windsor, and Gareth Johnson, MP for Dartford met with us to discuss how to best address threats to the very successful UK government strategy towards vaping and other reduced risk products.
No political party supports vapers – ETHRA
A General Election is being held in Ireland on February 8th and 5 per cent of the electorate is being ignored by the main political parties. Fianna Fail, Fine Gael and the Irish Green Party all promote policies to further marginalise the hundreds of thousands of current vapers in Ireland.

Fianna Fail has suggested banning what they describe as "child focussed flavours" by which they mean all flavours. Most adult vapers consume dessert, fruit and candy flavours to distance themselves from the taste of tobacco so, under this proposal, will be deprived of a significant factor in ensuring they stay away from smoking. The party has also stated they intend to remove vaping entirely as part of their smoke free Ireland targets.
---

---
thatgotmethinkingblog
New Nicotine Alliance Ireland has watched as the four main political parties issued their manifestos. All four mention e-cigarettes and vaping in their policies. From a ban on flavoured products to a vague intention to pass regulation for e-cigs. None offer any justification for their positions and none make any mention of why they feel the need to have a policy. This is deeply disappointing and disturbing.

Smoking is the main cause of avoidable illness in this country. Despite one of the harshest tobacco control environments in the world the rate of daily smoking remains persistently high. Each year 6,000 people die from smoking related illnesses in Ireland, according to HSE figures.
About E-Cigs by Paediatricians – Diane Caruana
In response to a letter by 16 paediatric professionals, saying amongst other things that the contents of e-liquids are unknown, NNA Vice Chair Louise Ross, is pointing out that these claims are "based on error and supposition."

"We cannot sit back and accept a blanket message from Public Health England that vaping is 95% less harmful than tobacco smoking because (a) nobody knows exactly what substances are in these liquids, although we do know, in direct contravention of EU regulations, they contain chemicals toxic to the lungs; (b) there is an epidemic of vaping-related chest disease and deaths in America and (c) it took over 30 years for the long-term harmful effects of tobacco to be appreciated," claimed amongst other things, a letter by Warren Lenney and 15 other paediatric healthcare professionals.
---
---
Kevin Crowley, Vaping Links
Youth who use nicotine have rights. Stop punishing them. ~ There's a right way and a wrong way to "Ditch JUUL" ~ Vape Ban – More Losers Than Winners ~ Lungs 'magically' heal damage from smoking ~ The Surgeon General's Bogus Report on Smoking Cessation ~ World Health Organisation fails ~ Peak Australian GP body supports vaping ~ Nicotine Expert: Vaping is Unlikely to Cause Seizures ~ Vaping Causes Everything ~ The USSG Isn't Helping ~ Policy Tip Sheet: Tobacco Harm Reduction 101: State Profiles
Daniel Pryor, Adam Smith Institute
Unsurprisingly, a new NBER working paper has found that e-cigarette taxes result in more people smoking cigarettes. The authors examined vaping taxes enacted in eight U.S. states and two large counties, concluding that e-cigarettes and traditional cigarettes are substitutes.

This result is hardly surprising— in the UK, 94% of our 3.6 million vapers are former or current smokers. More than half have quit smoking completely. A large body of evidence shows that vaping is at least 95% safer than smoking. Randomised control trials have demonstrated that they are a highly effective quit method. The idea that we should make vaping more expensive through a targeted tax hike is absurd.

Three from Dave Cross, Planet of the Vapes
With a certain major hurdle now negotiated, the Houses of Parliament have found themselves able to engage in other matters, including getting vaping and tobacco harm reduction back on the table. Baroness Redfern wanted to know how vaping has impacted upon the health of the public, Ranil Jayawardena continues to raise problematic questions and Gareth Johnson wondered if Brexit means the EU Tobacco Products Directive will be lifted.

Baroness Redfern opened up discussions about vaping in the new parliamentary session by asking: "What assessment [has been] made of the effect of vaping on public health?"
ASH and Cancer Research UK (CRUK) have published the sixth annual report looking at local tobacco control and smoking cessation services in England. The report presents the findings of a survey of tobacco control leads from all local authorities in England which have responsibility for public health.
The New York Times interviewed the Democrat candidates aiming to be selected to run for Presidential office about their views on vaping. Some of the responses were absurd; harm reduction advocate Clive Bates said that, "Anti-vaping activist and billionaire funder Mike Bloomberg explicitly comes out as a vaping prohibitionist."

The New York Times posed the question "Should vaping products be legal?" to potential Democrat candidates because, "the safety of vaping products has emerged as an urgent public health issue, one that the president has the power to address directly. We wanted to know how concerned the candidates are and what they would do about it."
---

---
Kids Learn Vaping Kills Pond-Dwelling Protozoa – Jim McDonald
Most Tetrahymena live relatively peaceful lives. The single-celled ciliate protozoa swim around in pond water, reproduce by dividing themselves, and graze happily on bacteria. Sadly though, some Tetrahymena have their lives tragically cut short when they're doused with concentrated e-cig vapor in a school classroom.

The Cornell University College of Veterinary Medicine has developed an "educational toolkit" for high schools that "encourages students to directly test the effects of e-cigarette vapor on living cells," according to Cornell's press release. The kits are free to the schools.
A talk to Dr. Colin Mendelsohn
Last week, the Royal Australian College of General Practitioners published new smoking cessation guidelines which now underlines the importance of suggesting ecig in smoking cessation programmes.

Millions of smokers around the world usually talks to general practioners when they get the intention to quit smoking for good. And it happens everywhere. Vaping has the potential to help rejuvenate smoking cessation in Australia and improve public health if smokers are allowed easier and legal access to appropriately regulated products.
---
Youth Vaping Epidemic to Lung Illness Hysteria
---
ATHRA
THE LATEST SCIENTIFIC REVIEW of vaping nicotine has concluded it is an effective quitting aid for smokers and could substantially reduce smoking rates in Australia.

The peer-reviewed study by Australian academics Conjoint Associate Professor Colin Mendelsohn, Professor Wayne Hall and Professor Ron Borland was published in the scientific journal Drug and Alcohol Review today. It is the first analysis to specifically assess the potential for vaping to reduce smoking in Australia.
Aotearoa Vape Community Advocacy
It comes as no surprise to AVCA that the ARFNZ "Don't Get Sucked In" (DGSI) website, which launched today, confirmed our serious reservations on content when it was announced in November. AVCA offered to assist with the development of the website and materials, by providing their own educational materials, information and statistics on the programmes that they have implemented in the community since 2016, all to no avail. The DGSI site is filled with misinformation and half truths. Not much different to the ramblings of the journalists in their "commentary" and "opinion pieces" in our mainstream media.
Malay Mail
Despite the numerous research papers published on the detrimental side effects of vaping, I want to make a counter-argument saying that vaping might be the solution to the smoking epidemic that we have all longed for.

There is a saying that goes "Nothing in this world can be said to be certain, except death and taxes." However, I would like to add another constant to the equation: Substance abuse, which includes smoking cigarettes and vaping.

On e-cigarettes in 2019 – Abigail Fenton
Britons were the world's biggest per capita spenders on e-cigarettes in 2019, with each adult spending about £33. This accounts for an overall revenue of £2.5bn – almost 17% of the global market share. This results in a projected £36 per adult spending in 2020, according to the Consumer Market Outlook report by Statica.

Other high spending countries included the US with the biggest overall market volume of £5bn or £14 per capita, and New Zealand, with an overall market volume of £142m or £30 per capita.
While health organizations lie
The January 24th, 2020 edition of the Globe and Mail included a full-page advertisement that discussed the risks of smoking and the benefits of switching to vaping. It quoted Public Health England's statement that "E-cigarette use is around 95% less harmful to health than smoking".

It was not a public health announcement, but a message from Imperial Tobacco Canada. "Big tobacco" paid for an advertisement that said "Smoking poses real and serious health risks" and that "vaping is a less harmful alternative to smoking, but some health groups continue to distort the facts." It called for a sensible public health policy based on facts, not fear.
Chris McGrath doesn't plan to give up his dream of helping people quit cigarettes by vaping.

But the Harrison vape shop owner is worried the mounting challenges confronting his industry, particularly its smallest players, that could push his and hundreds of other small shops and manufacturers out of business.

"Small businesses like mine, we're going to be a dying breed," said McGrath, who opened Octopus Ink Vaping on Freeport Road four years ago. Last year, McGrath added a second store in Plum and expanded to eight employees.
Juul recently announced they would pull all their fruit flavored pods from Canada. This comes as a major setback to the country's public health, as e-cigarettes have helped countless people transition off from smoking.

But that's not all, as legal products become illegal, vapers will unknowingly buy harmful, illicit products instead. As Canada and other nations consider regulating or even banning e-cigarettes, perhaps this could've been avoided had the U.S. reacted more sensibly to the vaping outbreak.
Julie Gunlock
In January, the Food and Drug Administration finalized its policy on flavored cartridge-based e-cigarettes, saying that companies must stop all manufacturing of these particular devices. Flavored e-liquid will still be available for tank-based e-cigarettes. As with any new regulation, there will be winners and losers, but you may be surprised by who falls into each category. – Winner: Big Tobacco

Tobacco companies are threatened by the popularity of e-cigarettes because the vaping industry has cut into their profits. The latest data from the Centers for Disease Control and Prevention show cigarette smoking is at its lowest point ever with only 14 % of adults in the U.S. smoking traditional cigarettes in 2017, down from 15.5 % in 2016.
Clare Wilson
"How Juul hooked a generation on nicotine" was a New York Times headline from 2018 on the new addiction apparently sweeping the youth of the US. It wasn't the only media outlet to cover the rise in e-cigarettes, as a US government survey from that year showed that vaping among teenagers was on the rise.

But the full figures from this survey have now been newly analysed and they suggest that the original coverage didn't give the whole picture – in some ways, the results could even be seen as good news for teenagers' health.
To ban the use of vaping devices in public spaces
The Minister of Health, Daniel Salas, on Tuesday endorsed an initiative to ban the use of vaping devices in Costa Rica's public spaces. According to the Minister, who was speaking to the deputies of the Committee on Social Affairs, bill 21.658 has the full support of the entity.

"I think this project is extremely important for the country. It has the full support of the Ministry of Health," Salas said. "It is completely in line with the health alert we already issued regarding the use of vaping devices, where we have even been very clear that there is no study that can show e-cigarettes are a smoking cessation therapy.
---
A look back at how things have moved on or otherwise…
New Nicotine Alliance
While 2019 offers much promise for the fortunes of reduced risk products, it has been a slow start to the year. Rather like when you arrive at your place of work and pour yourself a coffee or tea before getting down to the nitty-gritty, the post-Christmas lull is a time to prepare for bigger things to come. However, the NNA has still been working towards better recognition of safer nicotine products in January. We start this month's round-up with a small victory for common sense.
Harry Shapiro
The celebrity chef and healthy food activist Hugh Fearnley-Whittingstall interviewed a director who was making a TV campaign to encourage kids to eat more vegetables. The director said that when he told people he was doing this their first response was 'OK. What's the twist? What evil company is behind this?'. And that is a perfectly understandable response when major food and drinks companies promote breakfast cereals, fizzy drinks and snacks loaded with sugar directly to children, and every type of store from supermarkets to garden centres …
---
Visit Nicotine Science & Policy for more News from around the World

---