Vaping Digest 31st January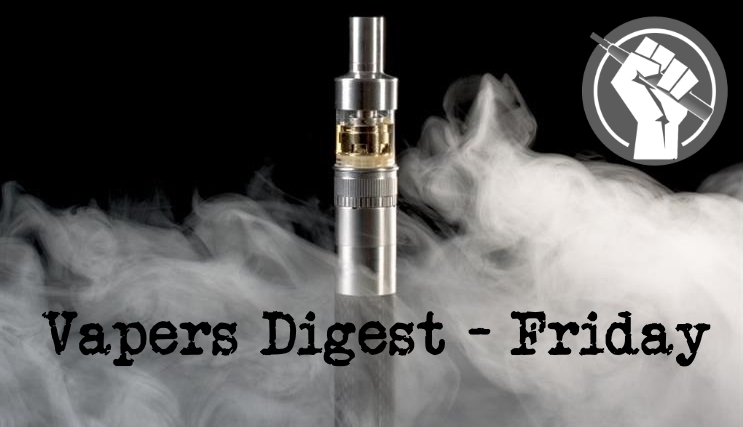 Friday's News at a glance:
World Health Organisation fails at science and fails at propaganda – Vaping Saves Lives – Harry's Blog 97: What if the angels are wrong? – The Surgeon General's Bogus Report on Smoking Cessation – Derriford Hospital to allow vaping in grounds – Snus replaces smoking – Major Policy Shift in Oz – U.K. Government EVALI Update – Vaping Causes Everything – A New "E-Vape device" – Priced out of Harm Reduction? – Rendez-vous #28 with Sébastien Béziau – Don't Repeat 1920s Prohibition on Vaping – Juul Valuation Falls To $12 Billion – NJOY to Stop Selling Fruit-Flavors – Researchers conclude no youth vaping epidemic – Nicotine Science and Policy Daily Digest
And fails at propaganda – the sad case of WHO's anti-vaping Q&A
Clive Bates, The Counterfactual
On 20 January 2020, the World Health Organisation published a question and answer page on "ENDS" (Electronic Nicotine Delivery Systems) or e-cigarettes and vaping products for nicotine as they are more commonly known: E-cigarettes: how risky are they? (current live version)

Update (31 January 2019) – WHO's amended version: almost certainly in response to severe criticisms, WHO published an update to its Q & A some time on 29 January.  The 20 January original version, (archived) which WHO heavily publicised (e.g. see Twitter thread) is the subject of this blog, not least because it allows debunking of some especially absurd anti-vaping statements.  WHO has not notified readers of the changes or issued any acknowledgement of correction or error. So for comparison purposes, I have compared the original and updated versions side-by-side in the final section of this blog: go to Update: what WHO has changed.
IBVTA
Despite the occasional barrage of newspaper headlines alluding or directly reporting to the contrary, the facts as seen by the overwhelming majority of credible medical and scientific researchers are as follows…

The IBVTA is aware of a number of newspaper articles and other reports that produce "evidence" that appears to counter the facts as stated above, including publications by international government agencies. The IBVTA believes these agencies and publications to be acting irresponsibly in presenting these views, which are quite frankly not supportable. A concise (but not short) explanation of the reality of the situation can be found here.
---

---
BBC News
Health managers have decided to allow vaping in the grounds of Devon's largest hospital. Derriford Hospital banned all forms of smoking on its premises from 2016.

But the board of the NHS University Hospitals Plymouth has now rethought the ban, after Public Health England (PHE) said vaping was 95% less harmful than smoking. The plans would make the hospital "tobacco-free" instead of "smoke-free".
Harry's Blog 97:
I am indebted to my good friend Roberto Sussman for the title of this blog. Roberto lives in Mexico and is an unlikely combination of astrophysicist and ardent, eloquent tobacco harm reduction activist. He gave a speech in London on 23rd January 2020 at the launch of the Tobacco Harm Reduction – the Right to Health briefing published by Knowledge•Action•Change and available here: https://gsthr.org/report/2020-briefing-paper
---
British vape industry: assertive and confident in its products and its contribution to public health and individual welfare. They are disruptive insurgents in the consumer nicotine market driving down smoking, empowering consumers. Vaping Saves Lives.https://t.co/YfUhI0IsgH

— Clive Bates (@Clive_Bates) January 31, 2020
---
Provides great public health benefits – ETHRA
There are now more Norwegians using snus than smoking daily. New figures from Statistics Norway show that while 14 per cent of the population aged between 16 and 74 used snus daily in 2019, only 9 per cent were daily smokers. Nikan has looked at the figures and asked for comments from researcher Karl Erik Lund at the Institute of Public Health.

In the last 10 years, the proportion of daily smokers has more than halved, from 21 per cent in 2009 to 9 per cent in 2019. Meanwhile, the proportion of daily snus users has increased, from 6 per cent in 2009 to 14 per cent in 2019.
Brad Rodu, Tobacco Truth
The U.S. Surgeon General's new 700-page report on smoking cessation includes a foreword by former CDC director Robert Redfield that succinctly describes the government's tobacco prohibition objective: "we remain committed to…end the tobacco use epidemic and provide all Americans with the opportunity to live tobacco-free."

The report's "major conclusion" with respect to e-cigarettes is that "there is presently inadequate evidence to conclude that e-cigarettes, in general, increase smoking cessation."

Four from Dave Cross, Planet of the Vapes
The Royal Australian College of General Practitioners (RACGP) has made a ground-breaking move to accept that vaping "may be a reasonable intervention for people who have failed to quit smoking with approved pharmacotherapies". Doctor Alex Wodak says this is no toppling of the "Berlin Wall of Australia's Health Establishment" but it's shaken its foundations.

ATHRA announced: "It is hard to underestimate the importance of this announcement on vaping by the RACGP. The College is to be congratulated for this important shift in policy based on a comprehensive review of the evidence."
The U.K. government has instructed physicians to "be vigilant for any suspected adverse reactions associated with use of e-cigarettes or vaping (including lung injury) and report them to the MHRA via the Yellow Card Scheme". It has provided them with "case definitions of e-cigarette or vaping associated lung injury (EVALI) to facilitate identification".

The government tells healthcare professionals: "The US Centres for Disease Control and Prevention (CDC) and its public health partners are investigating cases of lung injury associated with the use of e-cigarette or vaping products. At the time of publication, more than 2600 US cases have been identified (60 fatal cases), but the outbreak seems to be in decline."
The Truth Initiative hasn't yet blamed global warming, shrinking Mars bars or the ending to Game of Thrones on vaping – but give it time. It does say vaping has nothing to do with declining rates of teen smoking in the USA, and now it is promoting a study claiming that using an ecig could encourage teens into a lifetime of drug use.

"The dramatic drop in youth smoking since 2000 has led to declines in other drug use among young people," says The Truth Initiative. It fails to mention that vaping has played a key role in switching people (including teens) away from smoking tobacco products.
The television programme "Good Morning San Diego" invited Mark Powell (San Diego County Office of Education Board Member) and Maury Cole (owner of La Jolla Alcohol Research) to talk about the ridiculous contraption Cole "invented". He calls it "The E-Vape", and its purpose is supposedly to educate school children about the dangers of vaping.

"There is a new device that has been invented by a company. It's, uh, alcohol research incorporated. Maury Cole is here to explain how this new device works. We also have Mark Powell," explained the tongue-tied host. "The very, very important issue, because we know, and we have been reporting for many, many months now, that vaping is a very serious, heavy, common, serious problem. Especially among our youth."
---

---
Sébastien Béziau is Editor of the Vap'you Magazine distributed twice a year in 422 French Vape Shops (scroll down to see the Google map); he also manages the weekly e-newsletter Vapnews, and a blog .

He is Vice-President of the advocacy group

 SOVAPE

 and recently published the little book  "Welcome to Vaping" ('

Bienvenue dans la vape

"). 

Thank you Sébastien for taking the time for this

 thr- rendez-vous

. Can you briefly introduce yourself, give us some personal, professional background and tell us when, why and how you started to vape and became an advocate?

 
Australian GPs Shift Policy to Recommend Vaping
Joseph Magero, Reason
Anyone come across Philip Morris' unsmoke the world campaign yet ? I have said before that big tobacco's efforts to avail safer nicotine alternatives is a good thing for public health . But you would think with tobacco companies claims of gradual shift from traditional cigarettes to safer nicotine products, their initiatives would target regions with growing number of smokers.

Approximately 270,000 Africans died of smoking-related illnesses in 2019. With a rapidly growing young population and rising prosperity, sadly, in many African countries the number of smokers is expected to soar. Tobacco companies seem to leave the Africa out of the conversation when it comes to tobacco harm reduction…

Philip Thompson
In 1920, proponents of eliminating alcohol sales said it would boost the economy, fight political corruption and herald in a new era of virtue resplendent Americana.

It backfired faster than you can say Machine Gun Kelly. History books have dubbed the decade that preceded the Volstead Act as an era of "Bootlegging and Gangsterism."As it turns out, just because something becomes illegal doesn't mean people will change their habits or spend their money on clothes, school books, and other things the Temperance Movement thought good people would rather do.
As Altria Takes Another $4.1 Billion Hit – Sergei Klebnikov
Topline: In its quarterly results on Thursday, tobacco giant Altria revealed that it was writing down its investment in Juul Labs for a second time, with its stake taking a $4.1 billion hit amid mounting litigation against the e-cigarette maker.

Tangent: Juul's cofounders, Adam Bowen and James Monsees, are currently facing a lawsuit over allegedly using Altria's $12.8 billion investment to enrich themselves, according to Bloomberg. Filed in California state court earlier this month, the lawsuit alleges that Juul's directors each sold $500 million in stock after the Altria deal, paying themselves a special dividend and bonus, while not allowing similar opportunities for other shareholders.
Greg Lindenberg
NJOY Holdings Inc., which makes NJOY Daily and other disposable electronic cigarettes, has voluntarily halted sales of its fruit-flavored products, according to a Wall Street Journal report. The decision comes as lawmakers and anti-vaping advocates raise concerns that young people may migrate to the devices, the report said.

The U.S. Food and Drug Administration (FDA) is barring most flavors, including fruit and mint, from unauthorized cartridge-based e-cigarettes until companies go through the premarket tobacco application (PMTA) process.
Extensive research shows cigarette use continues to fall among young Kiwi teenagers, and vaping is not being taken up by non-smoking youth despite scaremongering, says the Vaping Trade Association of New Zealand.

University of Auckland researchers assessed data from an annual ASH, Action for Smokefree 2025, year 10 survey of 27,083 students aged 14 and 15. They found only 0.8 per cent were daily vapers who'd never smoked before, with just 3.1 per cent of all respondents saying they vaped daily, and 37.3 per cent saying they'd tried it.
Who needed double lung transplant finally admits he vaped marijuana
 Lee DeVito
Last year, doctors at Henry Ford Hospital performed a rare double lung transplant — the first in the U.S. — on a Michigan boy who officials said damaged his lungs by vaping. Confusingly, they would not say what exactly he vaped, which would, you know, be helpful information for a frightened public.

It's part of an epidemic we've noticed where the mainstream media has been routinely conflating vaping nicotine and vaping marijuana — and in the process, making it seem like all vaping is equally dangerous.
---
A look back at how things have moved on or otherwise….
Dr Farsalinos, Ecigarette Research
A recently published study and a conference abstract released just today raised substantial concerns that use of e-cigarettes is associated with an increased risk for cardiovascular disease. The published study mentions in the abstract conclusion: "Daily e-cigarette use, adjusted for smoking conventional cigarettes as well as other risk factors, is associated with increased risk of myocardial infarction.". Today's media coverage of the conference abstract mention: "E-cigarettes linked to higher risk of stroke, heart attack, diseased arteries."
Brad Rodu, Tobacco Truth
Dr. Donna Vallone of the tobacco-prohibitionist Truth Initiative was first author last October of a Tobacco Control article on JUUL users (here).  When the publication was promoted on the Society for Nicotine and Tobacco Research (SRNT) listserv, I asked the authors to resolve some problems with their report.  When they failed to respond to my listserv post, I described the flaws in a blog a week later (here), on November 7.

The day after my blog post, Dr. Vallone responded on the listserve to all of my concerns, except one: failure to disclose information about the most important correlate of JUUL use – other e-cigarette use.
---
Visit Nicotine Science & Policy for more News from around the World

---