Vaping Digest January 29th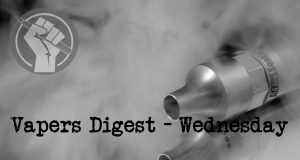 Wednesday's News at a glance:
Peak Australian GP body supports vaping ~ GPs cautiously recommend e-cigarettes to help smokers give up ~ World Health Organisation put in their place by leading health experts ~ E-cigarette use or vaping: reporting suspected adverse reactions, including lung injury ~ Dangerously Inaccurate Reporting on Vaping-Linked Outbreak Persists ~ MHRA urges GPs to be vigilant in new advice on identifying vaping-related lung injury ~ 'I still feel like it had something to do with THC vaping:' UWM teen's cause of death 'undetermined' ~ The Surprising Reasons Vaping Bans Draw Pushback ~ Parents who vape stop the 'transmission' of smoking down the generations ~ Canada Docs Hate Vaping ~ A New "E-Vape device" ~ The USSG Isn't Helping ~ We CDC You ~ Vapers to Trump: Hands off our vapes or lose the election ~ The New Federal Minimum Vaping Age Won't Protect Young People ~ Policy Tip Sheet: Tobacco Harm Reduction 101: Utah ~ E-cigarettes, vaping haram, says Indonesian Muslim organisation ~
Australian Tobacco Harm Reduction Association
IN A MAJOR POLICY SHIFT, the Royal Australian College of General Practitioners has supported vaping nicotine as an option for some Australian smokers in the latest national smoking cessation guidelines published today.

The peak GP organisation has carefully reviewed all the evidence on the effectiveness and safety of vaping and has determined that it is a legitimate quitting aid for adult smokers.
Rachel Clun, The Sydney Morning Herald
The use of nicotine-based e-cigarettes has been cautiously recommended as a potential second-line aid for people who want to quit smoking.

In an updated guide on supporting smokers to stop, the Royal Australian College of General Practitioners (RACGP) also said prescribing options for nicotine replacement therapies should be widened.
, Totally Wicked
Public health experts have responded rapidly and assertively to unfounded claims about vaping from the World Health Organisation (WHO). Just days after WHO claimed that 'e-cigarettes are not safe' scientists have responded to put things right.

WHO famously holds a firm anti-vaping stance. The organisation's recent outbursts are all too familiar and follow a pattern of spreading misinformation about e-cigarettes.
GOV.UK
Be vigilant for any suspected adverse reactions associated with use of e-cigarettes or vaping (including lung injury) and report them to the MHRA via the Yellow Card Scheme. In this article we provide UK case definitions of e-cigarette or vaping associated lung injury (EVALI) to facilitate identification.
---

---
Jim McDonald, Vaping 360
Early last spring, on his way out the door at FDA, then-commissioner Scott Gottlieb spent some of his remaining credibility to warn America that vaping might cause seizures. He based his alert on 35 self-reported incidents over a 10-year-period from FDA's Safety Reporting Portal.

Yes, you read that right: 35 events in 10 years.
Michelle Minton, Competitive Enterprise Institute
Coverage of the outbreak of illness linked to "vaping" has been handled poorly in general, but Bernadette Hogan's recent article in the New York Post is especially egregious. Not once does her article mention that illicit marijuana vapes—not nicotine e-cigarettes—are the products linked to the outbreak. That's something even the Centers for Disease Control and Prevention has finally—albeit, tacitly—admitted over the last month. Her article also failed to note the role of vitamin E acetate, the contaminant most likely responsible for the pneumonia-like illnesses and found in THC vaping products linked to every single patient in New York.
, Pulse Today
The Medicines and Healthcare products Regulatory Agency (MHRA) has released a drug safety update warning doctors to have a high index of suspicion for lung injury in patients with respiratory symptoms who also vape.
Tom Durian, TMJ4 Milwaukee
A Walworth County family is looking for answers after the Milwaukee County Medical Examiner's Office ruled the death of 19-year-old Logan Tomasello as an "undetermined" cause. A Walworth County family is looking for answers after the Milwaukee County Medical Examiner's Office ruled the death of 19-year-old Logan Tomasello as an "undetermined" cause.

Tomasello died on October 31st after vaping THC and nicotine, according to his family. Toxicology reports found non-lethal amounts of THC and other substances in Logan's body but still could not find a cause of death.
---
, The Pew Charitable Trust
Geoffrey Gibson, owner of Capital Vape Supply, watched his thriving, 7-year-old business wither last summer when vaping-related deaths started making headlines.

It picked up again after the U.S. Centers for Disease Control and Prevention announced in December that the lung illness that has killed at least 60 people and injured more than 2,600 was primarily caused by cartridges containing THC (the psychoactive ingredient in marijuana), not nicotine.
Vape Business
Switching from tobacco to e-cigarettes can help parents underline the negative impact of tobacco and stop the passing on of tobacco smoking to their children, a Welsh study shows.

Anti-vaping groups have consistently claimed vaping normalises smoking among young people, but the report – published in the International Journal of Environmental Research and Public Health – contradicts this.

The authors found: "no evidence to support a view that if parent figures fully switch from tobacco smoking to e-cigarettes, the use of devices which 'mimic' the act of smoking will maintain positive perceptions of smoking among their children."
---
FOUR from Dave Cross, Planet Of The Vapes
The Council of Chief Medical Officers of Health has decided that warning people about vaping during Canada's National Non-Smoking Week is just the thing to help reduce tobacco related disease. While saying "smoking continues to pose a significant risk", the council is keen that smokers only quit using traditional approaches that failed to work for millions until the advent of electronic cigarettes.
The television programme "Good Morning San Diego" invited Mark Powell (San Diego County Office of Education Board Member) and Maury Cole (owner of La Jolla Alcohol Research) to talk about the ridiculous contraption Cole "invented". He calls it "The E-Vape", and its purpose is supposedly to educate school children about the dangers of vaping.
The United States Surgeon General, Dr Jerome Adams, has put his name to a 700-page report released on Thursday. At its launch, Adams said that a "shocking" proportion of smokers aren't being told to stop smoking and added that vaping is not a proven method to quit tobacco use.
The United States Centres for Disease Control (CDC) is "concealing and suppressing information" according to leading harm reduction expert Professor Michael Siegel. The consequence, he contends, is that potential harms are being "overhyped … in order to deceive the public".
---
Esther Oh, NHK World Japan
It's a frigid morning on December 18 in Battle Creek, Michigan with temperatures plummeting to -8℃. Thousands of people are braving the cold and standing huddled together outside the Kellogg Arena, which is hosting President Trump's Christmas rally. As with all Trump rallies, there are sign-wielding supporters and protestors. But enveloped in a cloud of smoke nearby is another group: the vapers.

Part of a growing 'We Vape, We Vote' movement, this group has a simple message for Trump: hands off our vapes or you'll lose our votes.
---
Kevin Garcia, Filter
President Donald Trump signed legislation in December 2019 to amend the Federal Food, Drug and Cosmetic Act by raising the federal minimum age of sale for tobacco products from 18 to 21. "Tobacco products," in this case, includes both smoked and smokeless tobacco, but also nicotine vaping products.

Protecting young people's health was the rationale. But will raising the age of sale actually reduce harms for 18 to 20-year-olds?
Lindsey Stroud, The Heartland Institute
Analysis of the vaping industry in Utah, including economic data, state health department findings on vaping-related lung illnesses, youth e-cigarette use, tobacco retail compliance checks, and state funding dedicated to tobacco control programs.

Since their introduction to the U.S. market in 2007, e-cigarettes and vaping devices—tobacco harm reduction products that are 95 percent safer than combustible cigarettes—have helped more than three million American adults quit smoking.
---

---
---
Visit Nicotine Science & Policy for more News from around the World

---